Fishing Report
October 23 – 30, 2022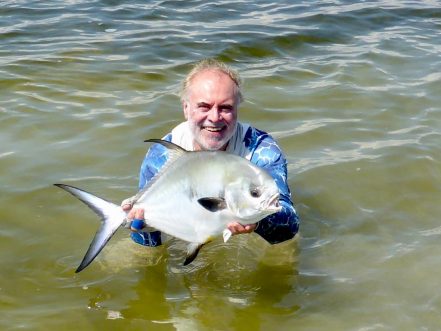 We've enjoyed another beautiful week here on the beach.  Cooler temps, sunny skies, and great company was all in the mix for us at ESB.  Historically for us October is usually a month with more rain and passing storms and luckily, we've had minimal of either.  I truly love this time of year in the Yucatan and when the sun is shining this place is second to none.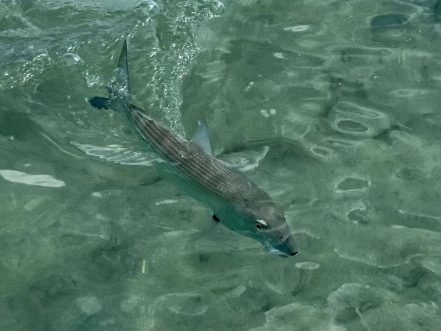 We had a slew of returning guests and welcomed newcomer Steve Morgan for his first ESB visit.  Steve hopped on the coattails of longtime guest Mike Hostetler who has 2 annual weeks a year with.  Steve is an accomplished saltwater angler and call Florida home.  Frank Stehle and Enrico Laue made long trip from Munich for their second trip to ESB.  They fished with us in 2019 and with a year of global closures and other schedule conflicts I was happy to see them be able to make another trip across the Atlantic.  We also had our dear friend Ron Hagan back for his second annual ESB week.  Ron cemented himself in as one of the original ESB guests.  His first week with us was back in 2017 the month of August on a TFS hosted week led by Eric Ersch.  He's been coming back religiously since and we joked around about those beginning days of the lodge.  At that point Chiara and I had no room for ourselves, and we patiently waited for guests to go to bed every night so we could lay out our sleeping pads and spend the night on our kitchen floor.  We were still undergoing construction and piecing together the oiled machine ESB is today.  It's family returning for us when we watch Ron make his way off the plane each Sunday.  He takes his time, is very sweet, and appreciative of every day he has on the water.  I will add that Ron enjoys being 89 years young.  This is remarkable and I'm truly humbled and honored to have him here as a guest.  He's done doing backflips and hand stands for the time being but his zest and enthusiasm for chasing permit surpasses the years that most of us have even known how to fly fish.  Cheers to you Ron and we forever look forward to your smiling face, and award-winning attitude.  You set the bar for all of us fellow anglers and we hold you to the highest level.  ESB will look forward to seeing you for many years to come!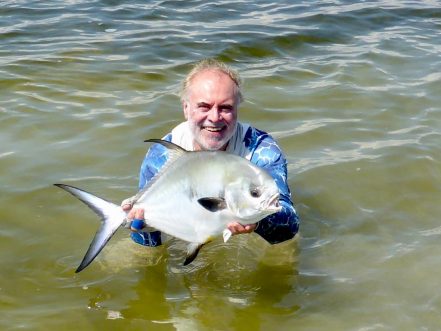 Aside from our German guests crossing the Atlantic we are currently under a hurricane watch that has been slowly plodding its way across the southern Caribbean.  Tropical Storm Lisa looks to be tracking south with spaghetti models showing a landfall early Wednesday evening in Belize.  Obviously, we hope for the best for those in the storm's path and it's a very real reminder hurricane season is not over.  We constantly are watching any developments.  It's a perfect time for north winds to stay strong and keep Lisa south of our area but you must always be ready for whatever is thrown your way.  There have been guests reaching out to us expressing concern and I sincerely thank you for the inquiry.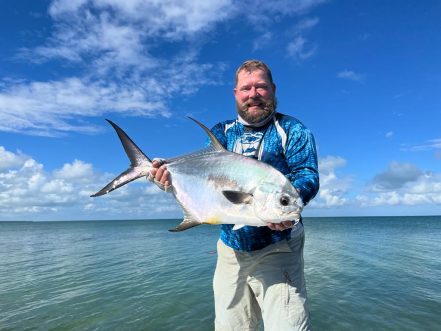 Despite a storm on the horizon, we were able to take full advantage of great weather and good fishing the last 6 days here.  The bay has permit scattered north side running from Ensenada down to 4th river.  Lower tides lent us opportunities with schools outside of 2nd river.  The far west end of the bay towards 5th river wrapping back to Ensenada held larger fish that were scattered in singles and doubles.  Mike and Steve on their first day popped a few smaller permit with guide Alex along Casistas.  The permit were definitely picky with fly selections and while we saw one pattern get blatantly refused it was the ticket the following day.  I still think the majority of permit are residing in deeper for the time being and it'll be a continuing trend the remainder of the season.  For Steve's first ESB trip he outdid himself with landing a total of 5 permit for his week.  Frank Stehle did well with guide Jesus and landed a small fish the beginning of the week from a mixed school out of 2nd river on the northside.  He landed a bigger permit last Thursday again with Pepe around Red Buoy tight to the bank.  Enrico Laue is a man of few words and he enjoyed himself immensely chasing a little bit of everything the bay had to offer.  He tagged a smaller fish with Jesus and the last day with a couple hours left landed a beautiful 20 pound permit on an ESB white crab.  This was the bigger permit for the week, and I was happy for our friend that traveled so far to chase permit.  Ron worked hard, moved around the bay and had a permit eat his spawning shrimp.  Both Ron and the permit decided it wasn't the right time and parted ways.  John Samuels had a big permit over 15 pounds that Pepe worked him into and an unfortunate knot in the backing led to a heartbreaking loss.  It's a quick lesson for those about to come down here, take the time to pull off all your line and backing and triple check things look good.  John redeemed himself later with a nice permit with guide Jesus.  It's a good time to permit fish here in the bay with the nicer weather. We'll see what happens with these fish on the flats after the storm cycle moves through.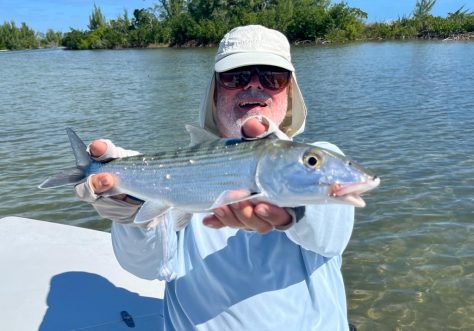 Our permit total for the week 11 landed with 6 guests.  This brings season totals to 475 fish with 236 guests.
Tarpon are around with the lower tide and those that wanted to chase them were able to jump and land a few.  Normal haunts along the north shore in river one and river two held tarpon close to the mangroves and we saw pushes through our river 3 system.  With a slight north wind, the fishing village along the northern coast had some random fish moving through.  Frank Stehle posted up with guide Victor inside the tarpon cut and had a 50 lb plus fish attack his fly as he was pulling it out of the water.  The east side of our "Isla Cha" held some tarpon that were holding in dirty water with sardines.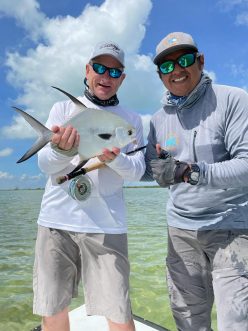 Snook fishing had its moments although I would say on a scale of 1-10, I'd give it a 4 for the week.  We see them on the northside but sporadic.  Sunken boat lagoon is holding them, but they are passing through to some unknown location.  One boat landed a snook and saw many others without success. The next day another went through and zero snook were spotted.  I am not sure what will make them tick in big numbers to work through the bay, but I know it's just a matter of time.  Rio Locos continues to be a good choice for chasing snook and a couple quick stops on the inside of river 2 can provide a shot or two.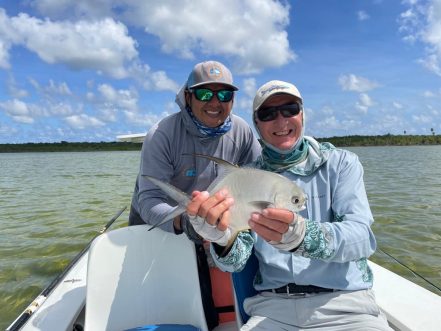 Bonefish are out and about per usual.  They're loaded on the northside, and guests can enjoy nonstop action for as long as they please.  I've ranted enough about our bonefish but it's nothing short of world class.  All the river systems having a nice tide push which keeps a constant stream of bonefish riding the falling and rising tides.
WEATHER/TIDES:
Weather for the week was mostly sunny with light winds from the north.  We had an occasional shower pass through, but it was short lived.  Tides were lower in the morning but rising and a hard fall again late afternoon.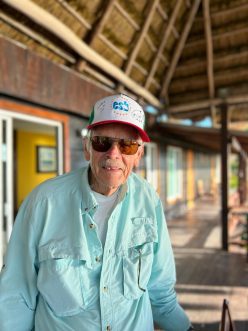 FLIES:
A size #4 tan Flexo crab, ESB crabs (white and tan) and smaller spawning shrimp style patterns all worked for our permit for the week.
Toads and EP baitfish in assorted colors were our tickets for tarpon and snook.  Common theme here is natural for snook and bright/gaudy for tarpon.
Bonefish chomped anything from tarpon toads to #8 spawning shrimp.
The kitchen continues to go strong these last few weeks and the ground/house crew did a tremendous job keeping us comfortable.
As I mentioned we're watching tropical storm Lisa closely and I think we'll have a little wind and rain in the coming days.  Surge could be significant with us residing on the dirty side but we'll manage.  This is normal dealings for the ESB crew and after 6 years we're more than prepared.  We'll catch fish with this next crew, a group with all returning guests from past seasons.  Please check in with our friends over at The Fly Shop to get the latest on ESB and any possible openings for 2023.  It's hard to imagine we're already looking ahead to the next season.  Happy Halloween to everyone and please check-in with us for the next report!
Saludos desde el Caribe Mexicano,
Dane & Chiara
Saludos desde el Caribe Mexicano,
Dane & Chiara