Fishing Report
May 26 – June 2, 2019
Good morning Esb Lodge Anglers & Fans,
Another week here in the Yucatan has come and gone.  We enjoyed seeing some longtime friends of the lodge rejoin us for another full week of great fishing, amazing food and wonderful company.  Some newcomers to the lodge also enjoyed fishing the famed waters of Espiritu Santo Bay.  We experienced nice weather during the week for the most part, and our guests were able to collectively land all four of the targeted species.  The kitchen was busy all week preparing incredible cuisine and delicious deserts, while the house staff ensured our guests enjoyed their time at the lodge.
FISHING

We started the week off with a bang as guests Bud Isaacs and Dave Went both caught a grand slam.  Within his grand slam, Dave landed his first ever permit and first ever tarpon on Monday.  What a great way to start the week!  Bud Went was a return guest from last year, and also had a fantastic day to start the week with a permit, two tarpon, countless bonefish, barracudas and jacks.  Mike Scott was fortunate enough to accompany his father Ethan this year as he returned for his third trip to ESBL.  Mike had caught bonefish and barracuda on previous saltwater trips to other destinations, and was excited to pursue tarpon, snook and permit.  He was successful in landing all three of these species.  The permit evaded Mike all week long, until the final day where he experienced one permit snatched by a barracuda.  Thankfully he was able to land a permit shortly after the loss of his first.  The fish was small, but a permit is a permit!  Congrats to Mike for catching all four targeted species during his week with us.  Permit fishing for the week was mediocre, with visibility and choppy conditions in open water proving to be difficult.  Fish were still located, seen and caught.  The openings to our river systems on the northwest side of the bay were breaming with life this week.  A bumpy boat ride to these areas proved to be worth it for the guests, with multiple different species occupying these waters.
The group collectively landed 6 permit this week, bringing our season total to 177 permit with 126 guests.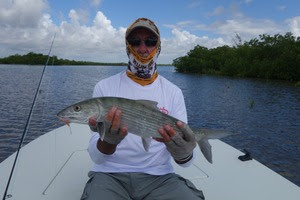 I am pleased to report our tarpon and snook fishing has been much more productive this week than previously.  The water levels in the bay have leveled out a bit, and these fish have been pushed out from the mangroves into more open water.  Good numbers of juvenile tarpon were landed and jumped, ranging in the 5 to 15 pound range.  Ron Hagen and Bud Isaacs spent a day exploring an area called Red Lagoon that we have not fished in quite a while due to the high water levels.  Their guide for the day, Luis, searched the mangrove edges extensively for snook, and presented each of them multiple shots to fish.  The largest of the day, about 15 pounds, exploded on the fly and provided a lot of aerial excitement.  A 10 weight and 60 pound test was the right setup for the job, as they were able to lay into the snook and keep him from barreling back deep into the mangroves.
We have confirmed this week that the migratory tarpon have moved into portions of the bay.  A few calmer mornings and short windows in the afternoon were spent looking for rolling tarpon in the large opening on the north side of the bay.  One tarpon in the 80 pound range was hooked, but came off after 3 big jumps.  The guests were able to see quite a few other rolling fish and had some nice follows and flashes.  We hope to continue concentrating on this area during the following weeks for migratory tarpon.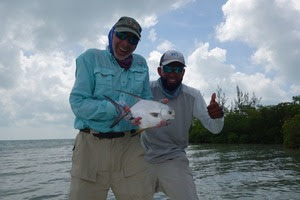 Bonefish were plentiful, with large schools tailing in shallow water.  Large single bonefish were also spotted, sometimes being confused for a juvenile tarpon or snook.  We always suggest you dedicate a couple hours during one of your days here to wading for bonefish.  These silver bullets are an absolute blast on an 8 or even 7 weight fly rod.
WEATHER/TIDES
All in all we had some very nice weather this week.  Winds were coming out of the southeast, with intermittent cloud cover most of the days.  Some rainstorms did sweep through portions of the bay, but typically were finished as quickly as they started.  A small weather system moved in on Friday, leading to heavy winds and rainstorms on Saturday.  We experienced one tide swing during the day; rising in the morning and early afternoon, and then falling for the rest of the day.
FLIES:

The #2 Tan Squimp was responsible for most of the permit caught this week.  Blk/purple and chartreuse toads worked well for the juvenile tarpon, in addition to EP style baitfish patterns in these same color combinations.  Natural color schemes were effective for the snook, in white, white/pearl, white/olive and tan/olive.  A #2/0 clouser in white/chartreuse was responsible for the large migratory tarpon that was jumped.  Bonefish were taken on a large range of shrimp flies in sizes #4-#8.
The kitchen staff stayed right on track this week presenting wonderful cuisine to our guests.  The appetizers where quickly consumed as cold margaritas were being poured on our ocean front palapa.  Dinners and breakfasts were plated in alluring presentations.  Emmanuel and the house staff was always on site to ensure our guests had an enjoyable stay with all of their requests met.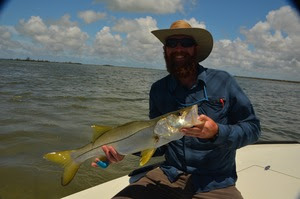 We are excited to welcome seven new guests to the lodge during the upcoming week.  Saltwater fly fishing experience will be across the board, with some being veteran anglers and some much newer to this style of flats fishing.  Windy conditions will continue through the week.  There is always protected water in the bay to search for tailing bonefish, or juvenile tarpon and snook hidden under the mangroves.  It is always entertaining to listen to the stories that are told from the day while enjoying a cocktail and looking out into the Caribbean.
We hope you enjoy the upcoming week, and are even able to get in some fishing for yourself!
Please stop in or give our friends at The Fly Shop a call for more information on this work class fly fishing operation.  Stay tuned for next week's report.
From a special corner of the Yucatan,
Saludos desde el Caribe Mexicana
Sam, Mia and Faustino