Fishing Report
April 03 – 10, 2022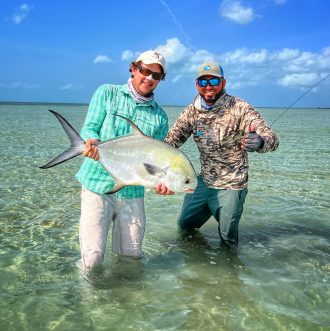 Welcome to the Caribbean!
My name is Martin Ferreyra Gonzalez, I am a professional fishing guide and manager in Argentina, Patagonia and the Brazilian Amazon.  Today I bring you the Espiritu Santo Bay Lodge Fishing Report in my first week as manager for this season.
We had another typical spring week with some uncomfortable winds for precise casting, with a pleasant Caribbean temperature, very pleasant for me as I come from Patagonia where the cold autumn begins.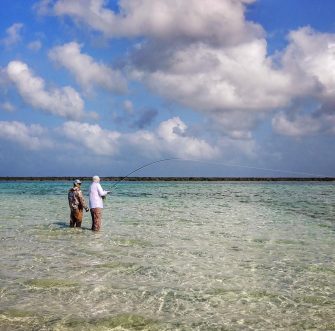 This week we received a visit of familiar faces at the lodge, excellent people who honored us with their visit again like Don Morris, Tony Ankar, Webster McDavid, Jim Rector and Bob Spicer with his adventure partner Jimmy Welch for first time.
FISHING:
This week Rio Cinco, helped by low tides, showed its potential for tarpon fishing, as was the case of Bob and Jim Welch who, guided by Victor, simply anchored in its channel and were amazed at the number of tarpon rolling in front of them. Logically they stayed there all afternoon without moving the boat and lost count of the fish they landed.  Even their guide Victor had the opportunity to land some tarpon.
In a week where the constant changes in the weather made it difficult to see and make effective shots for the permit, Don land two permit (the biggest of his life) together with his guide Alex.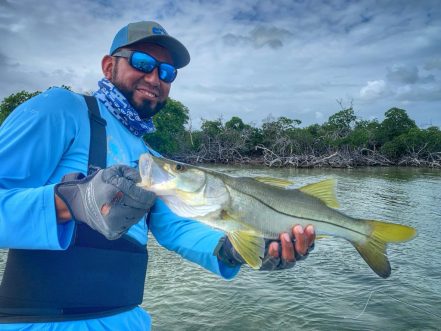 The next day, with calmer winds and also guided by Alex, Webster and Tony landed seven…. Yes, you read well SEVEN, siete in Spanish, sete in Portuguese, sieben in German, translate it into the language of your choice and it will continue to be a day not soon forgotten.
Our joy was even greater when Jim Welch, guided by Fernando, added one more to the seven that day, and it was not just one more, it was the first of his life! So, we celebrate with a traditional shot of tequila before dinner, welcome to the club Jim! To Jim's first permit he added three on the last day of fishing, guided by Alex.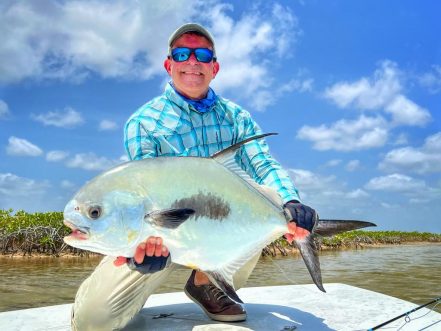 Jim Rector made a very wise choice, in my opinion, with his guides, devoting part of the day exclusively to permit fishing and then looking for Tarpon, bonefish and Snook with very good results and achieved a super grand slam, guided by Alex, in no more than 400 yards, which shows the variety and good state of the bay.
As usual, Tabasqueños, Buoy Roja, Ensenada and the river system one, four and five lived up to their reputation, as was the case of Bob and Jimmy who caught large snook, many tarpon and bonefish being the first time in his life that managed to landed some of these species.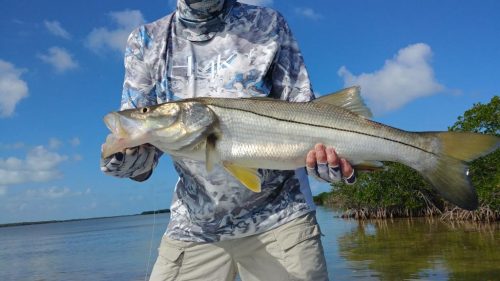 We closed the week with a total of 13 permit landed with 6 anglers! 
Total permit for the season is 171 with 82 guests.
FLIES:
This week permit were very interested in almost all imitation crabs, Playa Blanca Crab, Flexo Crab and their variants, with and without yellow eyes, and in a variety of colors ranging from light green to brown.
The tarpon and snook have agreed and continue to eat like candy EP streamers in all their variety of colors, depending on the environment.
The bonefish love the shrimp (in sizes #2 to #8) and crabs in the same sizes as the shrimp.
The barracuda continue to destroy the pooper and develop a particle addiction to those with a lot of flash or bright colors.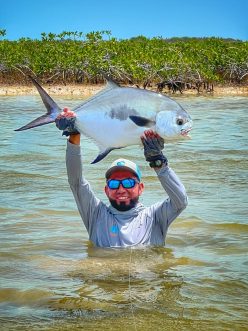 Weather and Tides:
We started the week with winds coming from the south-east that were rotating to the northeast towards the end of the week and decreasing in intensity, their speeds varied between 11 and 23 mph.
The unpredictable tides by the action of the wind remained low with little variation in the entire bay.
Our chef Carlos, with the sous-chef Luis as his faithful squire, continues with his magical touch intact after a few days of vacation. They created dishes that receive high praise from all our guests, I think that in a few weeks I will have to buy new shirts and pants.
Emanuel, Freddy and Poncho, worked hard, as always, to make sure everything runs well and our guests have a great stay.
We are excited for the arrival of our next seven guest to enjoy another week full of emotions and adventures. Do not hesitate to contact our friends at The Fly Shop to live the ESBL experience!
I hope you have a great week; I'll be here next week with a new report.
Martin Ferreyra Gonzalez