Black Bear Lodge located right on the banks of the Upper Columbia River in Northeast Washington. Staying at the Lodge offers guests an opportunity to fish this unique and seclude fishery and a chance to get into some really big rainbows. These bows average 18-20" and are typically 2-3 pounds, and there is always a chance at fish up in the 27-30" range. The lodge sits just south of the Canadian border, a little way downstream from the little town of Northport and Jack Mitchell at Black Bear Lodge is the only outfitter in the region guiding this section of the river.
The river sports incredible insect hatches seasonally.  While hatches are not guaranteed day in and day out, the trout are at times tuned into the surface which makes for some unbelievable days fishing dry flies.  When the fish are looking up, there is no better place to be. Tactics vary from the late winter/early spring fishing using single and double hand swing tactics and indicator fishing, to the June/July hatch season featuring blizzard Caddis, Drakes and various Mayflies to the late Summer Fall hatches of Baetis, October Caddis and terrestrials.   Along with the Upper Columbia there are other options to fish depending on the time of year like the Kettle river and some walk and wade programs a short drive from the lodge.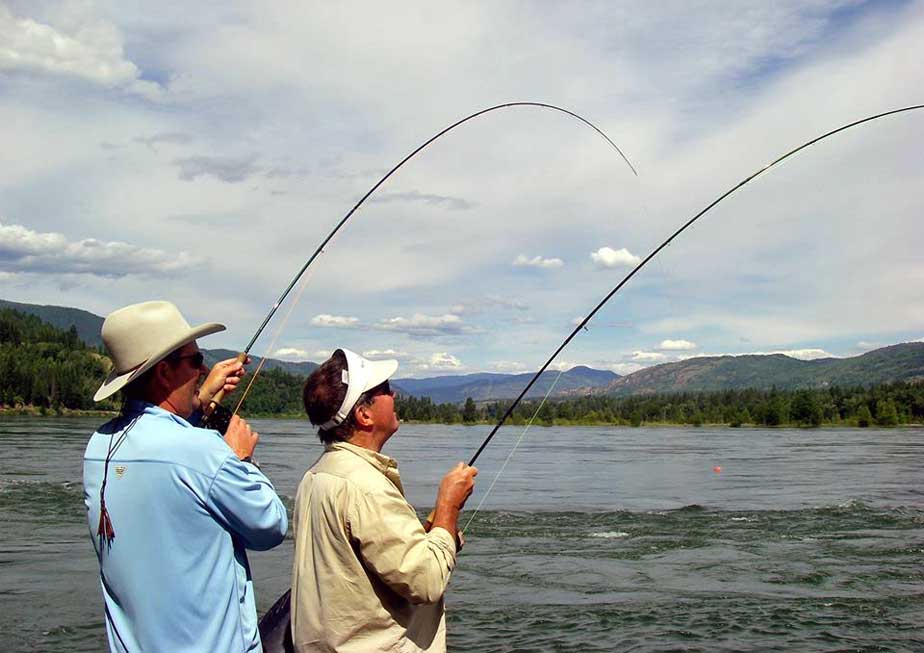 Reservations & Rates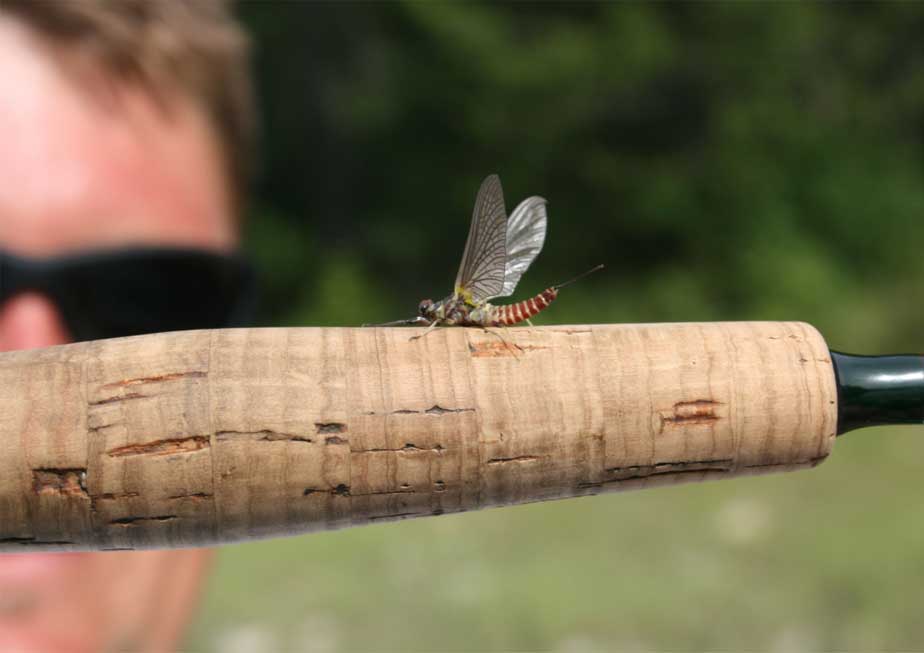 Seasons at Black Bear Lodge
The Columbia is an enormous River and being highly dam regulated is a true tailwater fishery, fishing on this section of the river can be good year round. With constant bottom feed flows from Keenlyside dam, located just over the border in Canada, you can have great fishing 12 months a year. Although sometimes the outside air temperature and weather in the winter doesn't always allow this. Black Bear Lodge typically runs their operation from mid-March to the middle of October. Although if there is a group of you interested in hitting the water outside the season, let us know and we can make it happen
Read More
March - May (Spring):
Springtime can be some of the best fishing on the Upper Columbia. It is often an overlooked time of year for most traveling anglers, but is also the time of year where fish really start to get active and you can get into great numbers of fish. Mid-March into April thing can really pick up and although not typically known as a great time for dry flies, if you don't mind fishing under an indicator or swinging streamers, you can do really well this time of year. This is also the time of year when they catch the biggest fish as lots of those big bows are on the move as spring is spawning time for them. The end of April into May the weather in Northeast Washington gets more consistent, days are getting longer and water temps begin to rise. At this time, you will start to see some great Blue wing olive hatches and this is the start of dry fly fishing. The best BWO hatches happen on calm overcast days. Indicator fishing and swinging streamers is still the most consistent method to do well. Although days can be pleasant, calm and sunny if you are here at this time, you need to be ready for cold mornings and packing some extra layers is always a good idea.

June - July 10 (Summer):
Early June is the start of the main Dry fly season and by mid-month, this is prime time "Hatch" Season on the Upper Columbia. Flows are typically high during this time do to run off from mountain snowpack, but since it is highly dam regulated, the Upper Columbia is always running clear enough to fish. The water temps are getting to optimal temperature. Blizzard Caddis hatches, Green drakes, brown drakes and PMD's are all getting active and you can run into any of these bugs on the water while floating down the river depending on conditions and the year. The Green drake hatch typically happens the last week of June into the first week of July. It is a tough time to get dates as this is the most popular hatch of the season. Big Rainbows keying in on big easy to see mayflies. It doesn't get much better than this. July 1 is also usually the start of when we can offer the high desert stream walk and wade fishing. These walk and wade trips are very dependent on the angler's physical ability and it isn't for everybody.

July 10-August 28 (Break):
As midsummer conditions heat up the fish drop into the bigger deeper holes, they become harder to get to with fly rods during much of the day. The fish focus their surface feeding activity to real early and really late in the day which makes a fishing program difficult to run.

August 28 - October 15 (Fall):
Although anytime on the Upper Columbia is a good time, fall is one of our favorite times to be floating the river. Days are getting shorter; leaves start to change and fish are big from a season of eating. Fall can be a great time to be on the river, but isn't always the best if you are a beginner. Rivers are clear and lower, relatively speaking and longer casts are necessary. Indicator fishing and swinging streamers becomes the methods of choice, but there are still some great mahogany Duns, Cahills and terrestrials early on and October caddis and some BWO later in the season. Weather can be beautiful all the way into November, but just like the spring, this is the time of year you need to be ready for anything mother nature-Montana can throw at you.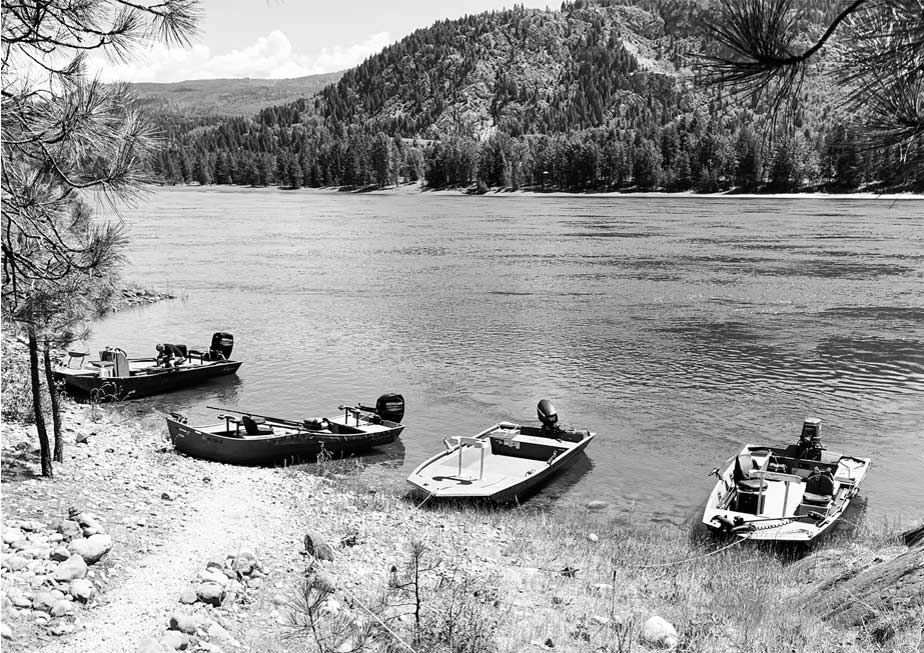 Getting to Black Bear Lodge
Black Bear Lodge is located just downstream of the little town of Northport Washington which is about a two and a half hour drive from Spokane(Airport Code GEG) and a six and a half hour drive from Seattle-Tacoma International Airport (SEA). GEG hosts 7 major airlines and 19 direct flights arriving daily so there are a number of options to get you there. Once at the airport, you can rent a car and drive to the lodge.
Read More
Driving:
Address: 4254 Northport Flat Creek Road, Northport Washington
The small town of Northport is hard to get lost in. When you arrive in Northport there will be one gas station. Approximately 1/4 mile past the gas station will be a bridge spanning the Columbia. After you cross that bridge there will be an immediate hard left turn which doubles back along the river. Take that hard turn left onto Northport – Flat Creek Road (Paved road) and travel approximately 1.70 miles to the location – The lodge is literally riverside and next to the county road; you can't miss it.

A majority of guests prefer to rent a car and make the drive to and from the lodge on their own. It's nice have a vehicle for mobility.

Normal check-in is any time after 6:00 p.m. and check-out time is always right after breakfast, although special accommodations can be arranged for when needed and requested. During Hatch season(June 15-July15) Anglers typically check in earlier in the day and fish the Afternoon/Evening.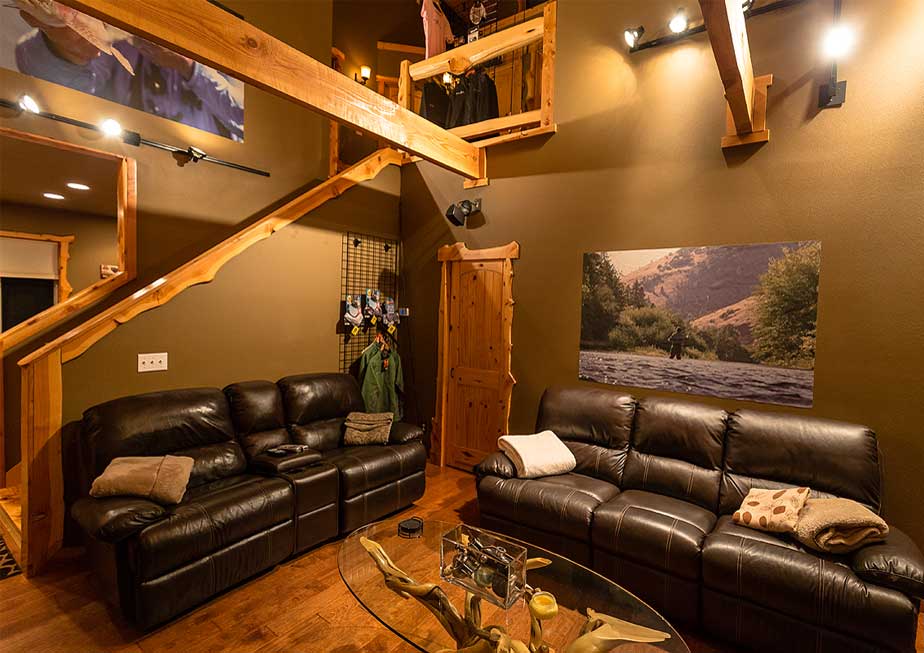 Lodging at Black Bear Lodge
After a great day on the river, settle in and revitalize at the lodge, which is locate right on the water overlooking the Columbia River. The Deck is the main gather place after a day of fishing. Grab a cocktail, soak in the river views, relax with a book, observe the surrounding bird habitat or just relax. At Black Bear Lodge your day is that simple, their staff and guides will take care of the rest.
Read More
Amenities include WIFI, woodburning stove, house computer, fly tying bench, beautiful wrap around deck with outdoor seating, fire pit and excellent views.

Black Bear lodge only accommodates six guests at one time, assuring for a personable and relaxing lodge experience. Book the whole lodge with your buddies or your family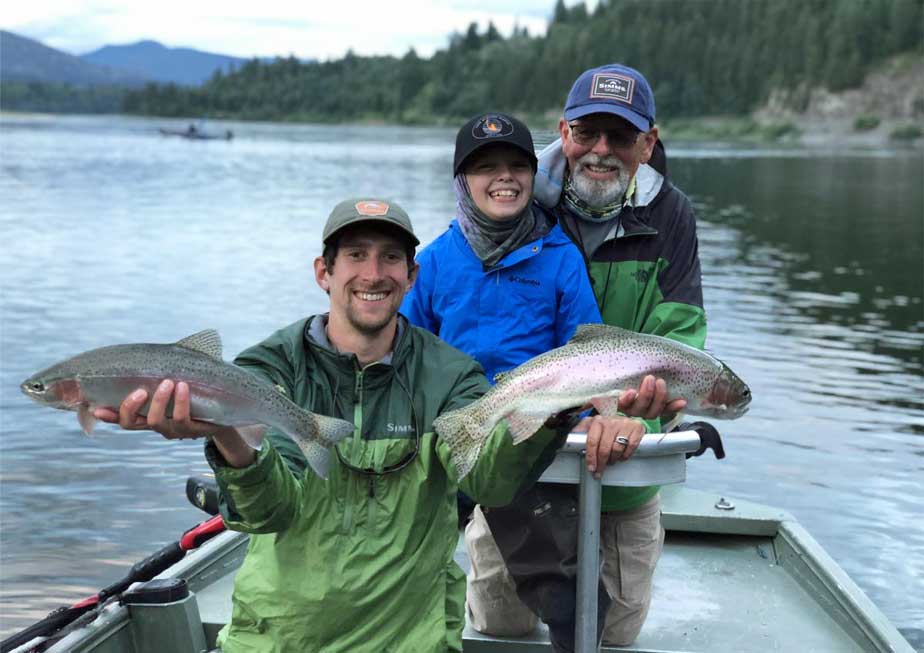 Fishing at Black Bear Lodge
Fishing the river – The Upper Columbia River is enormous with flows from upward of 200,000 c.f.s. and averaging 80,000 to 100,000 c.f.s. during the fishing season which means the best and most successful way to fish this river is from a boat.

Although there are some spots to get out and walk and fish some edges when conditions allow. Black Bear Lodge accesses most of the river from jet boats that allows them to motor up and row down. These skiffs are
Read More
perfect for accessing the best parts of the river, save on shuttle time and give you the ability to float the better runs again and again. The guides will make the most of your time on the river and focus on these spots that are fishing the best at any given time of the year.

The section of river they fish out of Black bear Lodge is short, only about 14 miles, but that 14 miles of river can produce some strong, feisty and really big rainbows. These heavy shouldered beasts are believed to be a landlocked stain of steelhead that got stuck in the river after the dams were put in and seem to be very angry about it. They are known to take you to your backing when hooked and they will leave anglers wide eyed and sometime broken hearted.

The Fishing program is broken down into two separate seasons. Fishing starts as early as late February, but they consistently take guests from mid-March till July 10. They take a break from July 10-August 28 and then continue on from August 28 till the middle of October. They take the break in the middle because the fish key in on feeding really early and late in the day and it is tough to make a full day on the river with such a short window of opportunity.

The early part of the season is broken down into two distinct programs. An "early season" and the "Hatch season" This doesn't mean there are no hatches early or even late in the season, but this Hatch season is the time of the most consistent mayfly hatches and the most popular of which is the Green drake hatch. During the hatch season the fishing schedule changes from the traditional one to a much later schedule. After a leisurely breakfast, you can take your time and enjoy an easy morning of preparing for the day ahead. Fishing doesn't commence until 1:30 or 2 p.m. and the guides will keep you out on the river well into the evening.

Along with the Upper Columbia river, which is the main focus, you will have access to some other fisheries in the area such as the Kettle river and some high desert walk and wade trips. These wade trips aren't for everybody as terrain is often difficult to navigate and it can be full of rattlesnakes. If you don't mind scrambling over rough rocky terrain and strapping on some snake gators, they can put you on some amazing small stream fishing for some big fish from mid-summer on.
What Makes This Destination Special and Unique?
BIG FISH
• The Columbia River is one of the most regulated rivers by dams for flood control and hydroelectricity. With consistent water temperatures, clarity and a constant supply of aquatic insects, Upper Columbia River trout have a steady supply of food to choose from. These trout eat and grow year round which allow them to attain a larger than average size when compared to their freestone river dwelling cousins. Not only will you be catching fish, they will be big! There is an abundance of fish between 18 - 20" with many exceeding 20"+ and always a chance for a 27"+fish.

NO PRESSURE
• Jack and his guides are the only outfitter operating on this stretch of water. There are some locals that get out and fish, but a busy day here would be absolute isolation on some Montana rivers. During the Spring and fall season, you are typically the only boats on the water. This will mean you will be fishing the best runs on the river in relative solitude. More fish for you and your group to catch day in and day out.

EXPERIENCE
• Jack Mitchell was born and raised in Washington and spent his whole life fishing the state from top to bottom. His whole adult career has been based around Fly fishing and it has taken him all over the world which allowed him to gain valuable experience to incorporate in his own idea of the perfect Lodge. Since 1988 he has operated his outfitting business which has expanded to 12 rivers, 4 lodges and a small fly shop. He has been exploring this area since the late 80's and Black bear lodge is there for a reason. You could not be in better hands to best execute a successful fly fishing adventure.