A float through the steep walled Gunnison Gorge is recognized as one of the top fly fishing trips in the lower 48. This National Conservation Area lies just downstream of the Black Canyon of the Gunnison National Park and features spectacular scenery, interesting geology, sightings of varied wildlife, and most importantly, excellent fly fishing for rainbow and brown trout. Trophy rainbows measuring 20" + are the prize of the "Gunny."
These unparalleled 1, 2, or 3 day wilderness fishing adventures are conducted at the highest level of professionalism with top quality equipment and experienced personnel. The fishing float season extends from mid-May through the beginning of October.  Black Canyon Anglers is recognized as the largest and most experienced outfitter operating in the Gunnison Gorge Section of the Black Canyon and offers the only fishing lodge on the lower Gunnison River.  Black Canyon Anglers is proud to be the most respected guide service on the Gunnison River. Seasoned guides and quality equipment—paired with tailored customer service and attention to detail—results in a long list of satisfied clients.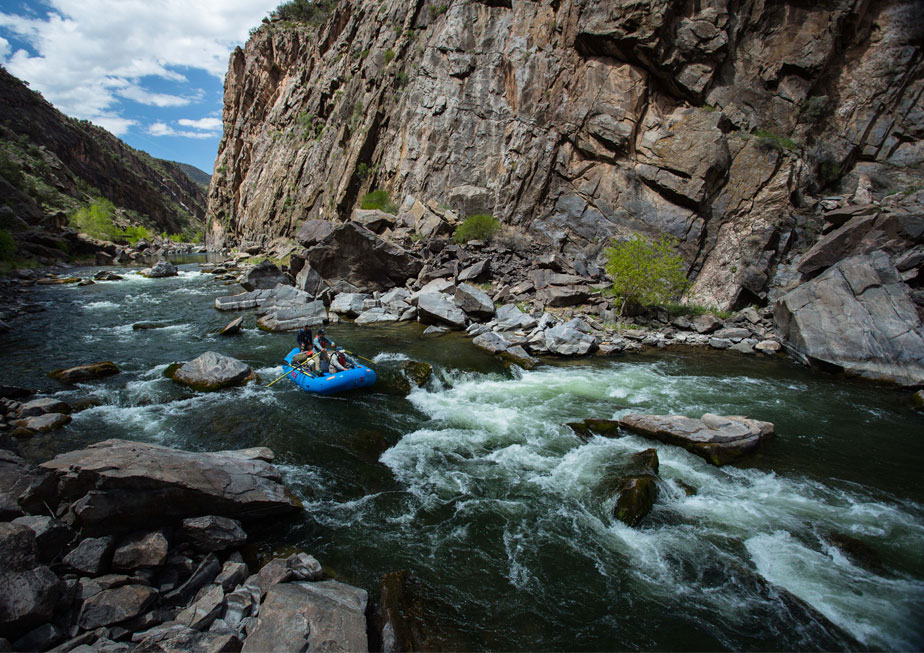 Reservations & Rates
Prices are based on two guests and one guide per raft with a share of the group camping gear.

1 day fish float - $1,800.00 per boat (2 people)
2 day fish float - $3,500.00 per boat (2 people)
3 day fish float - $4,500.00 per boat (2 people)
2 day gear boat - $1,800.00 per boat (except June)
3 day gear boat - $2,000.00 per boat (except June)
3 day gear boat - $3,500.00 per boat (June)
Inclusions
Included in your package at Black Canyon Anglers is daily guided fishing (2 anglers/1 guide), BLM fees, flies, hot breakfasts, tasty lunches and gourmet dinners complete with appetizers and dessert (starting with lunch on the first day and ending with lunch on the final day), drinks (water, coffee, orange juice). On overnight trips optional canned beverages (beer and soda) may be purchased and packed in per your request. All rafting and safety equipment, life jackets, food, kitchen gear and tents are provided. For Lodge Stays, 3 cocktails, beer, soda, taxes and gratuities are included.
Non-Inclusions
Not included in your package at Black Canyon Anglers are gratuities, fishing license, Airport transfer to/from Lodge, fishing equipment (rentals available at no charge), sleeping bag and pad (rentals available at no charge) and personal items.
Travel Insurance
The Fly Shop® is not in the insurance business, but we recommend Travel Guard (AIG) and Global Rescue (IMG) coverage as a service with a desire to see your best interests protected. It is impossible to know when an unfortunate situation (loss of luggage, fly rods, illness in the family, or an accident) may occur. However, such things can and do happen, and this insurance can provide a means of recourse against non-refundable financial losses.

• Travel Insurance Information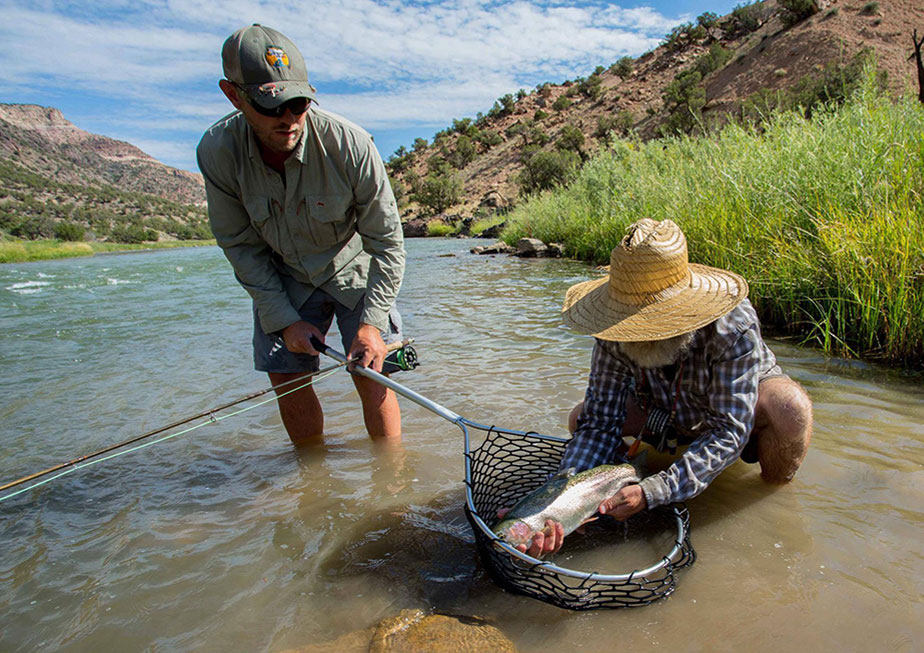 Seasons at Black Canyon Anglers
The season at Black Canyon Anglers runs from Mid-May through early October. Please call for availability. We primarily book only 3 day trips in June, but on rare occasion, 1 and 2 day trips are available.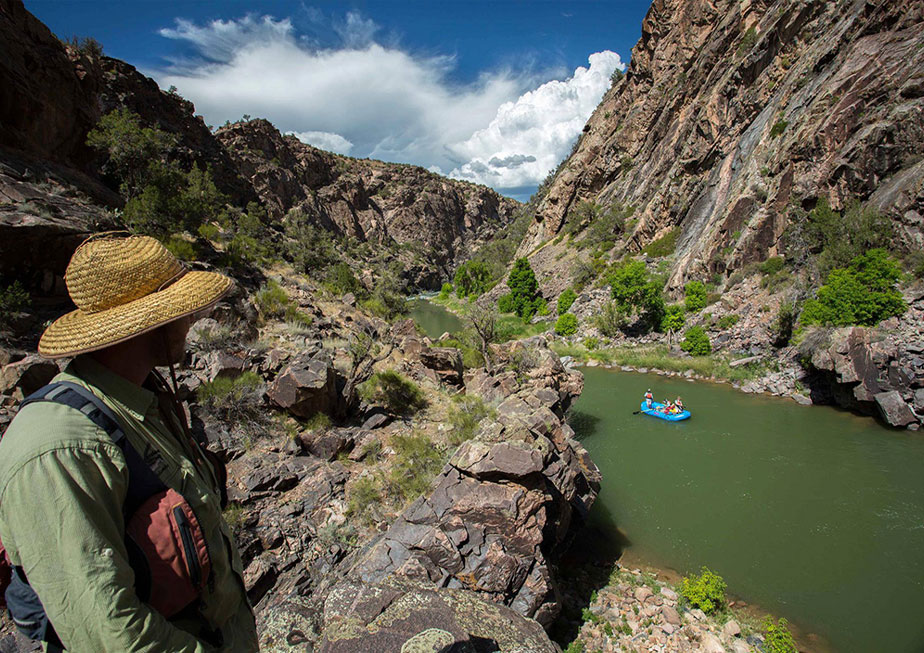 Getting to Black Canyon Anglers
From the Montrose Airport – approximate travel time = 35 minutes
From the Telluride Area – approximate travel time = 2 hours
From the Grand Junction Area – approximate travel time = 1 hour
From the Aspen Area – approximate travel time = 2 hours
From the Crested Butte Area – approximate travel time = 2 hours
Read More
Airport Shuttles:
Ground transportation between the Montrose Regional Airport (MTJ) and the Black Canyon Anglers' fishing lodge can be arranged through Telluride Express. One way shuttles are specially priced by the van for BCA clients.

Meeting Time and Place:
All Float trips begin and end at their riverside lodge located in Austin, Colorado. Trips meet at 6:00 am and depart for the river at 6:30 am. Normally, trips end back at the lodge at approximately 4:00 pm on the last day. However, staying at the lodge before and after the trip is highly recommended.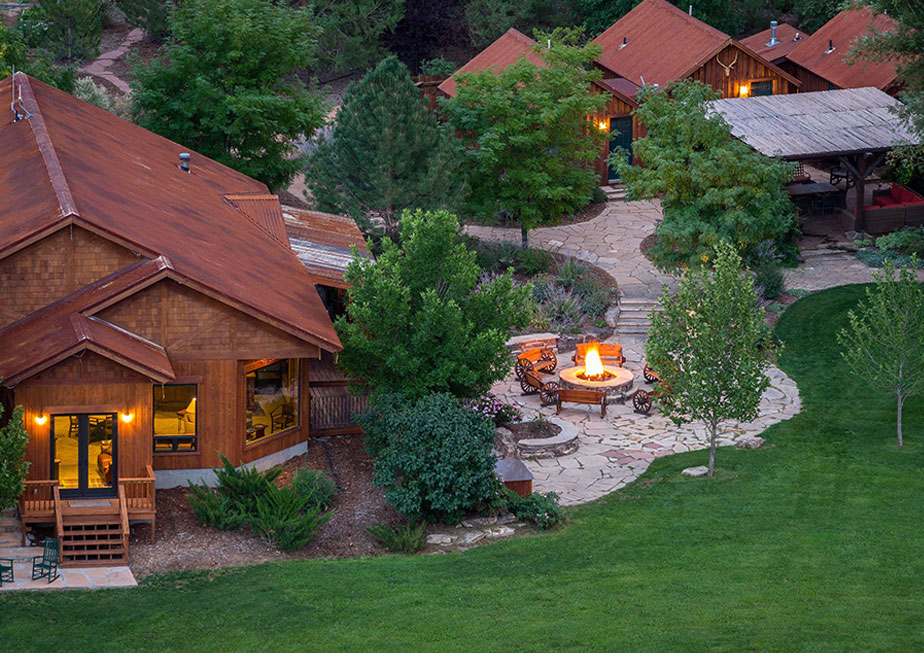 Lodging at Black Canyon Anglers
Optional Lodging:
The unique riverside lodge is located on a working peach orchard. The facility is set up to comfortably feed, house, and entertain guests before and after their adventures. Cozy 4 bed cabins, and 2 bed cabins are available. Evening meals (6:30 PM) may be reserved in the dining hall. An on-site fly shop carries flies, licenses, and other fishing supplies. Ponds on the property offer great casting practice and a great way to cool off on those really hot summer days. Guests are also invited to fish three miles of private water on the Gunnison River. It is strongly suggested that clients stay at the lodge the night before their fishing trip. Arriving early
Read More
allows time for guests to pack their river bags, stop by the fly shop, fish the river, enjoy a delicious meal, relax around the fire circle, and get a good night's rest. The lodge only serves breakfast and dinner (lunch is not served). Guests arriving mid-day should plan to eat before coming to the property, or bring a picnic lunch.

Lodge Dining:
Head Chef Deanna joined BCA as Sous Chef in 2017. In 2020, she took over the kitchen and cooks nightly for the lodge guests during the season. Deanna combines her love of gardening with her experience cooking in fine-dining kitchens to craft dishes that celebrate seasonal produce from the property. She creates every element of the meal from scratch; from sourdough bread, to cheeses, to sauces & dressings, to ice cream and dessert. Her philosophy is to use the highest quality ingredients and treat them simply (but always add herbs and butter…and edible flowers).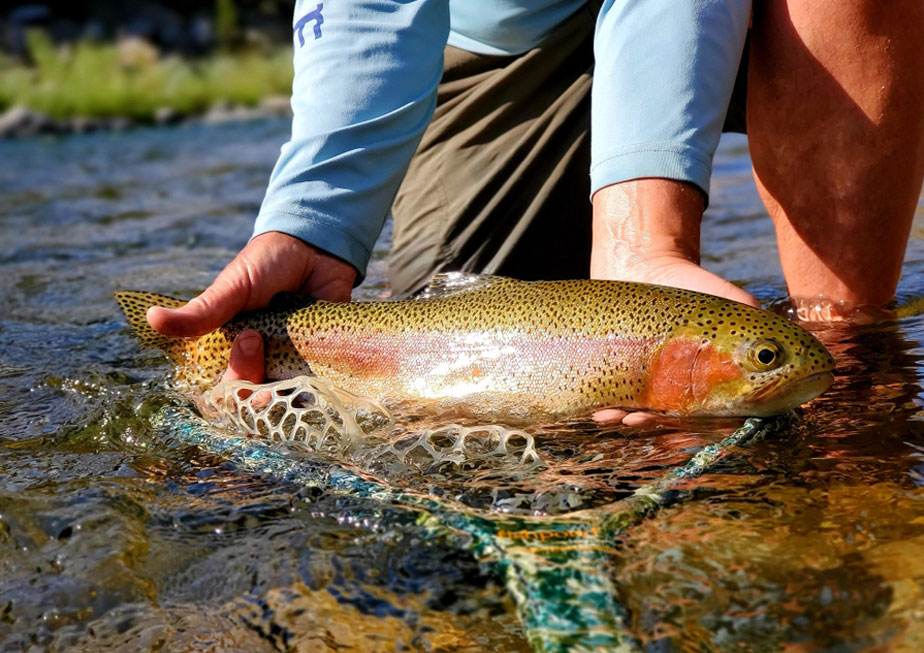 Fishing at Black Canyon Anglers
Gunnison River:
The East River meets the Taylor River to form the headwaters of the historic Gunnison River, Colorado's second largest river. And so, begins the river's amazing 164-mile journey through the Gunnison Valley on its way to Blue Mesa Reservoir and the famous Black Canyon and ultimately to Grand Junction where it joins the Colorado River.
Read More
Itinerary:
If staying at the lodge, wakeup call is at 5:30 AM, a continental breakfast is served at 6:00 AM and guides and clients leave for the river at 6:30 AM. The Gunnison Gorge is unique as there is no road access to the river. Transportation is provided over a rough 4X4 road to the rim of the canyon. From there, everyone hikes the moderate 1.1 mile Chukar Trail to the river while carrying their personal gear on their backs (river dry bag with shoulder straps provided). Guests wishing to avoid carrying personal gear to the river on their back may prearrange to have their gear taken in for an additional fee.

Once at the river, you will find the boats and equipment which was packed in via horse the day before. Several class III rapids, as well as numerous class II rapids, need to be negotiated during this 14 mile stretch of river. This is one of the only floats to offer both fantastic fishing and exciting whitewater in the same trip. Multi-day trips are slower paced and offer ample time spent out of the boat fishing from afoot. Single day trips are faster paced and mostly require fishing from the boat in order to cover the necessary mileage.

The Bureau of Land Management regulates this resource to allow only two commercial launches per day, with a maximum of 8 guests and 4 guides per trip. Each boat carries a maximum of 2 guests and 1 professional fly fishing guide. A gear boat is available for an additional fee, eliminating the need to carry equipment in the fishing raft. For easy access throughout the day, a day pack is a good way to store personal items on the raft.

Camping is conducted at designated camping sites along the river. All trips end around 4:00 PM at a private take-out, 6 miles upstream of the lodge and a 15 minute shuttle ride back to the lodge is provided.

Advanced reservations are required for all trips. Black Canyon Anglers is allowed to take a maximum of 12 people (8 clients and 4 guides in 4 boats) per day on the river per BLM regulations. Black Canyon Anglers reserves the right to combine smaller parties in order to fill all the available spots on any given launch day. On overnight trips, a common campsite must be shared by all 12 people per BLM regulations.
What Makes This Destination Special and Unique?
• FISH FACTORY – With consistent and constant supply of mayflies, stoneflies, worms, caddis and midges, Gunnison River trout have a steady supply of food to choose from. These fish eat and grow year-round which allow them to attain giant proportions. With 8,000-10,000 fish per mile, not only will you be catching lots of fish, they will be big! There is an abundance of fish between 15"-19" with many exceeding 20" +, and there is always a chance for a 24" + trophy!

• EXPERIENCE/ADVENTURE – This is one of those trips you need to experience first-hand. It is one of the best fishing trips in the United States and the Gunnison River is in Chris Santella's 50 places to see before you die. With the 2,000'+ rock walls, it is overwhelming when you look up from the bottom to the steep cliffs and craggy spires as you float by some of the oldest exposed rocks on earth, nearly 2 billion years old. The Canyon gets its name as some parts of the canyon receive so little sunlight that they look black, hence the very literal name "Black Canyon" This is a bucket list trip that you will never forget and will haunt you until you can get back to see it again. This is more than just a fishing trip, you will come home remembering the awe inspiring beauty, the geology, wildlife, adventure and of course the world class fly fishing.

• FAMILY – This is a three generation family affair. Todd, his wife Jan, three children, and his father, Ted, have made the Gunnison River an essential part of their lives and find great pleasure in sharing it with others. They will do everything within their power to meet and exceed your expectations. Rest assured you will be well looked after while staying with Black Canyon Anglers, and will leave with new friends and family members for life.

• GUIDES – Black Canyon Anglers maintains the most experienced guide staff on the river. Their guide staff has over 200 years of experience. They set a high standard for their staff and they work hard to create the best possible trip for each and every guest. It takes a special person to row you down the river safely, set up your camp each night, answer you questions on flora, fauna, geology and get you into lots of fish. These guys are more than just fishing guides. They are seasoned oarsmen, knowledgeable naturalists, and all around great people that will make sure you have a wonderful experience and unforgettable fishing trip.