Ruby Springs Lodge is located on 3,500 private acres in the Ruby Valley, just outside the ranching town of Alder, Montana. The lodge has over 10 miles of the fabled Ruby River and its tributaries flowing through the lodge property, offering world-class private water trout fishing. In addition to their home water, anglers have access to numerous spring-fed ponds within a few minutes' walk from any of the guest cabins.
Four more of the West's top wild trout streams are within easy striking distance of Ruby Springs Lodge: the Big Hole, Beaverhead, Jefferson, and the Madison. The lodge also has easy access to multiple private water leases within a short drive of the property.
If you have a passion for wild trout fishing and gorgeous Montana countryside, this part of Montana is pretty tough to beat.
Reservations & Rates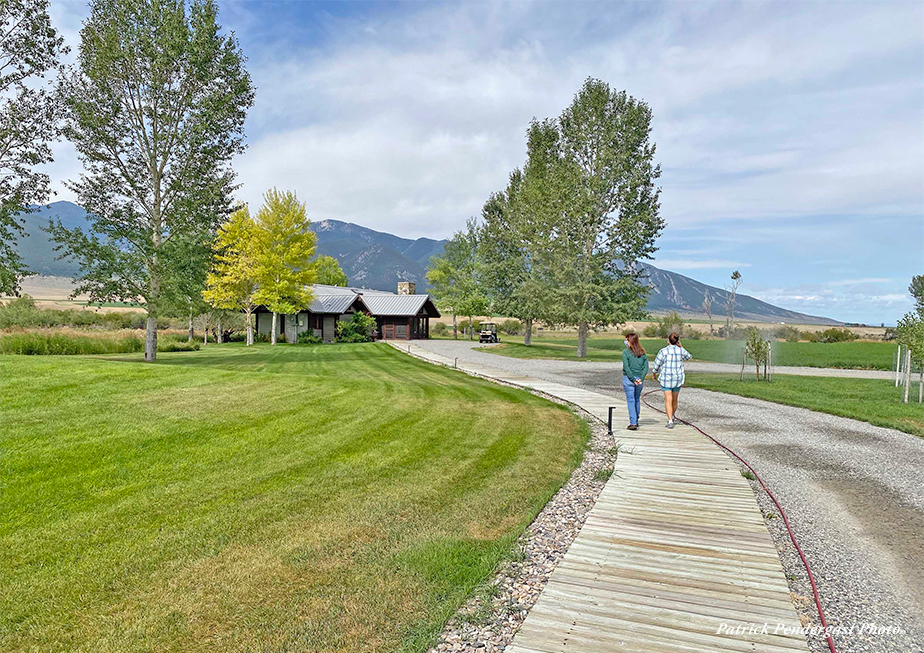 Seasons at Ruby Springs Lodge
March -May
Spring is a great time to be fly fishing in Montana. The rivers are less crowded, the fish are hungry from a long winter fast, and the bugs are starting to hatch as the days get longer and the water temperatures begin to rise. Midges start hatching on warm sunny afternoons and once the river hits that magic lower 40-degrees mark, matched with overcast skies, the first big hatches of the year happen, with blue wing olive mayflies making their appearance. This is the first hatch where fish start coming
Read More
up consistently and in Montana can happen anytime from March to the beginning of May. The other magical hatch in Montana that occurs before runoff and sees swarms of bugs blanketing the rivers in early May is the Mother's Day Caddis hatch. It is something to experience during its peak - the sheer number of bugs in the air is astonishing and can be overwhelming at times. Once you see this hatch, you will view all others differently. Montana weather can be unpredictable in the spring and you just have to be prepared for anything and everything. But for those not afraid to endure a little "weather" the payoffs can be well worth the effort.

June
Depending on the year, June is typically runoff in Montana. Many freestone rivers become unfishable for a couple of weeks and are running high and off-colored during this time. That doesn't mean you have to throw in the towel for June, as there is a hatch that lots of people plan trips around and can keep you coming back year after year. We are talking about Pteronarcys Californica, the Salmonfly (a giant stonefly). This hatch typically takes place when the water is still high and dropping, from mid-June into July on the local rivers. Because these big freestone rivers vary year to year, hitting it just right can prove difficult. Nymphing big stonefly nymphs is always productive, especially at this time of year because even when the adult bugs aren't on the water, the nymphs are stirring on the bottom, waiting for their temperature cue to tell them to crawl ashore and morph into these big orange flying bombers. If you can get in on this hatch and be there at the right time, you will not forget it. The sheer size of this bug brings all the big fish to the surface for a chance to gorge themselves on this large flying feast. Both the Big Hole and Madison have healthy, annual salmon fly hatches that every serious dry fly enthusiast should see.

July
By July the weather has stabilized and the rivers are in great shape and running clear. This is the most popular time to visit Montana. Hatches start to be more consistent, and PMD's, Golden Stones, caddis and terrestrials are the bugs of choice, depending on the river. This is the most reliable and consistent time to fish dries and an enjoyable time to be on the river, or cruising the countryside.

August
August is hopper season in Montana. Terrestrials like crickets, beetles, ants and of course grasshoppers can be put on almost any time and typically produce consistent results. During certain years fish are really keying in on these big floating protein-packed meals and drifting a big puffy attractor along the grassy banks is a great way to spend the day on a drift boat. Morning and evening caddis hatches produce fish for those that get up early and stay late. August can be hot and dry. Bring lots of sunscreen and lip balm.

September/October
Fall is one of our favorite and oft-overlooked times to fish. The crowds have left for the season, days are starting to shorten and the fish feel the pressure to fatten up before a long Montana winter. Hopper fishing continues into September, caddis hatches are still going on and as the days and waters cool, the blue wing olive mayflies come back, especially on overcast days. Late September and especially October weather can be notoriously unpredictable and being prepared for anything is once again the main recipe for success. Some of the best BWO blanket hatches occur on cool, gray overcast days during autumn storms. Big browns are on the move and in peak condition; this is the best time to hunt for one of these big boys!
Getting to Ruby Springs Lodge
Ruby Springs Lodge is located near Sheridan, Montana, just outside the small ranching town of Alder. It is an approximate 1-hour drive from Butte, and 1.5 hours from Bozeman.
Read More
Most guests will fly commercially to Butte or Bozeman, Montana, the lodge staff will pick up guests and transfer to Ruby Springs for a fee. You can also rent a car and drive yourself to the lodge. The advantage of having a rental car is mobility, just in case you want to take a morning or afternoon off from fishing to explore the incredibly beautiful and diverse countryside. We will provide you detailed driving instructions to the lodge.

If you prefer to fly to Twin Bridges, Montana, transfers to and from by the lodge can be arranged and are complimentary.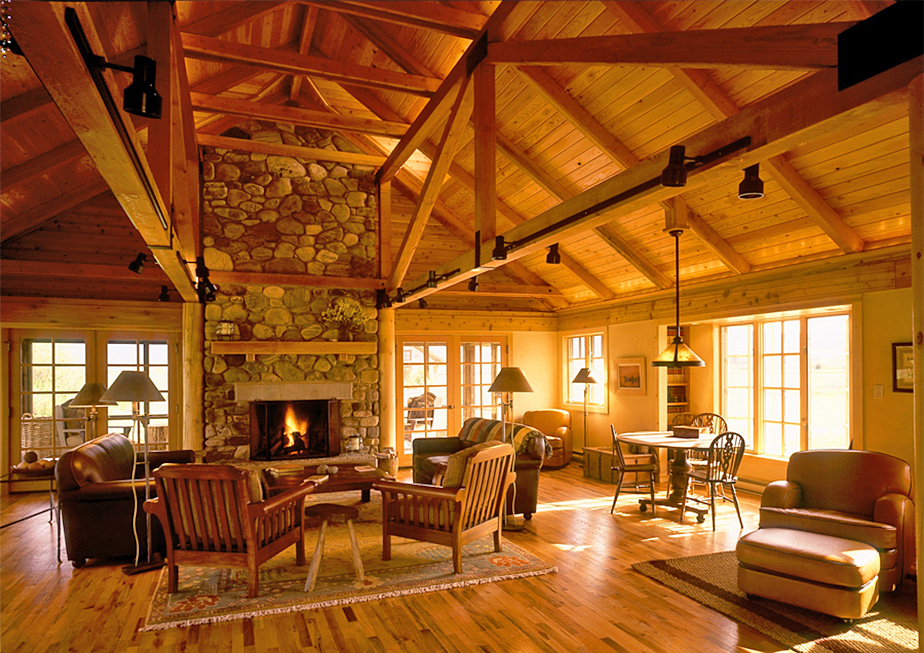 Lodging at Ruby Springs Lodge
Ruby Springs lodge offers seven well-appointed and private guest cabins right on the bank of the Ruby River. All the beautiful and fully-decorated cabins are within close proximity of all lodge property amenities and buildings, yet far enough away to offer privacy. Golf carts are available to guests whose cabin is a distance from the lodge campus. Maximum capacity at Ruby Springs is 16 guests, ensuring an intimate and relaxing holiday.
Read More
Riverside Cabins
Each of the five Riverside Cabins feature:
• River rock fireplace
• Oversized tub and shower
• Heated tile floors
• Screened porch
• Fully-stocked refrigerator
• Broadband wireless internet access
• Your choice of a king or 2 twin beds

Tobacco Root Cabin
For guests who prefer more room, the Tobacco Root Cabin features:
• Master bedroom with your choice of king or 2 twin beds
• Two full baths
• Living room
• Outdoor shower overlooking the Ruby
• River rock fireplace
• Screened porch
• Wet bar and fully-stocked refrigerator
• Broadband wireless Internet access

Discovery Cabin
At 1,500 square feet, Discovery is the largest cabin on the property. It's a two-bedroom, two-bath building that will comfortably accommodate four guests. It features:
• Living room
• River rock fireplace
• Plasma TV
• Full wet bar and refrigerator
• Broadband wireless internet access
• Outdoor fireplace adjacent to the Ruby River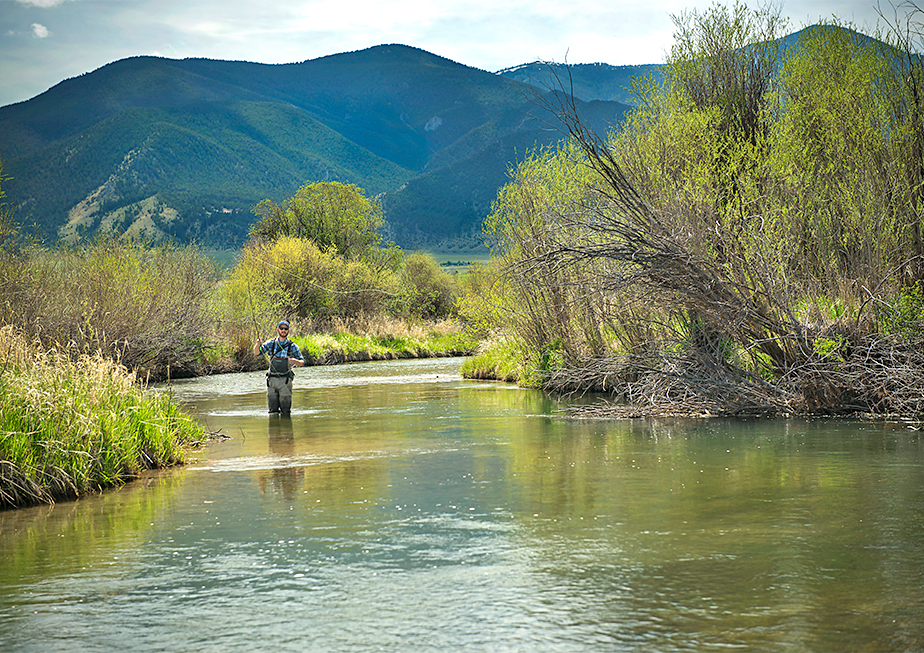 Fishing at Ruby Springs Lodge
The daily fishing options at Ruby Springs are extensive and there's something for everyone.

Over 10 miles of the Ruby River and its tributaries run through the lodge property, offering world-class private water trout fishing only minutes from the lodge. The lodge also has access to numerous spring-fed ponds within a few minutes' walk from any of its cabins.

Four more of the west's best wild trout streams are within easy striking distance, including the Big Hole, Beaverhead, Jefferson, and Madison.
Read More
Additionally, the lodge has access to some private water leases available for guests.

The Ruby River:
Within minutes of the lodge are over ten miles of private water access to the Ruby River and its numerous tributaries. Upstream from the lodge is the Canyon property, which boasts 2,200 fish per mile, the highest population of trout on the entire river. This section is popular with beginning and intermediate anglers as its high population of trout equate to high catch rates. The "home water" runs right past the guest cabins. This is smaller water and the fishing can be challenging, but very rewarding and perfect for advanced anglers looking to test their skills. On both sections of the river, there are good hatches of pale morning duns and yellow sallies in June and July, caddis and hopper fishing throughout the summer, and Baetis (blue-wing olive) hatches in the fall.

The Big Hole:
The Big Hole River is a fishery that dreams are made of – towering cliffs, quiet meandering meadow stretches, abundant wildlife, and lots of willing and feisty trout. Some of the most exciting and famous dry fly fishing for trout anywhere is found on this river in June, with the emergence of the giant stonefly known as the "Salmonfly", (Pteronarcys Californica). These monster stoneflies can reach sizes in excess of two inches and are a trout staple in June. Dry fly fishing on the Big Hole continues into the summer with caddis, Tricos, and hoppers luring fish to the surface every day. If you prefer fishing streamers or nymphs, the spring and fall can produce excellent fishing as well.

The Beaverhead:
The Beaverhead is one of the most prolific rivers in Montana and perhaps the Rockies. The average trout on the Beaverhead will run 16 inches, and with 3,800 fish per mile the fishing can be very productive. It is estimated there is a trout of 4 pounds or better for every twenty feet of river bank. The Beaverhead is considered the best trophy trout river in the region and is definitely a favorite fishery of ours. The river is surprisingly small, but deep, with fast water currents, and lots of big fish. Small nymphs work well on this river for big trout. The months of June and July provide good quality dry fly fishing with caddis and pale morning duns. In August the famous crane flies come off and the trout key in on them. Fall is blue-wing olive time, and the streamer fishing can be excellent, depending on water levels and conditions.

The Madison:
The Madison is the most consistently productive river in all Montana. On the Madison, you can expect excellent hatches of salmonflies, caddis, and mayflies. Dry flies, soft hackles, streamers – Madison River trout are usually happy to eat just about anything. It's a gorgeous river, offering rainbows, browns, the occasional brook or cutthroat trout, and even the rare grayling. Being only an hour from the lodge, and one of the most beautiful and scenic drives in the Madison River Valley, it's one of the lodge's most popular fisheries.

The Jefferson:
This is a sleeper river in Montana and usually only fishes well early and late in the season, when water levels are optimal. During the spring and fall, this river can produce some brilliant fishing, not to mention solitude, a beautiful backdrop and lots of wildlife sightings. The streamer action can be excellent - as well as the dry fly fishing - at certain times of year. The Jefferson does not get a lot of press, but for those that have unlocked its secrets it can be a wonderful fishery. Though rarely a numbers game, the size of some of the brown trout that lurk beneath its surface are impressive. The lodge usually floats the Jefferson and we highly recommend that you ask the manager about the possibilities of fishing this gem of a trout river.

Private Waters:
If your idea of a perfect day on the water involves exclusivity and an isolated experience, the lodge can make arrangements to fish a variety of nearby private waters such as Clear Creek (or other small streams), with advance notice. There are also two spring-fed ponds on the lodge property available to guests for casting practice or instruction.

Full Fishing Days:
Each day, pairs of fishermen (unless fishing as a single) will have the opportunity to experience a new and different fishery, or return to their favorite spot. Anglers will be targeting browns, rainbows, cutthroats and cut-bows. The selection of fisheries is extensive at Ruby Springs, and your guide and lodge manager, David Frederick, will sit down with you during cocktail hour and help figure out your next day's fishing plan. As an added bonus, guests can opt for a wade day on the Ruby, with a midday stop at the lodge for lunch, then continue fishing until the end of your fishing day.

Whether you are staying on the ranch to fish private water or travelling off property to one of the nearby public fisheries, you will always be with a guide who will make sure your day on the water is enjoyable, productive and safe. The in-house guides at Ruby Springs Lodge are seasoned professionals, with years of experience on their waters. They are polite, patient, safety-conscious and you can count on them to give you a full day of enjoyable fishing. The guides are all excellent coaches and instructors, never heavy-handed, and know and understand how to deliver just the right amount of guiding and advice.

A Typical Day @ Ruby Springs Lodge:
7:00 - 8:00 a.m.: Morning breakfast beverage delivery to your door, breakfast to follow at the lodge
8:30 a.m.: Depart for fishing
12:30 p.m.: Riverside lunch break
5:30 p.m.: Return to lodge
6:30 PM: Cocktails and hors d'oeuvres followed by dinner

What Makes This Destination Special and Unique?
• LOCATION AND DIVERSITY: Montana encompasses a huge area and there are endless options of rivers to fish in the Treasure State. Ruby Springs Lodge's strategically selected location allows anglers quick and easy access to some of the best rivers Montana has to offer. All the rivers the lodge fishes are unique and there is certainly more than enough water to keep things interesting for any level of angler. Whether the Beaverhead, Madison, Jefferson, Big Hole, or the private water beats of Ruby River, each day will be a new experience which keeps you engaged, from your first day on the water to your last. And there is no wasted motion getting to and from the fisheries, which maximizes your time on the water.

• RECHARGE: Ruby Springs is located in the fertile Ruby Valley and is more than just a prime area for fly fishing in Montana; it's also a little slice of heaven. The Ruby Valley is nestled between four mountain ranges - the Tobacco Root Mountains, the Ruby Range, the Greenhorn Range and the Gravelly Range. These mountain ranges shelter the area from the harsher Montana winters and the valley grows lush and green. After a long and successful day on the water there is nothing better than having a craft beer or glass of wine on the deck of your private cabin and unwinding while taking in the magnificent views. Sometimes the true reason for a fishing trip is to get away from it all and recharge your soul. Ruby Springs is the ideal hideaway.

• PLAYGROUND: Ruby Springs Lodge resides on a track of private land, encompassing 3,500 acres – a virtual playground for outdoor enthusiasts. If you are into the sporting life there is something here for everyone - no matter your preference - to engage in. Be it the lodge's world-class fly fishing, brand new 5-stand skeet course, hiking, bird hunting, nature viewing, golf…you name it, this property has something for everyone. And the lodge grounds are absolutely gorgeous – tranquil, cozy, warm and inviting. We can't think of a better place for a family retreat, a special couple's holiday, or a group of good fishing buddies to visit. It's a place memories are made and guests return to for generations.

• EXPERIENCE: Paul Mosely (owner of Ruby Springs) first came to Montana in 1989 with a fishing buddy looking for a change of pace. After extensive reconnaissance of the entire state in search of the perfect spot to build his dream fly fishing lodge, he settled on the Ruby Valley and has been onsite for more than 25 years. Paul chose this location due to the proximity to an abundance of great trout fisheries, and has assembled an all-star team of professional guides and staff to take care of every detail of your trip, many of whom have been with him since the start. Paul is a hands-on owner and is onsite at the lodge to ensure your fly fishing holiday meets and exceeds your expectations. That gives you a lot of peace of mind; let Paul and his staff take care of all the details, and all you need to do is kick back and enjoy the experience.

• COZY, WARM, AND INVITING: Although the emphasis at Ruby Springs is on great fly fishing, it doesn't hurt to also have luxury lodging, world-class amenities, and gourmet dining to round out a terrific fly fishing holiday. The entire lodging experience at Ruby Springs is inviting, cozy, warm and we couldn't think of a better spot to spend a week with friends and loved ones. You can rest assured that you will get a good night's rest and be ready for the next day's fishing sortie, satiated with fine dining. Treat yourself, you deserve it…