The Madison Double R Lodge, located in the beautiful Madison Valley just south of Ennis, Montana the self-described Trout Capital of the United States. With 1,200 acres on 2 miles of Madison River frontage just south of iconic Varney Bridge, Madison Double R offers guided fly fishing on nearby trout waters, luxury accommodations, and a relaxing western outdoor experience.
Owners and hosts John and Krista Sampson came to Montana in the early 1990s, and both became fishing guides. Over the years they continued to learn what it takes to create the ultimate fly fishing lodge experience, helping develop a top-quality fly fishing guide program, superb cuisine, comfortable accommodations, and the right balance of sophistication with an easygoing western atmosphere, both of which John calls a "Montana-State-of-Mind". The Sampsons are joined by Russ and Susie Milam, experienced lodge managers, in welcoming guests and ensuring your stay is not only enjoyable but memorable.
Today, the Sampsons and Milams, along with a hand-picked staff, are energized to bring over 25 years of experience in the lodging and fly fishing world to their operation, in an effort to exceed the expectations of every guest who stays at the Madison Double R.
"I love this piece of the Madison Valley," states Sampson. "The long riffles and pools of the Madison are like no other. I felt the connection to this landscape with its lush willows, beautiful side channels, and layers of views across this majestic valley to the glaciated Cameron Bench, and knew this was the place where I could create a destination lodge for the ultimate Montana experience. Fortunately, the land surrounding the ranch will never be developed and will remain protected, as one area is conserved through an easement with the Montana Land Alliance, and the other is owned by the State of Montana." – John Sampson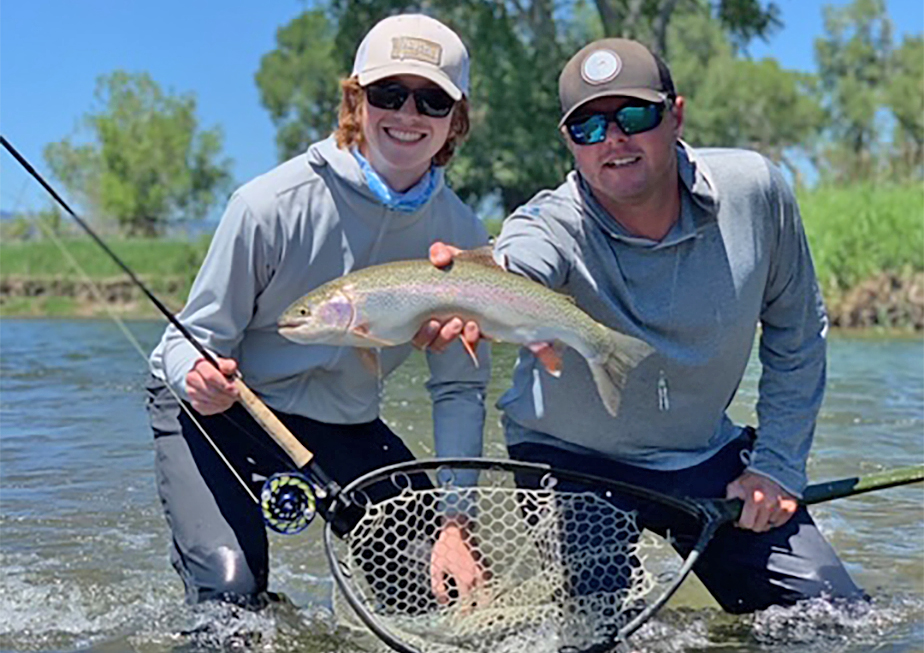 Reservations & Rates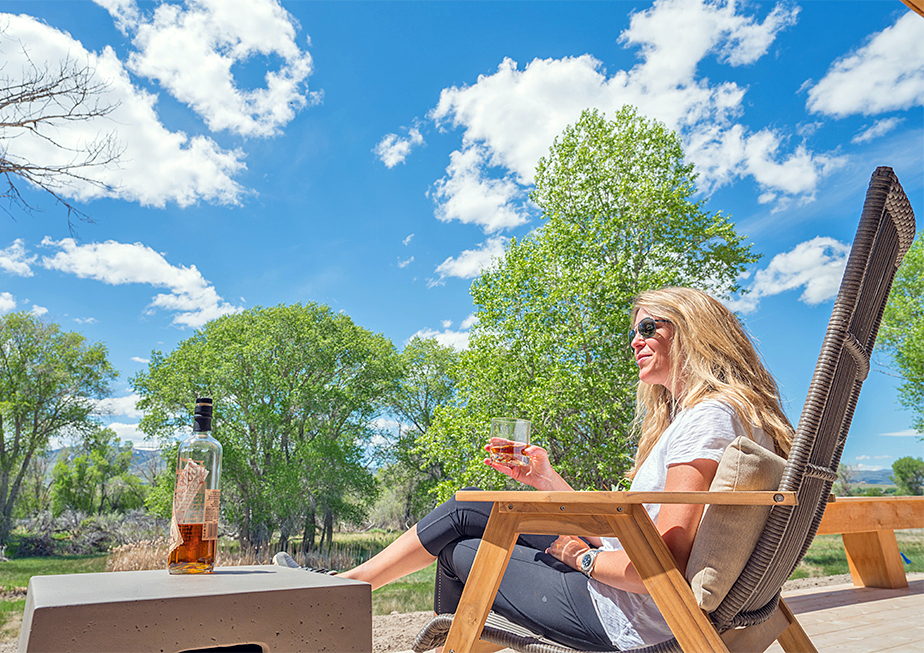 Seasons at Madison Double R
March -May
Springtime is a great time to be fly fishing in Montana. The rivers are less crowded, the fish are hungry from a long winter fast, and the bugs are starting to hatch as the days get longer and the water temperatures start to warm. Midges start hatching on warm sunny afternoons and once the river hits that magic lower 40-degrees mark, matched with overcast skies, the first big hatch of the year, Blue Wing Olives (BWO's), happen. This is the first hatch where fish start coming up consistently and in Montana can happen anytime from March to the beginning of May. The other magical hatch in Montana that has swarms of bugs that blanket the rivers,
Read More
typically before run off in early May, is the Mother's Day Caddis hatch. It is something to see during its peak- the sheer number of bugs in the air is astonishing. Once you see this hatch, you will view all others differently. Montana weather can be unpredictable in the spring and you just have to be prepared for anything and everything. But for those not afraid to endure a little "weather", the payoffs can be well worth the effort.

June
Depending on the year, June is typically run-off in Montana. Many freestone rivers become unfishable for a couple of weeks and are running high and off-colored during this time. But that doesn't mean throw in the towel for June, as there is a hatch that lots of people plan trips around and can keep you coming back for more, year after year. We are talking about Pteronarcys Californica, The Salmon Fly (Giant Stonefly). This hatch varies from river to river and starts in YNP as early as late May and can run all the way into early August and usually happens mid-June into July on the Madison River. Because Montana weather and run-off can vary each season, hitting it just right can prove difficult. Nymphing big stonefly nymphs is always productive, especially at this time of year, because even though the adult bugs aren't always on the water, the nymphs are stirring on the bottom, waiting for their temperature cue to tell them to crawl ashore and morph into big orange flying bombers. If you are there at the right time and can get in on this hatch, it is something you won't soon forget. The sheer size of this bug brings all the big fish up to the surface for a chance to gorge on this large flying feast. The Madison and Big Hole Rivers have healthy, annual salmon fly hatches that every serious dry fly enthusiast should see.

July
By July the weather has stabilized and the rivers are in great shape and running clear. This is the most popular time to visit Montana. Hatches start to be more consistent. PMD's, Golden Stones, caddis and terrestrials are the bugs of choice for Montana trout depending on the river. This is the most reliable and consistent time to fish dries and is also an enjoyable time to be on the river, as well as exploring the countryside. This is also a great time to fish inside Yellowstone Park.

August
August is hopper season in Montana. Terrestrials like crickets, beetles, ants and of course grasshoppers can be put on almost any time and typically produce consistent results. During some years fish will really key in on these big floating protein-packed meals, and drifting a big puffy attractor along the grassy undercut banks is a great way to spend the day on a drift boat. Early and late caddis hatches produce fish for those that get up early and stay late. Run down to the Madison after dinner and get a little more time on the water skating some caddis. August can be hot and dry. Bring lots of sunscreen and lip balm.

September/October
Fall is one of our favorite and often overlooked times to fish. The crowds have left for the summer, days are starting to shorten and the fish feel the pressure to fatten up before a long Montana winter. Hopper fishing continues into September, caddis hatches are still going on and as the days and waters cool, the BWO's come back, especially on overcast days. Once again, late September and especially October weather can be notoriously unpredictable and being prepared for anything is once again the main focus for success. Sometimes the best BWO hatches occur on cool, gray overcast days surrounding big storms. Midges come back into the game and hatch on sunny afternoons. Anglers can head down to YNP and fish alongside rut- crazed bugling elk for a one of a kind experience. Big browns are on the move and in peak condition; this is the best time to hunt for one of these big boys!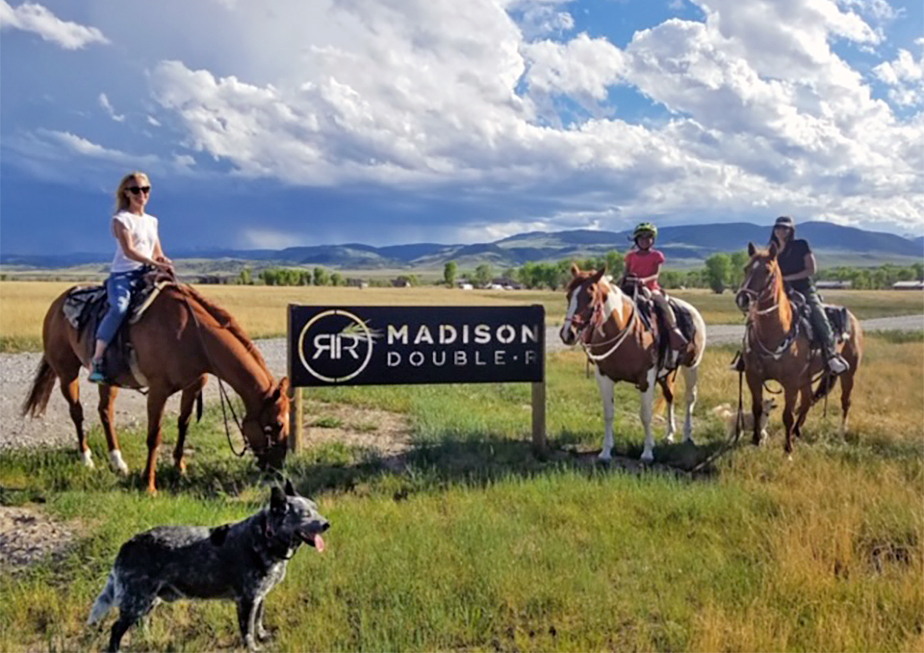 Getting to Madison Double R
The Madison Double R is located 16 miles south of Ennis, Montana. Most people coming to the lodge will fly into Bozeman Yellowstone International Airport (BZN), which handles more passengers than any other Montana airport. BZN hosts 8 airlines and offers nonstop flights to 21 US destinations.

There are many options to get you to The Madison Double R and many guests choose to rent a car and drive to the lodge which is around an hour and 15 minutes from the airport. The rental car also gives guests the ability to explore the area's many beautiful and historic sites along with easy and quick access to the charming town of Ennis.
Read More
Shuttles can be arranged from the BZN (Bozeman) airport to the lodge upon request. Please let us know in advance so we have plenty of time to schedule this.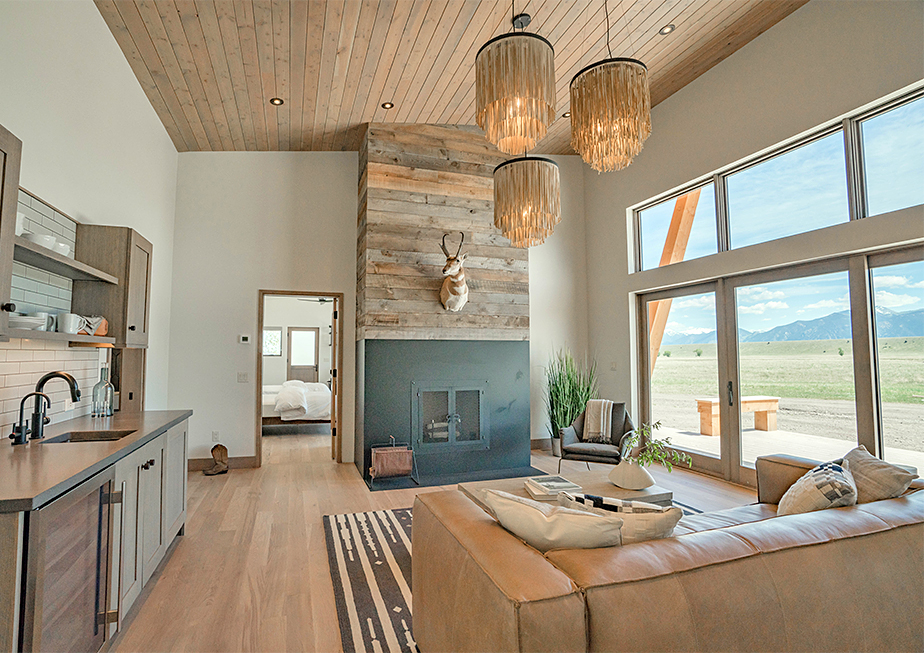 Lodging at Madison Double R
The Main Lodge
This beautiful 3,500-square foot lodge is comprised of two buildings connected with an outdoor trellised terrace. The lounge portion of the main lodge features a full bar with premium wines, beers, and spirits, a stack-rock fireplace, two TVs, and an outdoor covered fireplace porch with stunning views where hors d'oeuvres are served as the sun dips below the horizon.

The other trellised-attached building is the spacious dining room which boasts massive windows with views across the pond and meadows, and mountains views in the other direction. And for much of the summer, the
Read More
windows slide aside for an immersive outdoor dining experience.

Also in the main lodge is an office for check-in, as well as a gift shop stocked with sunscreen, sunglasses, and Madison Double R branded items to help you remember your stay.

Additionally, there is a 1,000-square foot, fully-outfitted workout room, complete with free weights, elliptical machine, rowing machine, treadmill, and plenty of space for yoga and other exercises. Completing the setup is a hot tub, outdoor shower, and private changing room and shower.

Creekside Cabins
These five spacious cabins provide simple luxury in a very private setting. With views that look out over a beautiful meadow ringed by towering cottonwoods, it's not uncommon to see deer, eagles, coyotes, elk, the occasional moose, and an abundance of other classic Montana wildlife. Two queen beds, oversized showers, soaking bath tubs, cozy fireplaces, flat panel TVs, hardwood floors, outdoor cedar decks, and small kitchenettes are some of the amenities that make these cabins a supremely comfortable hideaway at the end of each day.

Also, each Creekside Cabin has its own 4-person golf cart, as well as a pair of mountain bikes, to make getting around the lodge and ranch property a breeze.

Mountain View Cabins
Two 1,700-square foot, 2-bedroom cabins thoughtfully positioned next to each other are perfect for those who have something sophisticated, spacious, and possibly social in mind. Sleeping up to 8 guests comfortably, the Mountainview Cabins are ideal for up to 4 couples, 8 friends, or a sprawling single-occupancy option. Each of the 4 guest rooms has 2 queen beds, oversized showers, soaking tub, hardwood floors, a fireplace, flat panel TV, attractive shared living rooms, huge cedar deck, and kitchenette. The prevailing views of the Madison Range are jaw dropping!
Like the Creekside Cabins, each Mountainview Cabin has a 4-person golf cart and a pair of mountain bikes for guest use during their stay.

Back Eddy Saloon
Just steps from the main lodge is the authentic 1800's western saloon, originally the Norris, Montana bar, where you can relax and enjoy a libation while telling stories about the trout you caught that day. A 20-foot regulation shuffleboard table, pool table, gas fireplace, sound system, and massive TV round out this spacious and warm gathering spot. Additionally, two large glass garage type doors open fully for access onto a spacious deck, the perfect spot for soaking up those beautiful Montana evenings and nights!

Dining Meals at Madison Double R provide more than just sustenance; they are an event you can look forward to each and every day. Their culinary program features locally sourced meats, sustainably harvested seafood, fresh fruits and vegetables melded together with thoughtful wine pairings. Breakfasts and dinners are served in the main dining room while creative riverside lunches are served by your guide each fishing day.

Trained at Culinary Institute of America and Le Cordon Blu, with over twenty years of experience, head Chef Scott Warren sources the freshest local ingredients in designing and preparing his Western cuisine. Warren's talent for meticulously combining healthy and delicious dishes, paired with fine wines with a Montana-state-of-mind sets the table for delightful culinary experiences from breakfast to dinner.
Fishing at Madison Double R
Fly fishing in Montana is the stuff of dreams, and The Madison Double R couldn't be in a better location to take advantage of all the Treasure State has to offer.

The lodge is located eight miles downstream from the Storey Ditch put-in. This section of the river, known as the 'Miracle Mile' and flowing along two miles of the lodge property, is the gem of the Madison River. This is also part of the '50-mile riffle', the famous section between Quake Lake and Ennis; here the river drops over 1,500 feet in just over 50 miles, making for endless ideal trout habitat. Their private access to the lower section of this float it is perfect, as it allows their guides to put boats in at
Read More
the upper end of the property so you can be the first boat on the river and have this remarkable stretch to yourself every morning for outstanding fishing.

Dry fly fishing, streamers, nymphs, hoppers — the fisheries within a day's drive of the Madison Valley have a style all their own that you'll enjoy, and want to make a regular habit.

Madison River
The Madison is perhaps the most famous of Montana's rivers and has been described as the perfect river to fly fish. The famous "Miracle Mile" of the Madison runs right through the property of the Double R for two solid miles. This section of the river has everything you could possibly ask for in a trout river – wade or float, pocket water, classic riffles, runs, pools, buckets, undercut banks, dry flies, streamers and nymphing; just extraordinary variety, and the Madison has it all. From its origin at the confluence of the Firehole and Gibbon Rivers in Yellowstone National Park it flows for almost 200 miles to connect with the Gallatin and Jefferson Rivers to form the Missouri. Within that distance, the river shows a lot of different faces. Slow and meandering in Yellowstone Park, it flows into and out of Hebgen and Quake Lakes just outside of the Park border. From here downstream is the classic 50-mile riffle, one of the most popular sections of the river and for good reason - it is lovely water to fish and the trout are plentiful and right in the lodge's backyard. Below Ennis Lake, the river enters Bear Trap Canyon and is pretty inaccessible except at the top and bottom of the canyon. There is some great pocket water fishing in this stretch but it can be tricky to wade and is more often floated with whitewater rafts than drift boats. Once the Madison emerges from the Canyon the flows slow down, and the river widens. This section is called the Lower Madison and offers some great float fishing as well as options to walk and wade. Trout numbers are lower than those above Ennis, and during mid-summer this section has a tendency to warm up, but it is also the place where you can run into some bruiser brown trout if you want to go after them. Throughout the river, fish average 12 - 15" and there are always bigger fish lurking around every bend.

Big Hole River
The Big Hole is another Montana icon. It starts in the Beaverhead Mountains near the Idaho border and flows 155 miles before it joins the Beaverhead and Ruby just outside of Twin Bridges. The Double R has good access to the lower Big Hole in the Melrose area which offers excellent fishing for browns and rainbows, in a wild and remote setting. As a bonus, there are often sightings of wildlife including Shiras Moose, whitetail deer and bald eagles.

Ruby River
The Ruby is a wonderful small meandering stream on which to spend the day. Wade the upper river and cast to willing trout happy to take a well-presented dry fly. Much of the river is difficult to access, but the lodge has some great little hot spots their guides will take you to find fish. Because of the limited access, much of the river remains lightly fished and the thick, willow-lined banks provide lots of solitude and shelter for the angler willing to explore.

Jefferson River
The Jefferson River is large water that begins near Twin Bridges at the confluence of the Big Hole, Beaverhead and Ruby Rivers. It is not in the same league, fly fishing-wise, as the more popular fly fishing rivers of Montana because of being drawn down by irrigation, a lesser gradient, and mid-summer warming. With lower overall trout numbers, relatively few rainbows and fewer hatches for dry fly fishing, it receives less pressure than the more popular and esteemed rivers of Montana. However, if you are into hunting for a truly monster brown trout, throwing big streamers without the crowds, there is no better river than the Jefferson.

Yellowstone National Park
You could spend a lifetime exploring the rivers, lakes and streams of YNP. It is a fly fishing paradise and nowhere are there so many great places to fly fish in such close proximity to each other. River and creeks like the Firehole, Gibbon, Lamar, Slough, Madison, Yellowstone, Gallatin, Soda Butte and many others all originate in the world's first National Park, and Madison Double R is located a short drive to all of these. Spend a day, or week chasing trout with your guide in the Park while fishing alongside elk, bison and all the other wildlife that are commonly sighted here. Steaming geysers, boiling rivers and not a building in site always makes for a unique and special fly fishing experience. The fishing style is varied and you catch lots of willing cutthroat, along with rainbows, browns, cut-bows, brook trout, and even the occasional grayling.

Lakes
Hebgen Lake is a fantastic dry fly lake with "gulpers" - large rainbows and browns that cruise and gobble prolific mayfly hatches off the surface all summer.

Quake Lake, just downriver from Hebgen is another great dry fly lake with a huge variety of hatches in a truly magnificent setting.
What Makes This Destination Special and Unique?
• When you hear the word "famous trout river", what is the first thing that comes to your mind? For many people the Madison is on the short list. This is the fishery all other trout fly fishing rivers are measured against and should be a pilgrimage for any serious fly fisherman. What is even better is having the Madison's famous "Miracle Mile" running right through the property. Drive times are short for us when you want to hit these hallowed waters right out the back door. There isn't a lodge around that is in a better location to fish the Upper Madison River, and this didn't happen by accident.

• The panoramic views from the lodge are breathtaking. From Sphinx Mountain poking out of the Madison Range to the east and the Gravelly Mountains to the west, the lodge sits in a truly stunning panoramic valley. Your hosts thought of everything when they built the lodge and we can't think of a better place to unwind and share stories of your days fishing with friends over a frosty beer or a glass of wine than the Madison Double R. It's a destination that by its sheer nature you can't help to relax and recharge.

• This lodge couldn't be in a better location to take advantage of all Montana has to offer. The Madison, Big Hole, Ruby, Jefferson and Yellowstone National Park are all close by and within easy striking distance. The possibilities are endless. Hop in a drift boat and float the Madison, wade the Ruby and cast dries to willing trout suspended along the willow-lined banks, cast big articulated streamers for trophy browns hanging beneath undercut banks along the Jefferson River, or spend the entire week exploring Yellowstone National Park. The Madison Double R has you covered no matter what your fishing preference is.

• When you book your trip at the Madison Double R, the goal is to have amazing trout fishing. We know this because that is what they specialize in. Although we are all there for the fish, it takes an experienced outfitter to put all the pieces together to make for a truly memorable experience. A brand new modern western lodge that is absolutely spectacular builds on this experience. This facility beautifully frames the surrounding landscape. Huge windows with stunning views, one-of-a-kind meals, world-class service along with all the amenities make for a truly incredible vacation. Sit back, relax and let The Madison Double R treat you to that vacation.