The Darwin Ranch is located in the Bridger-Teton National Forest, surrounded by lakes, mountains, rivers and wilderness in all directions. This secluded high-altitude destination, located a few hours' drive from Jackson International Airport in Western Wyoming, is one of the few surviving homestead inholdings in US Forest service land that has not been subdivided. The ranch provides remote access to the pristine Upper Gros Ventre River, which is protected by Wyoming's Wild & Scenic Designation. One can fish for miles in either direction, and it is a rarity to encounter others.
As a Darwin Ranch guest, you will experience the wild on your own terms, with or without a guide. They believe there is real value in the opportunity for exploration and true adventure, especially in a welcoming, intimate, and luxurious setting, and with the benefit of a safety net that is largely unseen. A significant aspect of this is focusing on creating a loose-reined atmosphere of curiosity, learning, and self-challenge, be it with respect to gaining confidence wading the Gros Ventre River casting at feisty cutthroat trout, exploring the rugged backcountry, learning local flora and fauna, or saddling a horse and helping our wranglers run the herd out to pasture for the night.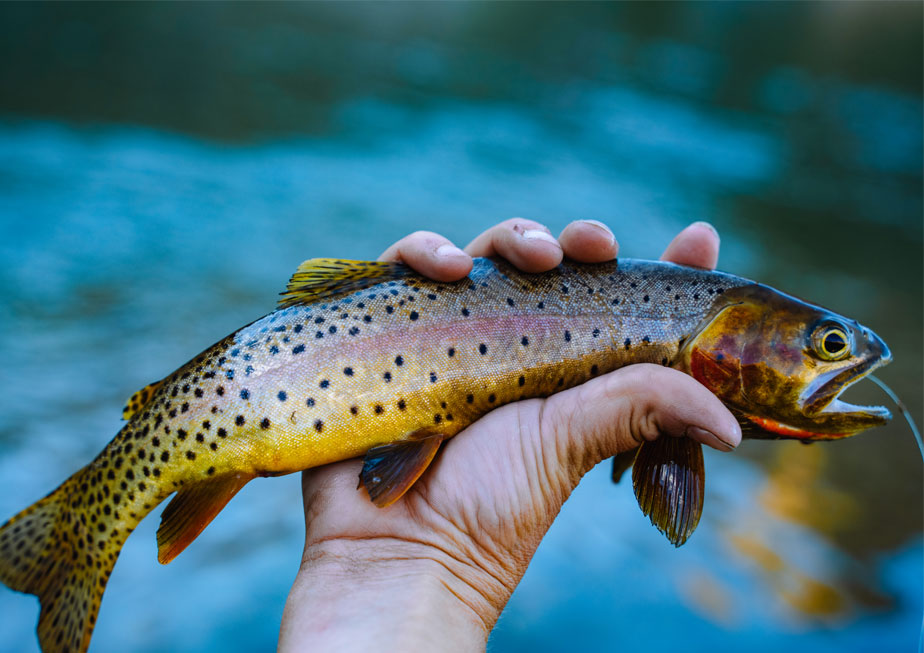 2023 6-Night/5 Day Ranch Stay
Cabins: Spruce, Moose, & Deer and the Lodge Loft $8,280/week for one or two persons

Rooms: Elk Creek & Elk Meadow, Pronghorn Creek & Pronghorn Meadow, and Willow $6,900/week for one or two persons $4,525/week for one in Willow
Extra Persons in any cabin: $3,000/week
Extra Kids 6-13 in any cabin: $2,250/week
Extra Kids 5 & under in any cabin: $600/week

Full guided fishing: "Light guiding" is provided with the trip prices above. However, if you would like a professional guide, we can provide one for an additional $300/day/person for two people or the full $600 if you are fishing solo.
Inclusions
Rates include lodging, all meals and snacks, lightly guided fly fishing, and guided horseback day rides
Non-Inclusions
Transportation in and out of the ranch, guided fishing, alcoholic beverages (BYOB), state and local taxes, or discretionary gratuities.
Travel Insurance
The Fly Shop® is not in the insurance business, but we recommend Travel Guard (AIG) and Global Rescue (IMG) coverage as a service with a desire to see your best interests protected. It is impossible to know when an unfortunate situation (loss of luggage, fly rods, illness in the family, or an accident) may occur. However, such things can and do happen, and this insurance can provide a means of recourse against non-refundable financial losses.

• Travel Insurance Information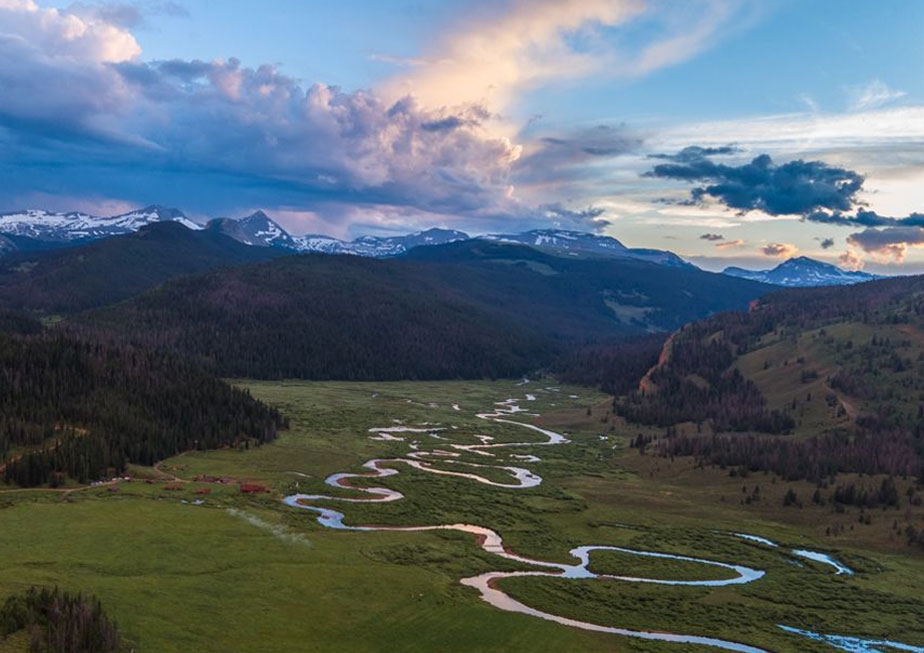 Seasons at The Darwin Ranch
Summer Season: June 25 through September 23, 2023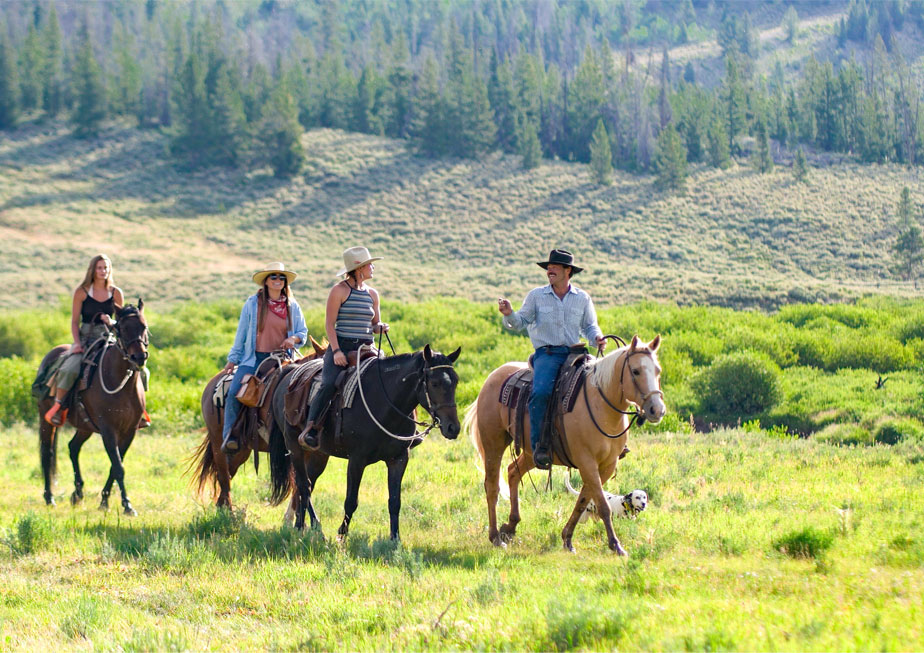 Getting to The Darwin Ranch
The Ranch is at the end of a long gravel road off the Union Pass Road, which crosses the mountains between Dubois and Pinedale. Our closest airport is Jackson Hole, but rental car and air ticket rates can be less expensive when flying into Salt Lake. The drive from the Salt Lake airport is about 285 miles and takes 5 hours; from Jackson, it's about 100 miles and 3 hours. *When booking your return flight, please note that the Jackson Hole Regional Airport asks that travelers arrive two hours prior to flight time.

RENTAL CARS: In dry weather, Kinky Creek Rd. is navigable by passenger car, however we recommend a 4WD vehicle for the additional clearance.
Read More
Driving directions included below; the gate at the Kinky Creek Road parking lot may be closed, but is not locked.

SHUTTLE: The Great Outdoors Transportation Company, GOTCO, operates a professional shuttle service out of Pinedale, offering rides between Salt Lake City or Jackson Hole (town or the airport) and the Darwin. They have sturdy 4WD vehicles, and are both reliable and service oriented. They charge a flat fee for the vehicle, and the capacity varies from 4-7 people; they will meet you at baggage claim and make a stop in town if needed, and pick you up the following Saturday with ample time to make your return flight, but please book an afternoon flight!

Please contact Shane or Michele Costello directly, on their website: gotcoshuttles.com or by phone: 307-360-3660 or 307-231-9983 (Shane cell). If you would like to share the ride with other guests, please let Michele know and she will try to consolidate the trips.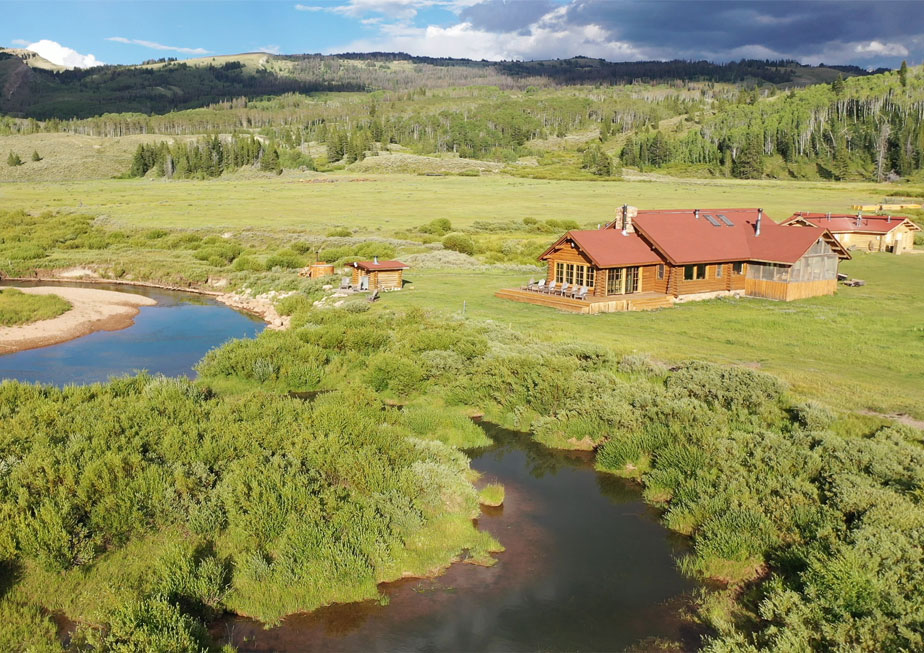 Lodging at The Darwin Ranch
The lodge is the hub of the ranch, with the kitchen, dining room, a cozy piano bar, a spacious living room, a light-filled lounge, and a porch overlooking the river. Guests gather inside by the fire or on the porch for morning coffee until the bell rings for a hearty ranch breakfast. During the day, the living room is a peaceful spot for settling into a good book, immersing oneself in an art project, diving into a board game, or enjoying a cup of tea. Outside the lodge is a beautiful wood-fired sauna and hot top, perfect for relaxing after a quiet afternoon or a long ride. Evenings at the lodge bring a cocktail hour to recount the thrills of the day, followed by family-style dinner, conversation by the fire, and perhaps some music and dancing.
Read More
Enjoy the wild on your own terms from the comfort of our welcoming and intimate accommodation. Settle into our hand-built log cabins whose modern style blends gracefully into the bones of 100-year-old structures. Enjoy the timeless comforts of our cozy beds with crisp sheets & down pillows, wood burning stoves for chilly nights, private baths, and ranch-generated electricity.

The Cabins: Spruce, Moose & Deer
Our three free standing cabins are outfitted with wood-burning stoves, a queen bed and a twin daybed, a screened porch, and a newly renovated bathroom with a shower. They are spacious enough for a family and can accommodate an additional cot.

Spruce is the most secluded cabin: perched on a wooded hill, it offers spectacular views of the valley. With a stunning porch, you can enjoy your morning cup of coffee or stargaze at night in solitude. The interior is bright and cozy—the embodiment of rustic comfort

Moose stands at the southern edge of the cluster with a spectacular view up valley. It offers a gorgeous view of Sportsman's Ridge and the Gros Ventre River as it winds across the valley, and the front porch lets you keep an eye on the main meadow

Deer is set on the banks of Kinky Creek and feels a world away. Its porch looks out over the babbling creek to the east, with a perfect view of the grazing horses, and offers solitude.

Spruce, Moose and Deer are free-standing log buildings, each with a main room with one queen and one twin bed, a bath with a shower, and a screened porch

The Lodge Loft Skylights bathe the room in sunshine and allow you to stargaze from bed! The main room has one queen bed and one twin daybed, and there is a twin bed in a small adjacent room. The back hallway leads to the bathroom, with a newly added shower, and a balcony overlooking the main meadow. It sleeps four, with a queen and a twin/daybed in the main room, and a twin bed in a small room that overlooks the ranch. The Loft has a small balcony.

The Rooms: Elk, Pronghorn and Willow The Elk Cabin was recently renovated and now has four individual rooms under one roof. The two rooms that face north, toward the Lodge, are Elk Creek and Elk Meadow, which share a large screen porch. The two rooms that face south are Pronghorn Creek and Pronghorn Meadow; each has a wood stove, a bath with a shower and a small private corner porch. Each room sleeps two, and they give priority booking of Elk Creek & Meadow to groups of four.

Elk Creek & Elk Meadow two rooms booked together. Pronghorn Creek & Pronghorn Meadow two rooms booked separately. The Willow Room opens onto the main meadow, and has a queen bed and a sunny front deck, and a bath with a shower. The Elk/Pronghorn Cabin has four rooms, each of which has either a king bed or two twin beds. Elk Creek & Elk Meadow face the Lodge, and share a large screened porch, and the rooms are booked together. Pronghorn Creek & Pronghorn Meadow face southward, and each has a small private porch. Willow has a queen bed, and a front deck.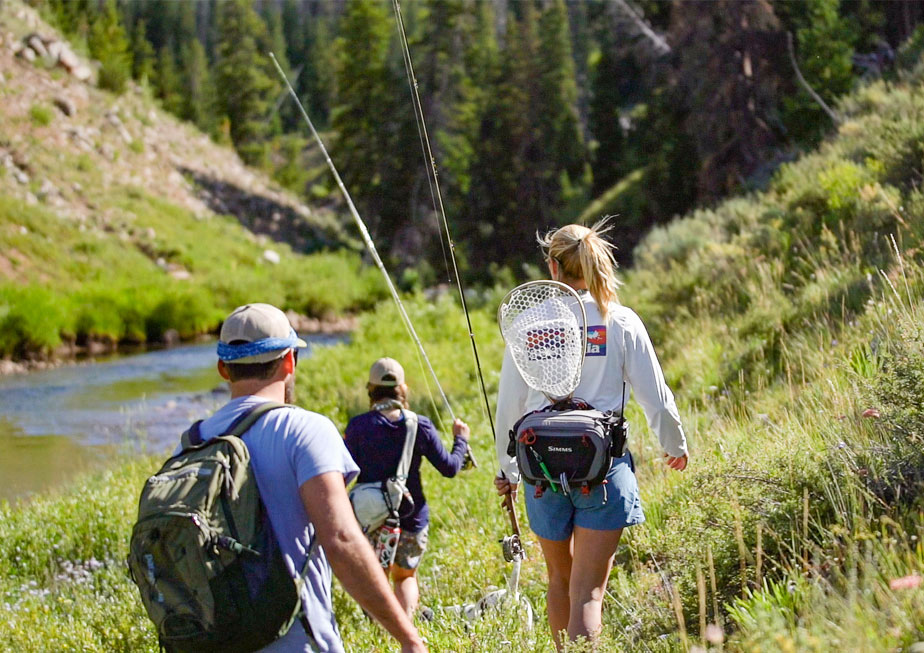 Fishing at The Darwin Ranch
You will have remote access to the upper Gros Ventre River, which is protected by Wyoming's Wild & Scenic Designation. There are miles of the river to access either by foot or a combination of horseback and foot if you want to explore some of the upper lesser fished areas. Open, flat mountain meadows as well as small tributaries of the Gros Ventre such as Clear creek and Kinky Creek are right on the ranch. The main target is Cutthroat Trout but there are also some brook trout mixed in as well.

Along with the Gros Ventre River, guided fly fishing trips off the ranch can produce some spectacular fishing. If you want to experience other rivers, The upper Green and some smaller streams in the area can be great for Rainbows and browns depending on the season and conditions.
Read More
The beauty of the Darwin Ranch is it in not set up as a standardized, regimented program. The lodge and the staff want to create custom made itinerary for you and your group. If you want to eat breakfast and relax for a couple of hours and go and fish for a few hours, the lodge can make it work to your schedule. However, if you want to enjoy a full day of fishing with a professional guide, they will make it happen.
What Makes This Destination Special and Unique?
• SOLITUDE
The most remote guest ranch in the lower 48 states, 25 miles down a dirt road, you will find a herd of horses dotting a spectacular green river valley amid a collection of 100-year-old cabins. The Ranch is surrounded by the Gros Venture Wilderness and Forest service land so you can wonder for miles in any direction and there is nothing but meadows, rivers, trails and mountains to explore. One of the few surviving homesteads within the US Forest service in the area, there is no encroachment from the outside world, so you can be sure to get off the grid, spend time with friends and family and soak in as much solitude as you need to recharge your soul.

• FARM TO TABLE
Savor extraordinary meals prepared by their farm-to-table kitchen that sources directly from their family farm, Ishawooa Ranch, or neighboring farms in the area. Enjoy Fresh, local, organic homemade meals where the ingredients are acquired from the landscape where they live in and beef and pork come from nearby following sustainable, integrated agricultural practices. This is a vacation where you know exactly where your food is coming from and it is always prepared from scratch daily which are healthy, vegetable forward, varied and casual meals to be enjoyed with friends and family.

• ETHICAL PRACTICES
Darvin Ranch is committed to preserving, protecting, sharing and preserving the land for future generations. They are off the grid and are working on a zero-waste future. Enjoy the Ranch, land and the river as it has been for the last 100 years and know this place will be the same, so your children can also enjoy it and experience it exactly how generations have before them.

• REMOTE FISHING
With so many of our western rivers crowed these days, it is becoming an increasingly rare occurrence to experience fly fishing solitude. With access to such a prolific wilderness fishery, The Darwin Ranch is the ideal destination for anglers new to fly fishing and especially young anglers just learning how to fly fish. Cutthroat are known for their naivety and willingness to rise for dry flies, but unpressured Cutthroat make fishing fun again. If you blow a cast, miss a take or loose a fish; no big deal, another one is willing and able to eat your dry fly on the next cast...over and over again. We can't think of better spot to light the passion of a young angler, then on a wilderness river loaded with native cutthroat.