Missoula River Lodge is a wonderful fishing lodge in Missoula Montana that specializes in dry fly fishing on the Bitterroot, Clark Fork, Rock Creek, and Blackfoot Rivers in Western Montana. On the water, they want to share the excitement of convincing a wild trout to rise to your fly. Off the water their award winning lodge staff creates a vacation oasis at their riverfront estate. Enjoy over one mile of frontage on the Clark Fork River, with a private access boat ramp, to fish to risers, relax, and dine in the quiet beauty of Montana.
The Clark Fork River is the only neighbor on their private end of the road guest ranch. Wildlife abounds throughout the property along with over a mile of private wade fly fishing for those who did not get enough fishing with their guide all day. The "Home" pool is a short walk from the back deck of the Lodge. It is a great Montana soaking scene with or without a fly rod in your hand.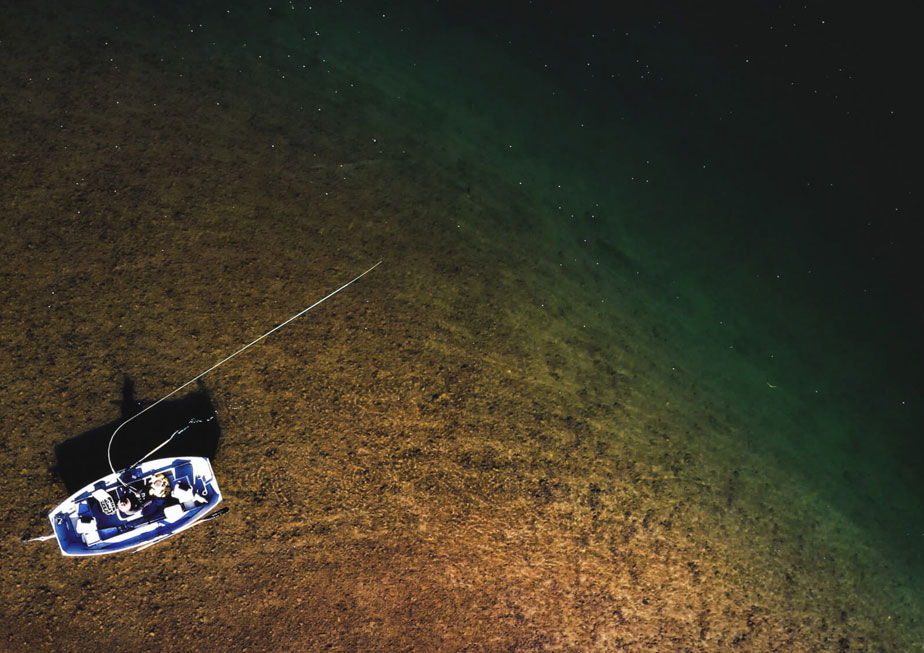 Reservations & Rates
3 Nights Lodging / 2 Days Guided Fly Fishing $2,195 per person
4 Nights Lodging / 3 Days Guided Fly Fishing $2,875 per person
5 Nights Lodging / 4 Days Guided Fly Fishing $3,515 per person
6 Nights Lodging / 5 Days Guided Fly Fishing $4,050 per person
7 Nights Lodging / 6 Days Guided Fly Fishing $4,400 per person
Inclusions
Included in your Missoula River Lodge package are ground transportation to/from Missoula, Montana, transportation and guided fly fishing for float/wade fishing, dining with our Nationally recognized chef, Hot shore lunches or special pack lunches, happy hour appetizers, beer and wine and non-alcoholic beverages, Daily housekeeping service, Complimentary wi-fi internet service and satellite TV, private wade fishing on lodge property, all rods, reels, flies, leaders, and tippet.
Non-Inclusions
Not included in your Missoula River Lodge package are Airfare to Missoula, Montana fishing license, gratuities, gift shop merchandise purchases.
Travel Insurance
The Fly Shop® is not in the insurance business, but we recommend Travel Guard (AIG) and Global Rescue (IMG) coverage as a service with a desire to see your best interests protected. It is impossible to know when an unfortunate situation (loss of luggage, fly rods, illness in the family, or an accident) may occur. However, such things can and do happen, and this insurance can provide a means of recourse against non-refundable financial losses.

• Travel Insurance Information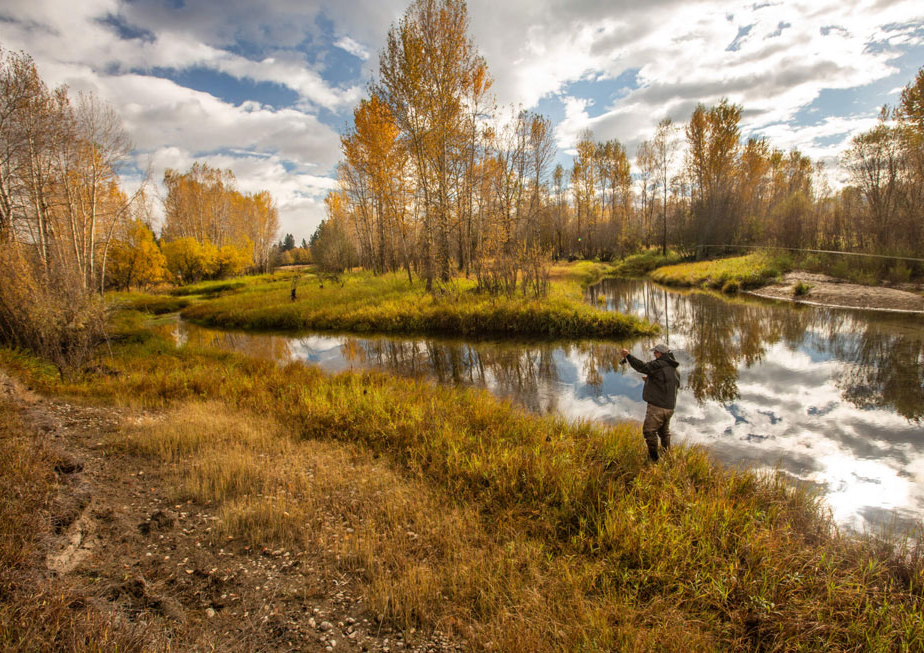 Seasons at Missoula River Lodge
Bitterroot River
March – April: Skwalas, March Browns, Blue Wing Olives
Skwala Stoneflies begin in early March and represent the best early season large dry opportunity in North America. The big bug is a size 10 and fished on short 3x leaders. As Montana warms up in April and March Browns and Early Season Blue Wing Olives start showing up. Weather: Highs in the 50 - 60s, lows in the 30s

May: Mother's Day Caddis
About half of May the Bitterroot is experiencing run-off as the snow melts. As the flows subside you can take advantage of the Mother's Day
Read More
Caddis hatch. May can be hit and miss on good water conditions, but when flows are right fishing can be exceptional.
• Weather: Highs 60s - 70s, lows in the 40s

June: Salmonflies, Golden Stones, Green Drakes
Early June is Salmonflies in the Upper Bitterroot River. By Mid-June, the Golden Stones cover both the Mid River and upper Bitterroot River. Late June Brings in Green Drakes. By the end of the Month, trout are in their happy place – bug soup and lots of dry fly options.
• Weather: Highs 60s - 70s, lows in the 40s

July: Golden Stones, Pale Morning Duns, Caddis
Golden Stones are still happening across the drainage, but now the Pale Morning Duns and Caddis show up in the mornings and evenings. This change to mid-sized hatches produces more true rising fish pods and rewards the long-caster that likes to stalk big fish on a rhythm to dries.
• Weather: Highs 70s-80s, lows in the 50s

August: Tricos, Hoppers, Hecubas
Tricos are the smallest Mayfly but come off in massive numbers in the Middle and Lower Bitterroot River. Fly fishing to sipping sighted trout targets can be challenging, large, and rewarding. In the afternoon, after staring at little flies on gossamer tippet, they cut the leaders back to thick fluorocarbon and large Hoppers that are coming off the grass in the warmth of August. On the rainy days it is perfect for Fall Green Drakes – Hecuba. Those are the easiest days that although damp, this gets big fish sipping big Hecubas in the afternoon.
• Weather: Highs 70s - 80s, lows in the 50s

September – October: Mahoganies, Blue Wing Olives, Streamers
The Daytime Mayflies pile back in across the Bitterroot River drainage providing afternoon pods looking up on Mid-Sized dries. They are smart, willing, and motivated as the trout start to feel the creep of November's cold water and a long Montana winter coming on. Brown trout get into a nasty pre-spawn mood that anglers with a large streamer can take advantage of and stick trout in the 4 - 7 pound range. September and October are days with awesome scenery, fishing, and consistent fall conditions.
• Weather: Highs 60s-70s, lows in the 40s

Clarks Fork River
April – May: Skwalas, March Browns, Blue Wing Olives
The Lower Clarks Fork has the densest Spring hatch population in the area, but it does not turn on until early April. If the water sits right this will be some of the easiest guided dry fly fishing of the whole season.
• Weather: Highs in the 50 - 60s, lows in the 30s

May and June: Mother's Day Caddis and Early Summer Caddis
The heart of this river's hatch cycle is Caddis of all species. They see more tertiary caddis hatches on the Clarks Fork than any of their other waters. It is the last river to drop into shape and warm, so guides constantly schedule float trips on the Clark Fork River in early summer.
• Weather: Highs 60s - 70s, lows in the 40s

July: Golden Stones, Pale Morning Duns, Caddis
Giant Golden Stones are strongest in the Lower Clark Fork River but now you will get the right water conditions for Pale Morning Duns and Caddis in the mornings and evenings. This change to mid-sized hatches produces more true rising fish pods and rewards the longer caster that likes to stalk big fish on rhythm to dries.
• Weather: Highs 70s - 80s, lows in the 50s

August: Tricos, Hoppers, Streamers
Montana's Clark Fork River is rich in windswept grass banks so Hopper fishing is incredibly reliable in both the Upper and Lower River. Since water mitigation was completed with Milltown Dam in 2008, the Trico hatch has charged back to cloud like proportions and will get even the shyest high sun brown trout to sip in the mornings. August in Montana also marks the beginning of the pre-spawn brown trout bite for the Upper River. It can be a tough choice on a Missoula guided fly fishing trip morning – Brown Trout on Streamers and Hoppers in the Upper River or Adult Rainbow trout sipping tricos in the lower river. But fly fishing guides and guests bare the strain well.
• Weather: Highs 70s - 80s, lows in the 50s

September – October: Mahoganies, Blue Wing Olives, Streamers
The Daytime Mayflies pile back in across the drainage providing afternoon pods up on Mid-Sized dries in the Lower River. They also enjoy the peak of the Streamer bite as the fever pitch of the Brown Trout spawn kicks in. The Clark Fork River could be the best float trip in Montana in Fall – Peak Autumn paintbrushes, active brown trout, elk bugling on the river bottoms, and rainbows on the rise.
• Weather: Highs 60s - 70s, lows in the 40s

Rock Creek
June: Salmonflies, Golden Stones
Rock Creek in Montana has the best, most reliable, and copious Salmonfly hatch in the American West. The Salmonfly hatch is the mystical Montana fly fishing hatch that angler's try to hit, but can be fickle everywhere it happens except here. On Rock Creek, they get it for two solid weeks in June. That gives the angler a wide hatch target to plan a trip. As good as the Salmonfly hatch is the Golden Stones can produce more trout and they overlap in June to provide a broad menu for the wild trout. A Guided Float trip on Rock Creek with a 6 foot leader of 12 lb. test and a huge dry fly is an experience that all fly anglers should experience.

July: Easy Fly Fishing Walks, Great Montana Scenery
On July 1st all boats commercial and recreational are required to stop floating. Rock Creek is then managed as a wade fishing only destination for the rest of the year. Rock Creek does enjoy great Caddis, Green Drake, and PMD hatches but really the fly angler with the small attractor patterns is king on the river. Rock Creek trout are accommodating and plentiful. Sneaking along the banks of a now midsized creek with a size 12 dry fly surrounded by the pristine canyons of Lolo National Forest is a relaxing break from a guided drift boat float trip that is common on the Blackfoot River, Clark Fork River, and Bitterroot River. Stretch your wading legs and enjoy the simplicity that is Rock Creek.
• Montana Weather – Highs in the 70s, Lows in the 40s

September – October: Streamers, Fall Colors, October Caddis
The same streamer bite that turns on in the Clark Fork River is getting the Brown Trout to aggressively take flies on Rock Creek. There is also a great push of October Caddis late that can turn the big dry bite on in the afternoons. Although not a hatch, the autumn turn of the Cottonwoods and Ponderosa on the banks of Rock Creek is a draw in and of itself. Rock Creek satisfies the breadth of many layered desires of the small stream angler.
• Montana Weather – Highs in the 60s, Lows in the 30s

Blackfoot River
June: Salmonflies, Golden Stones, Green Drakes
Some of the Biggest trout that will come to the dry fly will happen in June on the Blackfoot River. The Salmonfly hatch starts sometime in June depending on flows and temperature. It is closely watched by the guide community, because they all know that hitting the hatch will give them one of the top days of the season. June fly fishing on the Blackfoot river is also blessed with great hatches of Golden Stones and Green Drakes. June has plentiful big bug options for the fly angler.

July – August: Attractors, Mayflies, Dawn Fly Fishing Patrol
For so many reasons guides love to start their guided Blackfoot River fly fishing trips earlier in the day during Mid-Summer. While the light is off the water the big fish on the Blackfoot are more confident in taking the streamer or dry fly. That angling success coupled with sunrises streaking through the pines and canyon walls make mornings on the Blackfoot special. The Blackfoot River's strength is its dry fly action. You can count on each day fish coming to the fly regardless of angling skill level. They love to start beginning fly fishing anglers on a guided trip on the Blackfoot River. They know they are going to have plenty of opportunities to learn and catch Montana trout. The fly fishing there is mainly with attractor/dropper rigs prospecting style, but for the advanced fly fishing angler the streamer fishing can be a highlight. They also have a great push of PMDs and Caddis lasting all summer and on the right day the angler with the smallest fly catches the biggest fish.
• Montana Weather – Highs in the 70s, Lows in the 40s

September – October: Streamers, Blue Wing Olives, October Caddis
The Blackfoot River continues into the Fall as a prospector style fishery. As you head into October, Blue Wing Olives start to play an important role and can produce reliable pods of rising trout. The emergence of October Caddis starts to get fall fish locked into a plentiful food item and keeps the big dry fly bite going. The Blackfoot River has an outstanding forage base for the top end predator trout so the streamer angler is always in the game.
• Montana Weather – Highs in the 60s, Lows in the 30s

Missouri River
May: Post Spawn Rainbows Feasting
7,000 fish per mile piling in off the spawn in May with no weeds in the river to cloud your bead head drifting freely is a recipe for huge numbers of hooked, broke off, and landed heavy trout. The freestone Rrivers of the Blackfoot, Clark Fork, Bitterroot, and Rock Creek will be coming in and out of shape as they experience stages of run-off so May is a busy time for the fly fishing guides on the Missouri. The Weeds are non-existent and the fishing is remarkably consistent. About half of the fishing on the Missouri in May is straight nymph fishing but there are sporadic hatches of Mother's Day Caddis and Blue Wing olives. By late May the dry fly opportunities improve immensely.
• Montana Weather – Highs in the 60-70s Lows in the 40s

June: PMD and Snotty Pods
June on the Missouri usher's in more dry flies with the PMD immergence which transitions this river to more dry fly opportunities. There are very few easy rising trout on this river and its notorious reputation for bringing up picky sippers is warranted. If you want to take Missouri river trout consistently on the rise your dry fly skills will be forced to improve. If the little fly game becomes more frustrating than fun a couple hours sticking fish under a strike indicator will get your confidence back up.
• Montana Weather – Highs in the 70s, Lows in the 40s

October – November: Blue Wing Olives
Little flies, ridiculously tough risers, and hoping for bad weather to blow the hatch up bank to bank. This is not for everyone but if you groove on razor's edge risers in tough weather then this is heaven. It is that good. No glowing description here, just hardcore fishing with little dries. You know who you are. We would love to guide you on the Missouri.
• Montana Weather – Highs in the 50s, Lows in the 30s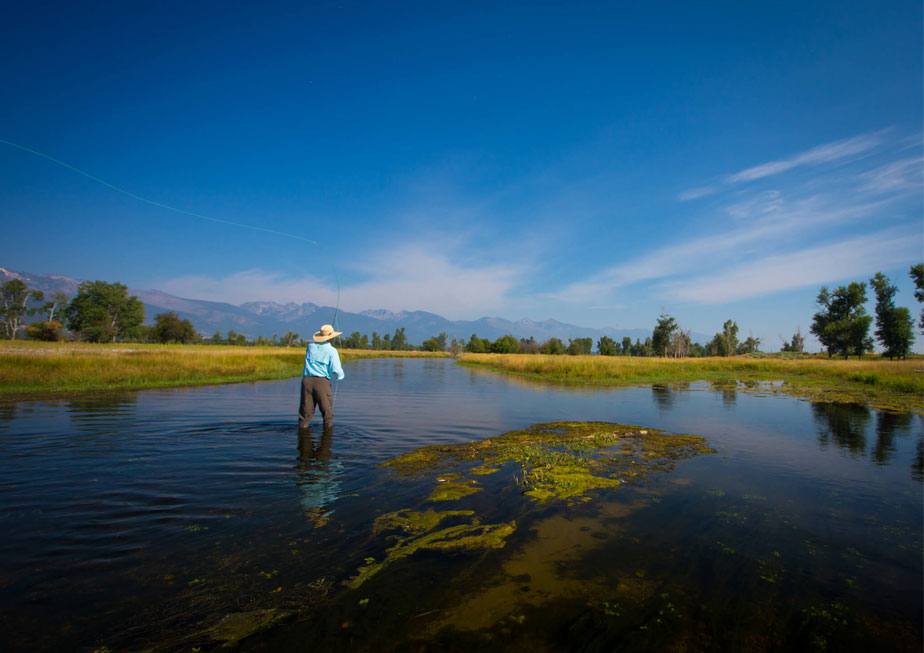 Getting to Missoula River Lodge
Missoula River Lodge is conveniently located just off I-90 approximately twenty minutes from the Missoula Airport. The Lodge offers a complementary shuttle to and from the Missoula Montana Airport (MSO). Some guest who what to have more freedom to see Missoula or the area choose to rent a car.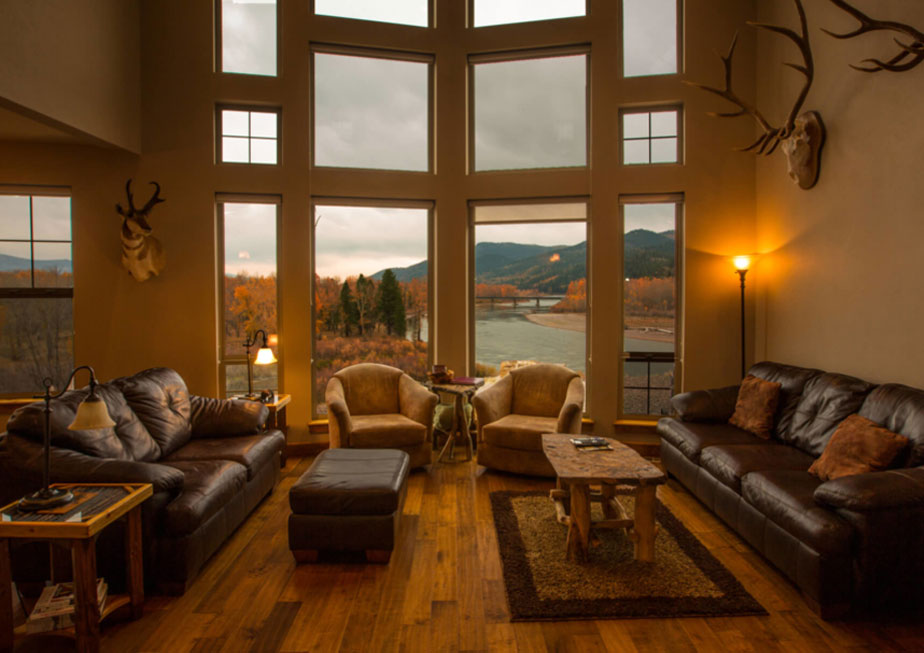 Lodging at Missoula River Lodge
Trout Bluff
Missoula River Lodge designed and built Trout Bluff to be the welcoming hand shake to a great fly fishing trip. The Trout Bluff Lodge is perched on a high rock bluff over Montana's Clark Fork River a stone's throw away from their private drift boat launch. This Rock survived a millennia of epic lake Missoula breaks of a massive pre-historic ice dam the defines western Montana geology. The bedrock of this build site provided many a challenge in its excavation when they built it in 2008, however it also assured they would root their Montana fly fishing Lodge in enduring strength.
Read More
Single luxury rooms are standard and no extra charge. The rooms are spacious, well appointed, quiet, and perfectly fits groups of 4 - 6 anglers of the same group. The great room is the space for relaxing; looking out over the river to catch nature's drama or turn inward to catch a game on our large satellite TV system. Wireless internet is complimentary at the Lodge.

River Front
The River Front is located at the west end of the property and enjoys expansive views of the Clark Fork River. Privacy is at a premium and the wildlife that calls the spring fed mouth of six mile creek's entrance to the Clark Fork River is a constant reminder of this boutique sporting property.

Wade fly fishing is a stone's throw from the large comfortable deck overlooking the river. This is a part of the Clark Fork River where it channelizes allowing excellent wade fishing access. The Clark Fork harbors mainly adult rainbows with the occasional giant brown haunting the entrance of Six Mile Creek. River Front lodge rooms are expansive and all enjoy riverfront views. It is a three bedroom facility with four queen beds. Generally, they adhere to a 3 guest maximum at the Riverfront Lodge to ensure each guest receives single room accommodations. The Riverfront is separated from the Trout Bluff and Rhino Cove by a very private half mile driveway along the Clark Fork River. Some guests prefer to walk to and from the dining facility. For fly fishing guests that prefer a pickup, the staff will provide pickup and drop-off for daily fly fishing activities and meals.

Our favorite feature of this spot is the sunrises over the Clark Fork River. Wi-fi for all rooms is standard and full work office solutions are available.

Rhino Cove - Their Newest Montana Luxury Lodge Just like the Trout Bluff, The Rhino Cove offers the same amenities and conveniences found at the other two locations: great fly fishing just a five minute walk away, privacy and luxury. It also features a common lounge area and spacious patio area where at the end of the day, guests meet, and socialize.

Built in 2013, It offers luxury private single occupancy rooms as a standard, 4 separate bedrooms spread over 2 suites, 2,100 square feet, maximum (6) person occupancy, Wireless internet, and HD Satellite TV. It has a common lounge area and private access to Clark Fork River wade fishing.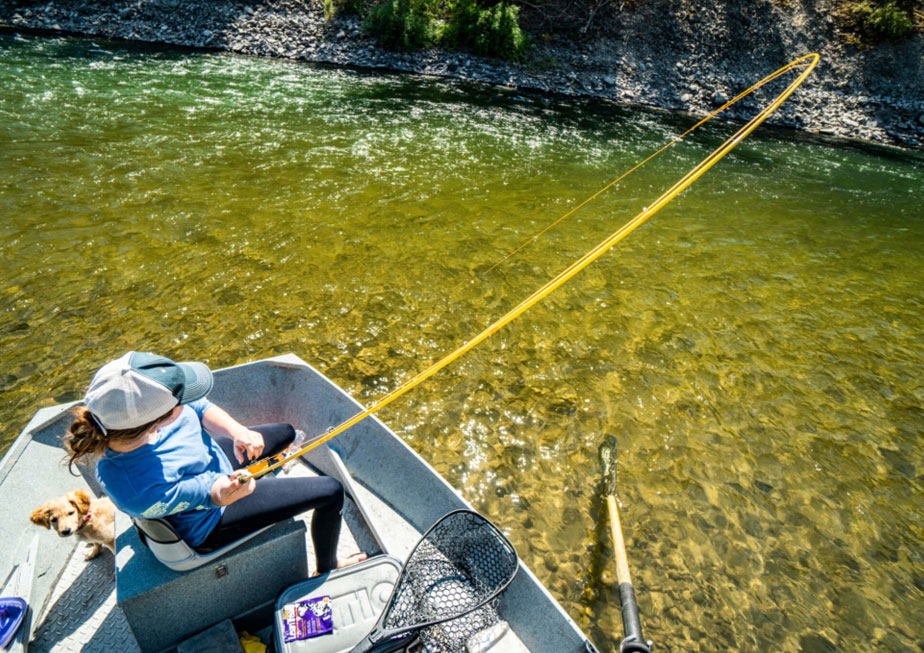 Fishing at Missoula River Lodge
Missoula River Lodge is a wonderful fishing lodge in Missoula Montana that specializes in dry fly fishing on the Bitterroot, Clark Fork, Rock Creek, and Blackfoot Rivers in Western Montana.

Western Montana has three rivers that require a permit to be able to provide fly fishing guides services. Not all outfitters have these permits, but Missoula River Lodge has the full suite for the area to provide maximum water access to their guests. The Rock Creek float permit is the most limited access with only three issued annually. The Upper Bitterroot and West Fork permit is capped at a set number of outfitters that can
Read More
guide in those reaches. The Blackfoot River also has an access permit that requires an annual outfitter access fee.

Bitterroot River
The Bitterroot River is their most dynamic water with over 90 miles of floatable water. The boat ramp options begin near Missoula Montana and stretch all the way to 25 miles south of Darby. In the upper river the main species is the West Slope Cutthroat trout. They are plentiful and rise easily to dry flies. If you decide to enjoy some Missoula fly fishing, then the Bitterroot River will be at the top of the list.

Clark Fork River
The Clark Fork River near Missoula Montana is a river of two worlds. The Lower River is home to their largest population of wild rainbow trout. Montana does not stock any fish in their rivers and it is a joy to fish long flats of the Clark Fork River for wild risers with small dry flies.

The Upper Clark is a small meandering meadow river whose trout population is over 90% brown trout. It is lightly fished with most anglers focusing on the lower 20 miles before it meets the Blackfoot river near Missoula. Fishing with streamers and big dries are the most effective techniques and can produce exceptional results.

Blackfoot River
The Blackfoot is diverse in its reach with a mixed population of rainbows, cutthroat, browns, and bull trout. This river, near Missoula, has become a treasured destination for anglers fishing in Montana. The scenery is unmatched and the fishing is consistent. As a note bull trout are rare and never targeted. They are merely the sign of a clean, clear, free flowing river in Western Montana.

Rock Creek
Rock Creek is a limited access river near Missoula. Missoula River Lodge has one of three float permits on Rock Creek which allows them to add it to the myriad of options. If you are fishing there in June, we highly recommend taking a ride down Rock Creek. The float options are numerous and cut through one of the prettiest valleys in all Montana.

Missouri River
The Missouri has risen from the depths of Whirling Disease and low flows in the early 2000's to currently having over 7,000 trout per mile. Yes, they are quite large. It has emerged as an outstanding fishery that has shaken its historical tendency for inconsistency by sheer trout numbers. The hatches were equally super charged with high water years of 2008-2012. Currently we are enjoying the golden years on the Missouri river with strong flows, large trout populations, and massive insect hatches.
What Makes This Destination Special and Unique?
VARIETY
With five different rivers to choose from and over 400 miles of river to float, your options are endless when fishing at Missoula River Lodge. It would take lifetimes to explore and get to know all the rivers in the area, but luckily the guides have it dialed in for you. If one river is off, no problem they will take you to another nearby hot spot. You are not stuck if one river is blown out and each river lets anglers learn the subtleties and different styles the river offers This variety keeps your interest piqued and will keep you coming back to explore the next river or new float.

DRY FLY FISHING
Missoula River Lodge is a dry fly focused fishing lodge. No matter where you are in your fly fishing life, we all love catching fish on the surface. Many lodges like to fish dries, but at Missoula Fly Fishing Lodge, they do it just about every day. Dry/droppers are their go to rig, but they love fishing single dries depending on the angler and conditions. With all the floating options, there is always somewhere to target fish on top. If you are a fan of Dry Fly Fishing, Missoula River Lodge will get you on a pod of rising fish or floating a river casting big fluffy attractor patterns any time during their season.

AMAZING CUISINE
How Missoula River Lodge got a hold of executive chef Carrie Nowlen, voted top 100 chefs in America, we don't know, but if you are staying at the lodge, you will reap the benefits. Dining at the Lodge is truly a top notch culinary experience. All her ingredients are sourced locally and the profile and layers of her flavors are simply amazing. Her dinners will keep you happy and fueled for your days on the river. We feel the dishes alone are worth the price of admission. Come for the fishing and leave remembering the dinners.

VALUE
We work with fishing destinations all over the world and although some are fancier than Missoula River Lodge, you will not find a place at this price point where you get the most out of your hard earned money. This is a Fly Fishing lodge first, where its location is perfect to target the best fly fishing the area has to offer, but the cuisine and accommodations are top notch and more than you can ask for. For the same price many lodges fetch for one trip, you can do two at Missoula River Lodge. Make a trip in the spring and come back and see the area in the fall.