Montana Fly Fishing Lodge, Quaking Aspen Ranch in nestled at the base of the Beartooth Mountains, right next to East Rosebud Creek, just south of the little town of Absarokee, Montana.
The Lodge is located in southcentral Montana, a seldom talked about or heavily fished area of Big Sky Country. These unpressured waters offer fly fishers a unique opportunity to fish at a relaxed pace in solitude, presenting flies to unsophisticated rainbow, brown and cutthroat trout.
The fishing is a combination of float as well as walk and wade guided fishing on smaller streams and rivers, with the opportunity to float the Yellowstone River as well.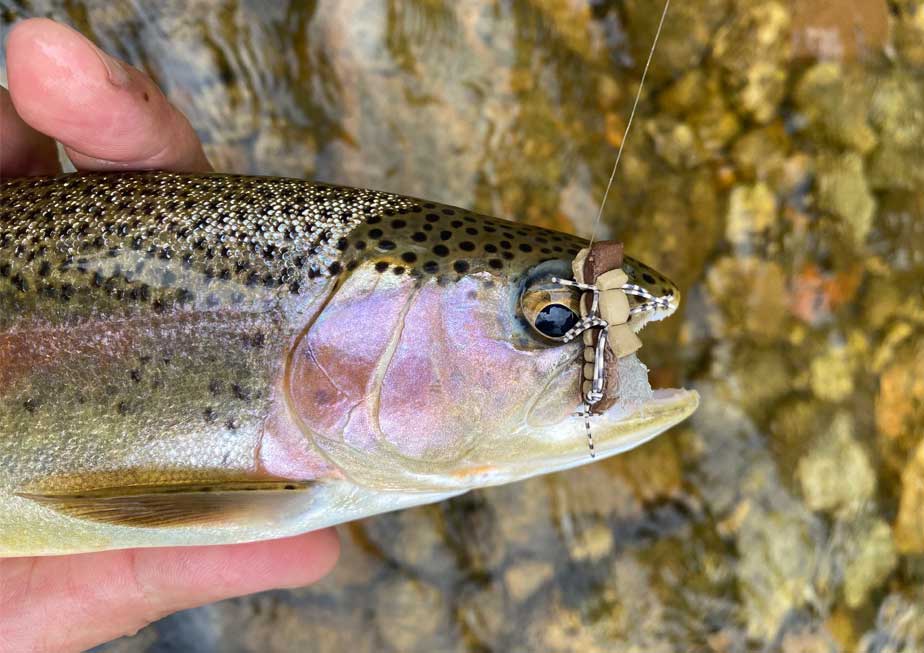 2024 Reservations & Rates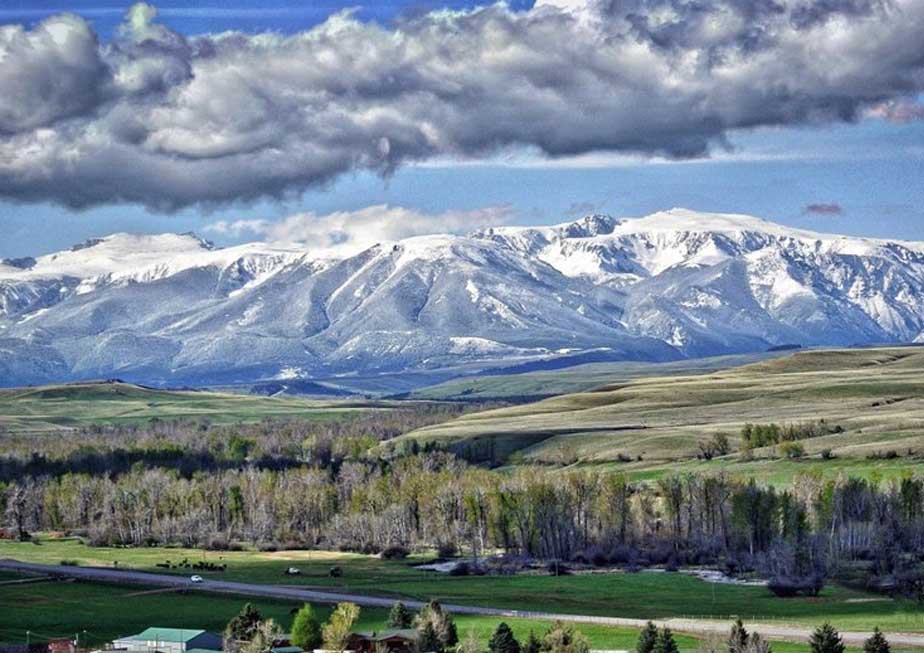 Seasons at Montana Fly Fishing Lodge
The season at Montana Fly Fishing lodge typically runs from April 15 through November 15 depending on the weather. Early and late months are completely dependent on weather.

April -May
Springtime is a great time to be fly fishing in Montana. The rivers are less crowded, the fish are hungry from a long winter fast, and the bugs are starting to hatch as the days get longer and the water temperatures start to warm. Midges start hatching on warm sunny afternoons and once the
Read More
river hits that magic 40-degree mark, matched with overcast skies, the first big hatches of the year happen, Blue Wing Olives (BWO's). This is the first hatch where fish start coming up consistently and in Montana can happen anytime from March to May.

The other magical hatch in Montana that has swarms of bugs that blanket the rivers (typically before run-off) in early May is the Mother's Day Caddis hatch. It is something to see during its peak, the sheer number of bugs in the air is astonishing and can be overwhelming at times. Once you see this hatch, you will view all others differently. Montana weather can be unpredictable in the spring and you just have to be prepared for anything and everything. But for those not afraid to endure a little "weather", the payoffs can be well worth the effort.

June
Depending on the year, June is typically run off in Montana. Many freestone rivers become unfishable for a couple weeks and are running high and off colored during this time. That doesn't mean throw in the towel for June, there is a hatch that lots of people plan trips around and can keep you coming back for more year after year. We are talking about Pteronarcys Californica, The Salmon Fly (Giant Stonefly). This hatch typically takes place when the water is still high and dropping from Mid-June into July on the local rivers. Because these big freestone rivers vary year to year, hitting it just right can prove difficult. Nymphing big stonefly nymphs is always productive, especially at this time of year because even though the adult bugs aren't on the water, they are stirring on the bottom, waiting for their temperature cue to tell them to crawl ashore and morph into these big orange flying bombers. If you can get in on this hatch and be there at the right time, it is something to see. The sheer size of this bug brings all the big fish up to the surface for a chance to gorge themselves on this large flying feast. The Yellowstone has a healthy, annual salmon fly hatch.

July
By July the weather has stabilized and the rivers are in great shape and running clear. This is the most popular time to visit Montana. Hatches start to be more consistent. PMD's, Golden Stones, caddis and terrestrials are the bugs of choice for Montana trout depending on the river. This is the most reliable and consistent time to fish dries and an enjoyable time to be on the river and cruising the countryside. The Boulder and the Stillwater have a great Golden Stone fly hatch that typically takes place as the water is dropping from run off in late June early July.

August
August is hopper season in Montana. Terrestrials like Crickets, beetles, ants and of course grasshoppers can be put on almost any time and typically produce consistent results. During certain years fish are really keying in on these big floating protein-packed meals and drifting a big puffy attractor along the grassy banks is a great way to spend the day on a drift boat. Early and late caddis hatches produce fish for those that get up early and stay late. August can be hot and dry. Bring lots of sunscreen and lip balm.

September/October
Fall is one of our favorite and often overlooked times to fish. The crowds have left for the summer, days are starting to shorten and the fish feel the pressure to fatten up before a long Montana winter. Hopper fishing continues into September, caddis hatches are still going on and as the days and waters cool; the BWO's come back, especially on overcast days. Once again late September and especially October weather can be notoriously unpredictable and being prepared for anything is once again the main focus for success. Sometimes some of the best BWO blanket hatches occur on cool, gray overcast days surrounding these big storms. Big Browns are on the move and in peak condition; this is the best time to hunt for one of these big boys!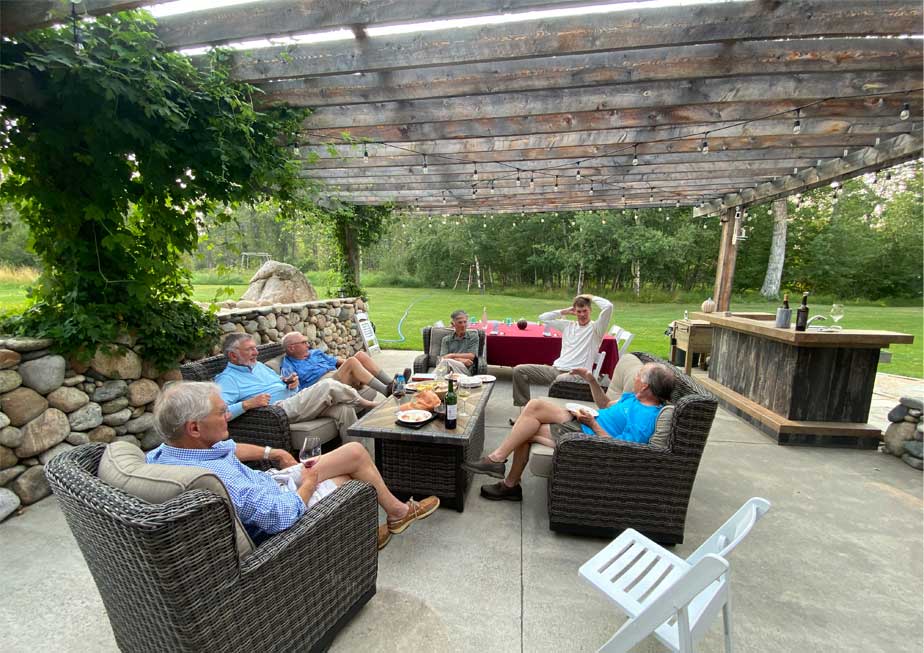 Getting to Montana Fly Fishing Lodge
Montana Fly Fishing Lodge is located just outside the small town of Absarokee, in Stillwater County, Montana, approximately 14 miles south of Columbus on Highway 78. It is named after the Crow Indians who formerly inhabited the land. It is a scenic one hour drive from the Billings Montana (BIL) that hosts 6 airlines with non-stop flights to and from 21 US destinations, and connections all over the world. For more flexibility you can rent a car at the Billings airport and drive to the lodge or we can have the lodge pick you up at the airport (included in the trip). Once at the lodge no you do not need a vehicle.
Read More
Airport Shuttles: Shuttles from Billings (BIL) airport to the lodge are included in the price of the trip.

Guests can arrive at any time after 3pm, preferably before 6pm, as dinner is normally served around 7:00pm.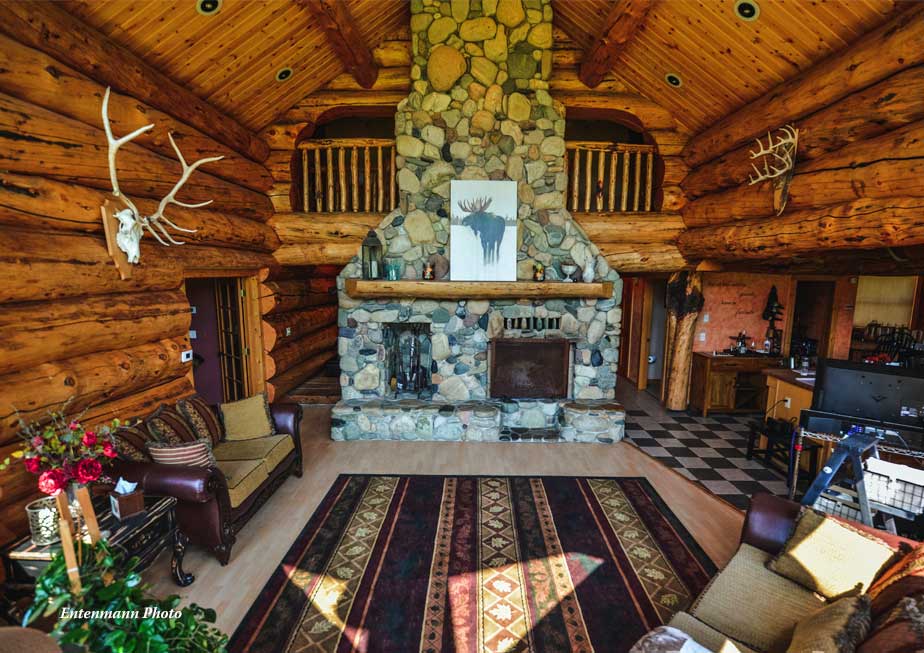 Lodging at Montana Fly Fishing Lodge
The Lodging at Montana Fly Fishing Lodge is a combination of Lodge suites or Africa Safari Style Tents.
Read More
Lodge Suites

King Suites
Ensuite Baths Use of Lodge Great Room, Family/Game/Media Room, Wraparound Decks, Barn with Dance Floor and Bar, Back Patio (Hot Tub, Outdoor Bar, Live Entertainment)

Rainbow Trout Suite
King (1), XL Twins (4) Built-in Bunkbeds Capacity: 6 guests Whitetail Suite King (1), XL Twins (4) Built-in Bunkbeds Capacity: 6 guests

Rosebud River Suite
King (1), Regular Twins (2) Capacity: 4 guests

Sandhill Crane Suite
King , Full, Regular Twin. Capacity: 5 guests

Africa Safari Style Tents
Mustang Cabin
King Bed and a Leather Queen pull-out sofa Capacity: 4 guests

Herd Cabin
King Bed and a Leather Queen pull-out sofa. Capacity: 4 guests

Moose Cabin
King bed and a Leather Queen pull-out sofa Capacity: 4 guests

Grizzly Cabin
King Bed and a Leather Queen pull-out sofa. Capacity: 4 guests

Bison Cabin
King (1), Leather Queen pull-out sofa (1) Capacity: 4 guests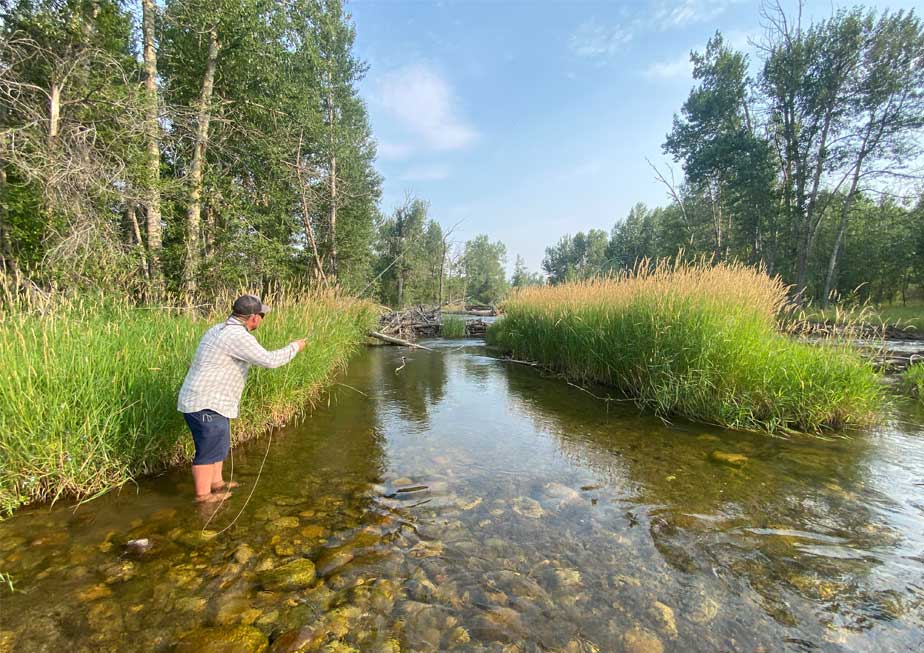 Fishing at Montana Fly Fishing Lodge
The Stillwater River
The Stillwater is a free-stone river that flows out of the gorgeous Beartooth Mountain Range cutting its way through granite rocks that creates a gorgeous backdrop, movies such as The Horse Whisper and A River Runs Through It chose areas on this river to film their breathtaking scenes. If a list were ever compiled of misnamed rivers, then surely the Stillwater would be near the top of the list. Despite its name, the Stillwater River has whitewater, drops, rocks, and a very swift current depending on the current flow rate.
Read More
This is definitely a dry fly fishing river and fishing this pocket water stream with a big hopper or stonefly pattern can be awesome with strong, fighting cutthroats, rainbows, brook trout, and brown trout averaging 10 - 16″, though fish up to 22″ are possible.

Typically fishing this stream starts by early July via rafts but, good wade fishing can also be had in the early spring with very good mayfly hatches starting around early March through mid-May. During the summer the Stillwater produces some of the best dry fly fishing in Montana.

March Brown's and Baetis are the highlights of the Spring season and wade fishing is often the best option. As flows are higher and we start using rafts to effectively fish we see hatches of PMDs, Golden Stones, Yellow sallies, and Caddis. As the summer heat kicks in major hatches subside and various attractors, grasshoppers, beetles, and ants are the norm.

Boulder River
Montana's Boulder River is a hidden, fly fishing gem of the upper Yellowstone Drainage. Small, fast, and aptly named, the Boulder is hard to beat. The river's out of the way location, combined with its proximity to other major, better known, rivers, tend to keep fishing pressure in the moderate range. Like the Stillwater, movies such as The Horse Whisper and A River Runs Through It chose areas on this river to film.

Our floats on the Boulder, depending on water levels, start below the Natural Bridge State Monument a stretch excellent for dry fly fisherman and streamer fisherman alike. Using large streamers in the many deep holes and along the undercut banks is a wonderful way to catch the rivers large brown trout. For the dry fly angler, the Boulder River has excellent caddisfly hatches throughout the summer. Just use a large hopper, floating it right along the banks, picking up brown trout and rainbow trout as you go. A person on a Montana fly fishing trip in July should always have lots and lots of hoppers.

During the summer, due to the relatively low fishing pressure, standard dry flies like the Parachute Adams and Elk Hair Caddis work very well. Of course, as the Boulder River flows through ranch country with lots of hay fields, it is also prime hopper fishing water come late July through August.
Golden Stones - early July can boast some excellent dry fly and nymphing for good size trout. Mayflies - July has excellent numbers of PMDs. Caddis - July and early August have our annual summer Caddis. Caddis, Elk Hair Caddis, and small Pheasant tail droppers are most effective. Terrestrials - Hoppers and beetles are excellent options as the August heat sets in.

Small Streams
East / West Forks of the Rosebud River (The Buds)
The Ranch has 1.5 miles of East Rosebud River running through it, The Buds, generally very similar walk/wake streams above their confluence, are located in the beautiful high prairie just to the north of the Absaroka-Beartooth Wilderness Area. The forks flow together just south of Absarokee into the Rosebud River but, only flows four miles to its confluence with the Stillwater River. For an angler looking for a pretty place to fish, the forks of the Rosebud are hard to beat.

Rosebud River itself has very good brown and rainbow trout fishing, similar to that found in the lower sections of its forks. Streamers, hopper imitations and standard dry flies all work well on the prairie sections of the forks of Rosebud River. The average fish size will be 10 - 14" with an occasional lunker in the 18 - 20" range.

One of our favorite floats is to launch from private access on East Rosebud fork just above its confluence with the West fork, float the Rosebud River then into the Stillwater River. Fishing pressure is quite light. Lighter tackle and tippets provide the best chance of success. An excellent Montana fly fishing experience!

April and early May, before the run-off, March Brown's and Baetis are best. Hopper imitations work excellent later in the summer. Streamers are also effective, weighted down and fished around the downfall, in the holes and by the undercut banks.
March Brown's and Baetis are the highlights of the Spring season and wade fishing is often the only option. After run-off we see hatches of PMDs, Golden Stones, Yellow Sallies, and Caddis. As the summer heat kicks in major hatches subside and various attractors, grasshoppers, beetles and ants are the norm. Lots of large rocks in the river also provide lots of pocket water fishing with standard dry flies, such as the Parachute Adams and the Elk Hair Caddis.

Rock Creek
This 'Rock Creek', a favorite walk/wade blue-ribbon trout stream, begins high in the mountains of the Absaroka-Beartooth Wilderness and flows for more than 55 miles, through Red Lodge, to the confluence with the Clarks Fork of the Yellowstone River.

Rock Creek leaves the mountains behind at the town of Red Lodge, and enters a beautiful rolling, prairie landscape that lasts until the river's end. Throughout its prairie section, Rock Creek has thick cottonwood trees and brush lining its banks and has rocks everywhere. It also splits into a number of channels, most of which run dry later in the summer. The water in Rock Creek is crystal clear except during spring run-off. It is also quite cool, reflecting the origin of the river high in the mountains and the fact that its primary tributaries consist of high alpine creeks and streams.

After ice melt and before the run-off, the mountain section of Rock Creek, above Red Lodge, is home to lots of small cutthroats and brook trout. They are easy to catch on virtually any dry fly with a halfway decent presentation. The fish are small but feisty and are fun to catch. Below Red Lodge dry flies work just as well on this section of Rock Creek as they do further upstream. Fishing pressure is quite light, and the rainbow trout rise readily to a fairly well presented dry fly imitation. PMD imitations and the Parachute Adams are excellent dry flies for this river. When chasing after the larger brown trout on Rock Creek, streamers are effective, especially in the fall when the fish move out of their protective cover.

Yellowstone River
The Stone is the longest free-flowing river in the United States and is internationally known as the premier trout fishery. Besides being home to large brown, cutthroat and rainbow trout, the river itself has such a wide variety of habitat that it offers excellent dry fly fishing as well as sub-surface fishing with nymphs and streamers.
Due to The Stones length in Montana and the fact that quality trout fishing is found from Billings upstream to Yellowstone National Park (160 miles), we focus our float trips to find the perfect balance of floating pressure with strong fish numbers and draw on our in-depth local knowledge considering the time of year, water conditions, and active insect hatches.
The Yellowstone River is one of those that fish well nearly all season long. The only time we don't recommend fishing is during the annual spring run-off that typically starts in mid-May and lasts through June. It fishes particularly well in March and April, prior to the run-off and again just after run-off in July through October.
March and April are often overlooked, but produce the most reliable hatches including March Brown's, Baetis and the often spectacular Mother's Day Caddis hatch. Post run-off, Salmonflies, Golden Stones, Green Drakes, PMDs, Caddis, and Yellow sallies are present, sometimes in great numbers. As summer heats up Grasshoppers, ants, beetles, and the Giant Western Golden Stones are present. Fall brings Drakes, Baetis, and midges.

The Bighorn
Although it is a good drive from the Lodge, Montana Fly Fishing lodge will take willing anglers to the Bighorn. The Horn is a tailwater fishery that has drawn anglers from around the world since it was first opened to public recreational fishing in 1981, and the trout have kept them coming back again and again. With more fish packed into each mile of its waters than any other river in Montana, the Bighorn River boasts great numbers of brown trout and rainbow trout and consistent early season fishing beginning in March and going all the way through November.

Yellowstone Park High Country Streams
Walk/Wade the upper Lamar River and Soda Butte Creek, northeastern corner of the park. Fly fishing in Yellowstone National Park is an experience not to be missed! Enjoy the spectacular wildlife and scenery of America's first national park while you cast big dries to eager native Yellowstone Cutthroat Trout.
The trip of a lifetime. We primarily fish the waters in the northeast corner of Yellowstone National Park – the Lamar River and Soda Butte Creek. These are some of the best cutthroat trout fisheries in the country. The scenic drive over Beartooth Pass and into Yellowstone National Park (about 90 minutes each direction from The Ranch) is spectacular. You'll pinch yourself as you fly fish among herds of wild bison. Make some
What Makes This Destination Special and Unique?
• Lightly Fished Waters – Montana Fly Fishing Lodge is located southcentral Montana, a seldom talked about or heavily fished area of Big Sky Country. These unpressured waters are lightly fished offering fly fishers a unique opportunity to fish at a relaxed pace in solitude, presenting flies to unsophisticated rainbow, brown and cutthroat trout.

• Private Water Fisheries – A nice aspect of fishing with Montana Fly Fishing Lodge is their access to private waters, a mile and half on their Quaking Aspen Ranch and another three and half miles on two neighboring ranches above and below. That's a total of 5 miles of private water that guests have to themselves with no outside competition and excellent angling opportunities. The waters are regularly rested and managed to assure a world class fly fishing experience.

• Small Water Fishing – So many of Montana's most famous trout waters are float fisheries, but sometimes it's nice to put on your wading boots, grab your rod and go for a walk and wade trip. Montana Fly Fishing Lodge has a very strong walk and wade trout fishing program for anglers that enjoy an up close and personal trout fishing experience – on foot.

• Treat Yourself – Although the emphasis at Montana Fly Fishing Lodge is on offering and supporting a world-class trout fishing program, it doesn't hurt to also have luxury lodging and world-class amenities along with gourmet dining to round out a terrific fly fishing holiday. You can rest assured that you will get a good night's rest and be ready for the next day's fishing sortie, satiated with fine dining. Treat yourself, you deserve it…

• It's a Family Tradition – Montana Fly Fishing Lodge is located on the 300-acre Quaking Aspen Ranch and has been continuously owned and worked by the Powers Family since 1940. Owners Lincoln and Judi Powers and their seven children offer warm and genuine Montana hospitably on some of the most uncrowded Blue Ribbon trout fishing in the Rockies. Count on being treated like family and well looked after by the Powers family.