Reaching back to the late 1800's, the Taylor Canyon was shaped by a diverse history of gold mining and ranching. Since its early settlement, Taylor Park has drawn pioneers – individuals excited to push the boundaries of their natural surroundings. Today, the Taylor Canyon is a source of world-class whitewater and unspoiled trout fishing for everyone. Formerly used as a local's general store for fishing and tackle, the property has since been transformed into a private retreat. Many of the cabins and structures are built on existing footprints using the original six-inch D-log kits. Colorado blue sky, emerald green pine trees and colorful granite walls frame all of your adventures at Taylor River Lodge.
Gunnison County is the place to be for any serious or aspiring angler. From mid-March through late October, hundreds of miles of trout habitat are found on the area's lakes, ponds, rivers, streams and creeks. Early spring the waters begin getting released from winter's icy grip and hungry trout start getting active and we start hooking brown and rainbow trout along the larger rivers. As the summer progresses, we can start exploring the smaller mountain streams as well as the high mountain lakes. Whether teaching guests to tie flies or sharing their top-secret spots, their crew of expert guides are always stoked to be on the water.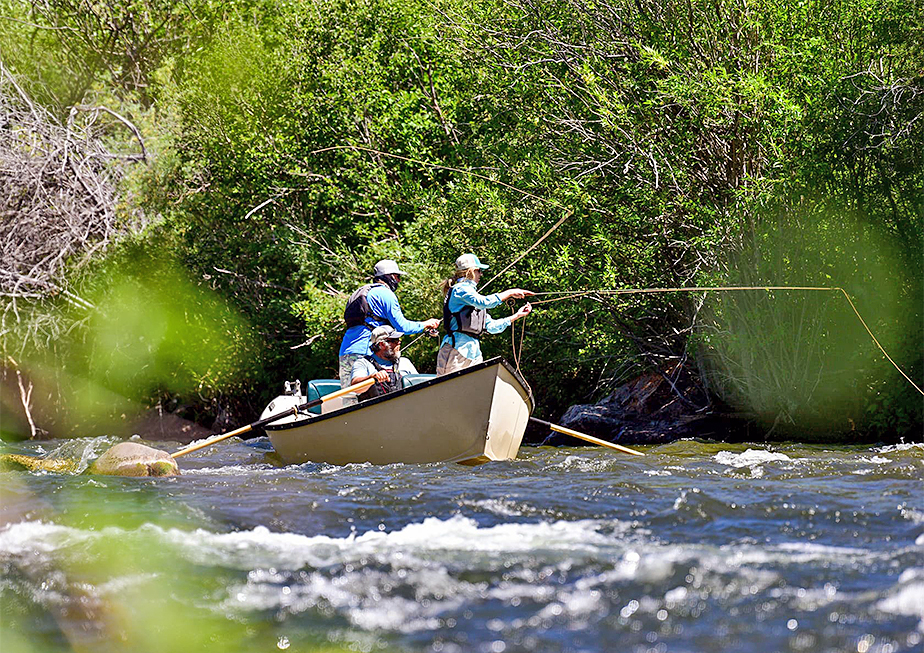 Reservations & Rates
Angling Rates:
• Lodge Buyout - Starting at $25,200.00/night based on 24 guests
• Green Drake – Starting at $6,760.00/night (based on 6 person occupancy)
• Royal Wulff – Starting at $6,220.00/night (based on 6 person occupancy)
• Individual Cabins – Starting at $2,130.00/night (based on double occupancy)

Non-Angling Rates:
• Lodge Buyout - Starting at $24,200.00/night based on 24 guests
• Green Drake - Starting at $6,160.00/night (based on 6 person occupancy)
• Royal Wulff - Starting at $5,620.00/night (based on 6 person occupancy)
• Individual Cabins - Starting at $1,930.00/night (based on double occupancy)

Inclusions
Included in your trip to Taylor River Lodge are daily guided fishing (2 anglers/1 guide), all gear (rods, reel, leaders, tippet, flies, waders, boots), chef prepared breakfast, lunch, après and dinner, in-room minibar, house alcoholic and non-alcoholic beverages, round trip airport transfers to Gunnison. Also included in your stay are other activities such as hiking, mountain biking, guides ridge tours, stand up paddle boarding and rafting.
Non-Inclusions
Not included in your Taylor River Lodge angling package are gratuities, average tax of 6% - 8.9% not included in pricing, any purchases at the gift shop, fishing licenses, Airport transfer to other airports than Gunnison and additional activities such as downhill Mountain biking, 14er Climb or horseback riding.
Travel Insurance
The Fly Shop® is not in the insurance business, but we recommend Travel Guard (AIG) and Global Rescue (IMG) coverage as a service with a desire to see your best interests protected. It is impossible to know when an unfortunate situation (loss of luggage, fly rods, illness in the family, or an accident) may occur. However, such things can and do happen, and this insurance can provide a means of recourse against non-refundable financial losses.

• Travel Insurance Information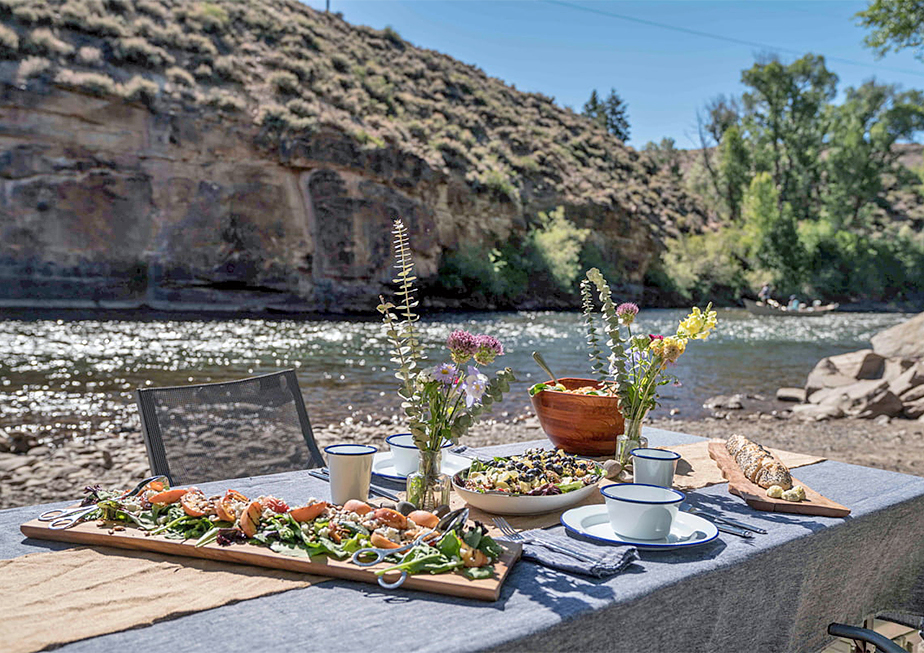 Seasons at Taylor River Lodge
Taylor River Lodge's fly fishing season generally runs from Mid-March through October. Being at such a high elevation, it is a great place to beat the heat of the summer, but can bring cold crisp weather anytime during the spring and fall.

March/April:
This can be an exciting time to fish around Almont, Colorado. With the Lodge being at 8,600 feet, you will typically be fishing with the remnants
Read More
of a long winter as you navigate snowbanks on the river all around you. March, the river opens up and days can be warm and beautiful and fishing can be great. This is an unpredictable time of year though and you always have to be prepared for some inclimate cold weather. For those willing to take the chance, and make the pilgrimage, you can expect quiet solitude, a chance to see the rivers when most folks are at home and a shot at big hungry fish that had a long lean winter. Water is cold and Nymphing is the most effective method for catching trout. Although there is always a chance for some dry fly fishing with Midges on sunny afternoons and BWO's on overcast days. Depending on the year Golden Stones become active as early as Mid-April on the Gunnison.

May:
May is typically when things start to pick up on our Rivers. Air and water temperatures are rising, fish are getting more active and hatches are become more common. Blue wing olives are still happening on over cast days, golden stones are starting to really pick up and hatch when conditions allow and streamer fishing can really be good at this time with fish getting more active and aggressive. Depending on the weather, you can start to see the stain of run off in the rivers, but cool nights usually keep it at bay till June. The Taylor is a tailwater, so it is the least affected by run off due to the clear water coming from the bottom of Taylor Park Reservoir.

June:
Most people agree, the best fishing in the area happens between June and October. Weather is really starting to stabilize and warm and run off starts picking up as this happens during this month. If the water is tainted by runoff and the other rivers and streams are a bit off, the Taylor typically stays clear and fishable with some great action for the length of the river and is exceptional just in front of the lodge. Caddis show up to the party in June on both the Gunnison and Taylor Rivers. Golden Stones continue to hatch throughout the month and the end of the month brings Green Drakes and PMD's and Salmon flies start to show up on the Gunnison River. It is a great time to be at Taylor River Lodge.

July:
This is the most popular time to visit the lodge and the area. Fishing continues to be very productive on both the Taylor and Gunnison and a great time for dry flies and floating the rivers. Green Drakes, PMD's are at their peak in July and there is always a caddis hatch to fish during this time. Mid July is also the start of our favorite time of year, fish start looking up for terrestrials, we are talking about "hopper" season. This time of year, a lot of the other fisheries start to open up. The upper Taylor, small tributaries and the high mountain lakes all get added to the table at Taylor River Lodge. We can't think of a better month to be fishing in the high county lakes, streams and rivers of Colorado. Don't wait too long, everybody else likes to visit this time of year and it can be hard to get space.

August:
Beautiful stable sunny days on the river, Caddis, PMD's, Green Drakes and Terrestrials are all bugs the trout are keying in on and the rivers have dropped down to their lower summer flows. Depending on the season and rainfall, the waters can warm up a bit and the Taylor is typically unfloatable, as well as some parts of the Gunnison. Taylor river lodge does a lot more walk and wade fishing at this time year and a bunch of the upper creeks and tributaries as well as the high mountain lakes and Stillwater fisheries are where they start to concentrate on. The Gunnison Gorge is still an option to float for multiple days if you want to do a little bit of both walk wade and floating.

September:
As the days start to grow shorter and the night colder, the browns are on the move and fish feel the urge to fatten up for the coming winter. Hoppers are still fishing through September, BWO's start back up later in the month and this is when you will see the Gray Drakes and October Caddis start to show themselves on the rivers in the area.

If you like hunting big browns with big streamers, this is the time to be fishing at Taylor River Lodge. Another unique fishery in the area is the Kokanee start running out of Blue Mesa Reservoir and will spawn on the main stem and tributaries of the Gunnison. If you have pegged beads in Alaska and like fishing behind spawning salmon for hungry trout that are looking for big protein meals, you will have a blast fishing this time of the year on the Gunnison.

October:
The fishing continues through October with very similar fishing as in September. The weather gets a little more unpredictable so be ready for crisp clear nights and colder morning. Don't let the weather deter you, this is again a great time to find solitude away from the crowds and a chance to hunt big fish.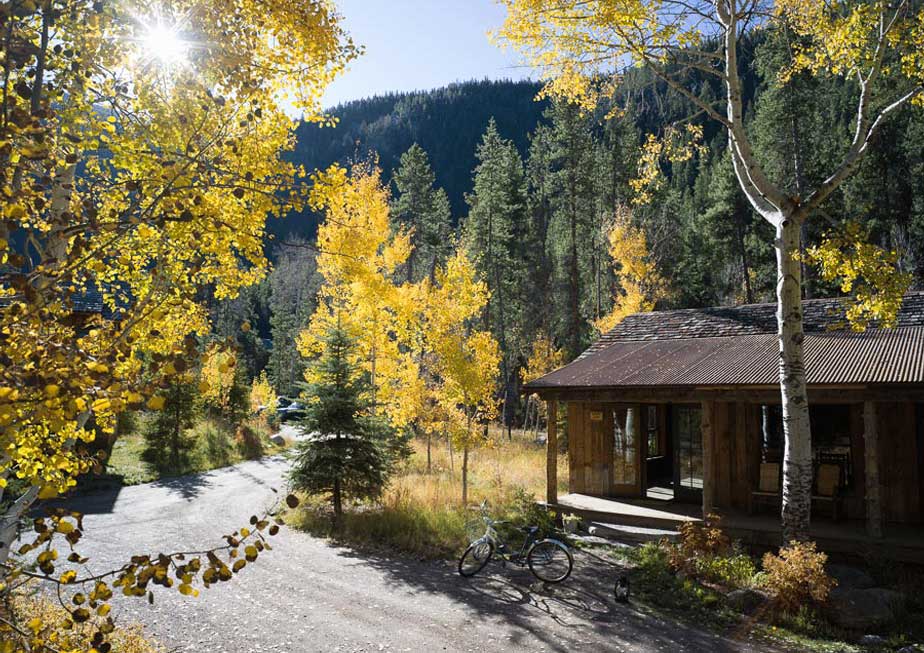 Getting to Taylor River Lodge
By Plane:
The airports that are nearest to Taylor River Lodge are the Gunnison Regional Airport (GUC) 25 minutes south of Taylor River Lodge. Montrose Regional Airport (MTJ) 90 minutes west of Almont. Aspen Regional Airport (ASE) 2.5 hours northwest in the summer (via Kebler Pass). Grand Junction Regional Airport (GJT) 3 hours west of Almont. Denver International Airport (DEN) 4 hours northeast of Almont. Airport transfers for guests are included in the price of your stay from the Gunnison Airport (GUC)
Read More
Guests are welcome to rent a vehicle and drive to Taylor River Lodge.

Airport shuttles can be arranged from the Montrose Airport (MTJ) for an additional cost. Please let us know well ahead of time so we can arrange this.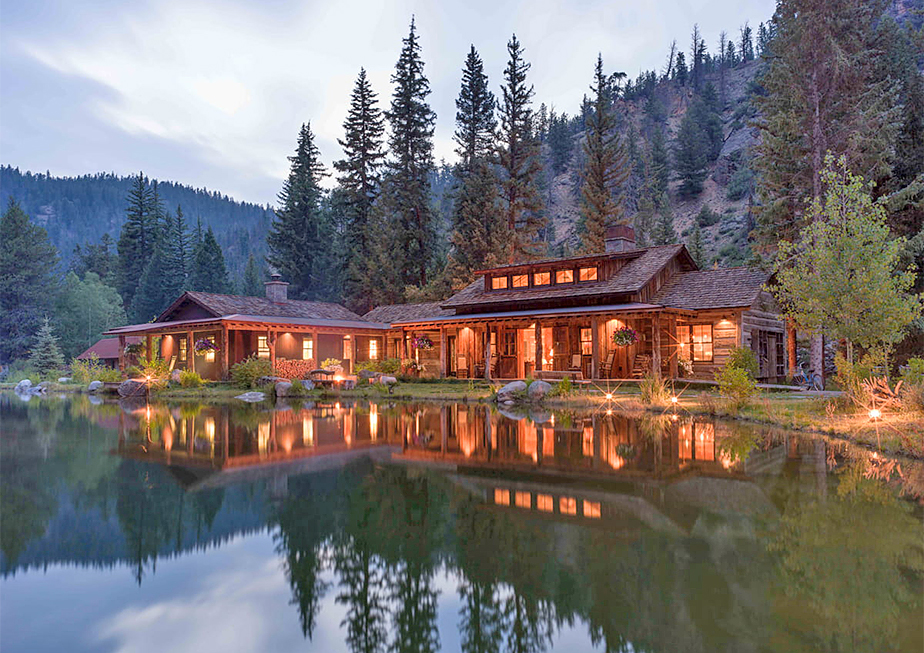 Lodging at Taylor River Lodge
Two single family homes and six cabins still have their 1940s board-and-chink bones but have been renovated with en suite bathrooms and personal steam showers. The design blends international touches, like Moroccan rugs and Indian block-printed pillows with vintage finds, such as hickory wood rocking chairs and antler-framed mirrors.

Six private single queen bed cabins with en-suite bathrooms and steam showers – three with twin bedded lofts, three without.
Read More
Royal Wulff Single Family Home:
Featuring two suites on the first level and a stylish spiral staircase to a charming additional sleeping area, Royal Wulff is ideal for two couples or a family intent on spending quality time together.

Green Drake Single Family Home:
Our crown jewel, featuring a modern kitchen and two uniquely styled suites. The Green Drake is the most spacious of Taylor River Lodge's offerings. Scout your run from the porch and then head down to the river with a guide and catch a legendary Taylor River trout.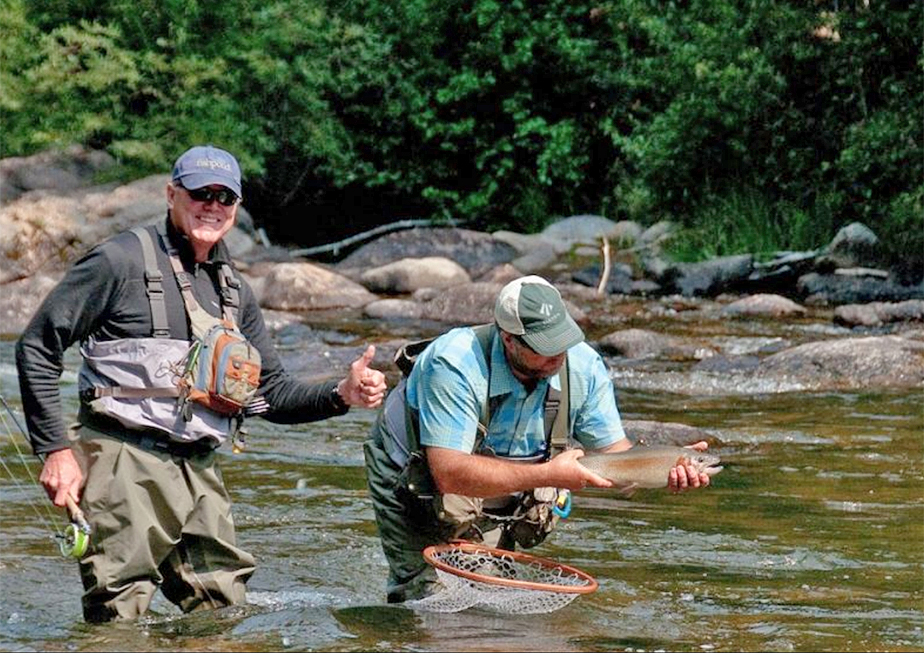 Fishing at Taylor River Lodge
The Gunnison Valley is an iconic North American fishing destination for the die-hard angler or the first timer. Lodge guides will take you fishing on the Taylor River, the Gunnison River and other classic trout waters within easy striking distance. Taylor River Lodge has a stocked casting pond, perfect for beginners and intermediate anglers looking to work on their technique. In addition to the two classic rivers, the lodge fishes lesser known waters in the Gunnison Valley. They also have access to a private two mile stretch on Tomichi Creek offering opportunities for large
Read More
wild brown trout, and they can organize an array of additional options ranging from high alpine lakes to low willow creek.

Taylor River:
The snow melts high up in the 14,000 foot peaks of Sawatch Range surrounding Taylor Reservoir. The drip becomes a trickle and the trickle becomes a trout stream. This is the source of the Taylor River. The Taylor flows from these peaks down to the reservoir below, with the dam at about 9,300 feet. The tailwater below the dam flows down through the canyon some 20 miles to Almont where it meets with the East River to form the headwaters of the Gunnison River.

Located out the back door, this is the lodge's home water and is famous for its large tailwater fish. Along their mile of semi-private water, you will find fast runs, deep pockets and large boulders within a scenic canyon setting. The remote location means low pressure and high catch rates.

Gunnison River:
Just a short 11-mile drive down the canyon road from Taylor River Lodge, the East River meets the Taylor River to form the headwaters of the historic Gunnison River, Colorado's second largest river. And so, begins the river's amazing 164-mile journey through the Gunnison Valley on its way to Blue Mesa Reservoir and the famous Black Canyon and ultimately to Grand Junction where it joins the Colorado River. The Upper Gunnison River is pristine trout water which is best fished from drift boats or rafts during most of the season, providing access to 26 miles of river from the headwaters in Almont to Blue Mesa Reservoir. The guides float different stretches over multiple days in comfortable drift boats.

The "Gunny" offers long riffles, deep pools and long, slow drifts. Whether float fishing in a drift boat or wading along the banks, this is an exceptional river that offers a fantastic experience for anglers of all capabilities. The Gunnison River provides the best chance of catching a large quantity of big fish.
TRL is introducing a 3-day deluxe Gunnison Gorge float fishing trip with RIGS Fly Shop. This is Colorado's premier multi-day guided fly fishing trip, providing access to the Gunnison Gorge National Conservation Area/Black Canyon. Up to six guests per group, with a dedicated gear boat which goes ahead to set up camp, allows anglers more time on the water. Due to its popularity, this trip can book out months in advance. Booking early is recommended.

Small Creeks:
Taylor River Lodge is surrounded by majestic mountains and forests, and small creeks full of wild and native trout. Fly fishing the smaller streams involves a unique approach; soft action 3 and 4 weights are pulled from the quiver and almost always with finely-tuned skills needed to stalk these spooky gems that spend their lives in creeks just a few feet wide. Imagine quietly working your way through the brush, positioning yourself just downstream of that perfect pool and riffle and making a laser 15-foot cast with a single dry fly to a rising cutthroat. And then it's fish on!

Still Water Lakes:
Just a short drive from the lodge you'll climb to 10,000 feet and beyond and this is where the adventure begins. You will explore some of the most beautiful high country in the state as you hike to high alpine lakes to chase wild trout and native cutthroat. The lodge also has access to a private property with 5 ponds located very near the Taylor River Lodge. If you are a Stillwater junkie, you do not want to miss a day out exploring these ponds.
What Makes This Destination Special and Unique?
• EXPERIENCE
Eleven Adventures has an assemblage of over a dozen destination lodges and getaways located in remote and remarkable corners of the world. You don't successfully run a collection of properties like this unless you have a tested formula for success. Hand-picked locations, impeccably designed accommodations and talented chefs creating delicious, seasonal food are combined with world class guided adventures on mountains, in the backcountry, and on the water. All that experience translates into you not having to worry about a thing; your only job is to enjoy your trip at Taylor River Lodge, start to finish – you are in very capable hands.

• FISHING OPTIONS
Lots of private access, along with many popular publicly accessible boat launches and accesses on the Taylor and the Gunnison River, Taylor River Lodge provides anglers with endless options for fly fishing located within a short drive from the lodge. If you want to walk and wade a small mountain creek, fish after dinner on the Taylor right by the property, drift down the Gunnison casting hoppers to the bank, hit some stillwaters for the day, you don't have to spend your entire stay doing the same thing. No matter what your taste in fly fishing is, the lodge has plenty of options for you to mix up your fishing style and preferences.

• FAMILY ADVENTURE
The Lodge is located in an outdoor enthusiast's dream. With so many activities to do around the lodge, they are in the perfect location to get away from it all and breathe the crisp clean mountain air. Hiking, mountain biking, downhill mountain biking, paddle boarding, rafting and horseback riding, guests have a chance to mix up their days at the lodge with a variety of outdoor activities. Bring your wife, your husband and your kids and you can make your Fly fishing trip a vacation the whole family can enjoy. While the fishing is the main event of your stay, everybody loves to have options when it comes to planning a fly fishing trip out west.

• GUIDES
Taylor River Lodge's guide team is the core of every Eleven Experience. This group of highly-trained outdoor and adventure specialists is the reason you come back for more. Their mission is to assess your goals and comfort levels and then customize your adventure to provide that "best-day-ever" experience. The guides' enthusiasm for their local surroundings is infectious. It's what sets Eleven Experience apart from any other company in the industry. These guys know the river, the hatches and are all in touch with the happenings on the river and the surrounding area. Relax, let go and leave it to the guides to help make your experience a "trip of a lifetime".