Some of the best salmon fishing we've found in Alaska; only 8 guests a week!
Lava Creek Lodge is a small outpost lodge on the Aleutian Peninsula of Alaska, south/southwest of Bristol Bay, Alaska. The lodge accommodates a maximum of eight guests during king, chum, and silver salmon seasons. It is custom-tailored for the serious salmon angler who values remote and nearly untouched water, swing fishing for dime-bright kings and chums, and surface and streamer action for big, hyper-aggressive silver salmon. With the ultra-low occupancy, anglers get the pick of the litter of the best pools on the home river, as well as other rivers accessed by float plane.
This is a classic jet boat and fly out operation. You will rarely if ever see other anglers on the river, so there is no rushing to get to the best water, and you will always be able to fish full days regardless of what the weather is doing. The boats are used for access only, and allow anglers to reach prime wading runs filled with fish. Weather permitting, some lodge guests will have the option to fly out to one of the other nearby rivers that are equally stacked with ocean bright fish during their stay, also using boats to access the best wade fishing opportunities. Since you will be fishing water influenced by tidal pushes daily, the boats can follow the fish as they shoulder upriver, or find the pools where they are stacked up at any given time. With two anglers per boat and guide, and only eight guests in camp at any one time, there is always plenty of fresh, fish-filled water to choose from.
Both the home water and the rivers flown out to are shallow, low gradient tundra rivers, easily waded and navigated. They are perfect for swinging flies on sinking tips for king salmon and chum salmon, or casting and retrieving poppers and streamers on floating lines to holding silver salmon.
In short, this is a pristine destination in a wild and beautiful place, with fishing that gets very little outside pressure. The country is spectacular, the lodging quite comfortable, and the fishing superb. It definitely rates as one of the finest king and silver fly fishing destinations on the planet!
Grand Slam Weeks between king and silver season: These weeks are offered at a substantially reduced rate and specifically target ocean-bright chum salmon and large Dolly Varden, and rainbow trout, as well as king salmon in the early weeks and silvers in the late weeks. These Grand Slam weeks are perfect for fly fishers new to the sport, families and young anglers wanting lots of action on big, ocean-bright salmon, as well as a mixed bag of other species in the event they grow tired of hauling in savage-fighting chums.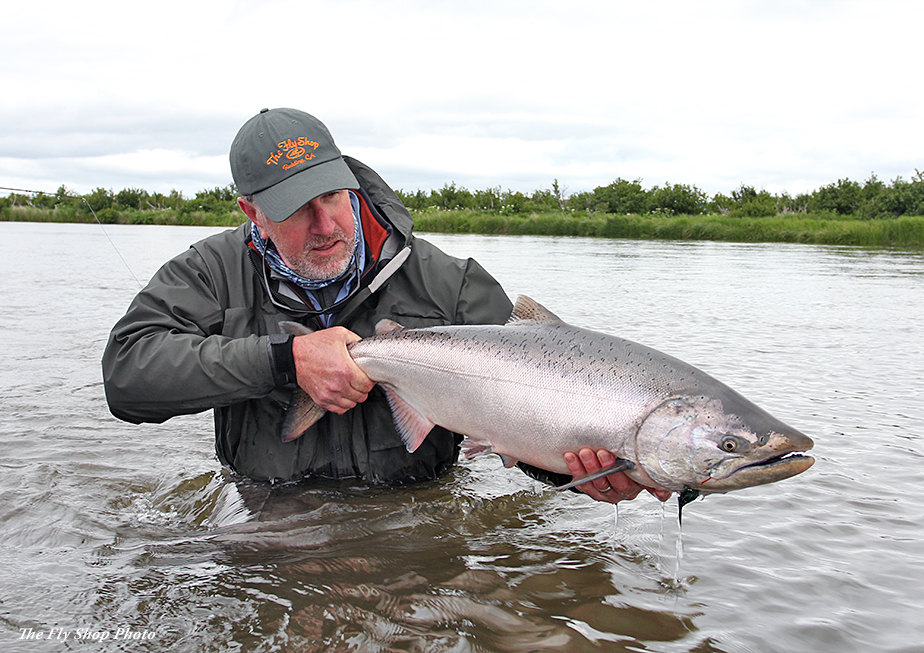 2022 Reservations & Rates
7 night/6 day package (Sunday - Sunday) (2:1 angler/guide ratio)

• KING SEASON: JUN 05 - JUL 17, 2022 ($8,400 per person)
• GRAND SLAM SEASON: JUL 17- 24, 2022 ($6,250 per person)
• TROUT SEASON: JUL 24 – AUG 14, 2022 ($8,400 per person)
• SILVER SEASON: AUG 14 - SEP 25, 2021 ($8,400 per person)
Inclusions
Seven nights double occupancy lodging and six days guided fishing (a mix of fishing on the home river and some fly-out fishing, weather permitting), all meals, (limited wine and beer, see alcohol policy, below), round trip air charter between Anchorage, Alaska, and the lodge, flies and leaders, as well as the use of lodge single-handed fly rods and reels, if needed.
Non-Inclusions
Alaska State Sport Fishing License and King Salmon Stamp (the latter only needed in June and July) available online to purchase before your trip, fly fishing equipment (though there is some at the lodge if need be), gratuities, alcohol (limited wine and beer - otherwise BYOB, usually purchased in Anchorage or brought from home), and items of a personal nature.

Lava Creek Lodge Alcohol Policy:
One bottle of wine (red or white) (750 ml) (4 – 5 glasses) will be provided by the lodge to each table of four guests for dinner each evening. In addition the lodge will provide two cans of beer per day for each guest. If you think you will want more wine, beer or spirits, please plan on bringing your own. The lodge will provide all the mixers. We recommend you purchase your preferred liquor in Anchorage, the day before flying to the lodge. The Brown Jug liquor store located at 3900 Spenard Road, Anchorage, AK 99517, is just down the street (walking distance) from the Lakefront Anchorage Hotel on Lake Hood.
Travel Insurance
The Fly Shop® is not in the insurance business, but we recommend Travel Guard coverage as a service with a desire to see your best interests protected. It is impossible to know when an unfortunate situation (loss of luggage, fly rods, illness in the family, or an accident) may occur. However, such things can and do happen, and this insurance can provide a means of recourse against non-refundable financial losses.

• Travel Insurance Information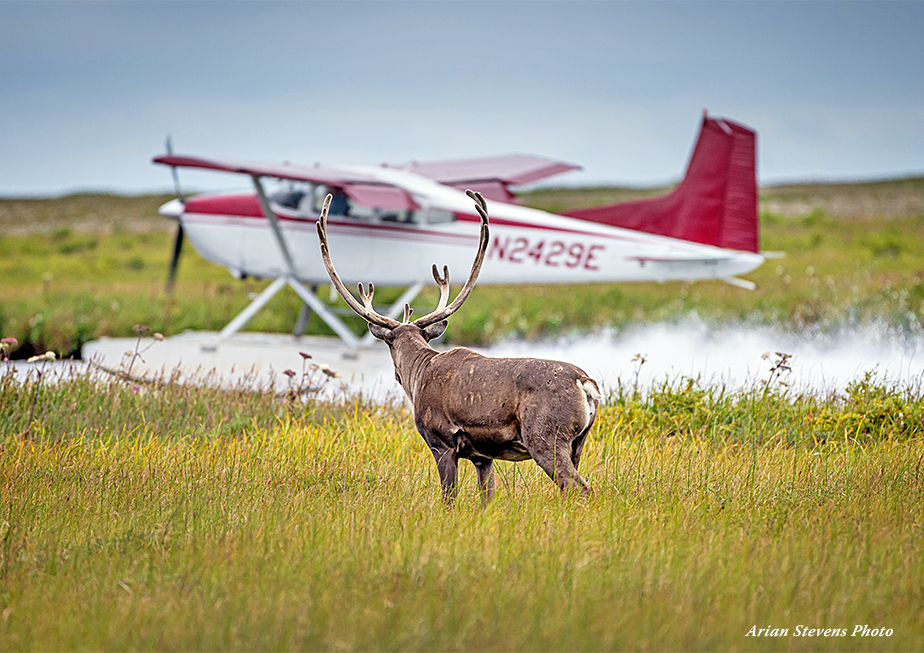 Seasons at Lava Creek Lodge
Lava Creek Lodge is all about offering some of the finest, most remote, lightly-fished fly fishing for king, chum and silver salmon in Alaska. King salmon (Chinook) season starts in early June and runs strong through mid-July, and there are plenty of big chrome kings available throughout those dates.

Silver salmon season begins in early to mid-August and runs through mid-September – likewise, there are bright fish available throughout the season. The lodge accesses miles of river for these popper-eating brutes, fish which average large, even by Alaska standards.
Read More
These are typical Peninsula Cohos, and they love to smash top-water streamers and stripped streamers alike. This fishing can be fast and furious, and one has to pace themselves – the numbers and size of these salmon will hurt you! As with many Peninsula fisheries, the run remains strong through the end of September, with progressively increasing numbers of fish stacking into these short coastal rivers. We prefer single-handed 8-wt rods for silvers, with most situations calling for the use of floating lines. A 15-ft Type 3 sinking tip can be a useful backup line.

Grand Slam Weeks are between king and silver season, mid-July through mid- August. These weeks are offered at a substantially reduced rate ($1,100 savings) and specifically target ocean-bright chum salmon, and trophy-sized Dolly Varden. These weeks are perfect for fly fishers, families and young anglers wanting lots of action on big, ocean-bright salmon, as well as a mixed bag of other species in the event they grow tired of hauling in savage-fighting chums.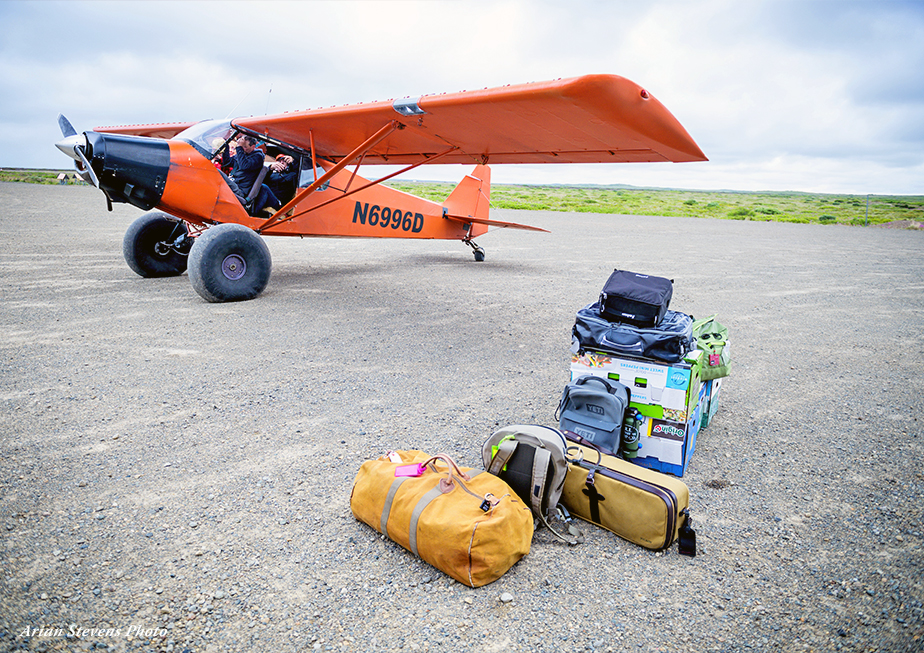 Getting to Lava Creek Lodge
Airline and Hotel Reservations Airline and hotel reservations should be made well in advance in order to ensure you receive the best flights and rates for your traveling needs.
Saturday, (the day prior to flying to the lodge):
On Saturday - the day prior to your arrival at Lava Creek Lodge - you should plan on traveling to Anchorage and overnighting at one of the many fine hotels in the waterfront city.

This is a great day to relax, check out Anchorage, or purchase any personal liquor you want to take down to the lodge.
Read More
Sunday, Day 1: Lava Creek Lodge has arranged for a private charter from Anchorage, Alaska, to a landing strip 25 miles from the lodge.

You'll want to take a hotel shuttle or taxi to their hangar in order to catch your flight. Check in time is 9:30 AM, wheels up at 10:30 PM.

Upon arrival to the airstrip, you will be met by Phil Byrd and flown in his wheel plane (usually two to three anglers at a time) the approximate 10-minute flight to the lodge.

Upon arrival to Lava Creek Lodge you will be shown to your cabin, where you'll have a chance to get settled in, unpack, and ready your gear for the action-packed week of fly fishing ahead of you. A light lunch will be served in the main lodge.

Your arrival day is considered a non-fishing day. Phil Byrd will give a brief orientation of the lodge facilities and outline the daily fishing schedule. The rest of the day is at your leisure to relax and prepare for a full week of angling.

Day 2 – 7: Fishing Days at Lava Creek Lodge:
Each morning you will awaken to a hearty breakfast and hot coffee, followed by pulling on your waders and loading into the boats for a run to the pools and runs where you will begin the day. If you are flying out for the day, you will be loading up in Phil's float plane. A nice advantage of such a small occupancy lodge is that there is some flexibility to the daily schedule. This is your fishing vacation so please relay your preferences to Phil and he and his staff will do their best to accommodate you.

River skiffs are used to navigate the rivers, but virtually all the fishing is done while wading. Lunches will be taken in the field, and your fishing days are full. At the end of each day, tired anglers will load back into the boats or float plane and ride back to an awaiting hot shower, hot meal, and comfortable bed.

Day 8 (Sunday): Return to Anchorage, and on home:
The Lava Creek Lodge to Anchorage charter is scheduled to depart at 12:45 PM, arriving Anchorage at approximately 2:20 PM.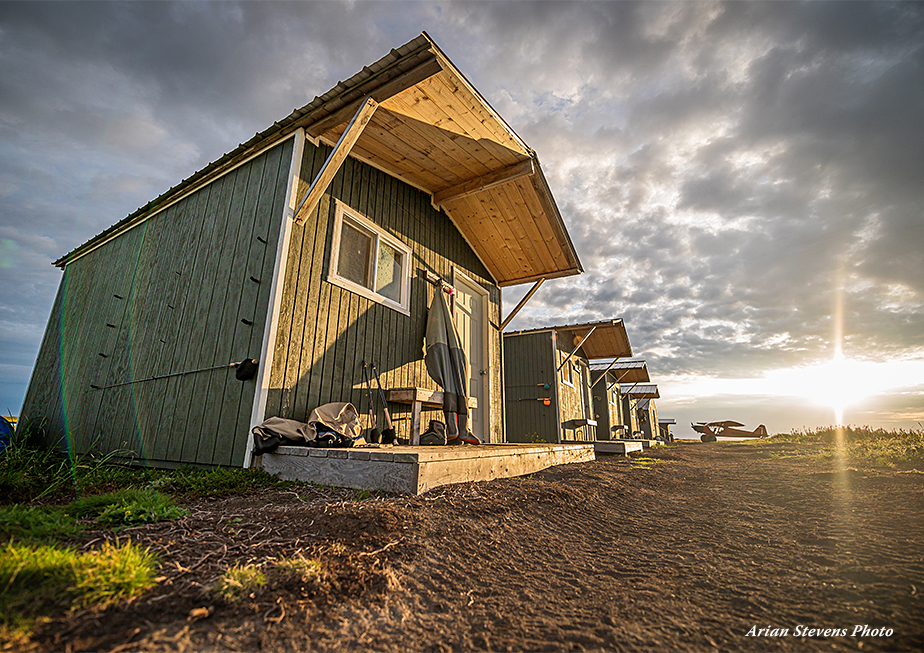 Lodging at Lava Creek Lodge
Lava Creek Lodge is a brand sportfishing operation located on the Aleutian Peninsula of Alaska. The lodge accommodates a maximum of eight anglers a week in comfortable double occupancy wood-constructed cabins, complete with full bathroom, flush toilets, sink, vanity, on-demand hot water, along with two beds with full linens, chairs, table and plenty of hooks to hang up gear.
Read More
There is a main lodge building where all the meals are served, as well as where the kitchen and family room are located - a perfect place to gather at the end of a fish filled day to enjoy an adult beverage and delicious appetizers.

The lodge complex features 24-hour electricity and limited WiFi (adequate to send and receive emails) and facetime phone service (no cell reception), and all of the buildings are heated. The entire lodge complex is not fancy, but it is new, comfortable, dry, warm and offers spectacular views of the coastal range and ancient Aniakchak Volcano rising 4,400 feet from sea level, separating the Pacific Ocean from the Bering Sea.

Last season the lodge upped their game on meals, and the new chef and menu were a big hit. For 2021 they will make a few changes to the menu, just to keep it interesting. Below is a sample of some of the amazing foods that will be served during your stay:
• Steaks on the barbecue with grilled shrimp
• Spiral cut honey baked ham with sweet potatoes & green beans
• Cornish Game Hen stuffed with orange wedge, wild rice & vegetables
• Barbequed Salmon, rice pilaf & salad
• Barbequed pork chops (or loin) & grilled potatoes
• Baked or barbequed halibut with crab cakes
Typical Fishing Day at Lava Creek Lodge
The angling package at Lava Creek Lodge includes a combination of guided fishing on the home waters and, weather permitting, some possible fly-out fishing on regional rivers. After a hearty breakfast, you'll put on your waders on the porch of your cabin, grab your tackle, and take the short walk down to where the jet boats and/or plane will be awaiting to whisk you to a seemingly endless supply of picture-perfect runs and pools. The guides will have you moving all day, jumping from one piece of water to the next with their boats, then getting out and wading. It is not unusual to cover miles of river in a day.
Read More
The Chinook salmon fishing at Lava Creek Lodge is classic down and across swing-fishing with a double handed rod or appropriate single handed stick. In some situations, especially in this type of fishing, a double handed rod is a better tool. The rivers we fish are not fast or terribly deep, and usually light sink-tips are all you need to get your fly into the correct water column. Additionally, the rivers we fish are not terribly wide, so long and difficult casts are not needed to be successful.

Silver salmon fishing is about numbers. They school up in pools by the hundreds, and these hyper-aggressive fish will jump on pink poppers and wildly-colored streamers during the months of August and September.

Typical of the Bering Sea coastal rivers in this area, Lava Creek Lodge silvers are large - 10 pounds on average with daily chances of hooking into a fish in the 15 to 18 pound range.

Anglers can expect high volume silver salmon fishing both on the home-water as well as the remote rivers creeks and inlets the lodge accesses by short float plane flight

Lava Creek Lodge guides are professionals who know the rivers and each daily fishing experience will be a memorable adventure, unique and full of action. Fishing days are full; expect long days on the water, only interrupted by a quick lunch break, then back at it. Lunches are normally taken in the field, prepared by the cook staff and carried by your guide, along with drinks of your choice.

At the end of each long, fish-filled day, guides will return their guests to the lodge, tired from hooking fish. A quick shower in your private bathroom is in order, and then you'll head to the lodge for appetizers and cocktails and listen to your fishing buddies tell of the day's events on the river.

The lodge serves up tasty lodge dinners, and after eating their fill, anglers will walk to their cabin and collapse, getting a good night's sleep. The best part is that tomorrow you get to do it again!
What Makes This Destination Special and Unique?
• Near private access to some of the best Chinook, Chum and Coho Salmon rivers in Alaska – light fishing pressure means guests have miles of these rivers all to themselves daily. This is what much of Alaska looked like 30 years ago. You won't have to worry about being low-holed by another lodge or group of anglers; you will have the rivers almost or completely to yourself. As a bonus, there are also some good-sized Dolly Varden in the home river.

• Classic swing water, relatively shallow and easily-waded rivers. Sinking tip lines are standard for the kings and chums, and floating lines are about all that is needed for silvers. This makes casting and fishing all day, even for such impressive numbers of large fish, much less tiring and more enjoyable. The wading is relatively easy and straightforward, a perfect fishery for anglers that don't like to wade to their armpits in fast water with a slippery bottom chucking heavy lines.

• A seasoned host, with years of experience operating in the Alaskan bush. He and the guides know all the details that help turn a good trip into a great one. All you need to do is fish and have a great time - the rest of your entire trip is taken care of and well-orchestrated, which is impressive in such a remote and challenging part of the Alaskan bush.

• Small venue operation limited to eight anglers per week maximum. This translates into maximum flexibility with the daily fishing program. The lodge is located in a beautiful setting between the mountains and the sea. With so few anglers, the fish remain happy and aggressive to the fly, meaning plenty of fish hooked daily.

• Daily fishing is accessed by either boat or floatplane. This puts guests on some of the best king and silver salmon rivers on the planet, and because you are not completely dependent on flying to daily fishing (though the normal schedule will have half the lodge guests flying out daily), you are assured to be on the water all day, every day, regardless of the weather.

• In addition to the world-class fishing, the lodge also offers some amazing non-angling activities, such as a visit to a walrus beach, landing the plane in the caldera of a volcano for lunch, bear viewing, birding, and beach-combing on trackless Bering Sea beaches.