Missouri River Lodge located on the Missouri River in Central Montana. It is a world-class family owned and operated fly fishing lodge that has been hosting and guiding fly fishing guests on the famous Missouri River for 20 continuous years. This is a family run operation with a lot of heart, attention to detail and commitment to taking care of folks.
The Missouri River is home to one of the most abundant brown and rainbow trout populations in the United States. The 40-mile stretch from Holter Dam to Cascade is home to 3,500 – 5,500 trout per mile. Not only are the numbers of fish impressive and the overall average size exceptional, these fish are girthy for their length and some of the hottest trout in Montana.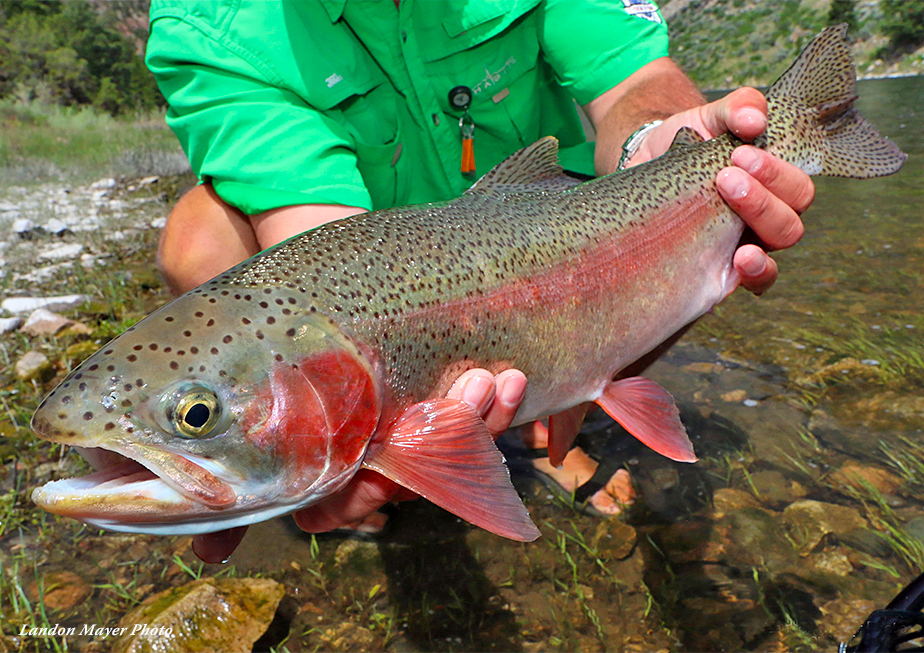 2024 Reservations & Rates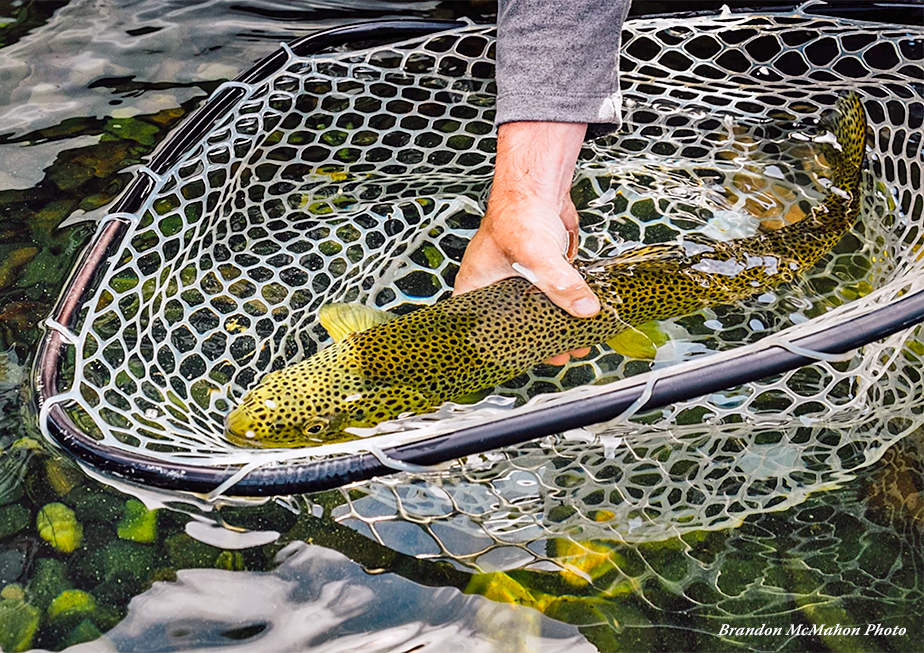 Seasons at Missouri River Lodge
April:
If you are after big browns, this is the time of year. After a long hard winter the water temperatures start to warm up into the 50's, the rainbows are getting ready to spawn, and the brown trout become extremely aggressive. Be prepared for unpredictable weather - rain, sleet, snow, and sunshine, but the midges and blue winged olives will be hatching, offering the first good dry fly fishing of the year. The browns spawn in the fall and go all winter without eating much. These fish love to fill their stomachs with anything, and streamers are deadly.
Read More
May:
In May the weather can still be a little on the cool side. Spring is in the air and the midges and BWO's are in full force. Most of the rainbows are spawning in the tributaries, but the ones still in the Missouri are eating anything in sight. The streamer fishing is still great for the big browns. What more could anyone ask for but uneducated fish, no crowds and more than willing fish.

June:
June is a very good month to catch a lot of fish. The rainbows are post spawn and trying to fatten back up. June is when water levels will vary the most and the spring run-off will make fishing a challenge. The fish hold tight to the banks and in the back eddies. Nymphing and streamers produce a lot of trout while we wait for the bugs to start coming off so we can fish dry flies. Midges, BWO's, and caddis will begin hatching at some point in this month.

July:
Weather in July is usually very warm, waders are replaced with shorts or wading pants, and wading boots with wading sandals. Caddis and PMD's will emerge all day long. Fish rise throughout the day, and provide some of the best dry fly fishing we see all season.

August
The peak of summer in central Montana; expect warm air temps and water temperatures in the 60's. This is when the Tricos come out. Every morning, funnel clouds of these tiny mayflies look like smoke lining the banks of the Missouri River. The grasshoppers are out in full force and the fishing is hard to beat.

September:
Schools are reopening and the summer crowds are dwindling down. You can fish many different patterns in September - Tricos, midges, BWO's, caddis, hoppers, and October caddis. The fish are fat and strong from a summer of gorging, but still eager to eat well fished bugs. As autumn colors start to appear the days get shorter and night-time temperatures drop, and fish know they have to put on the feedbag for another Montana winter. That translates into aggressive and great fishing opportunities. It's one of our favorite times of the season.

October:
Fall is here and the browns are staging to begin their annual spawning routine. What's more gorgeous than a summer-fat brown trout in its full spawning colors? These fish will destroy streamers as well as eat the occasional dry fly. The rainbows are eating the last of the heavy bug hatches before winter sets in. BWO's, caddis, and midges will be on the water most of the day. Our weather in October is much like April - cool and unpredictable. But the rewards of hooking big browns on streamers and fat and sassy rainbows on dry flies is why October is so popular with the guides and clients alike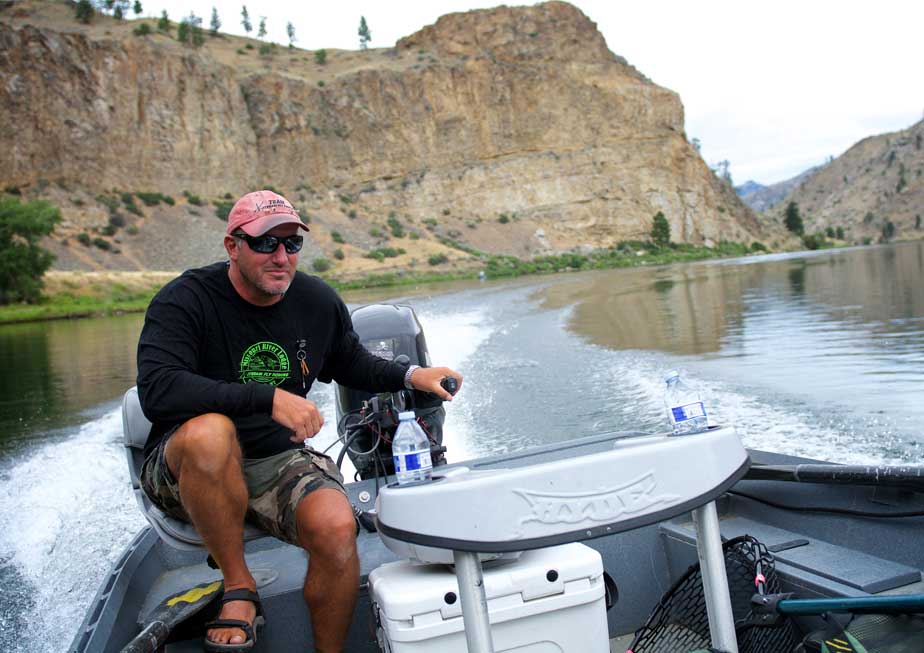 Getting to Missouri River Lodge
Missouri River Lodge is conveniently located near I-15 approximately halfway between Helena and Great Falls, Montana – both towns are about 45 miles from the lodge. Great Falls and Helena also have the nearest airports. If you prefer to drive, take Exit 234 Craig east for 1/2 mile, then north on the recreation road for 2 miles. Missouri River Lodge's physical address is 3675 Craig Frontage Road, Craig, MT 59648.
Read More
Shuttle Service:
The Helena Town Car Company (406.437.8585 or 406.363.4485) If you are flying into Helena or Great Falls and prefer not to rent a car, the Helena Town Car Company offers a shuttle to/from Great Falls or Helena. As of this writing in 2020, one way shuttles between Helena and the lodge are $125, and $150 between Great Falls and the lodge. The Car Company also has a shuttle bus available for larger groups.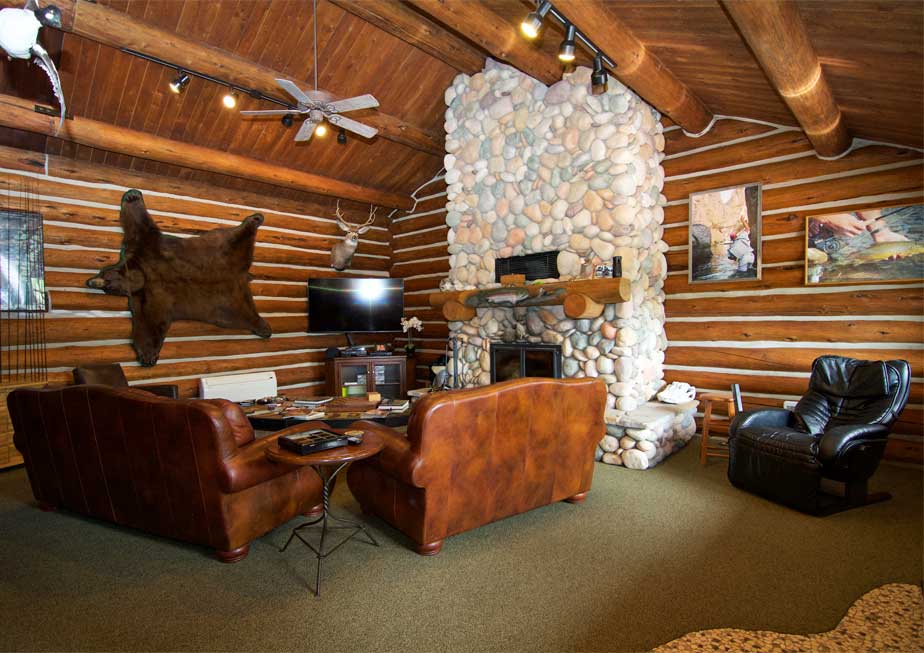 Lodging at Missouri River Lodge
The Missouri River Lodge is all about Montana hospitality. The lodge is a beautifully constructed two-story native log building that accommodates no more than 12 - 14 anglers, ensuring a relaxing and comfortable fly fishing holiday. The lodge houses guests in seven large, rustic, and uniquely decorated rooms. Each room has two queen size beds, a vanity (with mirror and sink), and a sitting area. Two rooms have private bathrooms and the other rooms have adjacent bathrooms – walk out the door of your room into the hall, and turn immediately into the neighboring bathroom. The lodge has a large gathering room with
Read More
satellite TV, Wi-Fi, and a sitting area, as well as a very comfortable family-style dining room with great food and entertainment. Share your fishing stories and a drink at our full service bar.

Missouri River Lodge offers a perfect setting for your family vacation, business meeting, specialty group conference, or corporate outing.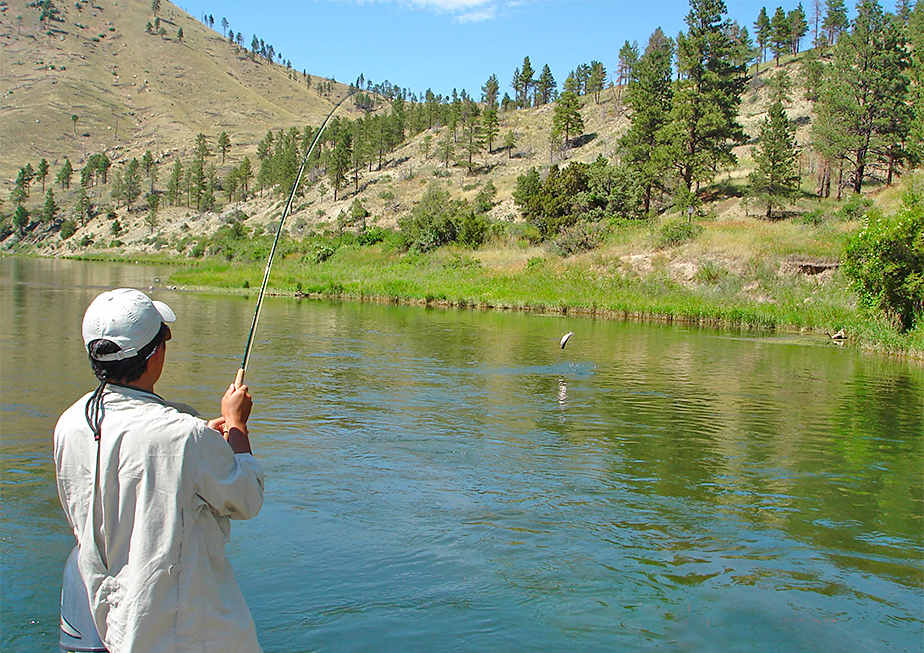 Fishing at Missouri River Lodge
Missouri River -Holter to Cascade:
The Missouri River is a large tailwater that flows out of Holter Dam and is fishable for 40+ miles past the town of Cascade, Montana. This section of river has 13 boat access points allowing guides to mix and match many different combinations for your daily floats.

Fishing much like a large spring creek, the Missouri offers some of the best dry fly action anywhere in the world. Depending on the time of year, consistent emergences of caddis, pmd's, tricos, midges, bwo's and
Read More
grasshoppers bring large numbers of wild rainbow and brown trout to the surface. In addition, nymph fishing can be exceptionally productive all season long. A float trip can run for 2 - 15 miles, with some sections seeing over 5,000 wild trout per mile averaging 16"-18", with the occasional brown trout over two feet long.

The Missouri River can be very technical, so having top-notch guides makes a big difference and helps ensure an enjoyable and successful fly fishing experience. MRL guides are equipped with the best boats, flies, and knowledge of where to take you, what to use, and how to use it. Our primary way of fishing the Missouri is out of drift boats, with occasional wade fishing opportunities.

The trout on the Missouri are all wild fish that reproduce naturally in the river, or in the small tributaries that flow into the river. The dam adds to the prolific biomass (aka trout food) by providing consistent water flow and temperature throughout the year. This accounts for the large number and large size of our fish that will run you into your backing on a daily basis!

Missouri River Lodge practices 100% catch-and-release to ensure there will always be plenty of trout the next time you wish to come and fish with us.

The Land of the Giants:
The Land of the Giants is legendary in the West. This section of river houses some of the biggest rainbows and browns this country has to offer in a wild setting. After spending their winter months in the lake, these beasts move into the river to spawn and spend the summer months gorging on the rich bug life. The average rainbow will stretch a tape to over 20", with brown trout reaching lengths of up to 26". This is BIG fish water! There are few places in the lower 48 that are going to give you a comparable opportunity to catch these kinds of numbers of wild, trophy trout. The Land of the Giants truly is a special fishery. Bookings fill up fast due to the limited space. Be sure to request the number of days you would like to fish this fabled piece of water.

Blackfoot River:
One of the most famous and beautiful rivers in central Montana is only an hour away from Missouri River Lodge. The Blackfoot is a freestone river that provides an opportunity for fly fisherman to try their skills on native Westslope cutthroats. These trout, as well as rainbows, browns, cutbows, the occasional brook trout, and bull trout can all be caught on this extraordinary stream. Trout on the Blackfoot River are unusually susceptible to large, attractor dries and their eats are nothing less than aggressive. The Blackfoot offers countless riffles, pools and runs for you to try your nymphs, streamers, and dry flies and every cast can produce a trout in the 16"- 20" range.

Wade Fishing:
Get out of the boat for a change, stretch your legs, and get up close and personal with some gorgeous smaller mountain streams just minutes from the lodge. These gin-clear waters rarely see another angler, and it's a chance to get away from it all. Try your hand at throwing 0 to 4 weight rods at wild mountain rainbows and brown trout. The surprise and excitement of occasionally landing a large trout in a high mountain stream on light tackle is the quintessence of fly fishing.

Carp on the Fly:
The Missouri River Lodge offers fly fishing for carp, the world's next game fish on the fly! These fish are incredible with their size, power, strength and wariness to a fly. They will test any angler's patience, skill, and ability. Fishing for these big fish is a lot like bonefish or redfish on the flats. The water is very clear and you will have hundreds of targets to throw at each day. Stalking these fish in knee-deep water is hunting with a fly rod. Carp average 10 pounds and will give your five weight rod everything it can handle, and then some. Step outside the box and give something new a try, carp fishing will surprise you. We love it!
What Makes This Destination Special and Unique?
• With consistent year round water temperatures and a constant supply of mayflies, caddis and midges, Missouri River trout have a steady supply of food to choose from. These fish eat and grow year round which allow them to attain a larger than average size when compared to their freestone river counterparts. Not only will you be catching fish, they will be big! There is an abundance of fish between 15"-19" with many exceeding 20"+, and there is always a chance for a 24"+ trophy!

• The Missouri below Holter Dam offers some of the finest and most predictable dry fly fishing in all of the Rockies. As well, the nymphing is highly productive all season long, and for those who like to throw streamers, early and late season can provide epic action. There is even the option to float or wade other nearby rivers and streams, most of which provide fantastic dry fly fishing. The variety of fishing options here means there is something to please the fishing palate of anyone, regardless of whether you are a beginner, or experienced angler.

• Owner Joe Bloomquist has been guiding people on the hard-to-reach Land of the Giants stretch of the Missouri for over 20 years, and he has it dialed. Thousands of clients over the years agree that the $100/person/day extra it costs to reach this water and be guided by Joe on it is well worth the extra expense. Fish here average over twenty inches, and fish to 24" are not unusual. You can spend most of your days on the classic dry fly stretches of the Lower Mo, then jet boat up to this canyon reach for a day and the chance of a monster rainbow or brown trout!

• Joe and Lindsey have been hosting guests at their lodge on the Missouri for over twenty years, and they know what it takes to turn a good trip into a great one. It shows in their high return rate of guests year in and year out. Not only will you get great guides and fishing, you can look forward to the best lunches on the river, tasty appetizers and mouthwatering dinners inspired by fresh and quality ingredients. Lindsey's years of experience cooking in this exact setting shows and you will not be disappointed by the service and dining provided at Missouri River Lodge. The Bloomquists operation has a family feel to it, and they pride themselves on exceeding your expectations both on the river, and when you return to the lodge after a long day.

• The lodge itself is a comfortable and well-appointed log facility, well-designed for anglers yet not over-the-top fancy. Whether sitting on a barstool at their full bar interacting with other guests, enjoying the large deck overlooking the Missouri River, or falling asleep in the large queen beds in every room, you will feel well taken care of and depart feeling like a part of the family.