Teton Valley Lodge, located outside of Driggs, Idaho. It is the oldest continuously operating fly fishing lodge west of the Mississippi. Teton Valley Lodge has been outfitting on the South Fork of the Snake River, the Henry's Fork and the Teton River since 1919.
With over 25 different beats available on these three blue ribbon fisheries, there are years of discovery for even the most experienced fly fishermen. You can expect to catch rainbows, browns and cutthroats, and prolific dry fly hatches give you consistent opportunities for large trout on the surface.
Owned and operated by Brian and Joselle Berry, the lodge has been family owned and operated for 4 generations. Brian's great-grandfather Alma Kunz, started guiding on the Teton River in 1919. With over 100 years of outfitter experience, Teton Valley Lodge is a family tradition.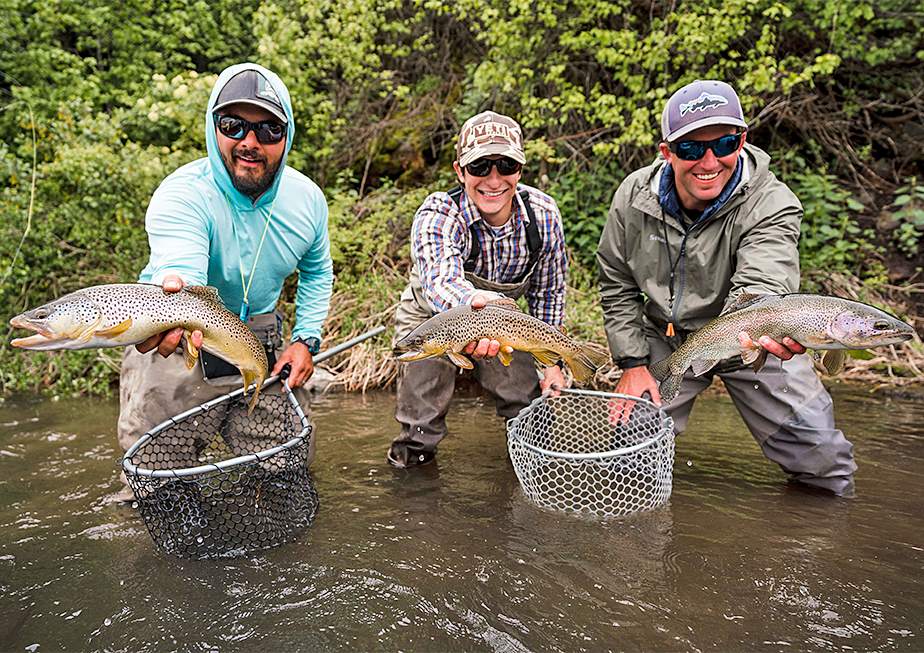 Reservations & Rates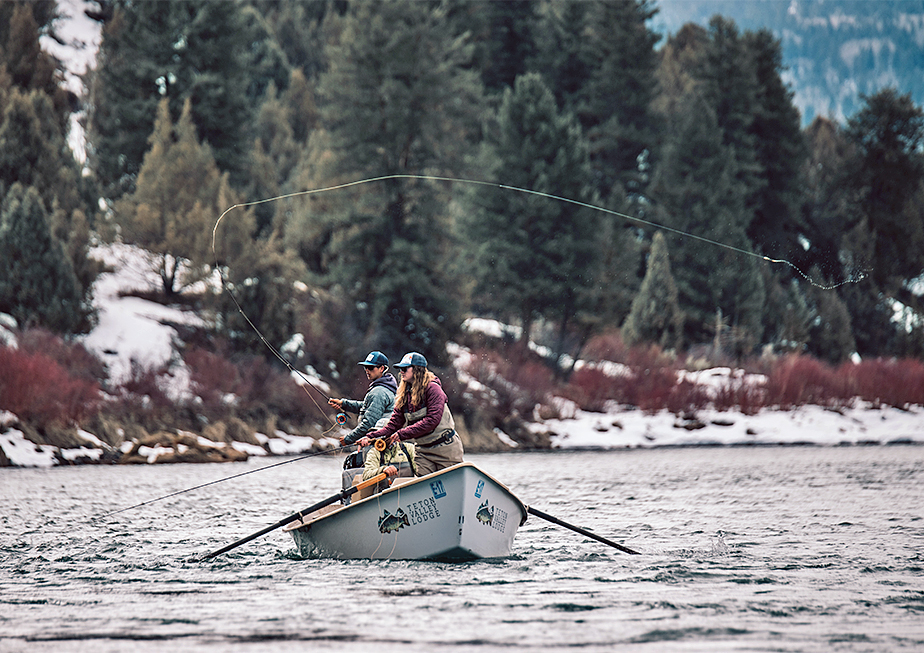 Seasons at Teton Valley Lodge
January – April:
Fishing is limited in January due to the extreme temperatures. After that, the weather continues to improve moving forward. The South Fork and Henry's Fork fish well in these months. The Teton isn't very good until June, although it has a few bright spots. These early months are best fished with streamers or nymphs.

May:
Salmon flies out all over Henry's Fork with dry fly action hot and heavy. Most stretches will be fishing great with huge fish hitting the surface. This will last until late June.
Read More
June:
Early June: Small dries mix with the salmon flies to make fishing even better. The flat water on the Henry's Fork will be fantastic coupled with the salmon flies in the fast water making for the best of both worlds.
Late June: The South Fork salmon flies start to hatch on the lower river. The Narrows starts to fish well with salmon flies on the upper and lower sections. The Upper Teton hatches begin with green drakes and PMDs. The Henry's Fork is still fishing great; the lower river drake hatches begin, the canyon sections fish well with golden stones and nymphs and the upper waters, including Railroad Ranch, have every kind of mayfly hatching.

July:
Salmon fly hatch takes over on the South Fork. The riffles are full of fish eating small mayflies. The Narrows also are filled with adult golden stones. The entire Teton fishes well on these large dries. Wade trips are great this time of year. The Henry's Fork still fishes well, mostly in the canyon section with large dries and droppers as well as the flat water, for huge rainbows.

August:
Hopper City! The South Fork and Narrows are filled with large hoppers. The infamous Chernobyl ant along with other hopper and large attractor patterns are fished to produce large numbers and large fish. The Narrows are very accessible to wading. Upper Teton fishing like it should, big rainbows and big cutthroats on anything from small dries to big hoppers.

September:
The grouse season begins. Cast and Blast for Ruffed Grouse in the foothills around the lodge. The Teton River produces huge fish on small dries. The Henry's Fork still produces high numbers of fish with large fish caught in the flat water. Hoppers are still thick on the South Fork and Narrows. September/October big fish contest begins with many large browns caught on streamers.

October - November:
Cast and Blast for ducks and grouse followed by an afternoon of fishing. Some of the best fishing of the year is to be had during this beautiful month of outdoor sporting. Big browns are out and moving on the South Fork. Blue-winged Olive Mayfly hatches are blanketing the South Fork on warmer days. The Henry's Fork still produces large rainbows.

Cast & Blast:
Variety is the spice of life. With this in mind TVL is proud to offer bird shooting in addition to fishing. Cast and Blast Trips start on September first with forest grouse hunting. These challenging birds are found throughout the foothills surrounding the Lodge. With our trusty dogs to help, hunters can expect to find many opportunities to bag these delicious little birds. Follow a morning hunt with an afternoon on the Teton, and life does not get much better. These trips are available throughout the month of September and October.
In October, TVL offers duck hunting trips. They hunt eight private blinds on the Teton River and adjacent sloughs. Room is limited for opening weekend, so book early. This is one of the most enjoyable weekends of the season. Hunting at sun up, followed by a late breakfast and fishing on the Teton. Then back to the blinds to finish the day with an evening hunt. So much fun to be had by all and all of it right here.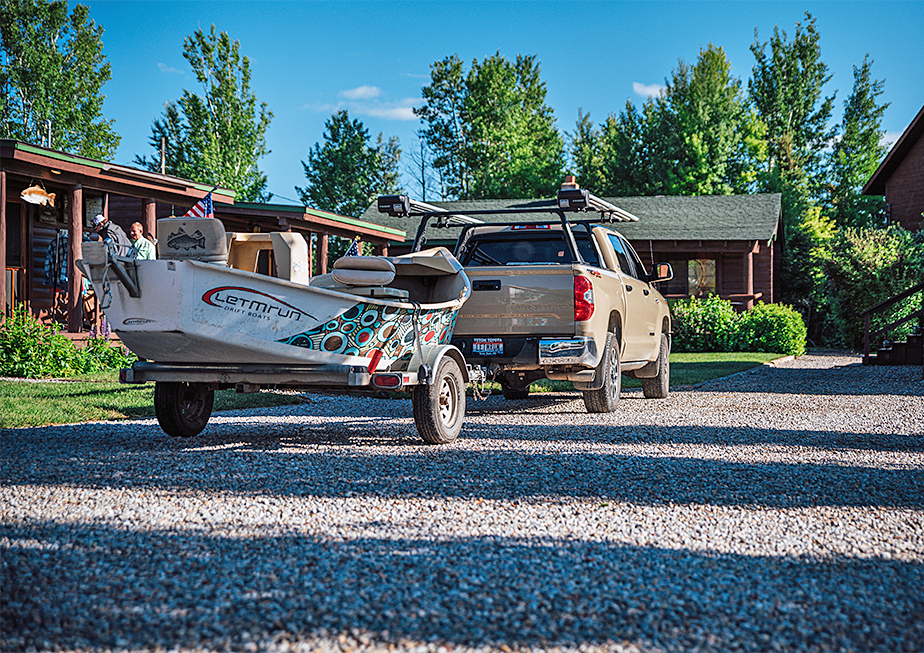 Getting to Teton Valley Lodge
Located in Driggs, Idaho, Teton Valley Lodge is equidistant from both the Jackson Hole, Wyoming, airport (JAC) and the Idaho Falls, Idaho, airport (IDA). Teton Valley Lodge offers add-on airport shuttle service from these two locations for guests.

Airport Shuttles:
• Round Trip to/from Jackson($250) / Idaho Falls Airport($280) (1 hour and 15 minute drive)
• Round Trip service from Driggs Private Airport: $80 (15 - 20 minute drive)
Read More
Or you can simply fly to any one of these three airports, rent a car and drive to the lodge yourself.

Private aircraft and charters may land at the Driggs Reed Memorial Airport (KDIJ).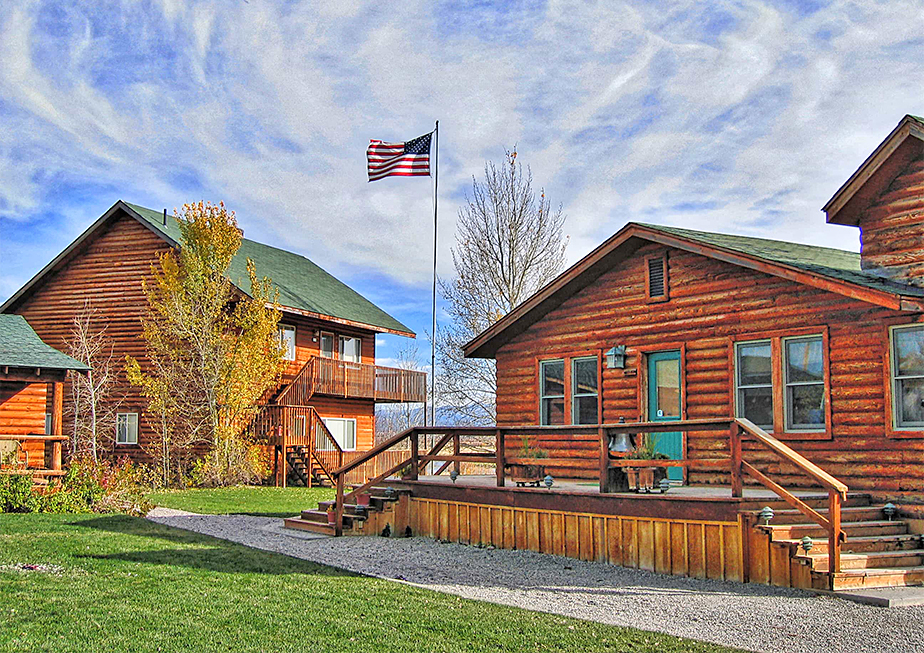 Lodging at Teton Valley Lodge
Teton Valley Lodge is a full-service fly fishing lodge located directly on the banks of the beautiful Teton River. They offer delightful first-class accommodations overlooking the river. You will also get a view of the famous Teton mountain range. This fly fishing lodge is comfortably secluded from the bustle of the outside world. From your room, you can hear and see all sorts of bird life including Sandhill cranes, ducks, geese, ospreys, and bald eagles.
Read More
The Lodge premises consist of the main lodge in the center, with several individual cabins encircling it. The main facility houses a large dining hall, along with a comfortable lounge equipped with a bar and lounge. The guest cabins range in size from 1 to 3 bedrooms. Most bedrooms are furnished with two queen beds and private bathrooms. Larger cabins include relaxing sitting rooms. Each room is outfitted with a mini bar, stocked daily. Each cabin has deck furniture to help our guests take pleasure in the serene surroundings after a day on the river.

The first-class accommodations at Teton Valley Lodge command spectacular Teton River views, back dropped by the world-renowned Teton Range.
Fishing at Teton Valley Lodge
"The Rivers"

South Fork:
We get it. We know how you feel. You crave a life-altering, completely over-the-top experience of beautiful scenery, filled with tons of wild trout. Well guess what? You are in luck. The South Fork of the Snake is insanely gorgeous, with enough trout to fill any fisherman's net.

You will have your choice of over 60 miles of far-out, rod-bending, thrilling water, brimming with cutthroat, rainbow, and brown trout.
Read More
How would you describe 5,000 wild trout per mile? Chock-full, packed, loaded, stuffed, jammed? Let's just say it has more trout than you can shake a fly rod at.

Want big trout, too? Did we mention the biggest trout caught at the Lodge was 31.5 x 22 inches? Sure, you may not catch one that big, but they are out there, salivating over that big dry fly at the end of your line.

Teton River:
You are going to love this river. The Teton has so many different types of water. If you wanted to only fish the Teton on your stay with us, you wouldn't see the same kind of water each day. Whether it is the flat spring creek water right in our backyard, the winding stretches below the Lodge, or the deep canyon of the Narrows, we can fish it all.

The Teton is more than just a river, it is part of everything the Berry family is. This is where everything started. Three generations ago, their great-grandfather started guiding anglers on the Teton River. Fly fishermen from all over the world have visited this one-of-a-kind spring creek. They come for the dry fly fishing. Mayflies really get going the end of June and continue through October. Sure, they get the occasional stonefly or grasshopper, but the mayfly hatches are by far the main source of food for the trout on the Teton.

Henry's Fork:
So, you want a Western Fly Fishing Experience. How about wetting your line in an ancient volcano that just so happens to be the old Yellowstone? At six thousand feet above sea level, the Henry's Fork flows out of a spring created by volcanic activity more than millennia ago. This historic area was home to battles between Chief Joseph's Nez Pearce tribe and United States military troops. Some of this area also served as a cattle ranch for the Harriman and Guggenheim families.

The Henry's Fork is no secret. For decades it has been known to most anglers as the greatest river in the world. We love the Henry's and you can fish it year round. It is beautiful and diverse. There are many different types of water, and countless insects to feed the fish. The fish are strong and majestic. Eight sections of the river run through two dams and cascade over an elevation change of over 1,000 feet.
What Makes This Destination Special and Unique?
• EXPERIENCE: We don't know of or have ever heard of an outfitter that had more experience operating a fly fishing lodge and outfitting company then the Berry Family. Imagine, 101 years of hands on experience taking care of fly fishers. These folks are pros, have a proven and century-tested formula of success. The true litmus test of a great fly fishing destination is whether guests return to that outfitter and at Teton Valley Lodge that is an every year experience. All that experience translates into you not having to worry about a thing and your only job is to enjoy your trip at Teton Valley Lodge, start to finish – you are in very capable hands.

• VARIETY: The sheer variety of water and types of fly fishing Teton Valley Lodge offers is mind blowing. It would take a decade worth's of fishing to see and experience all they have within easy striking distance of the lodge. Variety keeps your interest peaked from the first to the last day of fishing. You'll not only see and experience a different piece of water each day, but you'll learn a ton of new skills, in a short amount time and ultimately leave TVL a better angler for it.

• LOCATION: It wasn't by luck that the Berry's selected Drigg's Idaho to build their lodge right on the banks of the Teton River. Their grandfather knew exactly what he was doing 101 years ago. This location is absolutely gorgeous with breathtaking view of the Grand Tetons to the east. The location gives you quick and easy access to your daily fishing, often right in front of the lodge and little if any wasted motion. Less time travelling to and from the fisheries, means more time on the water and more world-class fly fishing for trout.

• LODGING & DINING: The emphasis at Teton Valley Lodge is 100% on the great fly fishing they have to offer. However, it doesn't hurt to also have very comfortable and nice lodging along with world-class food to round out a terrific fly fishing holiday. You can rest assure that you will get a good night's rest and be ready for the next day's fishing sortie and satiated with fine dining. Don't plan on loosing while at TVL!

• GUIDES: When you think about a fly fishing trip, who do you spend more time with than your guide, often 8 – 10 hours per day? The guides at Teton Valley Lodge are some of the best in the business, anywhere in the world. They are polite, talented and dedicated professionals whose sole goal is to get you into fish, help you have the best day of your life, all in enjoyable and safe manner. Leave the work to your guide, kick back, catch fish, laugh and make lifetime memories, the guides have your back.

• FAMILY: Once you visit Teton Valley Lodge you become part of the Berry Family. That's not an overstatement that's how the Berry Family really feels. You are the most important part of what Teton Valley Lodge does. They want you to love fly fishing as much as they do will do everything within their power to meet and exceed your expectations. Rest assure, you will be well looked after at TVL, and you will leave with new friends and family members for life.