DeMissouri House is located near the Missouri River in Central Montana. This is a family-run operation with a lot of heart, attention to detail, and commitment to taking care of folks.
You are in excellent hands with your hosts, Craig and Becky DeMark! Craig is your outfitter and guide on the river, and he will ensure that your trip meets all of your expectations; you'll improve your fly fishing skills and create lasting memories. Craig has been a Montana fly fishing guide for several years and has extensive experience in the Dillon area on rivers like the Big Hole and Beaverhead. A few years ago, he moved his operation to the Missouri to take advantage of one of Montana's most consistent tailwaters. Back at the house and in the kitchen, Becky will be sure that each guest is very well fed and looked after.
The Missouri River is home to one of the most abundant brown and rainbow trout populations in the United States. The 40-mile stretch from Holter Dam to Cascade is home to 3,500 – 5,500 trout per mile. Not only are the numbers of fish impressive and the overall average size exceptional, these fish are girthy for their length and some of the hottest trout in Montana. With 11 different boat launch sites, there are plenty of options for different floats to keep you busy for a few days or a week of fishing.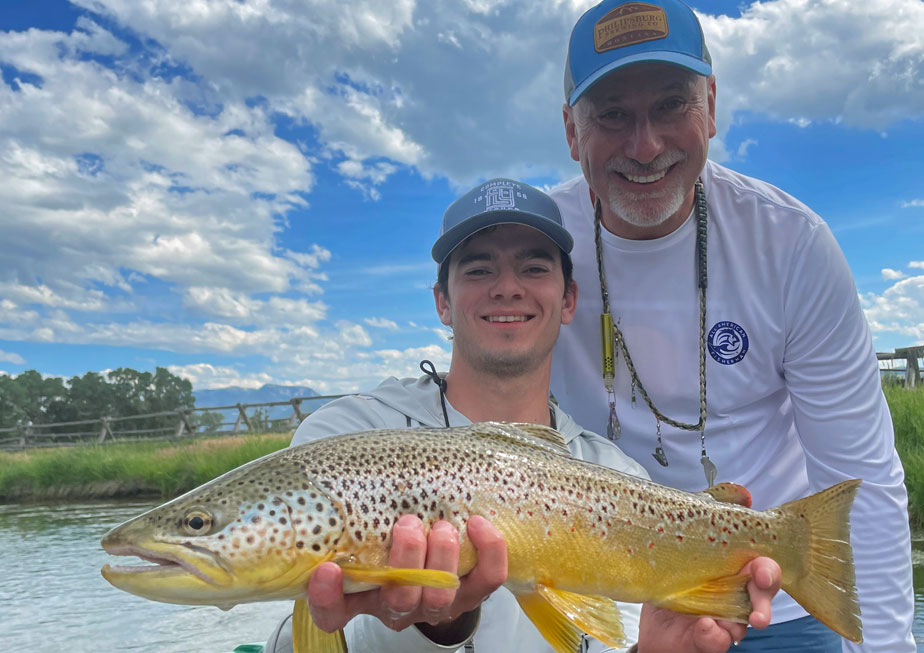 Reservations & Rates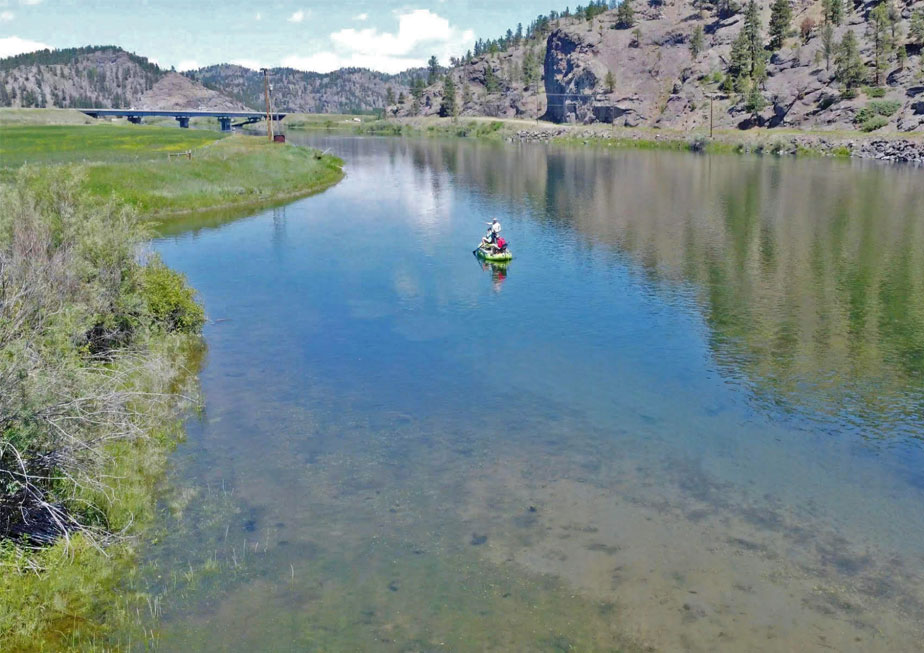 Seasons at DeMissouri House
DeMissouri House runs a season from May 1- October 15. However, the Missouri is a year-round fishery and can fish well anytime of the year and usually without the crowds. If you want to come in the off-season, please let us know and many times we can make it happen.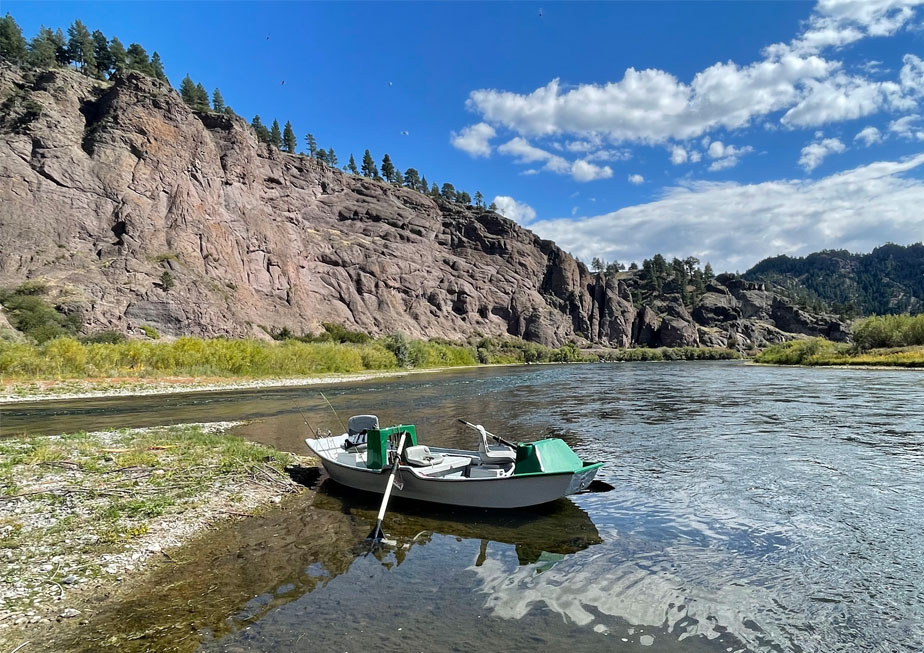 Getting to DeMissouri House
DeMissouri House is conveniently located near I-15 approximately halfway between Helena and Great Falls, Montana – both towns are about 45 miles from the lodge. Great Falls and Helena also have the nearest airports. If you prefer to drive Google Maps gives the best and most accurate directions to DeMissouri House.
Read More
Coming from Helena: Google Map Directions
• Take I-15 North toward Great Falls.
• Take the Dearborn Exit - Exit 240
• Turn LEFT
• Stay on Cooper Dr (dirt road) all the way over the mountain. You will see a sign that reads "Private Road - Enter at your own risk". That just means you are on the right road.
• After going over the mountain you will go under the freeway. The first house you come to will be the lodge. 248 Cooper Dr.
• Pull in behind the lodge and park in front to unload.

Coming from Great Falls: Google Map Directions
• Take I-15 South toward Helena.
• Take the Dearborn Exit - Exit 240
• Turn LEFT
• Stay on Cooper Dr (dirt road) all the way over the mountain. You will see a sign that reads "Private Road - Enter at your own risk". That just means you are on the right road.
• After going over the mountain you will go under the freeway. The first house you come to will be the lodge. 248 Cooper Dr.
• Pull in behind the lodge and park in front to unload.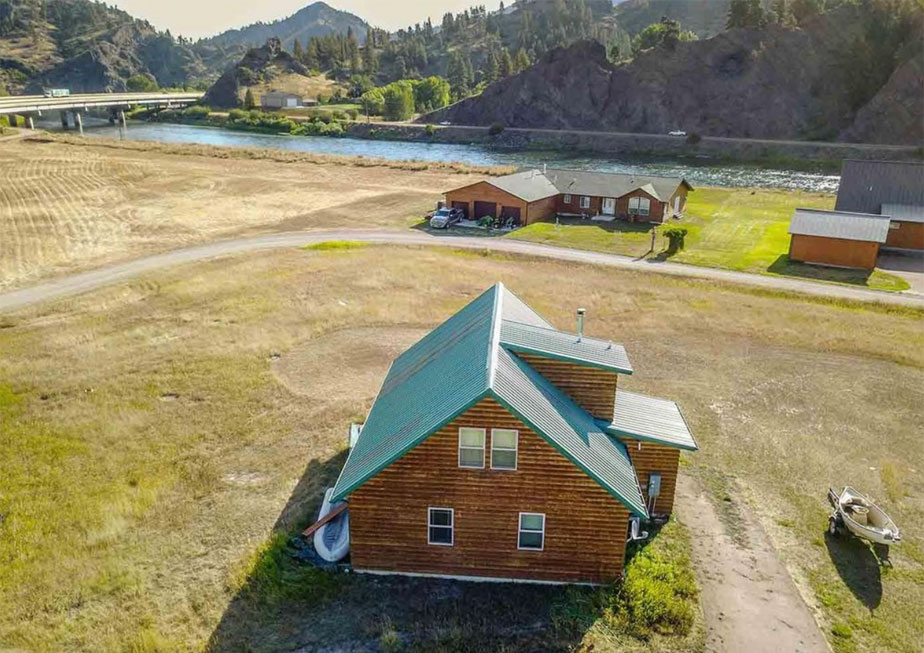 Lodging at DeMissouri House
The simple, log-sided lodge is a comfortable, intimate retreat where you can relax after a long day of catching fish on the Mighty Mo. Big gable windows allow lots of light in, and there's a nice open deck facing the river on which to relax and enjoy a cocktail before or after dinner. Each room has two queen beds. The upstairs room has a private bath while the two rooms downstairs will share a bathroom. It is well-decorated, clean and has a nice sitting area with couches to congregate at and share stories before enjoying a wonderful dinner at the dining table. Once you are finished with dinner, Becky and staff will let you enjoy the lodge all to yourself for the evening however you see fit.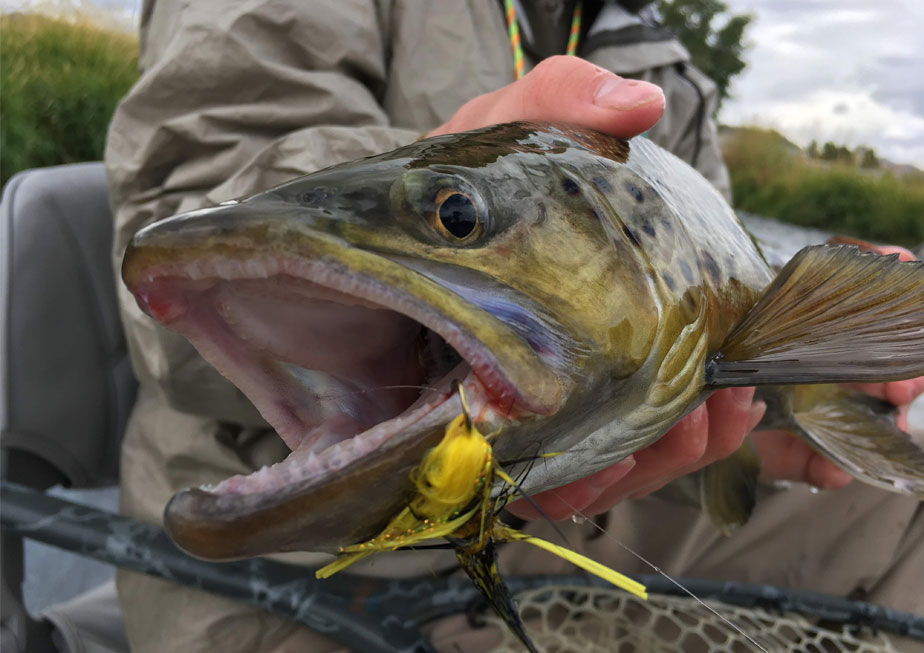 Fishing at DeMissouri House
Craig and his sons can customize a package to see several different waters. Maybe you want to fish a river or a stillwater that's been on your bucket list. Another option is to let them pick what has been fishing the best, when you arrive to the lodge.

Missouri River:
This is the bread and butter. The Missouri River is a tailwater, so it fishes well year-round. Slabby, hot rainbows that immediately try to go into orbit and predatory browns with shoulders are the attraction here. A fish and bug factory, the Missouri has it all. Whether you love dry fly fishing, nymphing for numbers that make your arm sore, or watching big fish try to erase a streamer - the Mo has something for you.
Read More
Land of the Giants, Missouri River:
"The Land of the Giants" fishing section on the Missouri River starts below Hauser Dam and flows into Holter Reservoir and gets its name strictly because of the size and strength of the trout that live in this section of river. Fishing Land of the Giants takes place from a jet boat and consists of mostly using wet-fly techniques. Add $150 per day/per angler for this experience.

Blackfoot River:
One of the finest rivers for overall scenery, floating, and fishing. A long river with great floating access makes this perfect for a memorable day, or a several days' long trip. Fish include: native cutthroat (always willing to eat a dry fly), streamer chasing brown trout, and gorgeous rainbow trout.

Georgetown Lake:
Healthy rainbows, and brookies that will make you think you are in Labrador. Occasional dry fly fishing but you can always catch fish subsurface. The scenery at Georgetown is only a bonus.

Clark Fork River:
This river has two distinct sections. The Upper - above the confluence with Rock Creek – is a beautiful meadow and farmland sections that offers great streamer and hopper fishing for browns. The Lower, below Rock Creek, boasts incredible dry fly fishing June through October.

Madison River:
Its nickname (the 50-Mile Riffle) perfectly describes it. Maybe the most well-known of all Montana rivers. It's a very popular fishery and deservedly so. It has great mayfly, caddis fly, and stonefly hatches all season long. The shallow, cold, highly-oxygenated water always have the fish looking up. Possibly the most consistent dry fly fishing of all of our rivers. Primarily a brown and rainbow trout fishery.
What Makes This Destination Special and Unique?
• FISH FACTORY With consistent year-round water temperatures and a constant supply of mayflies, scuds, worms, caddis and midges, Missouri River trout have a steady supply of food to choose from. These fish eat and grow year-round which allow them to attain a larger than average size when compared to their freestone river counterparts. Not only will you be catching fish, they will be big! There is an abundance of fish between 15"-19" with many exceeding 20" +, and there is always a chance for a 24" + trophy!

• DRY FLY FISHING The Missouri below Holter Dam offers some of the finest and most predictable dry fly fishing in all the Rockies. As well, the nymphing is highly productive all season long, and for those who like to throw streamers, early and late season can provide epic action. There is even the option to float or wade other nearby rivers and streams, most of which provide fantastic dry fly fishing. The variety of fishing options here means there is something to please the fishing palate of anyone, regardless of whether you are a beginner, or experienced angler.

• OWNER/OPERATOR AND FAMILY RUN The Fly Shop offers a lot of different options as far as fly fishing lodges around the world, and what we consistently see, time and again, is owner/operator lodges are run differently from ones that are not. More consistency from day to day as they have more skin in the game and it is run to their standard, not someone else's. If there is an issue, they will take care of you. If you want to fish more dry flies or customize your trip, you are talking to the owner directly and Craig and Becky will make it happen.

• SMALL CAPACITY We all love big fishing lodges, but sometimes you just want to get away with a group of friends and create your own atmosphere. There aren't many places where you can have a lodge takeover with a small group of buddies. At DeMissouri House, with a maximum occupancy of 6 anglers, this is the perfect opportunity to create memories on and off the river in an intimate setting with a small group of good friends and/or family.