Bay Flats Lodge was started in 1998 by founders Chris and Deb Martin, with the purchase of a trailer house in Seadrift, Texas, overlooking San Antonio Bay. It was originally also used as a weekend home inspired by the fond memories Chris had as a child while visiting family in Victoria and fishing out on the bay.
Guides speed out to super remote creeks and salt flats in their state-of-the-art, ultra-light poling skiffs, then push you silently along, always on the lookout for tailing redfish and their tell-tale wakes in shallow, clear water.
Their fishing grounds include San Antonio Bay, Espiritu Santo Bay, and Shoalwater, Hynes, Ayres, and Mesquite bays. Portions of a few of these bays help make up Matagorda Island, which is a 39-mile-long offshore barrier island separating the mainland from the Gulf of Mexico. It consists of myriad secluded lake areas and hundreds of acres of coastal marsh and dunes. This unique environment is unlike anywhere else along the Texas coast. It provides multiple options when choosing where to fish, and also provides protection from coastal winds that can often be a nuisance to fly anglers.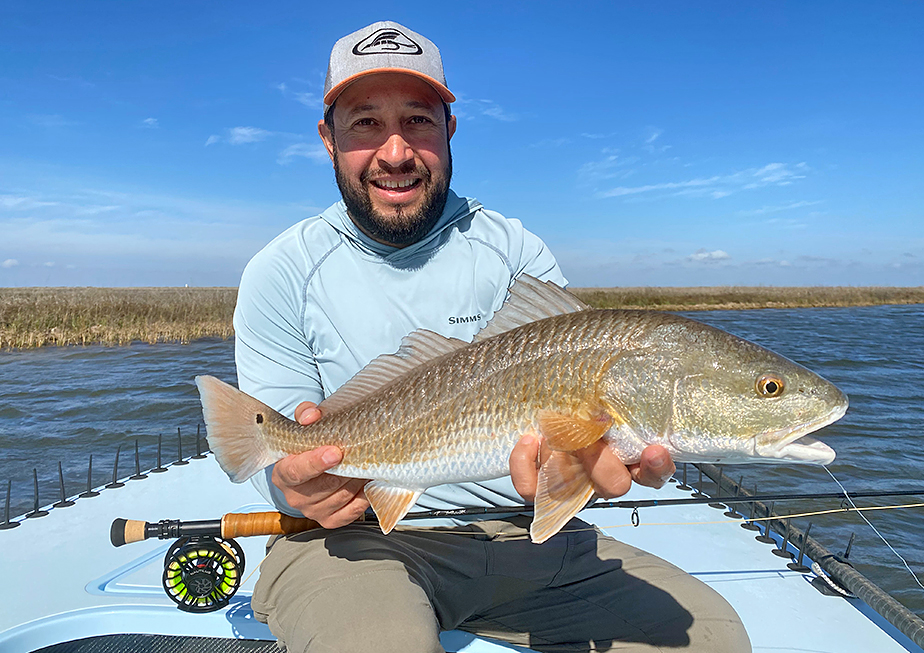 Reservations & Rates
Seasons at Bay Flats Lodge
Fishing is good year-round, with spring (March, April, May, June), late summer and fall having more consistent weather patterns. Spring time weather can be windier, but there are always places to tuck out of the wind. East winds are a little more difficult to get out of. In the fall (October and November), fish are actively feeding on shrimp and other bait as they fatten up for winter. During wintertime, the uncertainty of predicting cold fronts pushing through the middle coast of Texas is undoubtedly the biggest challenge. When frontal passages do occur, lower tides tend to concentrate the redfish, and fishing can be on fire.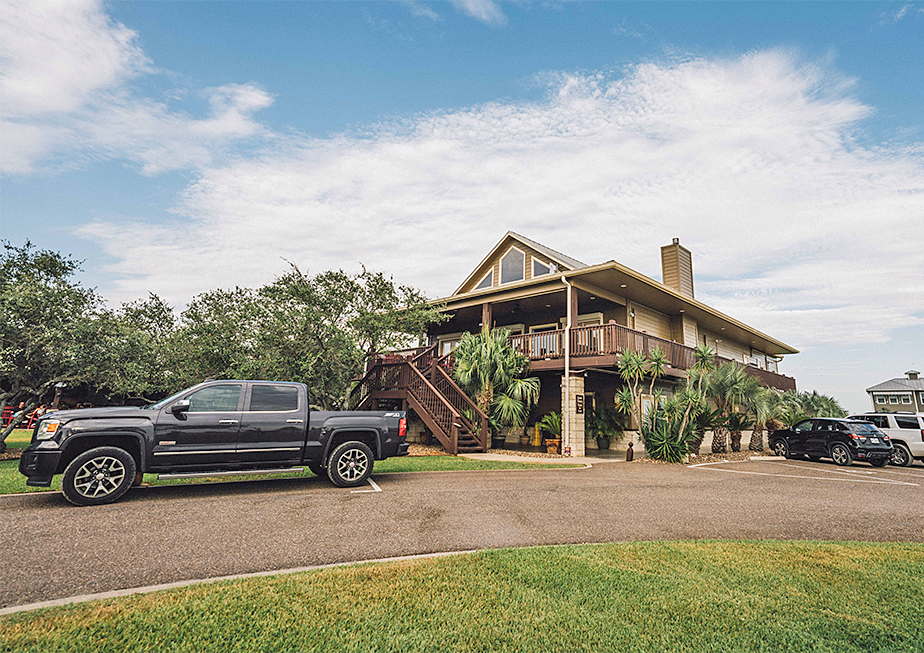 Getting to Bay Flats Lodge
If you are traveling from outside of Texas, you will need to fly to Houston, Austin, San Antonio, or Corpus Christi. Houston offers both the George Bush Intercontinental Airport and the William P. Hobby Airport, both of which require an additional 3-hour drive to the Lodge. Austin and San Antonio offer the Austin-Bergstrom International Airport and the San Antonio International Airport, respectively. And, again, each will require an additional 3-hour drive to the Lodge. CCIA – Corpus Christi International Airport is a closer option, only requiring an additional 1.5-hour drive to the Lodge.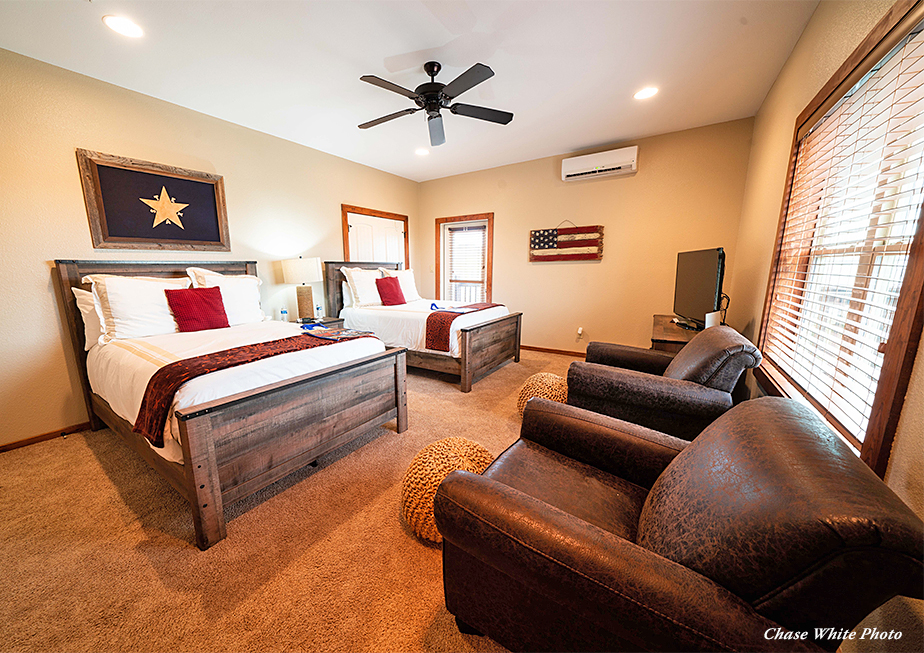 Lodging at Bay Flats Lodge
Double occupancy rooms include air conditioning, two queen beds with pillow-top mattresses and Marriott Luxury Hotel Bedding and Linens—this is as comfy as it gets. Each room has a full bathroom with shower. Fresh towels are provided in each room, as well as widescreen HD TV with DirecTV, and free WI-FI throughout the property. Single-occupancy is available upon request, but is an up-charge to the standard nightly rate. They have over 20,000 square feet of indoor and outdoor space to enjoy after an awesome hunt or epic fishing day. Gather around the fire pits, a huge outdoor kitchen, the cornhole courts, or relax at their smaller common areas. They also have meeting and conference rooms available for corporate groups.
Read More
They have over 20,000 square feet of indoor and outdoor space to enjoy after an awesome hunt or epic fishing day. Gather around the fire pits, a huge outdoor kitchen, the cornhole courts, or relax at their smaller common areas. They also have meeting and conference rooms available for corporate groups.

Dining
Come for the fishing, stay for the food. Bay Flats Lodge is famous for their unparalleled access to world class sight fishing, but that doesn't mean they forget about the food. Your plates will be piled high with fresh-caught shrimp, ceviche, quail legs and local fish favorites (and it would not be Texas without a little steak).

Breakfast:
A hot breakfast with all the fixings is served bright and early to set you up for a great day, including: Scrambled eggs, homemade buttermilk biscuits, creamy sausage gravy, sausage kolaches, a variety of dry cereals, granola breakfast bars, fresh fruit, smoked applewood bacon, pan sausage, tortillas, coffee, tea, orange juice, and milk.

Lunch:
The kitchen will send you off with a delicious packed lunch to keep you fueled up for your adventurous day. Their gourmet sandwiches are made on Sheila Partin's Jalapeño Cheese Bread stacked with four different meats and cheese. Plus, there is plenty of chips, cookies, soft drinks, and cold water.

The Dinner Experience at Bay Flats Lodge:
After a full day chasing redfish on the water, wash up and the evening meal starts at the outdoor kitchen. They start with appetizers every night at 5:30 PM, including a range of local seafood and delicious bites hot off the grill. Some of the guest favorites include golden-fried quail legs with an aioli sauce, bacon-wrapped shrimp diablos brushed with jalapeno kiwi jelly, spicy pulled-pork tacos topped with a zesty pico de gallo salsa, tangy south of the border Mexican shrimp cocktail, fresh red snapper ceviche atop homemade corn tostadas, authentic and traditional frijoles charros (cowboy beans) flavored with bacon , garlic, tomatoes, green chiles, jalapeños, cilantro and a variety of other spices, as well as skewered prime ribeye beef tips grilled to perfection.

Then comes dinner—four courses of incredible flavors, which could include: 16 oz. aged center-cut Black Angus ribeye steak accompanied by hefty stalks of fresh jumbo asparagus and creamy rosemary mashed potatoes, double-boned, center-cut pork chops with a balsamic glaze atop a bed of wilted spinach and polenta or roasted raspberry chipotle sauce brushed over maple-leaf-rendered grilled duck served with dirty rice
Fishing at Bay Flats Lodge
Speed out to super remote creeks and salt flats in ultra-light poling skiffs that float quietly in shallow water. Seasoned guides push you silently along, pointing out tailing redfish and the tell-tale wakes of schools of fish in the clear, shallow water. Your targeted species will be redfish. However, there is always a chance at an occasional sheepshead, speckled trout or southern flounder, as well.
Read More
Bay Flats Lodge is in a prime location for year-round inshore saltwater fly fishing action, along with some of the coast's finest late fall and wintertime duck hunting. The central portion of the coast is blanketed by the well-known lowland marsh that's symbolic of the Gulf Coast, and is edged by shorelines and beaches rich in marine life, as well as wildlife. But there is much more that this area of the coastal region has to offer, and Bay Flats Lodge is the only fishing and hunting lodge that offers close proximity to these amazing Texas gems.

The west side of San Antonio Bay is bordered by the Aransas National Wildlife Refuge a 115,324 acre, unpopulated track of coastal marshes, creeks and barrier islands, that protect the area's precious biodiversity and to share it in a sustainable fashion. This preservation area, along with the wetlands situated at the head of the bay to the north, also serves as a winter haven for several migratory game bird species, as well as endangered bird species like the Whooping Crane. At the south end of San Antonio Bay lies Matagorda Island, offering coastal enthusiasts hunting and fishing opportunities unmatched elsewhere along the Texas coast.

Matagorda Island presents mile upon mile of shorelines, back lakes, and slough areas offering some of the most unique sight-casting opportunities anywhere along the Gulf Coast. To the northeast is the Guadalupe River Delta, consisting of marshland lakes and grassy shorelines unlike anything you may have seen so close to home.

Depending upon wind and weather, your boat ride to your first fishing destination typically averages 10-45 minutes.
What Makes This Destination Special and Unique?
• SIGHT FISHING IN CLEAR WATER
What fly fishing angler does not love to sight fish? It is one of the most challenging yet rewarding ways to fish. Typically, redfish sight fishing is casting to a dark blob in murky water. At Bay Flats lodge your guide will be poling you around gin-clear flats that make for perfect conditions to sight-cast to schools of redfish in shallow, ankle-deep water. It is the perfect scenario to enjoy stalking fish - either for the angler new to flats fishing, or the veteran who cannot get enough of this addicting style of fishing.

• WORLD CLASS ACCOMMODATIONS AND CUISINE
The emphasis at Bay Flats Lodge is 100% on the great fishing they have to offer. However, adding comfortable world-class lodging along with fine dining ensures that you will get a good night's rest and be ready for the next day's fishing sortie, satiated with fine dining. Don't plan on losing weight while at Bay Flats Lodge!

• EASY TRAVEL
It is hard to believe this unique fishery is located so close to home, sight-fishing to redfish in a vibrant landscape teeming with life. With many options for flights, many guests only require a direct flight and an easy drive and you are there. Easy travel, no language barriers, no passport required – this is a great trip for anglers that don't want to travel internationally, but are looking for world-class fishing and lodging – all right here in the USA. Book for a weekend or stay for a week. Many guests come down multiple times a year to experience this fishery located so close to home.

• GUIDES
The guides at Bay Flats Lodge are patient, skilled, and experienced. The lodge hires guides that only fly fish and will only match you up with these guides. They all run deluxe technical poling skiffs and their eyes are peeled for the tell-tale sign of a feeding redfish. They are masters at spotting fish and it is rare for you to spot a fish before they do. You will leave a better angler after a week of fishing with the Bay Flats Lodge guides.