The Woodland Plantation is a place full of rich history, warm southern charm and the area is home to the best red fishing in the world. Built in 1834, by William Johnson, a sea captain/pirate from Nova Scotia, who had come to the Deep South in the late 1700's to work for the Revolutionary war hero Juan Ronquillo.
The Woodland Plantation sits right on the west bank of the Mississippi River and was originally built as a sugarcane plantation, and had one of the most modern mills of its time. The plantation has seen its share of changes over its 180+ years of existence. From being a major hub during the time of the slave trade, to a haven for bootleggers during prohibition, as well as withstanding many hurricanes and floods over the years, the plantation has survived and is one of the last Mississippi river plantations south of New Orleans.
The Creppel Family purchased the property in 1997 and completely restored it in 1997 and 1998 and reopened in 1999. It can accommodate any group type with spacious private rooms and multiple condos and houses on the property.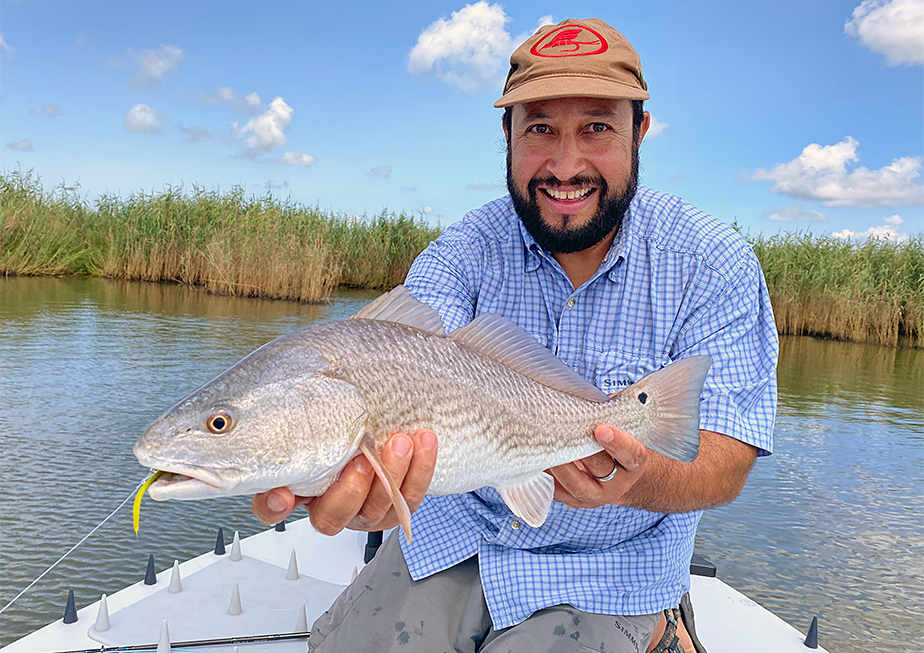 Reservations & Rates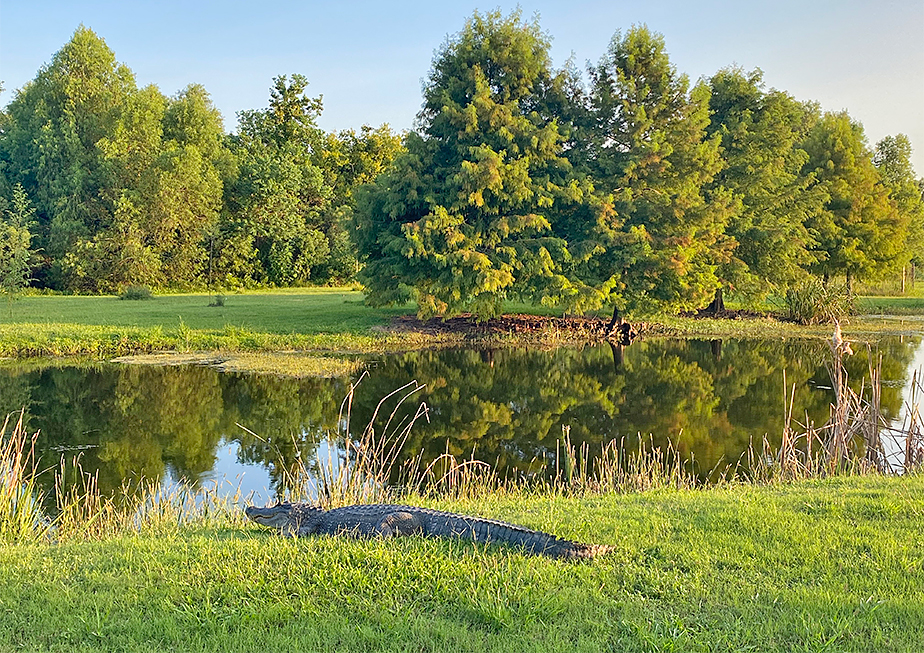 Seasons at Woodland Plantation
The marshes of Southern Louisiana are considered an excellent year-round fishery, but the late autumn and winter months are prime time for the large bull redfish, spectacular beasts that will run 20 to 40+ pounds.

Louisiana has a mainly humid subtropical climate with long hot summers and short, mild winters. The southern location in the continent often brings a host of storms in spring and summer. Precipitation is ample, with wet and dry seasons in the year. Louisiana's low latitudes and proximity to the Gulf chiefly influence the climate.
Read More
Summers are hot and humid in Louisiana, with frequent afternoon thunderstorms that bring intense tropical downpours. The June to September period has average high temperatures above 90°F, while nights remain below 70°F. The high humidity and dew point make the heat feel like 120°F. Winters are mild in the south with day highs often above 66°F, while the north sees colder days below 59°F. Nights occasionally register below freezing, with average low temperatures between 37°F in the north and 46°F near the Gulf. Cold fronts from the north can push night temperatures below 20°F in the north. Spring and autumn are milder than the summer.

The average rainfall in Louisiana is right around 75" for the Southern part of the state. Rainfall occurs throughout the year, with a predominantly wet season from April to September and the dry season from October to March. October is the driest month, while May is the wettest, with even 20" during the month and up to 10" in a single day.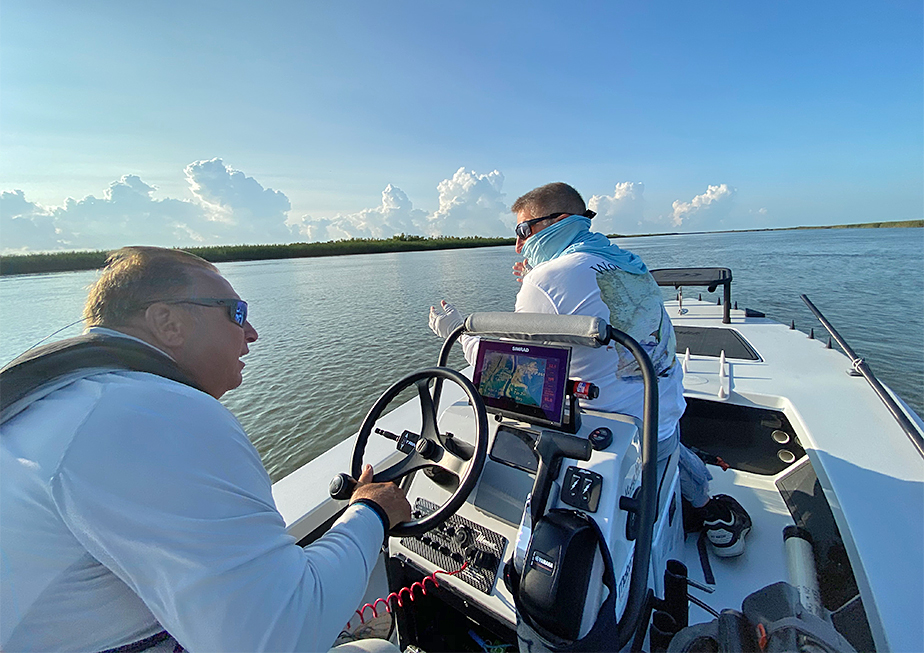 Getting to Woodland Plantation
It is hard to believe the unique sight fishery is located so close to home. Woodland Plantation is located around 40 minutes south of downtown New Orleans and an hour from Louis Armstrong New Orleans International Airport (MSY).

Woodland Plantation is located near West Pointe A La Hache, on the banks of the Mississippi River. Anglers travel commercially to New Orleans and drive to the Plantation in a rental car or with a private driver.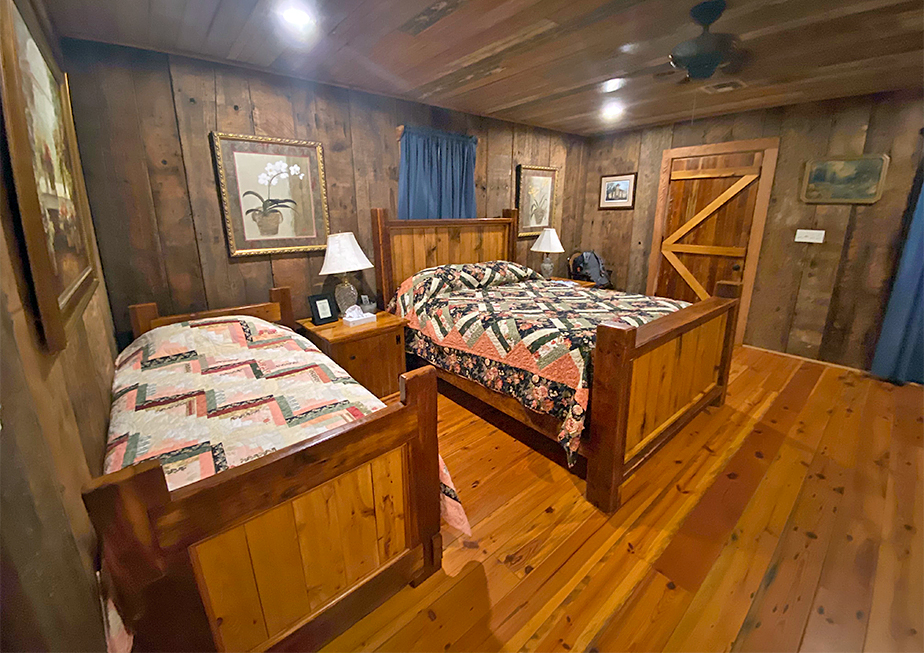 Lodging at Woodland Plantation
The "Big House" is the main building and was the picture on the Southern Comfort bottle for over 75 years. This Historic antebellum two story Mansion features broad front and back porches, key hole designed French doors and is authentically furnished with fine antiques. You can feel the history inside this building and it is as though you are stepping back in time as you walk around. It has 9 guestrooms all with private baths and can sleep up to 14 people.

The Little house features a lounge area with a couch, dining table, a kitchen with a sink and small fridge. There are 3 bedrooms with 6 beds
Read More
and three baths. A full wrap around porch with rocking chairs situated for the perfect relaxing/viewing combination.

The Magnolia Store has 4 rooms, the Store Room, Millie Davis room and Coleman suites one and two. This cabin features 6 beds and three baths.

The Old Cabin is a duplex cabin with a queen and single bed with its own bathroom in one room and a king bed and private bath on the other side.

The Overseer's House is a small raised cottage has a common area with 3 beds and two baths

The Woodland Plantation has over twenty bedrooms and can accommodate groups as large as forty-five guests. Their team of guides typically run 5 to 6 skiffs with 10 to 12 fly anglers, but depending on availability (and if booked far enough in advance), can handle up to twenty fly anglers at a time. Their conventional guides can handle more fishermen than the Plantation can accommodate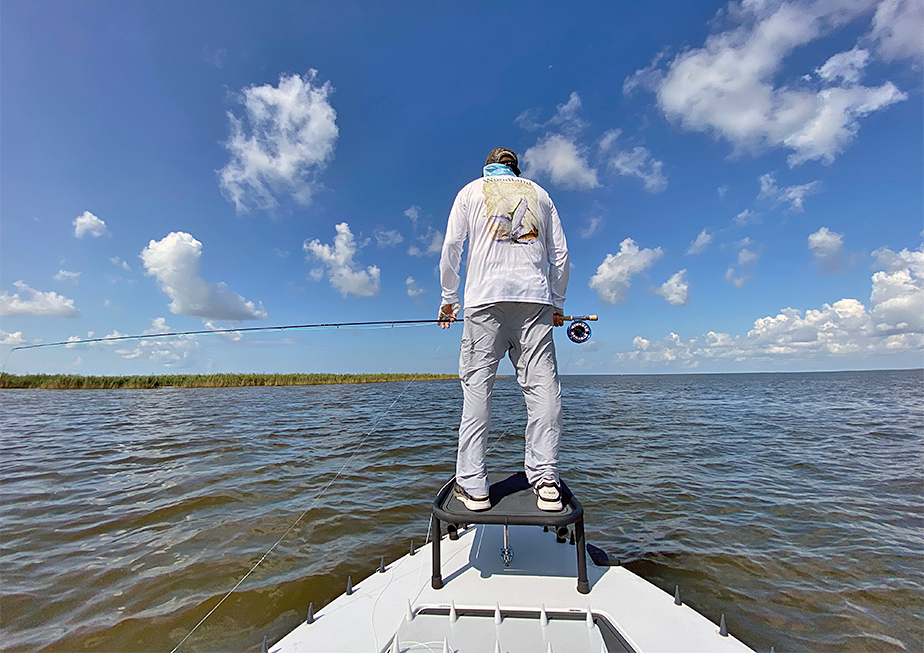 Fishing at Woodland Plantation
The Woodland Plantation is open year round. While the most popular months are November – February for anglers targeting the biggest "bull reds," redfish over 30 pounds can be caught during all months with the right conditions. Late spring, summer, and early fall months offer the most consistent and comfortable fishing conditions and longer days on the water.

All of the fishing is done from fully-outfitted customized flats skiffs designed to hunt reds in the skinny back waters, and all of the captains are highly skilled guides with years of guiding experience fishing for
Read More
redfish in the area. No wading here as most of the flats are soft mud. Your guides will pole you along and search for fish and everything is super visual as you hunt for reds cruising in as little as four to five inches of water. It's an amazing sight, spotting a huge single pushing a wake, seeing small pods tailing, and large schools stirring up nervous water.

For being such an aggressive visual eating machine, redfish don't have great vision as far as seeing anglers. Being big apex predators, they rarely worry about danger from above. Most casts are short as you see them cruising towards the boat, between 10 and 40 feet, which make them a perfect fish for anglers of all skill levels and abilities.

The key to doing well is being able to quickly and accurately place a fly when your guide gives you the call. Minimal back casts, put it in their feeding window, watch them inhale your fly and be ready to strip set and hold on for a serious battle. It is typically two anglers/boat and Guests rotate casting opportunities at the bow of the boat while the other angler helps with spotting fish and line control on the deck. Most scenarios only one angler is fishing at any given time. There are no wading opportunities while Redfishing. Landing a bull red over 20 pounds, over 30, over 40, is a possibility any day of the year. And we're not just talking about casting shrimp, crab or baitfish patterns. These big boys will also crush a surface popper when conditions are right.

Redfish are the reason most guest are there, but this robust fishery also features black drum, sheepshead and gar on the shallow flats. Black drum are brutes, sheepshead are wily adversaries and gar are all around and it is hard to pass up a cast to a 4 foot alligator gar. It's also possible to run into jacks and speckled trout in deeper holes and canals.
What Makes This Destination Special and Unique?
SOUTHERN HOSPITALITY
Once you visit the Woodland Plantation you become part of the family. That's not an overstatement – it's how they feel and roll at the Plantation. You are the most important part of what the Woodland Plantation does. They want you to enjoy your stay and will do everything within their power to meet and exceed your expectations. After their first visit, many guest return year after year to the Woodland Plantation and consider the guides and staff good friends. Rest assured you will be well looked after and will leave with new friends and family members for life.

EASY TRAVEL
It is hard to believe this unique fishery is located so close to home. Sight fishing to 30 - 40 pound redfish in a vibrant landscape teeming with life. Located just under an hour from the main hub of New Orleans International airport, for many guests it is a direct flight and a short drive and you are there. Come down for a weekend or stay for a week. Many guests come down multiple times a year to experience this fishery located so close to home.

LOCATION
Woodland Plantation is 10 minutes from the nearest boat ramp and 45 minutes to Venice, a prime location for targeting redfish. With 20,000 square miles of marshland accessible by boat, the opportunities are endless. There is so much water to access and fish, and big bull Reds are always moving in from offshore to repopulate the bays and flats. Even with the popularity of this fishery expanding, with so much area to fish, the pressure is minimal and the fishing remains good year round. What this means for you is the fishery is only limited by weather, if you are there and visibility is good, you will catch fish and typically lots of them.

LODGING & DINING
The emphasis at the Woodland Plantation is 100% on the great fishing they have to offer. However, it doesn't hurt to also have rich history, comfortable and nice lodging along with world-class dining to round out a terrific fly fishing holiday. You can rest assured that you will get a good night's rest and be ready for the next day's fishing sortie, and satiated with fine dining. Don't plan on losing weight while at the Woodland Plantation!