Kingfisher Lodge located on the Bighorn River in Southeastern Montana. It is a world-class owner operated fly fishing lodge that has been hosting and guiding fly fishing guests on the famous Bighorn River for 27 continuous years. This is a family run operation with a lot of heart, attention to detail and commitment to taking care of folks.
The Bighorn River is home to one of the most abundant brown and rainbow trout populations in the United States. The river has had a history of holding trout counts of around 3,000-4,000 fish per mile. Not only are the numbers of the fish impressive but the average size of the fish is equally exceptional. Trout sizes average between 14″-18″ with trophy 24″ lurking. The lake offers an exciting variety as well.
Owned and operated by the Lang Family, they are committed to showing you an experience to remember and will go out of their way to make your stay comfortable and memorable. Once you visit the lodge you are part of the family. Their commitment to hospitality runs deep and they promise to exceed your expectations.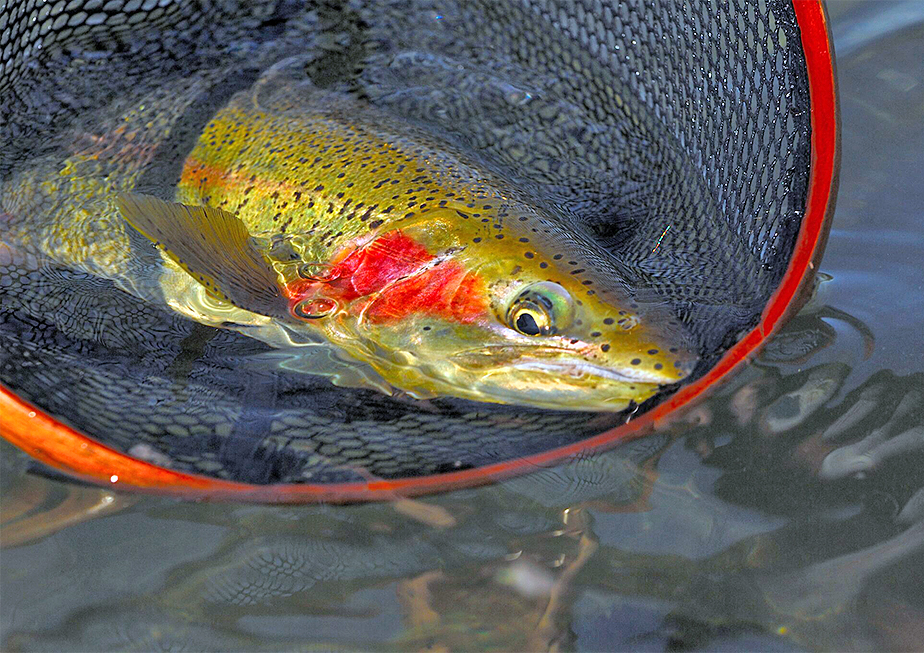 Reservations & Rates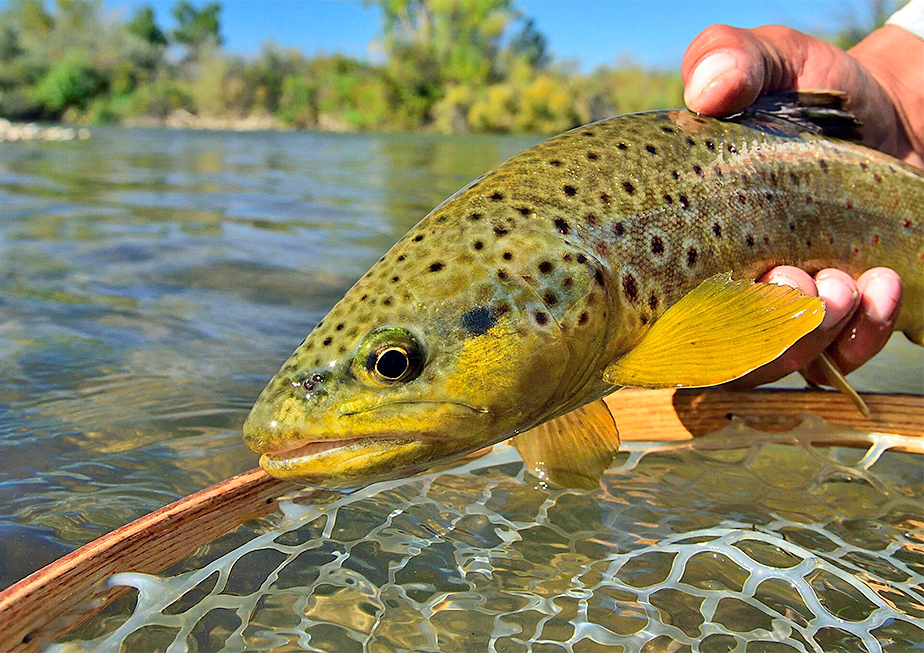 Seasons at Kingfisher Lodge
Being a tailwater fishery, fishing on the Bighorn is good year round. With constant bottom feed flows from Yellowtail dam, you can have amazing fishing 12 months a year. Although sometimes the outside air temperature and weather in the winter doesn't always allow this. Kingfisher Lodge typically runs their operation from March to beginning of November. Although if there is a group of you interested in hitting the water outside the season, let us know and we can make it happen.
Read More
March-May – Spring
Springtime is a great time to be Fly fishing in Montana. It is often an overlooked time of year for most traveling anglers, but once you experience a pod of fish rising to a cloud of BWO's, you might make spring fishing an annual pilgrimage. By April weather in Montana starts improving, days are getting longer and water temps begin to rise. Midges are hatching on the warmer sunny afternoons and Blue Wing Olives start hatching once those water temps hit the low 40 degree mark. The best BWO hatches happen on calm overcast days. Fish are always taking scuds, sow bugs and Midges under indicators and you can typically get into some rising fish when conditions permit. Although days can be pleasant, calm and sunny if you are here at this time, you need to be ready for bigger shifts in weather and packing some extra layers is always a good idea.

June-August – Summer
This is prime time on the Bighorn. Runoff typically happens in June in Montana, but since it is a tailwater, the "Horn" is always running clear enough to fish, so there is no down time. The water temps are getting to optimal temperature, so pick your style as nymphing, streamer fishing and dry fly fishing are all very productive. PMD's, yellow stoneflies and later trico's, caddis and terrestrials are all getting active and you can see any of these bugs on the water while floating down the river. Of course, nymphing scuds, midges and worms are always a very productive way to spend your time on the Bighorn in between hatches. Late summer moss can become a problem on the river, but the guides will show you the classic moss removal technique to keep your flies clean and fishing while in the water. July sees the river's best hatches and typically the best dry fly fishing. With this brings some crowds, so be ready to share this wonderful river with others. There are plenty of fish to be found and plenty of river to fish. This is the time of year the guides can take you up on Bighorn Lake and sight fish carp with Dry flies or cast small streamers to the rocks for smallmouth in dramatic backdrop of towering colorful sedimentary walls. Casting dry flies to these wary golden ghosts can be a great way to test your skills and a fun change up from a day on the river.

September-November – Fall
Although anytime on the Bighorn is a good time, fall is one of our favorite times to be floating the river. Days are getting shorter; leaves start to change and the big browns are on the move. If you are a streamer junkie, this is a great time to break out the sink-tips and pound the banks for these big browns. Trico's, hoppers and black caddis are still on the table most of September and BWO's make their comeback in September and October depending on the year and the conditions.

Weather can be beautiful all the way into November, but just like the spring, this is the time of year you need to be ready for anything mother nature-Montana can throw at you.
Getting to Kingfisher Lodge
Kingfisher Lodge is located just outside of Fort Smith, Montana which is an hour and a half drive from Billings Logan International Airport (Airport Code BIL). BIL hosts 7 major airlines and 24 flights arriving daily so there are a number of options to get you there. Once at the airport, you can rent a car at the Billings airport and drive to the lodge or KFL recommends Wilson Transport's shuttle service - 406-256-9793.
Read More
Personal Aircraft:
If you have your own plane, Fort Smith has an excellent 3,800 foot runway (no tower). Contact us prior to arrival for shuttle options to the lodge.

Driving:
From the West - Take I-90 south from Billings to Hardin. At the Hardin exit follow the signs for Yellowtail Damn and Bighorn Canyon National Recreation Area to state HWY 313. Travel 23 miles to St. Xavier. At St. Xavier (post office on the right), take a left toward Bighorn National Recreation Area. Travel on HWY 313 until mile marker 35. At mile marker 35 take a right on War Man Loop. Travel 3.9 miles to the lodge.

From the South - Head north on I-90, take exit 509 at Crow Agency. It winds through the Crow Reservation and connects with Hwy 313, take a left and continue as listed above through St. Xavier toward Bighorn Canyon and mile marker 38.

Directions from the East - Head west on I-94 exit at Custer and take Hwy 47 south to Hardin. At Hardin Hwy 47 becomes 313, follow directions for "from the west".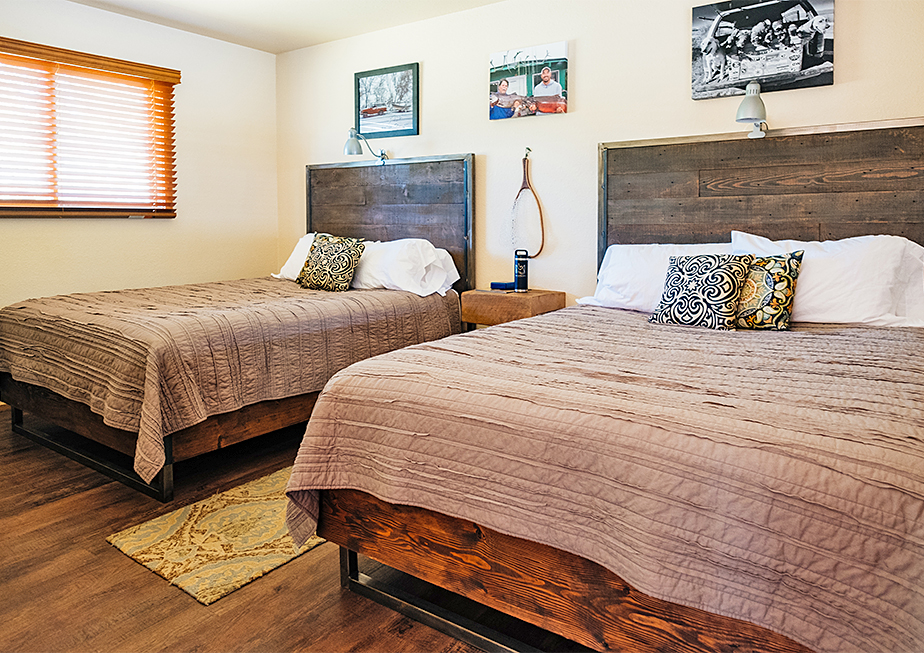 Lodging at Kingfisher Lodge
After a great day on the river, settle in and revitalize at the lodge. Soak in breathtaking views of the Bighorn Mountains, curl up with a book, observe the surrounding bird habitat or enjoy the lodge social life. At Kingfisher your day is that simple, their staff and guides will take care of the rest.
Read More
Each room features queen beds with ensuite bathrooms, mini fridge, in room heating and cooling and hair dryers. Amenities include WIFI, pro shop, walking paths, outdoor seating and excellent views.

Kingfisher accommodates a maximum of 16 guests at one time, assuring for a personable and relaxing lodge experience.

#KickPlastic: Keeping the River Pristine:
Kingfisher Lodge is committed to doing their part in keeping Montana's rivers pristine. As a part of this commitment they've eliminated all single use plastic water bottles from their program. They've traded in the easy convenience of plastic water bottles for the lasting durability of branded Kingfisher tumblers by Yeti. Each angler receives a tumbler upon arrival at the Lodge. Lunches are served in re-usable Bento boxes. Kicking Plastic is about removing single use and short life plastic water bottles from our wheel house in favor of durable products.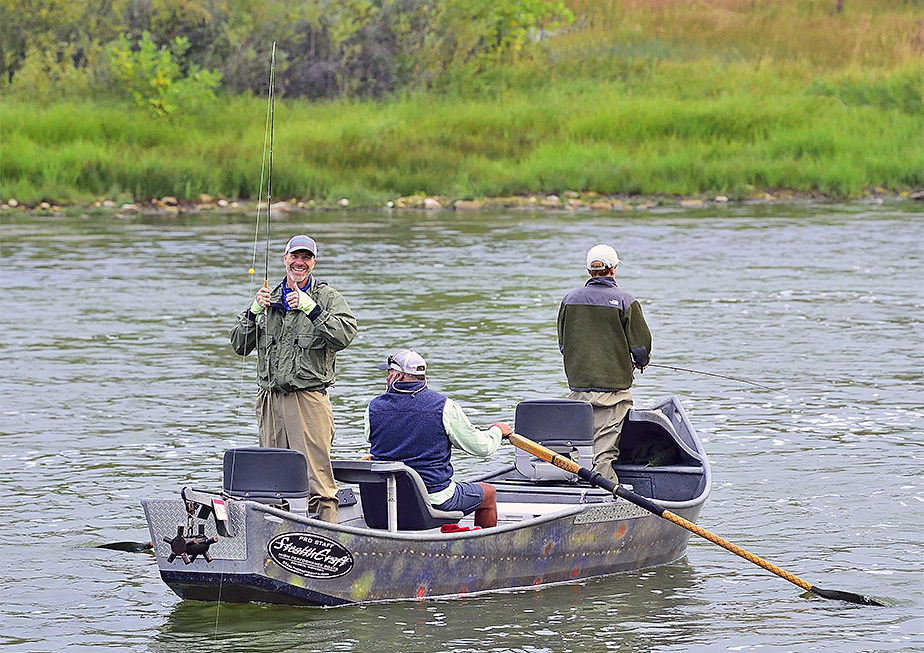 Fishing at Kingfisher Lodge
Fishing the river - it all starts with a 21 mile stretch of calcium-rich water with an average of 3,000 - 4,000 fish per mile, where you'll cast to trout that average 14"- 18" with the possibility of a 24" trophy lurking just a cast away. While summer is an amazing experience on the river, some of the best fishing can be had in the late fall and early spring
Read More
The Bighorn River in Montana is a classic tailwater fishery that originates in Northern Wyoming and flows 150 miles before it enters Bighorn reservoir. Below Yellowtail dam is Afterbay Lake, a small 180 acre lake that at times can be excellent sight fishing for carp. Below Afterbay dam is where the main event starts. With a constant flow of cold fertile water, the rainbows and browns of the Bighorn have a year round supply of scuds, worms, midges and other insects that account for their large average size.

Fishing the lake - The scenic beauty is second to none with canyon walls soaring up to 1,000 feet above waters loaded with a variety of species. The fishing really is as thrilling as the view. You can hook anything from smallmouth bass, carp, crappie to catfish. The Lodge offers lake trips from mid-July through August. There is an additional charge for a guided day of fishing on the lake over the standard package.
What Makes This Destination Special and Unique?
• With consistent year 'round water temperatures and a constant supply of scuds, sow bugs, midges and worms, Bighorn river trout have a steady supply of food to choose from. Bighorn trout eat and grow year 'round which allow them to attain a larger than average size when compared to their freestone river dwelling cousins. Not only will you be catching fish, they will be big! There is an abundance of fish between 15"-19" with many exceeding 20"+ and always a chance for a 24"+ fish.

• Do you want to float all day, get out and wade, walk a small back channel, and sight fish to some rising fish, throw some streamers? You can do all of this on the Bighorn. The Bighorn is a great river for beginners who just want to get into some fish or advanced anglers who want to cast small dries in a calm backwater to a pod of rising fish. You will never get bored of the options on the "Horn"

• When you think about a fly fishing trip, who do you spend more time with than your guide, often 8 – 10 hours per day? You will be hard pressed to find guides with more experience bringing clients back to the river for an adventure, year in and year out.

• King Fisher Lodge has been hosting guests on the Bighorn since 1991 and they know what it takes to turn a good trip into a great one. It shows in the high return rate of guests' year in and year out. Not only will you get great guides and fishing, you can look forward to the best lunches on the river, tasty appetizers and mouthwatering dinners inspired by fresh and quality ingredients. You will not be disappointed by the service and dining provided at Kingfisher lodge. The Lang's pride themselves on exceeding your expectations both on the river and your experience when you return to the lodge after a long day.