Bahia Honda Sporting Club is the only all-inclusive fly fishing lodge in the lower Florida Keys. That's hard to believe, but true. Finally, there is an easy way for anglers to fish together in the Keys without having to juggle guide schedules, rent a car at the airport, find an appropriate hotel, test out a few restaurants, find where you'll be meeting your guide, all these separate tasks… just to put together a tarpon fishing trip in the Lower Keys with a few friends.
Fly fishing for tarpon, permit and bonefish with the Bahia Honda Sporting Club eliminates the stress of scheduling and juggling trip arrangements. All you have to do is fly to Key West, and they take care of the rest. It provides what anglers are familiar with when traveling to international destinations, an all-inclusive fly fishing trip, and makes it better by moving it to the Florida Keys where no passport is required.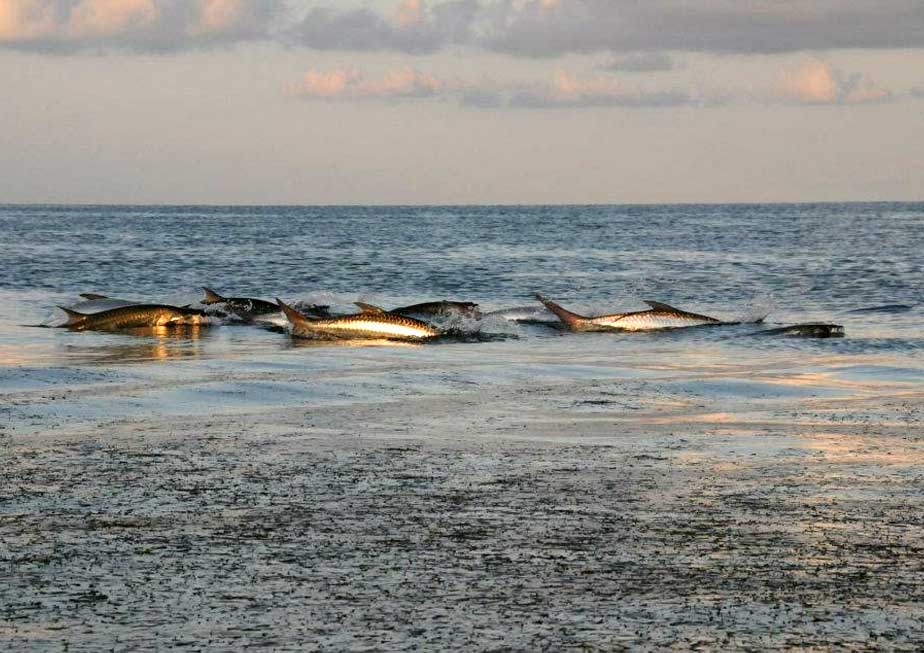 Reservations & Rates
Their most popular trips are 7 nights/ 6 days, but do welcome guests to stay for any duration.
$1000 per person, per day for guided fishing, tackle and flies
$600 per person, per night for lodging, dining, and all accommodations
$1,600 per day for an all-inclusive package
Inclusions
Included in your stay at Bahia Honda Sporting Club are meals, lodging (double occupancy), guide service (two anglers/guide/skiff), rods, reels, flies, leaders, terminal tackle and open complimentary bar including water, soft drinks, liquor, beer and house wine.
Non-Inclusions
Not included in your stay at Bahia Honda Sporting Club are guide and staff gratuities, private transportation to and from the lodge ($120 each way/vehicle) and items purchased at the lodge gift shop (Hats, shirts, buffs)
Travel Insurance
The Fly Shop® is not in the insurance business, but we recommend Travel Guard (AIG) and Global Rescue (IMG) coverage as a service with a desire to see your best interests protected. It is impossible to know when an unfortunate situation (loss of luggage, fly rods, illness in the family, or an accident) may occur. However, such things can and do happen, and this insurance can provide a means of recourse against non-refundable financial losses.

• Travel Insurance Information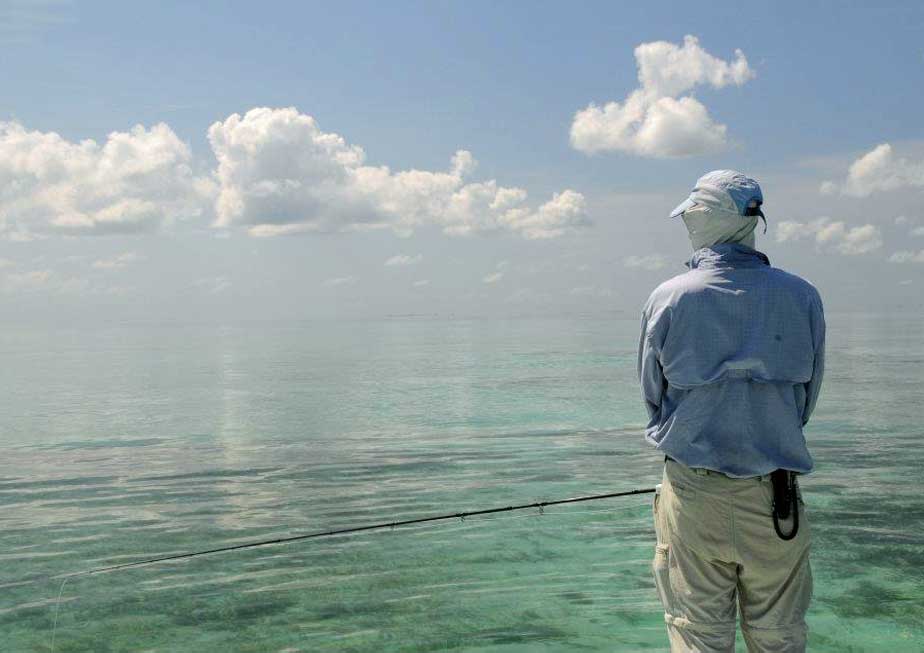 Seasons at Bahia Honda
The Florida Keys are a chain of islands that swing in a southwesterly arc from the southeast coast of the Florida peninsula, with the island of Key West being located near the western end this chain. Due to the nearness of the Gulf Stream in the Straits of Florida, and the tempering effects of the Gulf of Mexico, the Florida Keys have a notably mild, tropical-maritime climate.
Read More
Daytime temperature variations throughout the year range about 10 degrees. Winter cold fronts tend to be modified by the warm water as they move in from the north, keeping monthly average temperatures typically only 15 degrees lower in the winter than during the summer.

Though the fishing can be excellent during other months, May and June are the heart and soul of tarpon season in the Lower Keys. May offers large schools of migratory fish, especially on the ocean side flats. June typically has smaller schools of tarpon than May, with an equal number of shots overall. The lodge primarily focuses on migratory tarpon, which migrate through the lower keys over a very short 10 - 12 week season each year. The peak of migration is from late April through the end of June.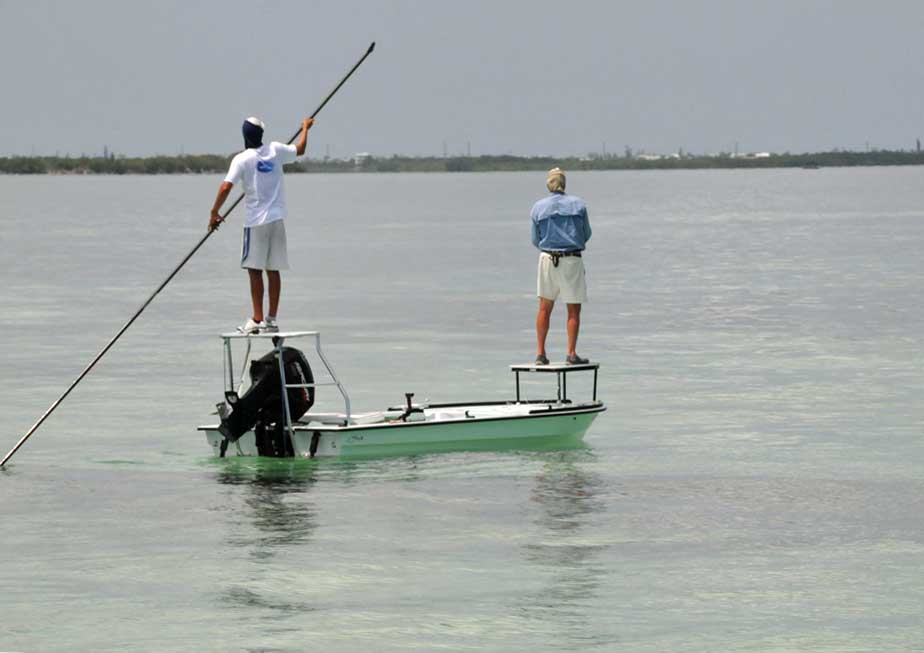 Getting to Bahia Honda
It couldn't be easier getting to Bahia Honda and a passport is not required. Guests typically fly directly to nearby Key West, Florida, airport code (EYW) then are picked up by private shuttle for a 30 minute ride to the lodge.

The Service is $120 each way and you can pay the driver directly. Tipping is not required for the shuttle service ad it is included in the price.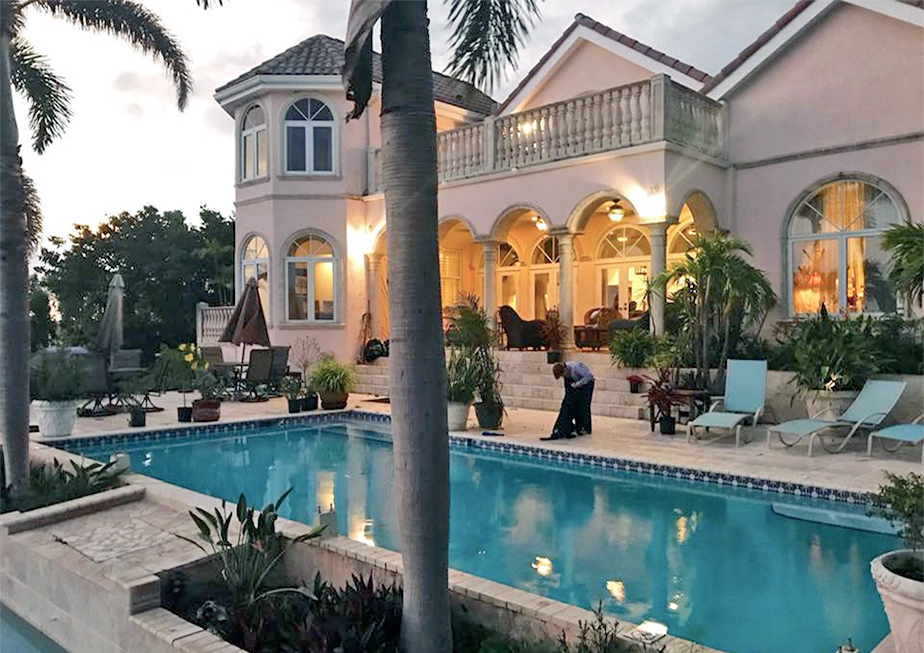 Lodging at Bahia Honda
The lodge is simply spectacular, located waterfront on an open water bay, with a great deal of privacy.

They handle up to ten rods at the lodge with private and shared accommodations. The lodge interior is exquisite, a luxurious design and decor including Italian marble floors throughout. A vaulted ceiling towers over the great room, which opens onto the pool and courtyard, overlooking the Atlantic Ocean.
Read More
The lodge also provides a flat panel television, a computer area with high-speed internet access, and an open, well stocked bar for your pleasure.

Upon your return to the lodge after fishing you'll find an array of hors d'oeuvres and cocktails, an open bar stocked with an impressive selection of liquors, craft beers, and assorted beverages, all complimentary, included in your package rate.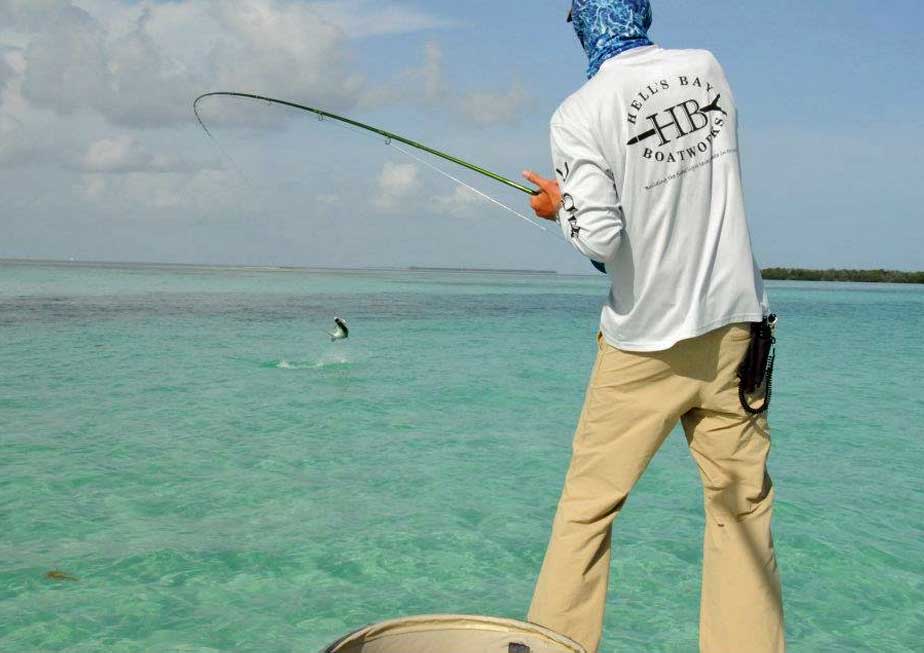 Fishing at Bahia Honda
Tarpon can be found in few numbers in many places around the world. But only in the Florida Keys are they in such large numbers and more importantly 'sight-fished' in clear, very shallow water. Anglers at Bahia Honda usually see the fish approaching, and are frequently casting to not one fish but a school of tarpon. The average size tarpon is about 80 lbs. A 50 lb. tarpon is considered small, along with a few baby tarpon. The bigger poons get up past the 150 lb. mark.
Read More
This part of the Florida Keys is far enough south that you'll be accessing both the Gulf of Mexico waters and the Atlantic, two different tide cycles, and a vast network of flats in between. It virtually doubles the fishing waters, solely by location. Guides usually bounce from spot to spot throughout the day based on the changing tides and conditions.

The lodge is located in the heart of the Lower Keys right in the middle of one of the most famous flats fishing locations in the world. Long run times to and from the fishing grounds each day are NOT the norm here, one of their favorite spots is just a 3 minute boat ride away from their private dock.

A notable attribute of the fishing program at Bahia Honda is their flexibility. They fish when the fishing's best, at whatever time of day. They commonly split up the day, breaking back at the lodge for lunch and some time out of the sun, then return to the water for late afternoon fishing. With the backdrop of a beautiful sunset, the afternoon fishing can be something very special.
What Makes This Destination Special and Unique?
• Unlike many tarpon fisheries where you have a fixed fishing schedule, the guides at the Bahia Honda Sporting Club will adjust your fishing schedule to include the sunrise and evening bite. This puts you on the water when the tarpon are active and feeding at their peak, resulting in more hook ups every day.

• This part of the Florida Keys is far enough south that you'll be accessing both the Gulf of Mexico waters and the Atlantic, two different tide cycles, and a vast network of flats in between. It virtually doubles the fishing waters, solely by location and improves your odds of hooking and jumping multiple tarpon each day. Run times to the and from the daily fishing venues are kept short and that means more time fishing, and less time travelling.

• The Bahia Honda Sporting Club guides are patient, skilled, and experienced. They will put you on the fish, and offer guidance as needed. You won't find any of the demanding and aggressive behavior that some key's guides are known for, and you'll be able to relax and focus on the task at hand – feeding the 'poon"! You'll leave a better angler after a week of fishing with the Bahia Honda guides.

• With Bahia Honda Sporting Club being an all-inclusive destination lodge, you won't waste time and effort creating your own fishing package. You won't have to rent a car, driving around, trying to find your hotel, guessing at where to eat, or finding your guide in the morning. At Bahia Honda you'll spend more time relaxing with your friends, and eliminate the stress of "stringing together" all the details that go into a great trip. Kick back and let the lodge team take care of all the details.

• Fishing with the Bahia Honda Sporting Club is an international world-class saltwater fly fishery without ever having to leave the country. Easy travel, no language barriers, no passport required – this is a great trip for anglers that don't want to travel internationally, but are looking for a world-class fishing and lodging – all right here in the USA.