Fishing Report
October 20 – 27, 2019
Greetings Esb Lodge Anglers & Fans,
We've enjoyed another wonderful week here at Esb Lodge. We had the pleasure of hosting returning guests Allen Adger and John Samuels who had fished with us last February 2018. Cartsen Dogs and his group of anglers made a long trip with five of them making the journey from Germany to fish Mexico for the first time.  Everyone caught fish and a great time was had by guests.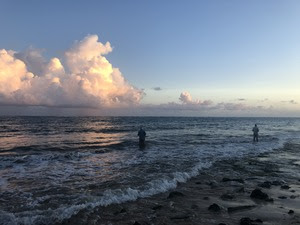 FISHING
Beginning of last week was difficult with strong winds and heavy cloud cover throughout the day. I felt the numbers of permit spotted was fair compared to the weeks past. We are starting to see numbers of fish return along a couple southern flats located close to our launch. Towards the end of the week weather significantly improved and our well know permit flat Ensenada started to see lots of new schools show up.  With a strong southeast wind, the entrance to 1st river system had dirty water which was unfishable but river systems 3 and 4 saw good protection and held a handful of fish. Our last two days anglers that fished Ensenada saw well over 50 fish a boat. These permit were a little unsettled and proved difficult catch. I am hoping with some consistent weather in the forecast we will see these fish settle and become the normally aggressive fish we are accustomed to in this fishery.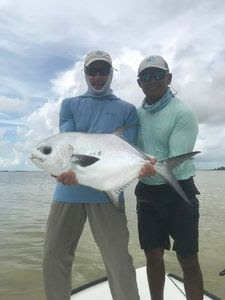 Four of our eight guests landed their first permit for the week. We had schools of smaller fish mixed with Jacks and bonefish and some larger fish were found traveling in small schools. John Samuels landed a beautiful fish that went 20 lbs. and Carsten Dogs waited until the last day to finally land a great fish around 15 lbs.
The group collectively landed 7 permit for the week which brings our total for the season to 325 fish landed with 229 guests thus far.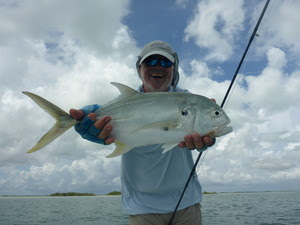 Our snook fishing has been solid for the last couple weeks and more than half the group was able to land their first snook on the fly. We spend a lot of time each day focusing on these fish especially in low light conditions where targeting bonefish and permit becomes less than optimal. Carsten landed a large snook that went 20 lbs. and was able to land a few others. These fish are at the top of my list to pursue and there is still much to learn about their movement and feeding behavior. There are many days we can come across good numbers of fish and despite multiple fly changes we can't get them to commit. Other days we will across small schools and two to three fish will turn from the school and move more than 20 feet to intercept and inhale a fly regardless of pattern choice.
Tarpon were not found in big numbers but we were able to find small pockets in the mangroves located deep in the southwest corner of the bay. The fish we did come across readily ate the fly and more were "jumped' than landed. Axle Heer was able to enjoy his first resident tarpon on the fly. Carsten and Allen also landed nice resident fish as well.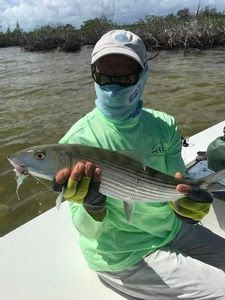 Bonefish were found in good numbers when light conditions were favorable and the whole group enjoyed moments of great fishing. We are continuing to see rapid increase in the sizes of our local bonefish, and I would say that our average sizes are now at 3 lbs. with opportunities every week at fish 5 lbs. or bigger.  Efforts and netting restrictions that were put in place a few years ago are making a remarkable difference.  Bonefish were not specifically targeted with nets, but numbers fish were still a by-catch and the population suffered. It is highly recommended bringing a lighter rod to target these fish when they are found tailing or moving rapidly across flats on tidal changes. It is also remarkable to me how aggressive these fish are, and they will commit to eating almost any fly that crosses their path. I have mentioned this before, and I still strongly believe our fishery will continue to grow some very large bonefish in the future and we will see average weight/size increase dramatically.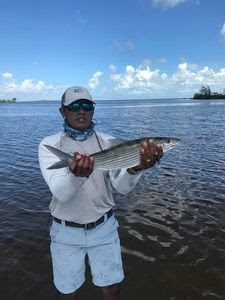 WEATHER/TIDES
Weather for the beginning of the week was mostly cloudy with strong winds from the north. As the week progressed, we saw a shift in wind direction from the north and more sun. We had periods of rain on Monday and Tuesday and this tapered off as the week finished.
Our tide for much of the week was higher in the morning but falling resulting in a midday low and incoming in the afternoon.
FLIES:
Our permit this week were landed on Casa Blanca Raghead crabs color scheme white on #2 hook. Tan Squimp #2, and white spawning shrimp also did well for us with smaller permit found in schools.
I am excited for this up coming year and myself, along with The Fly Shop are excited to soon have crabs and spawning shrimp in multiple sizes tied with yellow dumbbell eyes. Please check in with The Fly Shop when these will become available and be sure to order yourself a handful of these flies!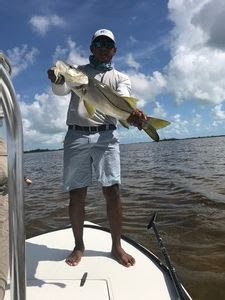 Snook and Tarpon were landed on EP baitfish and Tarpon toads on 2/0 hooks. Color schemes that worked well were blk/purple, white/chartreuse, white/tan, white/grey, and our Everglade combo. The Fly shop will also be carrying good numbers of EP Baitfish and I also encourage you pick up these patterns in our suggested sizes and colors.
Bonefish ate any fly in sizes #2 – #8. We ask guests to not focus on huge selections of bonefish flies. It seems most of the time any other bonefish flies you have used in other destinations will be enough to catch these fish found in our system.
Our kitchen and house staff worked hard to deliver wonderful meals and provide a comfortable lodge setting for our guests.
I am excited for this up coming week and we have four close friends that have fished with us in the past.  They are enjoying single rooms and fishing solo days. K.C. Walsh has become a close friend and is the owner of one of the most reputable fly fishing companies known today, SIMMS.  Esb Lodge has greatly appreciated K.C. and his company's loyalty and support over the years and we enjoy having him and close friends come enjoy our early fall fishery.
I hope you are enjoying the last weeks of fall before we settle into the winter months. Chiara and I are excited to be hosting a group of eight anglers at the famed EL Saltamontes Lodge located in Chile. This is another exclusive lodge to The Fly Shop and one of their premier signature destination lodges in Patagonia. I encourage you to look into booking a trip to this part of the world to enjoy trout fishing at its finest. Do yourself a favor and give our friends at The Fly Shop to inquire about winter destination travel or if you'd like more info on our wonderful operation in the Yucatan.  I hope everyone has a great week and please stay tuned for next week's report.
All our best,
Saludos desde el Caribe Mexicana
Dane & Chiara