Fishing Report
March 12 – 19, 2023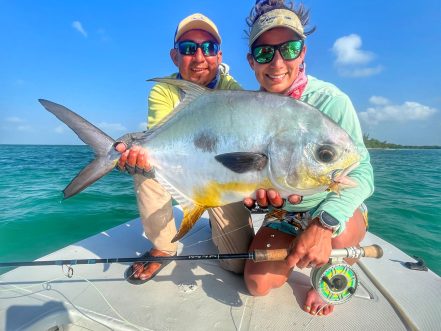 Welcome to the Caribbean!
As the "famous contemporary thinker" Arnold Schwarzenegger said in his 90s cinema masterpiece, "I'll be back" and here I am again stepping on the golden sands of the Bay of Espiritu Santo ready for a new season full of adventures and new challenges. I will not deny that after spending three months in the Brazilian Amazon and another three in my Patagonian land, I missed being here.
This week we hosted an amazing group of anglers led by Ben Pascal, his wonderful wife Lizzie, John Heck, John Thomas, Tim and Scott Kelly, Ryan Freeman and Ben Bowne who enjoyed a truly amazing week with very nice weather and active fish at bay.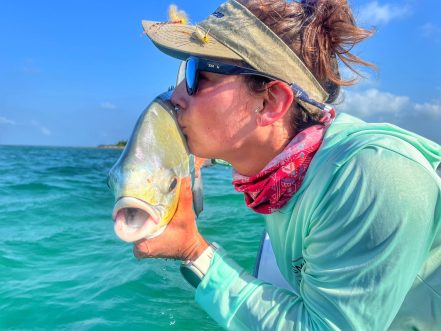 Fishing
Permit fishing continues to increase, giving the first results from day one, as was the case with Ben Pascal and John Heck, achieving the first permit of their lives on their second day of saltwater fishing, I think there is no better indication that the health of the bay and the permit population remains unchanged.
All our guests had daily chances to fishing the highly prized and elusive king of the bay, as well as tarpon, bonefish and snook, so much so that grand slams are almost becoming a regular occurrence week after week.
Those of us who are passionate about fishing and even more so those of us who have made fishing our way of life (guides and managers for example) fully understand the challenges of capturing three or more species in a single day, whether in freshwater, saltwater or the small home aquarium, what do you say when we want to capture four or more, the sky is the limit.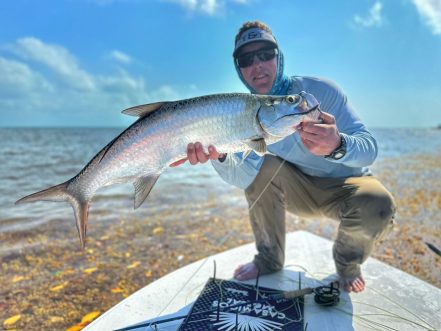 As I was telling you, all our guests had good shots trying to fool the permit in big schools, alone, or in pairs, etc. almost all of them managed to land their catches but Ben Bowne wanted to accompany her, who managed to deceive more than five permits but luck wanted some of the variables that come into play when we fight a fish to work against him, not letting him finish the battle. A situation that perhaps any of us would take to the brink of despair showed us Ben's great experience in these fishing arts and far from losing his cool, he was brainless in his efforts to achieve one more battle every day.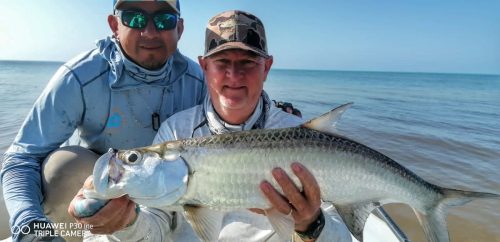 One of my oldest guests in Patagonia repeats the following phrase daily during our fishing days: "Emotional detachment from the result of the action" and I have never seen this phrase better represented than in John Thomas, who at his best moment during the fishing day is when see the fish (no matter what species) follow their flies, mesmerized by the movement of those feathers and hairs tied on a curved wire if he then attacks the fly or simply repels it, that really doesn't matter.
I don't know what you think, but in my opinion, fishing is one of the few activities that gives those who practice it the opportunity to find the one that satisfies us the most in its countless variants and variables and develop it as far as one wants to go.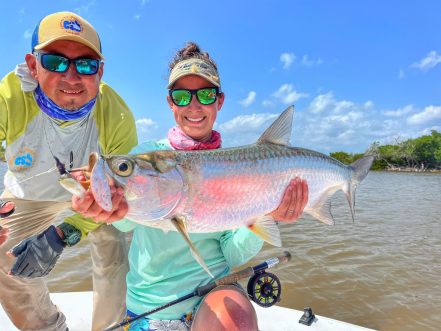 Another example of this was Lizzie achieving her first Mexican Snook, without a doubt, she already landed hundreds in her life but never in Mexico, which filled her with joy and logically deserved a celebration.
Ryan and Scott, for their part, did not leave any species to fish in the bay, wishing on more than one occasion to have more arms to be able to cast in different directions and at different species at the same time.
One of the highlights of this week, particularly for me, was that Tim brought 40 pounds of excellent meat from Texas in his luggage. For a good Argentine like me, meat is more than food, almost a religion, and no matter how much I want cheating on me can never be surpassed by the excellent fish or lobsters in the bay, it's in my DNA and you can't change it.
So, Dane showed off his culinary skills by grilling some excellent rib eyes for everyone on Saturday night and I must say that the result was excellent, both the quality of meat and the way it was cooked (which is not the same as what we are used to in Argentina) It is totally at the level of a typical Argentine asado.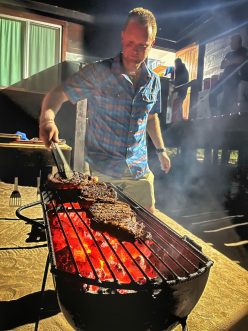 Weather
Light winds and a pleasant temperature were the constant of the week, although some inopportune clouds affected the almost superhuman capacity of our guides to see the almost imperceptible nervous waters at great distances some days, but nobody missed the favorable fishing conditions in the bay.
The low wind speed did not affect the tides as much, making them more predictable and allowing us to play with them in our favor.
Flies
Permit: Nothing out of the ordinary and they are already a classic for the bay, White ragheads with and without yellow eyes or silver eyes, spawning shrimp with yellow eyes, EP spawning on #4.
Tarpon and Snook seem to know the EP baitfish catalog perfectly and do not try to hide their preference for them.
Bonefish: Shrimp are still his favorites in sizes #4 or #6.
I must confess that the great dishes that Luis and Ángel prepare in the ESB kitchen were one of the things that I missed the most, the Cochinita Pibil tacos, the ceviche or the shrimp tostada were in my dreams more than once during this time out.
The exceptional predisposition of Freddy, Pancho and Emanuel to keep everything working and provide the greatest possible comfort to our guests has not changed in the slightest and I am glad to know that they will make my job easier.
See you next week with a new report and do not hesitate to contact our friends at The Fly Shop so they can tell you first-hand what life is like in Espiritu Santo Bay, the Sian Ka'an Biosphere reserve (which means "Where the sky begins", in the Mayan language)
Taak ulak k'iin and Ka xi'ik teech utsil!!
(See you later and good luck! in Mayan language)
Martin Ferreyra González and the entire ESBL family.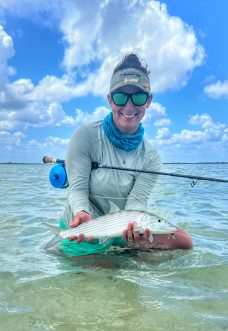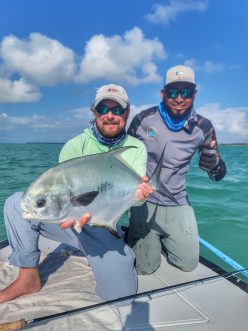 CHECK IT OUT!