Fishing Report #2
February 09 – 16, 2020
Good morning Esb Lodge Anglers & Fans,
We've had another great week here at Esb Lodge where we've wrapped up our second week of the 2020 season.  Esb Lodge had the pleasure of a great group of returning friends, some of which have fished with us for their fourth season.  Everyone had a great time, conditions were less than ideal with heavy winds but we were able to find protected areas in our fishery and our guides did a fantastic job at creating another memorable week on the water for guests.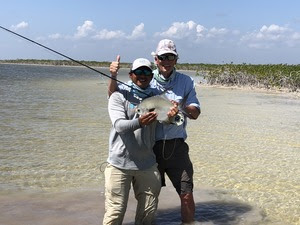 FISHING
Fishing this week was very difficult due to the amount of wind.  We experienced four out of the six days with winds at 25 MPH or better.  The other two days had less wind but still sustained at 15 MPH with gusts up to 20 MPH.  When conditions are this windy with minimal light guides work hard to find and fish protected regions of the bay.  We spent most of the week far west covering a handful of permit flats and working river systems 4 and 5.  The first day returning guest Henry Haizlip was able to catch a small permit and only a handful of other fish were spotted.  For the remainder of the week we saw little to no permit.  Strong east winds made most of our popular permit flats unfishable.  Towards the end of the week guests had better visibility and we saw a slight change in wind direction that opened more flats for permit.  Friday guests saw more fish but still minimal.  Saturday was the best fishing day regarding permit and we were able to catch two more.  Blackwell Smith and John Adams were able to each land their first permit.  Our 4th river system held good numbers of big fish moving in with tidal changes and a couple boats were able to get a few hours each of consistent action.
Our group total for the week tallied 3 permit landed which leaves our 2020 season thus far with 10 permit landed and 16 guests.
We were also fortunate to have a lower tide which made our backcountry tarpon and snook fishing available.  Guests spent time far back in our river 5 system which holds many small "tributary" size streams.  It's a fun experience for anglers seeing a change of pace from working flats.  Difficulties change from trying to deliver long casts to throwing under mangroves and technical short game situations.  We had an interesting scenario where one boat went as far back as one of the tributaries would allow and two tarpon accidentally jumped into the boat.  We have seen this before and our reasoning is the smaller tarpon in these situations get pinned against mangroves and with the skiffs covering the width of the stream, will launch out of the water in desperation trying to escape.  It can be an interesting situation to have 10 lb. tarpon unexpectedly land in the boat in such tight quarters.
One of the greatest advantages I feel that our fishery has is multiple species and capabilities to find protection.  Despite rough commutes to push through rough water we were able to situate guests in areas with good numbers of bonefish.  It seems like a weekly mantra with these newsletters where I continue to marvel at the quality, consistency, and ease of catching these fish in our systems.  Anglers should take a few hours out of their week to chase bonefish and when conditions are less than favorable this is always looked at as an exciting alternative.  We routinely land a bonefish or two every week that is hitting the 5 lb. mark.
WEATHER/TIDES
Weather last week was mostly cloudy and hard east winds 15 – 25 MPH.  Towards the end of the week guests saw more sunshine and a shift in wind direction coming from the north.  Our tides were low for the week with an incoming tide later in the afternoon.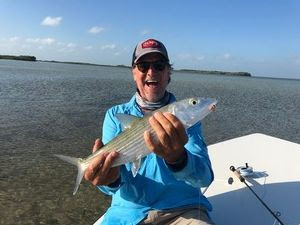 FLIES:
Permit flies that worked for us were EP style spawning shrimp and White Casa Blanca raghead crabs #2.  We received word from the retail division of The Fly Shop that our new spawning shrimp and white crabs will be making appearance in the fly bins.  I strongly encourage you to order these new flies before your next trip down here.  We've worked hard and have collaborated with tying companies to create these permit flies that are unique to our fishery and other Mexico destinations.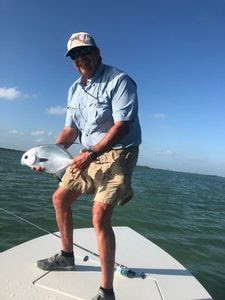 Tarpon and snook succumbed to an assortment of toads and EP style baitfish, mostly on #2/0 hooks.  Color schemes that worked were blk/purple, white/chartreuse, tan/white, and grey/white.
Bonefish were readily caught on smaller shrimp patterns tied on #4 – #8.
Our Kitchen and house staff did a fantastic job providing our guests with delicious cuisine and made for welcoming and pleasant accommodations.
Enjoy your week, be safe, and stay tuned for next week's report.
Saludos desde el Caribe Mexicana
Dane & Chiara