Fishing Report
February 03 – 10, 2019
Dear Esb Lodge Fans,
We're back in action here at ESB Lodge and completed our first week of fishing with guests for the 2019 season. It feels good to be back and get into the swing of our daily operations at the lodge and it's hard to believe we are going on our third season here. We are extremely grateful for what we have and how far everything has come along to this point. Opening week we welcomed back guests that have fished with us now multiple trips and four out of our six guests were all repeats from previous years. It's great to be reunited with friends and as Chiara and I were going over the 2019 calendar year almost every week we are happy to see many familiar names.
FISHING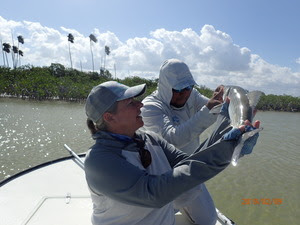 This week's fishing in the bay was difficult largely due to very strong winds and cooler water temps. Our bay opens to the east and can quickly become churned up with Sargasso when we see those strong eastern winds. Visibility while fishing was decent for much of the week. I enjoyed 5 days of fishing and shared the boat with friend Charles Mangum. We took the time and covered most of the bay checking old haunts and getting a read of what to expect in the coming weeks.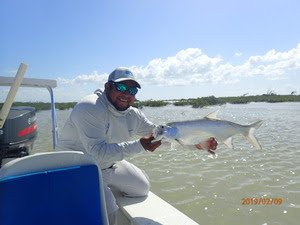 Our backcountry river systems 4 & 5 have to much fresh water in them and some of the small creeks that feed the bay in the far southwest corner are dumping out freshwater. The first couple days we seemed to see good numbers of permit and mostly on flats that were towards the entrance of the bay. As the week progressed permit proved more difficult to find and it was tough for everyone to fish out in exposed flats with hard winds. I really believe that an unusual wind direction for this time of year, coupled with cooler temps and freshwater played a key role in declining numbers of seen permit. When conditions reach this point, we see fish seek deeper water and become less visible to the anglers. None the less permit were targeted and we were able to land a few in addition to having great follows and also experiencing a few break offs as well. John Garcia was able to get one his first day and Charles Mangum followed up on Wednesday getting a smaller one on foot in the 1st river system. I was fortunate to land 2 beautiful fish, one on the first day on a large flat on the north side and a single tailing fish deep in river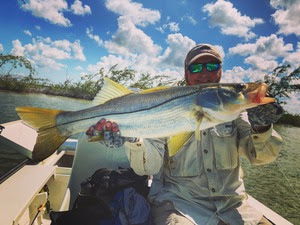 1. One thing I noted is the permit we saw towards the entrance of the bay were significantly larger and we saw consistent fish at 15 lbs. or bigger. These fish were mingled in with trigger's and larger Jacks as well.  I threw into a nice school of permit saw one forgive my bad cast and charge the fly only to lose the race to a Jack that was over ten pounds. Our total starting for the 2019 season was 7 anglers and 4 permit landed! We have a hard goal of surpassing an incredible 2018 permit season and it'll be fun to see how things play out. Snook were abundant in most river systems on the north side and we saw more concentrated numbers in river 3 and small bay system we dub as "Rio Loco's". As we've come to learn with snook they can be extremely temperamental and require us to experience multiple fly changes before they succumb to a particular fly. Lianne Forester landed a great snook as with John Garcia. Charles and I saw the last day 20 plus snook and were able to get one to eat. This is a great time of year for snook fishing and when we have a low tide we push guests to target these underrated fish. Tarpon were around but only in certain areas and a few were jumped and landed for the week.  The tide seemed to be in our favor for snook and tarpon with outgoing tide. Due to the hard east wind it was a very slow fall for much of the day thus making the window of optimal opportunity limited. Bonefish were there for us whenever chased them and I was ecstatic to see great numbers of fish throughout our bay system. We had great light in 1st river one day and I saw easily over 1000 bonefish piled up in the boca ready to head back and spread out on a rising tide.  Lianne was able to land her largest bonefish here to date a whopper at 6 lbs.! Pamela Stock joined her husband Bill for the week for her first saltwater flats fishing experience.  Upon day of arrival she mentioned she was a bit nervous and that whole experience was enough for her and she'd be happy with landing fish or not. We sent Pamela out the first day with guide Fernando and he ironed out her casting and got her working a good single haul and she was able to land her first few bonefish.  For the remainder of the week Pamela continued to catch bonefish and it was great to see her transition from novice phase to chiming in on her favorite bonefish flies around the dinner table. I mentioned toward the end of last season how we were experiencing larger bonefish due to the ban of commercial nets 5 years ago.  This is just incredible to watch our bay system thrive and remain unmolested and these bonefish are proof of hard work and dedicated conservation and enforcement. I am very excited in the coming years to watch the size of theses fish grow and based on what I have seen there will be no doubt in my mind that average bonefish size will hover around 5 lbs.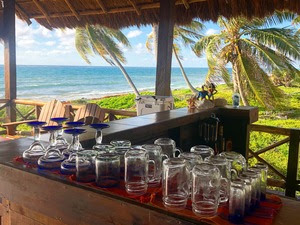 WEATHER/TIDES
The weather for the week was mostly sunny with only one day of low visibility due to clouds.  Wind direction for much of the week was from the east and consistently at 15-20 mph. Air temps were very comfortable around mid 70's and a little warmer in the protected river systems.  Tide was a very slow fall due to the east wind. We saw the tide falling for the better part of the day and it wasn't until almost 3 PM did we see a reversal with a strong rising tide.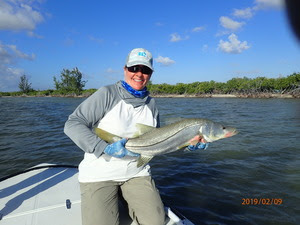 FLIES:
Our permit were landed on the famous #2 Tan Squimp, raghead crab with yellow eyes and white spawning shrimp tied by Enrico Puglisi style with the only addition of yellow eyes.  For those that tie and are coming in the following weeks we sincerely ask you to focus specifically on the three permit flies you see mentioned above. These are our staple go to permit flies for this time of year and we see the Tan Squimp outproduce any other fly on the market.  If you are tying raghead flies or white spawning shrimp leave a little extra space towards the eye of the hook and add large yellow dumbbell eyes. We cannot figure out the significance of yellow but it has been the ticket for us the last few years. The larger than normal eyes gets these flies down quickly in front of permit in deeper water and keeps the fly in the water column where it needs be.  We rarely use permit flies that are very light or tied with bead chain eyes. While these can still work after a few strips with floating line your fly comes to the surface not representing a fleeing shrimp or crab correctly. White seems to dominate in shrimp patterns due to the ample supply of baby lobsters we see this time of year in the bay. Tarpon will readily take smaller toads and EP baitfish in color schemes: blk/purple, chartreuse/white, red/black.  Snook seem to like flies that are more natural in color and we do well with smaller EP baitfish and Merrit's ESB snook fly. Color schemes to pay attention to are: white/white, white/grey, olive/tan, yellow/white. Smaller chartreuse toads will also work for snook. Bonefish are happy to hit any fly that comes their way in sizes 4-8. All color schemes seem to work and a few patterns I saw work for me throughout the week were: Gotcha's, Puffs, Charlies, and small squimps.
Our kitchen is graced to have Chef Felipe back in action cooking up the incredible cuisine some of you have experienced in the years past.  We are continuing some old favorite dishes and adding some new things to our menu as well. The thing we take seriously here at ESBL is our fishing and our food.  You can't beat 8 hours on the boat and return to delicious margaritas accompanied with a wonderful 3 course meal. One client sent me a message yesterday claiming he gained 6 pounds over the course of last week with us.  It's hard to say no to such great food! The rest of the staff is on que and attentive to all our guest's needs as well as maintaining a clean and smooth running operation. All our guides and staff we ended 2018 season with have returned to us for another season of hard work and Chiara and I are grateful to have everyone back.
This upcoming week we are graced with returning guests Frank Stow and Henry Haizlip.  Frank is on his third trip and for Henry this is his second trip and he brought some friends in tow as well.  Tom Craddock is also here with us for the week and he is a partner in the well-known fly shop Telluride Anglers.  We're excited for the upcoming week. The weather is predicted to be rainy and cloudy. As I look out my office window, I see nothing but blue skies and a bit of wind coming from the northeast.  More times than not weather predictions for this area can be far from accurate and we always appreciate the sun shining.
Do yourself a favor and drop a line with our dear friends at The Fly Shop if you're interested in this wonderful operation or you have an upcoming trip here.  Please make sure your gear is up to date and your adequately stocked with the correct flies! The Fly Shop and ESBL are looking forward to another great year and we're excited to see you.  Please have a great week, stay safe, and stay tuned for next week's report.
All our best,
Saludos desde el Caribe Mexicana
Dane & Chiara