Fishing Report
February 14 – 21, 2021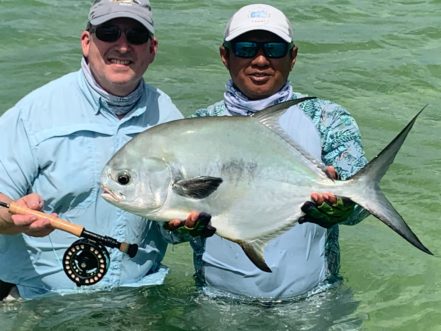 We've had another wonderful week slip by here as we get closer to spring. Last week we were joined by a group of wonderful friends who have been fishing with us for a few seasons.  I was also happy to meet newcomers Antonio and Tom Robaina who enjoyed themselves and are looking for a return trip in 2022. Weather was a little inconsistent for our 6 days of fishing and it seemed like we had a sample of every wind direction possible and some days windier than others. We were also watching some severe conditions that have hit the southern states hard with an unusual amount of snow and ice coupled with freezing temps. This huge cold front has moved south across the gulf and is currently sitting over our area of the Yucatan. We're looking at some cooler temps in the coming days which will change our normal approach to the bay for the next week's guests.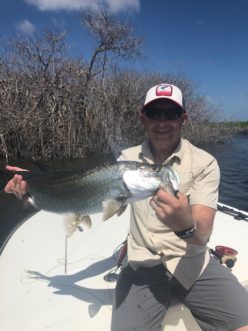 FISHING
Despite some inconsistencies due to weather, I thought we had some decent days on the water.  It seemed like the day was very productive or not good at all with nothing offered in between.  Beginning of the week was the nicest weather with the group arriving last Sunday to a calm ocean front with some shots at Triggerfish, Jacks, bonefish, and a nice permit that was spotted.  Monday's condition followed suit and the bay was alive with great opportunities for permit. We didn't see a lot of fish, but it was a great day with 5 out of the guests landing some nice fish.  Our permit fishing is very hit or miss right now with weather and I have faith it'll become more productive once we shake our weekly three-day cold fronts that have been coming through.  Permit fishing was best on the southern side of the bay, and late afternoons with a tide that was starting to go out. More fish were seen closer to Punta Herrero. We did see some random fish show up on the northern side in our river systems but nothing consistent. Despite not seeing a lot of schools we had great opportunities at larger fish that were on top of rays, or singles and doubles patrolling through in shallower water. For me I love this kind of permit fishing, it makes for technical casting and your margin for error changes facing one permit rather than a school of 50 fish. We did have some unfortunate larger fish that came unbuttoned for guests that would have attributed to three more for the week. Classic scenarios find themselves unraveling fast and leaves us all in disbelief and disappointment. True permit anglers can attest to these moments, luckily for our guest's this heartbreak is numbed and nursed back to health with the aid of a cold margarita and specialized counseling.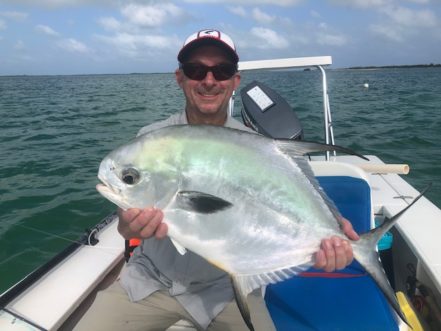 Our permit total for the week with guests was 9 landed.  This brings our budding 2021 season to 25 permit with 19 guests.
I was ecstatic with the snook fishing for the week. It's sensitive timing, adjacent an outgoing tide but not at the lowest point we find our success. Snook fishing was typical fashion where one day anything you throw in front of them will be rewarded and other days snook will stubbornly stare at all manner of flies as they reside in their mangrove domain. Guest Peter Petruzzi had one of his best snook days yet with guide Pepe and they were able to see solid numbers of fish and land a few. We saw most of our snook along the northern shoreline and also closer to the fishing village located outside the bay heading north. We have in past seasons labeled our fall months as designated time for chasing large snook. More and more we are seeing solid numbers of these fish at 10 lbs. or better.  We can only reason that lack of netting in the bay and forage fish the snook feed on are all abundant.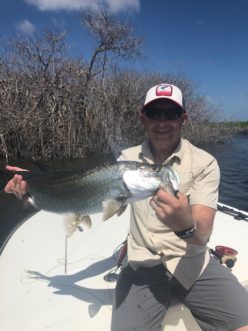 Tarpon fishing for the week was solid for this time of year and guests were able to find fish in the backcountry sections of our river systems on the north side.
Bonefish are steady and plentiful. When we had less desirable weather conditions, we opted to chase these fish and often lost count of landed fish. I strongly suggest investing in a quality 7 weight before you come down here to enjoy these awesome fish.
I'd also like to take a moment and welcome a new guide for ESB Lodge. Marcos Neri will be joining our crew for the 2021 season and I couldn't be happier having him on the team. He may be new to our program, but he is well versed and seasoned fishing the bay with Playa Blanca 10 years as well Ascension and Chetumal Bay. His English is outstanding, and his calm demeanor will play a big role with guests chasing permit in the months ahead.
WEATHER/TIDES:
We experienced wind from almost every direction throughout the week. We had strong winds most days with mixed sun and clouds. Middle of the week guests were greeted with a tough day and heavy rain squalls and low light. Our tide was mostly high in the morning and outgoing starting early in the afternoon.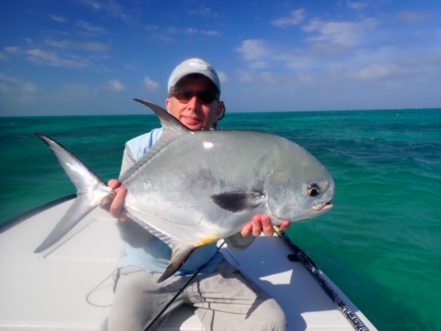 FLIES:
Our permit flies that were productive were white Ragheads with yellow eyes and the Squimp.  It seems that the white crab has begun to dominate our other choice flies for permit. I think we will see spawning shrimp start to work better as we see consistent numbers schooling permit show up.
Tarpon and snook were landed on EP style baitfish and tarpon toads in our normal color schemes: Black/red, White/chartreuse, Black/purple, and White/grey.
Bonefish were landed on all manner of shrimp flies #8 – #2.
Chef Carlos and the house staff did an awesome job, keeping our guests well fed and maintaining a clean and orderly lodge.
This upcoming week we are joined by 5 guests all who have been with us past seasons. One guest in particular, Don Morris has been an ESB Lodge guest since we started in 2017 and has been to our wonderful operation more than any other guest, often coming 2 weeks in a row and spending on average 3 weeks a year with us. At some point we may warrant Don his own boat to enjoy the bay he loves so much. It's very rewarding for us to see such dedicated anglers and this makes us rise to the occasion and provide the best service possible.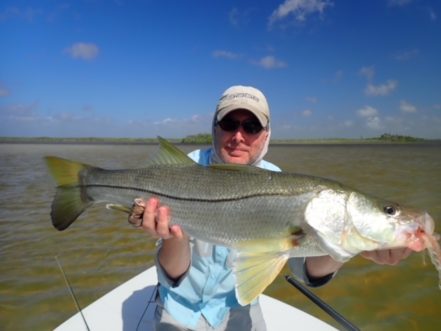 Whether you're a seasoned regular here at ESB Lodge or newcomer we welcome all and know that you will come to enjoy this place as much as we do. If you have an up-and-coming trip with us or would like more info about our operation shoot our friends over at The Fly Shop® a call to bring you up to speed.
I hope everyone is staying safe and is finding some time to spend outdoors despite some frigid temperatures.  Have a great week and stay tuned for our next report.
Saludos desde el Caribe Mexicana
Dane & Chiara and the entire ESB Lodge Team