Fishing Report
February 13 – 20, 2022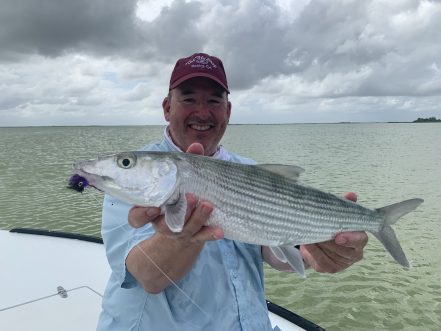 Our third week of the season was a busy one here at ESB Lodge.  We're cruising right along with the season thus far and enjoying the last couple weeks of winter.  Temperature wise you can't beat this time of year.  Warm days, with cooler nights make things comfortable for guests as well as the working crew.  The biting bugs are at a minimum making an occasional appearance in the evening in our palapa.  We have had more rain than usual which is not typical for late winter.  It's normally a dry time, but a little water to keep things fresh and green never hurt anybody.  Last week was greeted again by familiar names that have made ESB their Yucatan destination.  Montgomery, Rodgers, Petruzzi, Stroh, and Corbett are all names we love to see come back.  Newcomers Adam Olscamp and Bob Evans joined their friends to hear what all the hype is about.  Chiara and I have so much fun hanging out with this group in the evening, a wonderful time drinking wine, talking, and joking.  We had some less-than-ideal conditions beginning of the week, but the weather shaped up nicely and our last couple days of the week was pleasant with more sun.
FISHING:
Monday through Wednesday we had some tougher conditions.  Strong wind, rain, zero visibility was in the forecast, and I truly salute my guides for working extremely hard to find fish.  I think a saving grace for us was a low tide in the am during those days.  This gave us access to tarpon and the occasional snook.  We're still seeing some tarpon around which had been a bonus for us this time of year.  I expect tarpon numbers to slide a little in the coming weeks with harder east winds in the forecast.  This will keep our bay stacked high with water, never reaching a true low tide.  Tom and Adam saw a decent number of tarpon one day with Alex on the southside, tucked back in an area we call "Flamingo".  I fished this hard our first week and am excited that it's still holding fish in the open flats.  Dan and Scott had a great day with guide Victor and they spent the whole day in river 4 and saw a lot of tarpon.  Historically river 4 is not a main target for us this time of year and hasn't fished well at all until last week.  They landed a considerable number of fish and jumped some others.  Bob Evans joined us for his first trip to ESB and succeeded in landing his first tarpon.  Bill Stroh landed 4 tarpon for the week and completed a grand slam.  I was impressed with the group landing 25 or so tarpon and probably jumping twice that.  Don't underestimate these small tarpon, they're wonderful to chase, hate being hooked, and it's like trying to tame a firecracker at the end your line.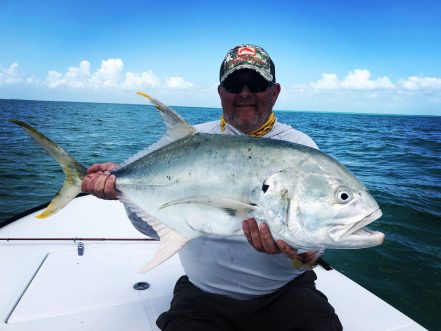 With tougher conditions we opt for chasing bonefish.  I am so humbled and thankful for our incredible bonefish.  They're everywhere, big, hit all the important traits we look for in a flats fish, and just a blast to chase.  Skinny water with silver tails and backs being exposed gives us great fun when our other species are harder to find.  I also appreciate guests willing to chase these fish.  More and more guests are willing to spend some hours hunting bigger bones that easily hit 5 pounds with a shot at a couple bigger targets.  Scott Rodgers shared with me a photo of a 5 pounder with a purple/black EP baitfish stuck in its snout.  The fly was tied off on a 50 plus pound leader set up for tarpon.  This pretty much sums up our bonefish in the bay.  I don't entirely suggest making a point of using the same set up, but when your chasing tarpon or snook and a big bone swims by, don't bother changing rods.  They'll eat anything!
Tom and Adam are cuda hunters.  They love chasing these fish and were able to land some nice ones this week on monster baitfish patterns.  Barracuda are out in full force patrolling all the flats ready to crush anything that makes an unfortunate decision to cross its path.  Tom told me it's one of his favorite fish to chase.  His level of importance stands at catching permit then cudas.  I couldn't agree more.  Why the heck would you blatantly ignore an apex predator 3 feet long sitting in 2 feet of water, impressive teeth, and will close a distance to the fly in fractions of a second.  If this doesn't seem fun, you're nuts.  These fish demand attention, deserve respect, and should be chased as a primary target on the fly.  I beg our guests in the coming weeks to arm yourself with big poppers, baitfish flies tied off on at least a 3/0 hook, 40 pound wire, and rod to handle both the big flies and fish.  I have grown a little tired of cudas sitting on the back burner of importance and usually being passed up.  Guests will tell me they've had a slow day and did not see many permit, tarpon, snook, or even bonefish.  I ask if they saw some cudas and usually the answer is yes.  Want to learn a secret to changing the momentum of a slow day?  Throw at cudas and then tell me how you feel.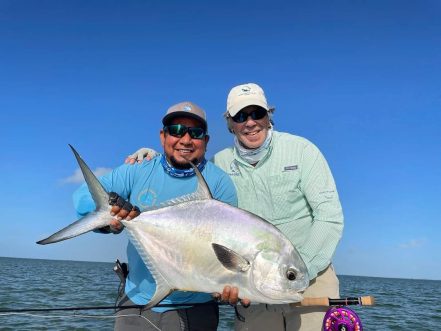 Permit fishing was a little depressing the first few days.  This is directly due to lack of light.  Sight fishing relies on sun and when there's no sun it's terrible permit fishing. Don't speculate on this, count on it, I guarantee it.  Hail Mary's at nervous water under heavy cloud cover is not the conditions we think about when chasing permit comes to mind.  Most of the group chose to only dedicate a portion of their day with permit before chasing something else.  Midweek the permit tune changed, and we started to finally see some fish with the aid of partial sun.  I will tease Scott Rodgers at this point.  We were standing in the palapa a few minutes before heading to the boats and he pointed out to an unusual looking object on the horizon semi hidden behind some clouds.  For the life of me I couldn't figure out what ship he was claiming to see… It hit us both that he was referring to the sun slowing rising to the east.  Indeed, it seemed foreign and was something we weren't accustomed to seeing so far during the week.  Guides started picking up permit and we found the majority of our fish along the southside from backcountry flat Flamingo, west towards "Tabascones".  There weren't huge numbers, but solid enough to keep us all busy and some nice fish were caught.  Bob Evans enjoyed in addition to landing his first tarpon his first permit.  Tom Corbett landed a couple, Bill Stroh got three for the week and an impressive one with Fernando at 20 lbs.  Adam had a couple on and unfortunately, they came unbuttoned after a quick fight.  This is a very painful experience and begins to wear on one's conscience.  The only cure for this is to return to ESB and redeem yourself.  No other remedies will take care of this problem!  Dan Montgomery also landed a permit for the week.  Peter Petruzzi landed all his permit the last three days of his week.  His daily catch was two for Thursday, three for Friday, and four for Saturday.  His last day was with guide Pepe who enjoyed a great first day on the water for the 2022 season.  I will also add four of the nine permit Peter landed was on his own crab variation.  He mentioned to me he would leave me one at the end of the week.  Peter, I'm still looking for it and I scoured your room in hopes to see that it only fell behind a dresser or hid itself in the sheets.  Jokes aside, Peter is a great permit fisherman, pays attention to small details, compiles his experience at the vise and comes up with some great flies.  Perhaps this May I will be graced with a couple of Petruzzi's double strong arm creations.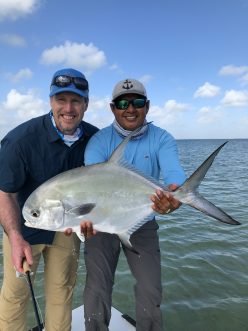 The group of seven landed 16 permit total which is incredible considering the conditions.  Our season total so far is 30 permit with 21 guests.
WEATHER/TIDES:
Strong northeast winds at 20 plus mph, heavy clouds with an incoming tide carried us the first few days of the week.  Midweek we had decent sun, strong winds from the east and a very high tide in the am.
FLIES:
Aside from Petruzzi's crab, permit were landed on ESB crabs, ESB shrimp and ragheads in tan and white with NO yellow eyes.  Pay attention here, my box would consist now of at least a dozen white Casa Blanca ragheads as well as the tan variation with no yellow eyes.  You need to have both.
Tarpon were landed on the usual EP baitfish, toads, and smaller cockroaches.
Bonefish were landed on all manner of Gotchas, puffs, Charlie variations, and EP baitfish tied off on 50 lb.
Barracuda were landed on big 5-to-6-inch colorful baitfish and poppers.
Carlos and the kitchen crew worked hard during the week, keeping us overfed with delicious cuisine.  I still can't find the willpower t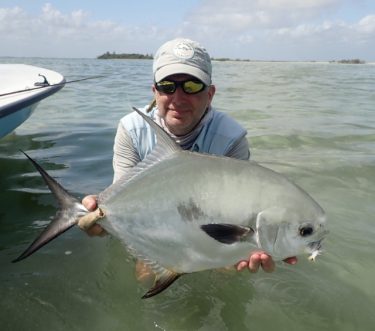 o wean myself from the lava cake and homemade coconut ice-cream the last night.  Emmanuel and Freddy worked hard keeping all the normal parts of our operation run
ning smoothly.  These guys are not to be overlooked.  Even though they reside behind the scenes they have the toughest job on the property.  They deal with a crazy boss, and make miracles happen with keeping things running.  They are the heart to the success ESB has enjoyed and we couldn't do it without them.
We've got another fun week ahead of us with returning guests Jon Wheat, Mike Matus, Rodger Nye, and Rich Kracum.  Most guests are fishing as single anglers for the week and will be after permit.  Our weather looks better and as I'm typing this up the sun is shining.  If you have a minute drop our friends over at The Fly Shop a call to get up to date info about this wonderful place.
Please get out and enjoy the last bit of winter and we'll look for you next week for another report.
All our best,
Saludos desde el Caribe Mexicana
Dane & Chiara & The ESB Crew