Fishing Report
February 17 – 24, 2019
Hi Everyone,
Another week has slipped by here for our 2019 season.  Hard to believe it's already the last week of February as winter begins to escape and spring approaching fast.  This last week it was a pleasure to have repeat guest from Holland, Michigan and returning guest Terry Lim who brought good friend Brian Whitestone along.  It was a hard week of fishing with an incredible amount of wind.  Espiritu Santo continued to shine, and we were able to still land a few fish!
Esb Lodge Cancellation Notice: It's not very often that we have a couple rods open up at Esb Lodge, but due to a cancellation we have two spots available the week of (April 07 – 14 2019). This is a prime spring week, right after the new moon with spring tides. Contact us immediately if you are interested in securing these spots (800) 669-3474 or email at: travel@theflyshop.com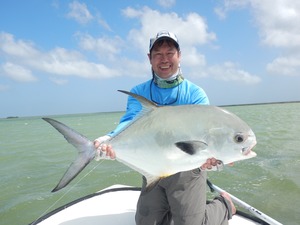 FISHING
Last week's fishing was difficult due to hard winds that came from the east and southeast.  Partly cloudy conditions contributed to difficult sight fishing opportunities.  We worked hard to get our guests in areas with more protection and were able to find a couple spots were wind became "tolerable" for casting.  With our bay opening to the east we dealt with larger than normal waves down the center of the bay that went 5 or more feet.  This makes our entire north side non accessible and we are reduced to a handful of flats located on the south side reasonably close to our launch.  When waves subsided a bit we had a couple boats cross with ease but the return trip was a long commute.
I was impressed with the quality of the fishing despite the conditions.  My opinion of optimal parts of the bay had our guests only able to capitalize on 30% of what we normally offer.  Ben Dozeman came down with his father Ron and he was able to land his first 3 permit.  Terry Lim who joined us last year for the first time had succeeded in landing his first four permit for the 2018 season.  Terry was able to land 3 permit this go around and I attribute this to Terry's ability at tying great flies, paying attention and absorbing all guides instruction and working hard to perfect his permit game.  Peter Petruzzi joined us for the week having landed a handful of permit in his previous saltwater experiences.  Peter fished as a single angler and was able to have almost 50 hours of bow time for the week.  He led the group with a total of 4 permit landed and had couple permit crush his epoxy raghead crab resulting in the body spinning on the hook and working its way free from the permit.  This is a very important lesson to constantly check the condition of your flies that are held together with epoxy.  We often see permit able to pulverize these flies and sometimes after one fish the fly is deemed un-fishable.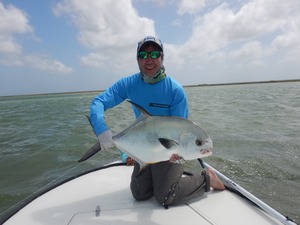 Collectively the group landed 12 permit with 7 guests.  This brings our season total 26 to permit landed with 21 guests!
I rave about the ease about catching bonefish in our bay.  Normally these fish are more than forgiving to anglers and will happily eat most flies thrown their way.  I believe due to strong tides and hard wind put these fish uneasy and we had moments where guests had to make multiple fly changes to entice them.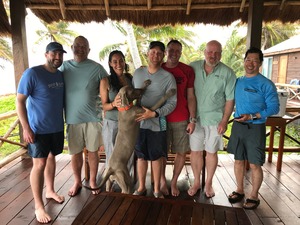 Our snook fishing was average for the week and Peter Petruzzi was able to land a monster snook well over 15 lbs.  A handful of other fish were landed throughout the week.
Tarpon seemed non-existent and we pursued them only a handful of times when we could access river systems on the north side.
WEATHER/TIDES
As mentioned, before we had very windy conditions that are unusual for this time of year.  30 knots seemed the norm for most of our days.  Being partly cloudy resulted in low cloud cover that raced across the sky giving us short windows of visibility.  Our tides this week were interesting, and we had two tides through the course of our fishing days.  With such strong wind from the east it makes our falling tide move slower and incoming rise rapidly.  We had an incoming tide that resulted in a high around 11 with a falling tide for the remainder of the day.
FLIES: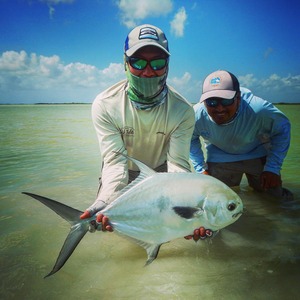 This week 9 out of our 12 permit were landed on raghead crab variations.  Color schemes white and light tan seemed to work well and some with yellow eyes.  I believe these flies were more productive due to the fact we were fishing shallower water and focusing on singles and smaller groups of fish.  Our normal big schools located in deeper water were in accessible with huge waves.  The old standby Tan #2 Squimp was able to land 3 permit.  Blk/purple baitfish variations, olive EP minnows, and a tan/white imitation contributed to our landed snook.  Bonefish were landed on a variety of mantis, charlies, gotchas and smaller squimps.
We're excited for this up coming week with a group of anglers that have yet to enjoy ESBL.  This week's group was put together by Flywater Travel that works along with The Fly Shop for destination trips.
I would like to take a moment in this newsletter to talk about another exciting bit of news for us at the Lodge.  Chiara and I are very much dog people and we enjoy our three dogs immensely and they bring such great joy and love to our lives.  We have partnered with a local dog rescue that our close friends Heather and Gail Johnson run.  They live approximately 12 miles south (one hour) of us and share our love of dogs, and remote Yucatan living.  Below you will see a link to their website. – https://www.beachdogrescue.org/.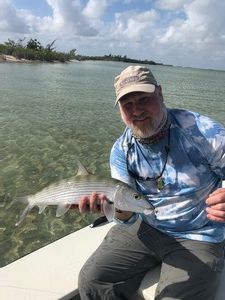 We are always asked by guests what they can bring us from the States.  I ask anyone coming in the future to please purchase and donate Frontline dog collars.  These collars are used with new rescue animals that are infected with fleas and ticks.  They are very easy to slip in your baggage and take up minimal space!  So far this organization has contributed to saving more than 70 stranded dogs and spayed/neutered more than 170 animals thus far!  We are very excited to collaborate and help with this wonderful cause.
This concludes our weekly newsletter and we invite you to contact our friends over at The Fly Shop to inquire about this special place!  Have a great week and stay tuned for next week's report!
All our best,
Saludos desde el Caribe Mexicana
Dane & Chiara