Fishing Report
March 06 – 13, 2022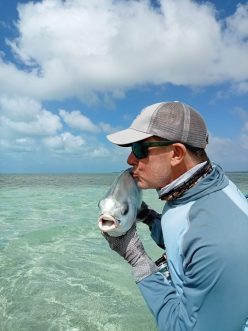 We had a classic early spring week here at the lodge.  Winter seems to be loosening its grip with telltale signs of a fresh season upon us.  It gets windy this time of year and sometimes winds top out at 25 MPH.  The bright side is winds shift and hail from the southeast putting some of the best fishing available along our southern coast, closer to where we launch every morning.  It's a strategic maneuver that plays well for us and we can reduce the butt busting rides slightly.
A group of five joined us for the week, mirroring the layout we had a couple weeks ago.  One group of two, and three single anglers took over the lodge.  I was a little skeptical with the amount of wind that was in the forecast and especially after the prior week landing 41 permit.  How do you top that?  Week by week the dynamic changes here with weather, fishing locations, guests etc.  It's what makes this job fun for us and keeps us on our toes with a new weekly outlook.
Brothers Cole and Robert Francis joined us for another year, and we also welcomed Cincinnati friends David Ellis and Jeremy Moore.  Wyman McGuirt came along to try his hand at his first saltwater trip.  We all had fun, caught fish, ate too much, and enjoyed each other's company every afternoon in the palapa for drinks.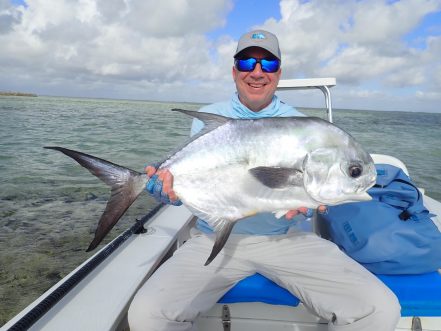 FISHING:
What impressed me the most about last week was an even keel of success every angler had.  Every day lent itself to a new angler who had the highlight catch and it worked its way around the group of five throughout the six days of fishing.  As I mentioned with a southeast wind, we hugged the south bank close to the boat launch down to Tabasquenos in the southwest part of the bay.  This was a complete reverse from the prior week where we spent most of the time along the northern shoreline.  We go where there's fish and more importantly clear water and some degree of protection.  I really hand it to the guides for working hard having a chameleon like approach with adaptations to the bay.  It can be very tough when you settle into a rhythm working out fishing spots for a week getting more dialed by the day and the following week, you're back to the drawing board fishing a new spot.  Historically we're well tuned for the southeast winds, and it can be very productive at times and other times you wonder if the flats ever held any life at all.  Outside red lagoon working east towards the fishing village seemed like the focal point where permit were moving through.  A couple times after dropping guests off I saw our boats racing in front the village to pole the flat the runs from the lighthouse back to the launch.  We saw permit, tarpon, and some very large snook oceanside.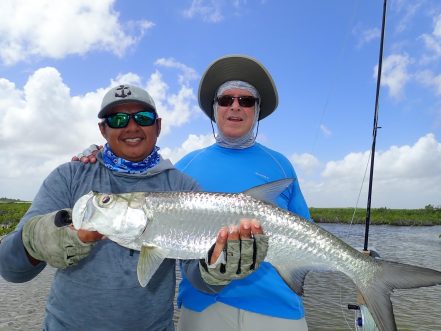 Wyman having never done any of this was completely unaware and lacked prior saltwater trips to bank off for experience.  He headed out with Fernando the first and was shown the ropes.  They caught plenty of bonefish and saw a lot of permit.  He was able to quickly cut his teeth on the tailing bonefish, work out some fresh casting mechanics and got a very humbling dose of permit fishing.  We've all been there and can remember those moments of frustration and wanting something so bad it just completely wrecks you mentally.  He headed out the second day with guide Marcos and landed his first three permit.  These were not tiny 2 pound fish found in a river either.  We told Wyman to quit while he was ahead and might as well take the rest of the week off.  None of us for the week, myself included had ever landed 3 permit on our first flats fishing trip.  Wyman was of course appreciative and happy, also not quite grasping the true difficulties and ceremonial sacrifices most anglers take on to have a day like that.  He went out the third day with Pepe and fished a little inside bay I love called "Flamingo".  He landed a grand slam.  We were all beside ourselves that night at dinner and Wyman bought the wine for the second night in a row.  He totaled out 5 permit for the week, 4 snook, and 2 tarpon, with plenty of bonefish.  Hell of a week and congrats to Wyman.  He left here a seasoned, hardened, sunburned professional of flats fishing.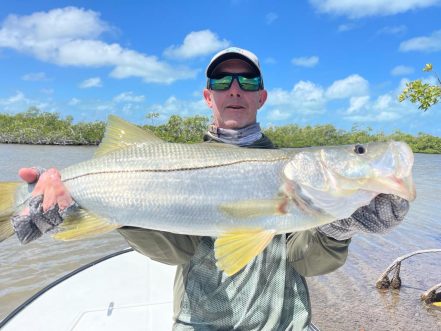 The Cole brothers kicked off their week with a great start.  Cole mentioned to me he was still sick about a permit he had hooked up with guide Alex three years ago.  Unfortunately, he broke it on the set and has been festering about it for years now and looking to create a sense of closure.  Alex had one day left before he was to head home for a much-needed break.  I appropriately put the two together and they landed two permit for the day.  I hope Cole may find himself able to sleep peacefully at night now knowing that he redeemed himself and completely recovered from that tough day three years ago.  I thought it was a little funny Cole mentioned to me Alex caught a small crocodile on their lunch break.  For those of you that know Alex he is an adamant croc hunter in his hometown outside of Veracruz.  He loves chasing them, wrestling them, and politely holding them out to see if the guests would like a photo.  In Cole's case the guest/croc photo was politely declined.  Crocs hate to be held by the way!  Cole had more permit shots throughout the week and pulled another two with guide Victor the last day.  Robert Francis fished with Victor his first day and started out with a grand slam.  Robert mentioned to me this was one of his best permit weeks ever and tallied 5.  It's always better to land one more than your older brother.  David Ellis and Jeremy Moore joined us for their first ESB trip.  They fish Belize annually and have been doing the salt game for years.  These guys are good, fish well, and have boatloads of experience. David landed 3 permit Tuesday with Nando and they had an interesting scene play where they saw a permit following a cobia.  David wanted the permit and Nando wanted to eat the Cobia.  Neither won in that situation.  David and Jeremy joined up with Marcos on Thursday and landed an impressive six permit, a big highlight in their long saltwater careers.  David had the high permit count for the week totaling 7, another personal best.  Jeremy got five for his week and his last one was very memorable.  We have guests come in 30 minutes early Saturday afternoon to knock out the mandatory covid testing for heading back stateside.  They were on Nando's boat and were late.  I figured a busted motor or a fish.  Thankfully it was a fish, a monster 20 lb. permit caught in the bottom of the ninth inning, the count was full, team down by one with a runner on second, and two outs.  I couldn't think of a better way to conclude a week of fishing for the group minus the 30 minutes of stress I was going through.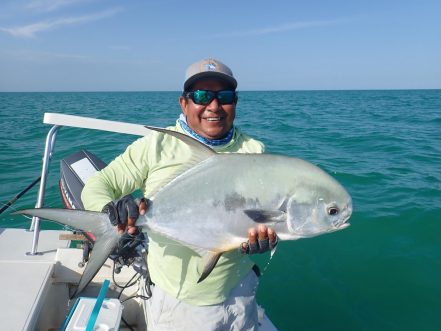 The group of 5 landed 26 permit for the week bringing our totals to 115 permit with 40 guests for the season.
WEATHER/TIDES:
Weather for the week was mostly sunny with high clouds and a strong wind coming from the southeast.  It seemed like the beginning of the week and the last day were our best days for visibility.  Tides were low but coming in for the morning with an outgoing late in the afternoon.
FLIES:
Our permit flies are doing well and it's pretty much a repeat of what we've been seeing since we opened for 2022.  Crabs held the edge a little better only due to some shallower water that was fished.  I will copy and paste last weeks permit flies from the newsletter.  I am not kidding one bit, if you want to catch permit here you must have ALL of the flies listed below.
Casa Blanca raghead white #2, Casa Blanca raghead tan #2 (both no yellow eyes)
ESB Crab white #2, ESB Crab tan #2 (both of these have yellow eyes)
ESB spawning shrimp #2 tan, ESB spawning shrimp #2 white (both have yellow eyes)
EP spawning shrimp #4 tan, EP spawning shrimp # 4 white
Always a #2 Squimp for good measure!
Tarpon and snook were landed mostly on EP baitfish and smaller toads tied on 1/0 and 2/0 hooks.
Bonefish happily ate any small shrimp offerings in sizes #2 – #8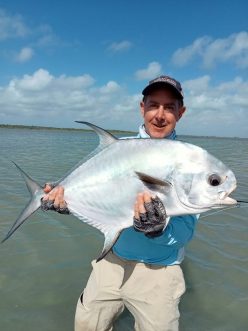 Carlos and the kitchen crew worked hard and kept us overfed with his nonstop turnover of delicious food.  Emmanuel and Freddy kept the lodge and ground tidy and in good working order making sure all guests were comfortable.
We have a big week ahead of us.  A group of eight that hails from Texas will be joining us for their annual spring trip and they are hosted by close friend Ben Paschal.  Ben is a well-known guide on the Texas coast and spends winter months chasing big redfish in the Louisiana marsh.  They brought a cold front with them to kick the week off and we had chilly weather yesterday and this morning.  Looking further ahead winds look like they'll die down and I have some hope we might see some bigger tarpon starting to show with warmer temps returning.  However, the week plays out it's always great seeing this group of friends and I easily have as much fun as they do listening to the dinner conversations, good humor, and readily acceptance of a drink or two.  This is a tight knit group that looks out for each other and are a blast for Chiara and I to be around.
If you're wondering about this special part of the Yucatan or want to have the latest info, please drop a line to our friends over at The Fly Shop.  I hope everyone is enjoying early spring wherever you may be and looking forward to some warmer temps on the horizon.  Please b
e safe, get outside, and look for us next week for another report.
Saludos desde el Caribe Mexicana
Dane & Chiara & The ESB Crew