Fishing Report
February 06 – 13, 2022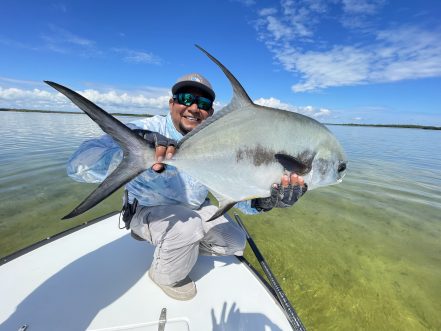 We've concluded our second week of 2022 here at ESB.  The lodge had the pleasure of returning front man Blackwell Smith who also touted along some friends from Chattanooga.  We also immensely enjoyed meeting Blackwell's significant-other Dana Smith.  With a previous cancellation last year Pennsylvania natives Bill Conn and Joel Catalano were also able to enjoy a first time visit to our neck of the woods.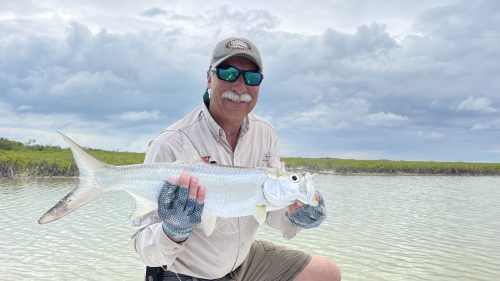 It was a pleasant week overall, some great fishing with great weather and then some slower days we attributed to overcast and heavy cloud cover.  I think it was a typical Feb. week here, good tide fluctuations, cooler temps and few days of a northern front that showed up.  It's honestly a great month to be here with weather and patterns.  Everyone knows there's no guarantee or insurance that weather will be beautiful all 6 days, but we've come to love what this month has to offer.  It's a tug of war sequence with two seasons playing off each other.  One day we see all the characteristics of a winter fishery, the next day some warmer southeast winds that seem to tell us spring is just around the corner.  After a back-and-forth effort from either condition, mother nature seems tired and gives us a remarkable break with calm windless days with sun.  We wouldn't dub February as a hot number(s) month but pleasant and enjoyable.  Plucking yourself from the deep freeze of winter stateside, it's more than refreshing enjoying a margarita in our palapa after a day in the salt.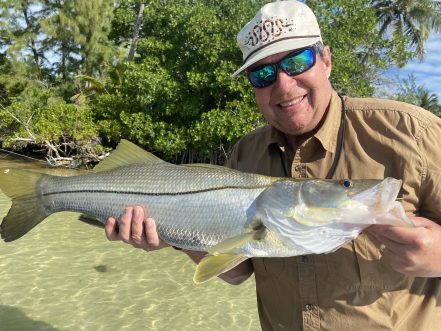 Before I dive into the fishing details, I need to clarify a mistake I made in the last report.  I rudely misspelled a dear friend's name multiple times.  We've never had a Laine Forester here at ESBL.  We've immensely enjoyed LIANE FORRESTER for many seasons now and I hope like hell I'm forgiven.  My sincerest apologies and I'm nervous I didn't prematurely wear out a welcome in hopes of seeing them this summer in Dillion, MT!
FISHING:
The bay is fishing well right now and rewarding guests for their efforts.  A sprinkling of luck didn't hurt either.  We had all the weather patterns/characteristics we associate with Feb.  Sun, rain, light/heavy wind, clouds, NE, E, and SE winds, big tides, and decent success with most of our targeted species.
Permit were around in good numbers beginning of the week coupled with a good amount of sun and excellent visibility.  Catching them is always another story but that's not the point.  When conditions allow, the south side is loaded with permit, far west in the middle of the bay guide Victor has tabs on a couple schools.  Third river doesn't have schools, instead big solitary singles that raise a variety of emotions when that fork tail waves around.  Red lagoon has schools of small permit and the lighthouse point when we have a SE wind holds some fish.  The later location is tough due to a turtle grass bottom.  When anglers fire their crab/shrimp imitations sometimes we find ourselves snagging the bottom and the permit quickly loses interest with the flies picking up grass each strip.  We also saw on an incoming tide in first river with some large singles close to a tarpon island we regularly hit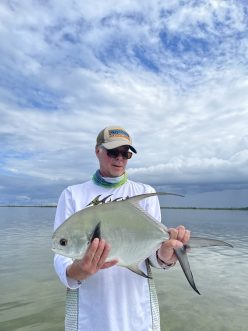 Blackwell commented after the first day some frustration that permit had a habit of staying up wind and causing everyone to cast their guts out into the head wind, always short, and usually not on target.  I give a big kudos to the guides poling upwind tracking the fish, staying calm and trying hard.  Blackwell ended up getting his permit for the week and he saw plenty of fish.  Bryan Rudisill had a memorable trip and enjoyed his first ever MX flats fishing experience.  Relatively new to the program he was rewarded landing his first two permit with guide Alex.  Celebratory tequila shots were required at dinner.  Bill Conn also new to the flats fishing game got his first permit.  David Patten had some great shots at permit and unfortunately had a big fish come unbuttoned after a couple of long seconds.  Joel Catalando who is an accomplished angler and former guide mentioned to me Tuesday afternoon he had just experienced the best 8 hours of fishing in his life.  He got a couple of permit, one of them his largest to date, and then finished the day with our season's first super slam, also a first for him. He also got another permit late in the week and had the high number of landed permit with three total.  Tom Eberle had some great shots and chances throughout the week and came painfully close a couple times of hooking up.  It wasn't in the cards for the 6 days, and I truly don't attribute that to lack of skill.  It seems there's an unfairness amongst the permit gods and they have unpredictable way of deciding who might be lucky enough any given week.  Saturday finished with a vow from Tom that he will indeed return and catch a permit.  The permit addiction has taken hold and unfortunately it can't be cured.  It actually gets much worse with time.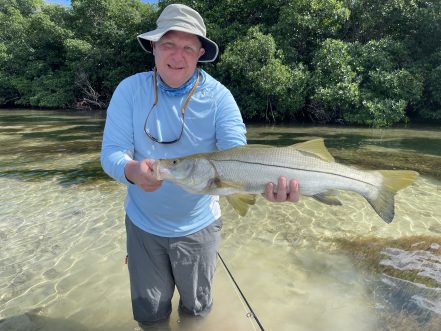 The group of 8 guests landed 7 permit total and this brings our season totals to 14 permit with 15 guests.  We're off to a great start for the season!
Tarpon are still around and we're finding them in all the normal river spots, mostly in the backcountry located along the northern shore.  Rivers one through three with the addition of Rio Locos have great numbers on a lower tide.  A big mangrove island in first river has a lot of tarpon and we're seeing some bigger fish around 40 lbs.  I've talked about this island in the past and it's a stronghold for an incredible amount of fish.  We're not sure what exactly make's this particular island so productive with the numbers of fish but in the meantime, we'll fish it hard.  David Patten and Bryan Rudisill fished two days in a row with Fernando with each day around about 60 tarpon were seen patrolling the island.  Dana Smith and Beth Eberle dumped their husbands for a day and decided to fish together with Victor.  They had a blast catching plenty of fish, learned some new tricks, and hooked and lost a few tarpon.  Beth redeemed herself the last day also with Victor and succeeded in landing her first tarpon and snook.  Gaining confidence and skill to shoot flies in mangrove openings takes time and congratulations Beth for making it happen.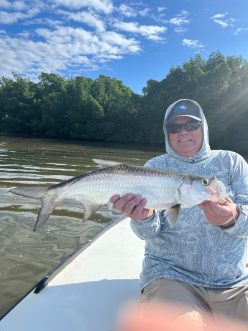 Plenty of snook were around, more than our first week which I was glad to see.  All the spots we find tarpon seem to have a snook or two hanging out.  Our lighthouse point just outside of the bay located southeast had some impressive snook cruising across turtle grass.  These fish were noticeably bigger with a fish that Joel hooked and lost around 15 pounds or so.  Bill Conn and Tom Eberle landed their first snook the last two days of fishing.
Bonefish were everywhere and for the most part willing to eat.  We had a pressure change last Wednesday and that seemed to throw them off for the morning.  David Patten was impressed with the bones we have and immensely enjoyed himself targeting bigger singles and got a couple at 5 pounds or so.  I won't rave about the bonefish this week, but it's nothing short of world class and we caught countless fish in the 3-to-4-pound range.  Everyone that wanted bonefish caught as many as they liked.
FLIES:
ESB crabs and shrimp worked for our permit.  Color schemes tan, white, and mottled tan, yellow eyes, no yellow eyes all #2 and #4 hooks played for us.  Perhaps any serious reader of this weekly newsletter might notice a trend with permit flies…
Snook and tarpon ate small black death variations, cockroaches, EP baitfish, and toads. There wasn't a particular color standout and it seemed to change every day.
Bonefish ate all manner of little shrimp patterns and the only thing we consider is the weight of the fly and the depth.  Shallow equals bead chain and deep means dumbbell.  We're seeing guests throw a lots of puffs and for whatever reason I just love this bonefish fly.  Classic, easy to tie, and works!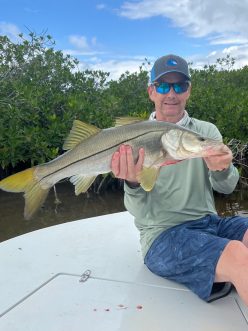 WEATHER:
All the above describes the weather.  First couple days of the week were the nicest, with light winds and full sun.  Later in the week gave way to wind, rain, and clouds.  We had a low tide in the morning, but incoming with a high tide around 2 PM.  Wind direction started southeast for the week and ended northeast.
I'm starting my annual diet here, trying to avoid all the good food our kitchen is serving up.  I can't maintain this eating pattern and I'm glad our guests are able to enjoy so much delicious food.  Last Saturday guests enjoyed fresh lobster, grouper with pepper garlic sauce, lava cake, and coconut ice-cream.  Carlos and Luis are cooking away, and we must be the most well-fed operation along this coast.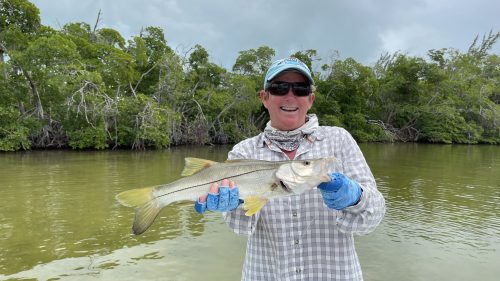 Emmanuel and Freddy were quick to address any issues that presented themselves and work hard to insure a clean and comfortable stay.
We've got a great week ahead of us with most of the guests on return trips.  It's always nice to see everyone return and it's a blast reliving memories at ESB and getting ready to make some new ones.  If you have some time, drop our friends at The Fly Shop a call to get some info about this wonderful place or inquire about the latest news and tidbits coming from ESB.
I hope everyone is enjoying themselves as much as we are, please have a safe week, and be on the lookout for the next report!
All our best,
Saludos desde el Caribe Mexicana
Dane & Chiara & The ESB Crew