Fishing Report
October 30 – November 06, 2022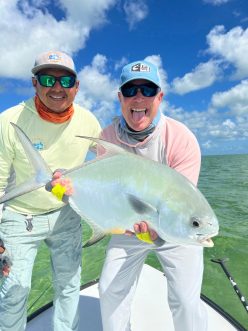 We've wrapped up another fall week here at ESB Lodge.  The seasonal changes are more apparent, scripted, with that fall feel that sort of feels busy around here.  I'm not sure why fall creates a sense of urgency for me, perhaps the unfortunate approach of finishing another fishing season here?  Triple checking NOAA for latest possible weather developments and hunkering down when its bad and piling on the workload when it's clear.  We missed another hurricane and we're thankful for our community and obviously our hearts go out to those impacted by Hurricane Lisa's wrath.  Landfall was last Wednesday a hair south of Belize City.  It was a tight, compact, category 1 storm.  These storms send a shrapnel of nasty weather bands and for anybody on the dirty side will feel its affects more than 200 miles away.  We caught a quick kick in the chops with a lost fishing day on Wednesday and question of fishing sanity with similar conditions Thursday.  Luckily, we sandwiched the bad weather and had a great start and finish to the week.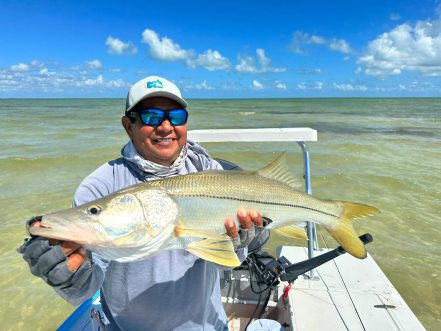 An even luckier aspect for ESB last week was another great group of guys who have all been here before.  Jim Rector back again for his second annual ESB trip.  He enjoys a spring and fall week every year and is a dedicated 2 coke, 1 red bull, single angler.  Jim hangs onto roughly 100 hours of bow time a year with us.  I missed Robert Rohde last time he was here while Chiara and I had managers running the joint.  It was nice to finally meet Robert and even better to share a drink with.  Salt of the earth Mike Schneider and Dennis Morgan were back for their annual trip and it's always fun to share our Midwest comradery.  They're awesome guys, well-traveled, culturally sound, and mutually share a love for something tugging the end of their line.  Dennis ties the flies, and Mike buys the wine – perfect!  Front man, creator/owner of Moldy Chum Brian Bennet and close friend Brian Thielicke finally were able to make it back after a spell of a pandemic, timing, and other complications.  The "Brian's" are stand up guys, we share a million mutual industry friends, and I was informed of Thielicke's new Florida Key's pad that we'll be visiting sometime soon.  If you have a second, hop on social media and check out Bennet's killer drone shots and pictures @ moldychum.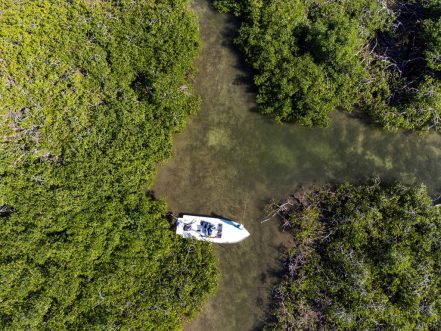 FISHING:
All around it was a decent week of fishing laced with the normal highs and lows that go with the territory.  Monday was beautiful for those chasing permit and the bay had plenty of fish scattered throughout the system both north and south.  Calm winds with a little sun brought them out of the woodwork with classic schools of smaller fish in deeper water with bigger fish cruising river systems.  We also saw some decent action around the mouth of the bay closer to the southern cut.  Brian Bennet hopped on Victor's boat to kick off the week and landed his first slam.  Thielicke hooked a couple and committed to a gentlemanly LDR…  Other boats had plenty of shots and guide Jesus coached Dennis into his first grand slam.  Tuesday weather started to turn with permit visibility going to zero by 5:00 PM.  Wednesday was nonexistent and Thursday was zilch for permit despite a couple traces of nervous water Fernando saw with Robert.  Friday things got a little better, Thielicke stuck a nice permit with Pepe back in the rivers.  Not a lot of fish were seen but they made it count.  Jesus and Robert stuck to the southside and worked los pinos, red buoy, and the east side of Tabascanoes.  They saw a lot of fish.  More than 4 hours of consistent singles, doubles moving through with an occasional large school.  Seeing and catching don't always coincide and Robert had shots at permit cautiously committing only to be robbed by bonefish, snappers, jacks, and just about everything else but the darn permit.  Jesus asked me to fish with Robert again the last day and see if they can stick one back on the southside.  The had a repeat, plenty of shots, and highway robbery.  The comforting part I suppose was the nonstop action, a dream for any permit hound.  My only answer to this is call The Fly Shop, book your slot asap, and get some redemption next year, same time, same place.  Bennet grabbed his second permit for the week with a great trip closure enjoyed with guide Victor.
The group of 6 landed 4 permit total which wraps our seasonal totals to 479 landed permit with 242 guests.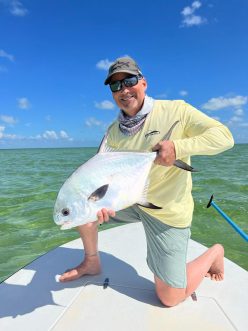 Tarpon fishing wasn't bad and the partial slots in the rivers with some action out of Rio Locos held the most fish.  There are currently a couple tiny creeks that hold smaller tarpon between Ensenada and first river.  Mike Schneider enjoyed a day back in the "sunken boat" channel where he hooked one of his biggest tarpon at ESB.  Sunken boat fishes very well this time of year and it'll be a go to for us for the remainder of the season.  We had decent tidal fluctuation which helped us immensely gain access to a receding waterline that also brought out tarpon along the northern coast outside of the bay.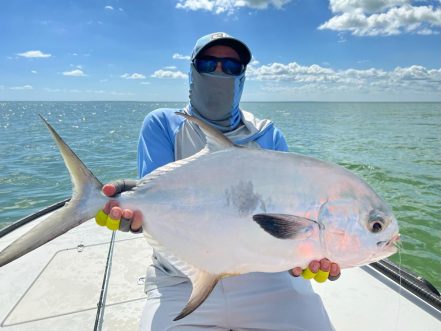 Snook are a little annoying for us right now and we're still not seeing a lights-out snook week here.  Maybe they skipped a year for the annual run?  I've given up on theories and excuses and quite frankly don't understand it.  Past seasons that collectively helped us gather a data base to lean on with fall snook movements has been ripped up and thrown out for the time being.  The few fish we see around Rio locos, 2nd river and occasionally 3rd are difficult and greet us with that familiar tight-lipped annoyance.  Jim Rector and Fernando broke the mold and hit the beach outside of river one and river two.  They had a banner day chasing snook and boated 5 total.  Classic looking water, minimal snags, with a couple big old root balls housing snook is what you find outside those systems.  Jim's little black and purple EP was visual the whole time as it was inhaled with the flared-out gill plates.  I was getting ready to throw in the towel for snook but I guess here we go again…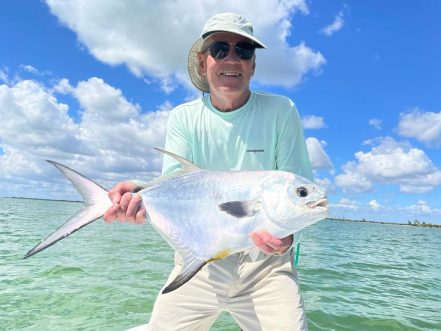 Someone mentioned to me they thought our bonefish were getting a little bigger.  No need to speculate, they are bigger, and more plentiful than ever.  Fall run bonefish mingle with the resident population and create the finest bone fishing one can find in Mexico or Belize.  We had some stretches on days midweek they seemed elusive, but I know it was only temporary and driven by the invasion of fresh water.  Mike and Dennis dedicated each day chasing bones and loved it.  They concluded their fishing week on the inside of river one and had plenty of tailing bones in skinny water with little mangrove shoots that add a little excitement.  When you hook them on that little flat system they just rip to no end and make a 7 weight live up to its name.  River systems on the north side are holding solid numbers and inside flats tucked in the back are holding fewer but significantly larger fish.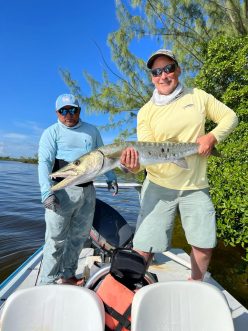 FLIES:
Flexo Crabs, ESB white crabs and white casa Blanca crab tallied our permit for the week.
Tarpon ate a mix of toads and EP baitfish as well as a gurgler.
Snook fly for the week was a black and purple EP baitfish on 2/0 600 hook.
Bonefish munched any well placed shrimp imitation sizes #2 through #8.
WEATHER/TIDES:
We had mostly north winds for the week and Monday, Friday – Saturday enjoyed partial sun with Tuesday – Thursday being cloudy with rain and storms.  We did see the wind slip a little easterly mid-week and tides were generally higher in the am and outgoing early pm
Our grounds and kitchen crew worked hard per usual with great food, and comfortable accommodations.  These guys are closing on a 38 week season and still maintaining with a great attitude and enthusiastic drive to perform flawlessly.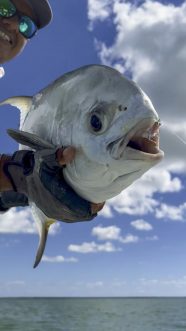 We're settled in for another week with some better weather lined up for our guests.  We have mostly repeat guests joining us again and they've towed some of their friends along for the ride.  I'm sure it'll be another classic ESB week on the books as we towards the middle of November.  If you have moment drop a quick line to our friends over at The Fly Shop to touch base.  They're working hard and standing by to aid, inform, or help you on your next fishing adventure wherever that may be.  I hope everyone is still enjoying some leftover Halloween candy.  Please remember get outside, enjoy the cooler weather, and practice conservation in your neck of the woods.  Stay safe and look for us next week with another ESB report!
Saludos desde el Caribe Mexicano,
Dane & Chiara