Fishing Report
August 14 – 21, 2022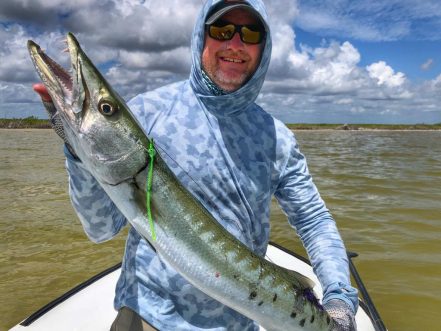 Welcome to the Caribbean!!
We have enjoyed an excellent week, good weather, good fishing and most importantly a group of guests who came with the sole purpose of enjoying their week with us and having fun. Stories, laughter and lots of joy were the best catches of the week.
Although some temporary showers and pesty clouds were also present, little wind and heat were predominant this week.
This week we were visited by Glen Storer, John Albright, Troy Short, Todd Cooper, Clark Wood, and Mike Griffin, who are already old friends of the house, and visit us every year. Mark Mc Donald, and Dan Margolis visited us for the first time. Thank you, fellas.
The fishing objective for the group was focused on all the species available in the bay.  Chasing the elusive and unpredictable permit was not their priority and, in some cases, it occupied less than a quarter of their fishing day.
Glen, for example, lost count of how many dozens of bonefish and tarpon landed during the week, as well as snappers of all kinds, sizes, shapes, and colors.
Mark took advantage of his time with us and left no species to captured, landing bonefish, tarpon, snook, barracudas and the first two Permit of his life under the guidance of Jesus. As is tradition, the tequila shots were the obligatory celebration!
John closed out his week with his first permit as well, under Alex's instruction, and added it to the bonefish, tarpon, and snook he managed to land. Yes, gentlemen, more tequila here too.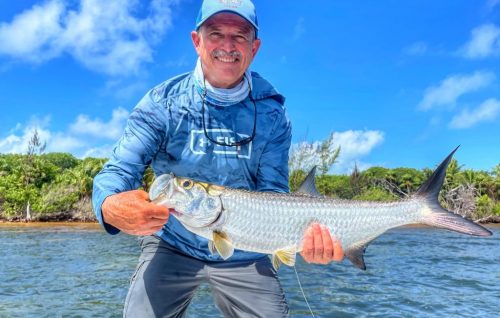 Troy caused concern in the Bonefish community of the bay due to the huge number of them who had to go to the dentist after his accurate and infallible hook set. On the last day of fishing, full of emotion he also joined the permit fishermen's club, landing the first of his life! Luckily, we always have a large supply of tequila, lemon and salt for such cases like
Todd, with his contagious joy and endless repertoire of stories, which I will by no means tell you about here, (what happens at ESB stays at ESL), made the dinners memorable for everyone and closed his week with a list of captured species; bonefish, tarpon, barracudas, snappers, jacks, and perch, among others.
For his part, Dan counted the bonefish landed by tons, along with tarpon and snook that made his first week with us interesting and fun.
Clark, following the group's objective, landed bonefish, tarpon, snook, tripletail, perch, jacks, sea turtles, manatees, dolphins, sharks, starfish, crabs, snails and a pelican…well maybe I'm exaggerating a little, but I assure you that the first six species were landed.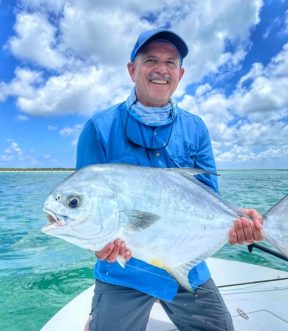 Mike also joined the Permit Anglers Club, with the invaluable help of Fernando, and closed out his week with bonefish, tarpon, and snook.
We closed the week with a total of 5 permit with 8 anglers, which brings our season numbers to 373 permits with 165 guests!
The entire bay was hunting territory this week due to the variety of species that our fishermen were targeting, so defining one or several hot spots is impossible, but it was fully demonstrated that the health of the bay is better than ever!
Flies
The bonefish took everything that was presented to them, shrimp and crabs of all sizes and colors available.
While Permits weren't the main target this week, they did respond to the classics, ESB Yellow Eyes Raghead and Casa Blanca.
Tarpon and snook were on EP's baitfish presentations, especially in black and violet or purple.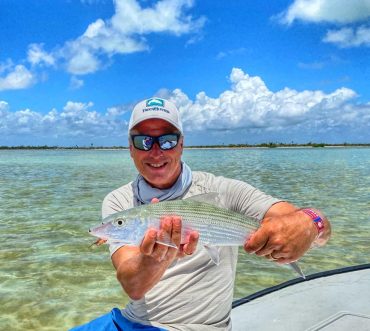 Weather
Although the weather was generally very good throughout the week, for the first few days we had some high clouds and some moderate rain during the day at the lodge and in some sectors of the bay.
The prevailing winds were from the east and did not exceed 10 mph for most of the week, except for one afternoon when it reached 15 mph.
The little action of the wind on the bay helped to make the tidal regime more stable and predictable.
This week our Guides enjoyed a very fun and different week, looking for species that are not normally a priority for our fishermen.
Our entire staff (Freddy, Pancho and Emanuel) was 120% dedicated to making and solving the needs of our guests so that their only concern was to enjoy themselves.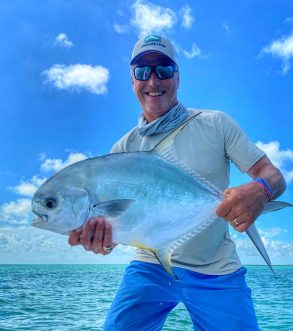 The applause was repeated every night for the delicacies that our chef Luis and sous chef Angel created for them, it really was an excellent week in every way.
The invaluable collaboration of Isabel and Carlo was essential for the rest of the gears that make up this "fun and good experience machine".
See you next week with a new report and do not hesitate to contact our friends at The Fly Shop so they can tell you first-hand what life is like in Espiritu Santo Bay, the Sian Ka'an Biosphere Reserve (which means "where the sky begins", in the Maya language)
Taak ulak k'iin and Ka xi'ik teech utsil!!
(See you later and good luck! in Mayan language)
Martin Ferreyra Gonzalez and the entire ESB Lodge Family.