Fishing Report
March 08 – 15, 2020
We've enjoyed another great week here at ESB Lodge.  We were joined by a fun group that has traveled around the globe and collectively made it happen to fish with us.  Weather was good for much of the week and we were able to land all of our targeted species.  We have seen much of our winter conditions slip away and are now residing in the rhythmic patterns of spring.
FISHING:
Our group of seasoned anglers had a great mind set going into their fishing days for the week.  While some had "bucket list" species on their radar everyone was compliant to listening and taking our guides suggestions throughout the day to optimize certain conditions pertaining to specific fish.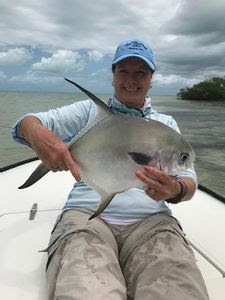 We had good light for more than half the week with moderate winds that created tolerable conditions.  We are continuing to focus primarily on the southwest, western, and northwest corner of the bay.  Here we have a number of permit flats mixed with mangrove lined shorelines and access to our backcountry rivers that hold solid numbers of tarpon, snook, and bonefish.  The tide was high in the morning and coming in much of the day and we started to see a fall midafternoon with only a couple of hours left for the fishing day.  This wasn't ideal for tarpon and snook, who seek safety and protection with flooded mangroves.  We were able to find a handful of tarpon for the week and a couple guests landed smaller resident fish.  Our snook fishing along mangroves was minimal but we saw a few fish outside of our river system number 2.  Guest Rich Cambria was able to land a smaller snook that guia Pepe saw outside of some structure.
Our permit fishing was good for the week and the guides were excited about the numbers of fish seen.  Strong numbers of fish are located outside river systems 4 and 5.  River 3 held impressive numbers in the channel and these permit were smaller and mixed with bonefish and jacks.  We have been able to capitalize on these smaller numbers and these fish are relatively easy to catch if anglers can get their flies past the more opportunistic jacks and small bonefish.  Guia Alex set up guests on multiple days in these channels and anglers were able to rack up some impressive numbers.  Our friends Nikki and Frank Blum enjoyed landing 14 small permit for the week and Nikki was able to land her first permit on the fly.  Marsha and Barry Caranci also with guia Alex worked a couple of river channels and they were able to get Marsha her first permit.  The couple collectively landed 9.  Mary Tealdi had a good week with us and landed a beautiful permit that went 15 lbs.
We had impressive numbers with guests for the week, landing 27 with 8 guests.  This brings our season totals to 80 permit with 42 guests.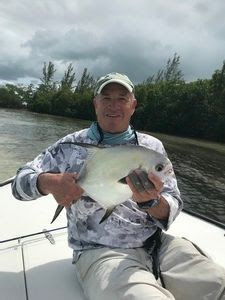 Bonefishing was solid for the week and all of the guests were able to find good numbers of fish throughout our fishery.  We love searching the protected backcountry systems at high tide for these fish.  Some guests were fishing to tailing bonefish that were so shallow half of their bodies were out of the water chasing and uprooting sea lice and small shrimp.  It's fun for guests and truly a highlight of sight fishing skinny water.  Guest Mary Tealdi claimed some bonefish were so shallow shrimp tied with lighter bead chain eyes proved to be too heavy.  Guides ended up cutting off eyes with most flies to present a more delicate and soft offering.  Some barracuda were landed during the week and we unfortunately had some hooked bonefish that fell victim to these apex predators.  Guest Barry Caranci had an unusual event along with guia Victor about halfway up our river channel number 5.  Barry was hooked up with a nice jack and fought the fish for awhile before the group noticed a big bull shark come out of the channel and chase the Jack around.  This can be alarming and it's not very typical for us to see such a large shark in the far corners of the bay.  When things seemed to play in favor of the hooked Jack another 4 bull sharks moved in and we saw mother nature run its course and she favored the sharks.  We have never seen a small school of large bull sharks and guia Victor informed us he thought it was due to the high tides mixed with large schools of baitfish in the bocas of our river systems.
FLIES: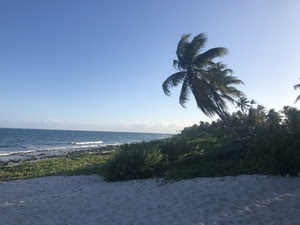 Our permit flies for the week have been a repeat of successful patterns we've used in the past weeks.  I am seeing the white Casa Blanca raghead with yellow eyes start to outproduce the Tan #2 squimps and the spawning shrimp with yellow eyes.  I think we will see this transition to more productivity with shrimp patterns later in the spring when winds die down as we transition to summer.  When conditions calm down larger schools of permit are found in deeper water where success revolves around throwing spawning shrimp.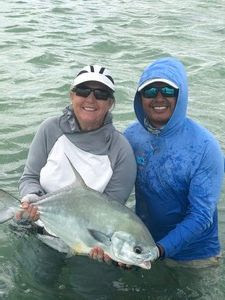 Tarpon and snook landed for the week were on a EP style baitfish and smaller black and purple toads #2/0.
Bonefish readily ate any shrimp pattern that was of the correct weight for the depth being fished.  One of my favorite skinny water flies for bonefish is small mantis shrimp #6 tied with beadchain eyes.
WEATHER/TIDES:
Our weather for the week was mostly pleasant with ample amount of sunshine that seemed to be a daily occurrence every afternoon.  We had moderate to heavy winds that fluctuated between 10-20 MPH.  This is a normal wind speed for our spring fishing conditions.  Wind direction was mostly east with slight changes due south and northeast.
Tide was high and incoming in the morning.  We didn't see a fall until late afternoon and it was slowed down due to the eastern winds.
Our kitchen staff did a fantastic job of providing excellent food throughout the day and deliciously executed dinners.  I was happy to note one guest Rich Cambria state that he has never been to another fly fishing lodge where food was so well prepared and good.  We take a lot of pride given our remote location and I am very proud of the job our new chef and sous chef have done.  The house staff was on point making sure the grounds and accommodations were clean, orderly, and comfortable for guests.
Chiara and I are excited for this upcoming week and are welcoming back a full house of guests that are led by Captain Ben Paschal.  Ben is owner and operator of Laguna Madre Outfitters based out of the southern coast of Texas.  Ben is one of the most sought out redfish guides in Texas and sells out days during his Louisiana early winter.  He truly is a passionate guide and finds himself on the water more than 200 days a year.  The group had a great time last year and we were off to a great start yesterday with some beach fishing for triggers and an unfortunate permit break off just north of our guide quarters.  Weather looks good for the week with stiff winds from the east and I am confident everyone will catch some fish.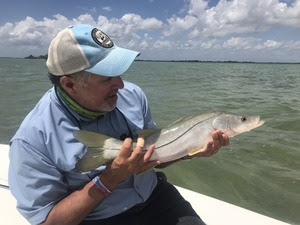 I would like to take a minute and address the global pandemic of COVID –19.  Everyone is struggling with realities of this pandemic.  Many of you reading this newsletter have already seen or experienced various changes from your normal day to day regiment.  Our thoughts and prayers go out to communities around the globe that have been affected by this virus.  I applaud the governed officials and necessarily appointed health officials that are working tirelessly to curb this.  We at ESBL are taking precautions and alongside with our partners at The Fly Shop, are watching this closely.  I am in contact with health officials from Quintana Roo and various tourism boards throughout the Yucatán.  I am very happy to say that we are pleased to see efforts taken in our communities in southern Mexico and there has been a large jump to insure safety and resources to stay ahead of the pandemic.  An obvious asset we at ESBL have is our remote location.  We enjoy one of the most remote fisheries in the Caribbean and our location seems to be a safe haven to worldly turmoil panic.  We are moving along with our sold out 2020 season and have yet see multiple groups cancel.  For those of you making the trip down here please be assured you are far from functions and areas that hold threat.
On that note we conclude our weekly report for the week.  Give our friends at The Fly Shop a call to inquire about this wonderful place.  Please stay safe, do yourself a favor find some local water to wet a line, enjoy your solitude, and of course stay tuned for next week's report!
From your loving friends at ESB Lodge,
Saludos desde el Caribe Mexicana
Dane & Chiara