Fishing Report
May 09 – 16, 2021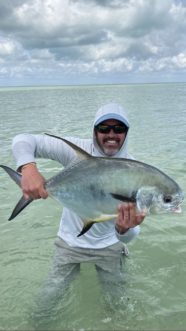 Another exciting week has flown by here at ESB Lodge. We were joined by six guests, all of whom were enjoying a return trip to this exciting location in the southern Yucatan. I take much joy in seeing familiar faces, and it is one of the aspects I enjoy most of being involved with this special operation. We experienced another successful week targeting permit, with solid numbers of solitary singles caught in shallow water or a top of stingrays. We have officially witnessed migratory tarpon in the bay; and managed to land one large fish late in the week.  This is an exciting occurrence this time of year, and offers anglers another species/size class to target during their week-long stay. The wind continued to blow out of the southeast, but this did not stop the group from fishing hard and thoroughly enjoying the week.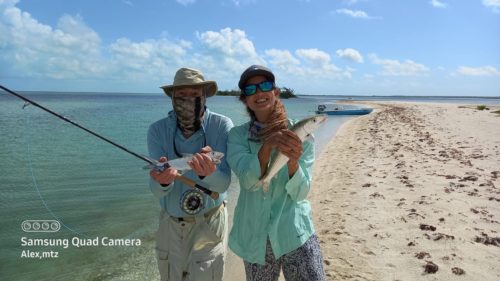 FISHING
Fishing was excellent this week with big permit caught, a few grand slams and some large migratory tarpon starting to show up in the system. James Montesi returned for his second trip to fish the esteemed Esprititu Santo Bay and was determined to finally knock a permit off of his bucket list. Once back at the lodge on Monday, Jamie was concerned this trip was going to be similar to his last; heavy winds, difficult visibility and minimal shots for permit. Monday was a difficult day for the entire crew, but as luck would have it things turned around on Tuesday.  Jamie hit the water with guide Victor and set out for a day targeting one thing, and one thing only. It didn't take long for Jamie to gain entry into the elite permit club, as Victor located a fish in shallow water that was conducive to getting out of the boat to pursue. After a nice placement and a slow retrieve with a white crab pattern, Jamie landed his much anticipated first permit on the fly. He continued to hit the permit fishing arduously, and ended the week with an impressive 5 total fish landed. Four of those fish were singles in skinny water and three of them were caught out of the boat wading, with his largest coming in around the 20 pound mark. Often times the single solitary fish one encounters in the bay are on average much larger than the fish we find in the big schools. These fish are typically finicky and can be very unforgiving, which leads an angler to feel quite accomplished when it all finally comes together. Bob Iversen also returned to ESB Lodge for his second trip to hunt for his first permit on the fly. Bob had some great opportunities for the first half of the week, but was unable to deceive one to successfully eat a fly. He set out with his son, Chris, and guide Alex to the southern shore of the bay on Thursday to make it all come together. Chris got to enjoy watching his father catch his first permit after making a perfect cast to ~15 ound fish tailing on the flats. Congratulations to Bob, and we couldn't be happier he was able to enjoy such a special moment with his son. The excitement wasn't over for the duo, as they made their way into a small tarpon hole close to the boat ramp for a last minute attempt at a grand slam.  Bob placed a cast tight underneath the overhanging mangroves and completed his slam with moments to spare before having to return to the lodge.  Good friend of ESB Mike Scott was a bit further west on the southern shoreline at the time, completing a grand slam of his own. After bringing a nice permit to hand, Mike ventured in to the infamous fifth river in search for tarpon. After successfully landing and jumping a few, it was time to make the long slow exit to the open bay. Mike ties some beautiful flies, and decided to troll one of his big, chartreuse barracuda poppers on the slow putter out.  Both Mike and his guide were surprised when a juvenile tarpon performed an impressive aerial maneuver to absolutely hammer the barracuda popper. It is now more than ever evident Mikes poppers can be used for multiple species, as I caught a beautiful 20 pound snook thinking it was a barracuda on the same pattern during my trip here last February.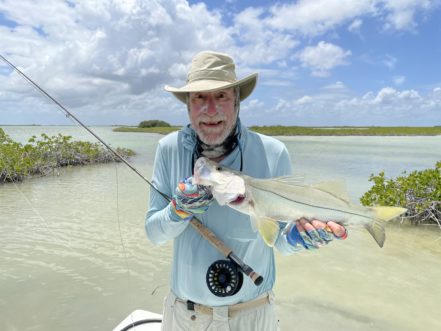 While we didn't see as many large schools of permit this week, the fish that we did target where definitely a jump up in size class. I would say permit fishing overall this week was excellent.
Our group total for the week was 17 permit with 6 guests.  This brings our season total to 310 permit landed with 99 guests. 
Considering most of the focus was on permit for the week, I would say the tarpon fishing was quite productive when the timing and tide was right for it. With heavy winds the last few weeks, we have fished primarily along the southern shore. This provides the most protection and eliminates long rough runs across the bay. With the wind slightly shifting and coming more out of the north, we were able to cross the bay and get back into rivers 1-3. John Bishop and Bob Iversen had a great day catching tarpon mid-week, as they were fortunate to be able to venture deep into the backcountry through rivers one and two. With a low tide, these fish were pushed out of the deep coverage the mangroves provide where they are in turn much more vulnerable to a fly angler. On Saturday, Chris Iversen had already caught a permit and some nice bonefish when they decided to go check out the main entrance to the bay to look for rolling tarpon. A slight shift in the wind direction provided the calm conditions which are necessary to look for these big fish. After dropping the anchor and immediately seeing rolling fish, Chris was connected to an 80 pound tarpon on his 10 weight. John had a spin rod on the boat for the occasional barracuda, and decided he might as well toss it out there as well. During Chris's fight, John hooked into another large fish with the spin rod, and was immediately spooled.  Large, strong fish to say the least! Anglers joining us in the following weeks that are interested in chasing these fish should be prepared with a stiff 11 weight and an intermediate sinking fly line.  This will help to get the fly down, as we are targeting these fish in deeper water.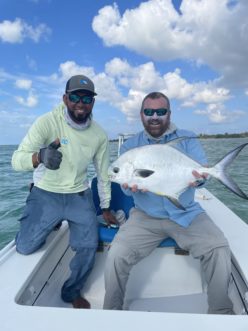 WEATHER/TIDES
Weather was inconsistent most of the week, with a mixture of sun, clouds and wind. Days with overcast and difficult visibility thankfully lead to sunny conditions in the afternoon. We received some relief from the wind midweek, as direction went from southeast to more of a northeast.  This made some different portions of the bay available to fish from previous weeks.
Tides remained consistent through the week; high in the morning and then falling for the remainder of the day. With a high tide first thing in the morning, we spotted good numbers of permit tight against the shoreline in skinny water.
FLIES
Our permit flies that worked well continued the pattern set during the previous weeks. The majority of fish were caught on white crab patterns with yellow eyes. I always enjoy viewing everyone's variations in crab flies they have tied specifically for Espiritu Santo Bay. One factor that seems to remain consistent with these patterns is yellow eyes and simplicity.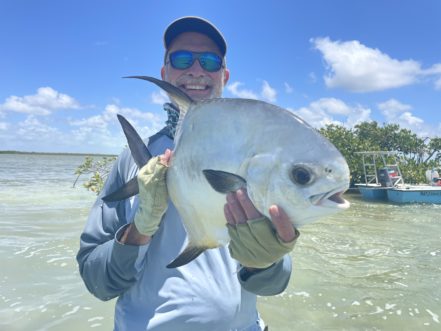 Tarpon were landed on toads and EP style baitfish in color schemes black/red, black/purple and solid black. More natural variations of olive/white also worked well for a few tarpon and snook.  The large migratory fish was caught on a much larger tan, tarpon toad on a 4/0 hook.
Bonefish readily ate any shrimp pattern tied on a size #4 – #8 hook. It seems every week we manage to catch at least one bonefish on a tarpon fly as well.
Chef Carlos once again kept both guests and staff well feed for the duration of the week. I have yet to "get sick" of the delicious Mexican meals he provides for guests daily. Considering the remote location of this operation, our anglers are continually impressed by the quality of the food provided.
The house staff worked as a team ensuring our accommodations were clean and of a superior standard. Emmanuel is an incredible handyman and quickly takes care of any issue we have on the grounds.This lodge wouldn't be complete without these guys working tirelessly when the guests are out enjoying the fishery.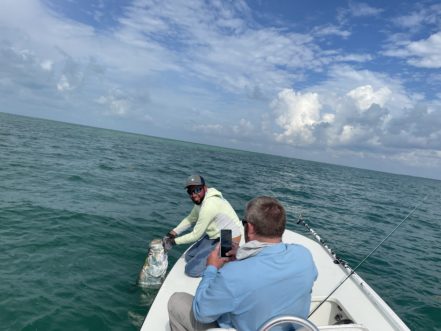 We are looking forward to next week with a mixed group of return guests and ones yet to experience the fishing and atmosphere we provide here at ESB Lodge. It looks like we will once again have a mixed bag of weather conditions, but this is something to be expected when visiting the Yucatan this time of year. We are certainly excited about the prospect of targeting the migratory tarpon if conditions allow.
I hope you all are appreciating the spring weather and taking advantage of the longer days.  Make sure to enjoy some pre-runoff, cool weather trout fishing for me as we enter into the hot days of summer down here. Give The Fly Shop® a ring if you are interested in any of the many fly fishing destinations they offer. They will aid you in your next adventure and keep you up to date on the most recent happening of ESB Lodge.  Stay tuned for next week's fishing report!
From your Yucatan friends,
Saludos desde el Caribe Mexicana
Sam and the entire ESB Lodge crew