Fishing Report
October 06 – 13, 2019
Good morning Esb Lodge Anglers & Fans,
We've enjoyed another week here at ESBL. This last week's group was hosted by Doug McKnight and our friends over at Yellow Dog Fly Fishing Adventures. Doug McKnight is a well-known fly tier and his patterns can be in fly shops around the world. We had fun making new friends, great food, and of course enjoyed a little fishing.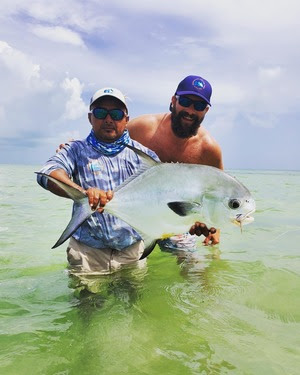 FISHING
The majority of the group focused on chasing permit for their week of fishing. Towards the beginning of the week we did not see large schools and fish were hard to locate. Our weather patterns for this time of year have been inconsistent resulting in fish seeking deeper waters. We had tough light, high winds, and very heavy rains for the first half of the week. In any saltwater fishing destination this makes for very few shots and unsettled fish. This is unusual for us and we are down in numbers for this fall compared to 2017 and 2018. I think once weather evens itself out and we can get a consistent wind direction more fish will show up. October still remains one of my favorite times to visit the bay and chase good numbers of snook and the rest of our targeted flats species.
Towards the end of the week we saw a break in the weather and much better visibility. Fish were located on flats located along the northern shore of the bay. Permit behavior was noted by the guides as being skittish, schooled up, and tough to commit to a fly. These schools had moved back into our bay and along with them were smaller jacks and decent sized bonefish. This other fish are quick to eat a fly and can present difficulties when trying to get a spooked permit to eat. We did see good numbers of fish which we remain optimistic about. Guest Travis Hannon enjoyed his first trip to ESBL and was able to connect on a beautiful fish that went 20 lbs. This a great accomplishment by angler and guide given tough conditions.  World traveler and fishing enthusiast Eric Cvechko joined us for the week and had high hopes of landing his permit on the fly. Eric was able to connect and land a beautiful permit between 10 and 15 lbs. He had a couple others that ate the fly that resulted in break offs from tangled line and permit that spit the fly.  When permit are tentatively chasing flies they will inhale a crab and shrimp and in the time frame of transitioning to a strip set, they will spit the fly. This can be frustrating and makes for difficult hook ups.  Last Saturday the group collectively saw the most permit for the week and there were reported schools moving into our famed "Ensenada" flat. A couple schools warranted multiple shots by anglers, but lesser desired fish mingled with the permit were faster to eat the fly.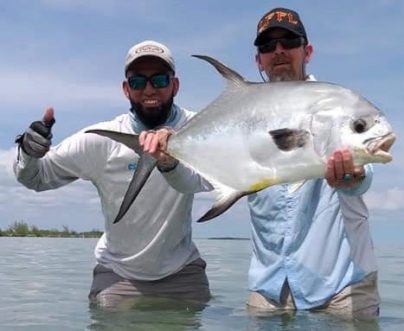 Our total permit landed for the week was three and this brings our season total to 315 with 213 guests.
When tides were lower a few boats opted to chase snook and tarpon.  We found these fish in their usual haunts, tight along mangroves and moving across openings of our river systems along the northern shore. Strong winds didn't allow us to pursue larger tarpon in our northern cut. Bonefish were found when targeted and readily ate any presented fly. We have also noticed big schools of bonefish on a couple flats located closer to our starting point out of Punta Herrero.
Our Tarpon fishing remains strong and I am encouraging guests to spend time each day chasing our resident fish. They are located consistently in our river systems on the north side of the bay as well as on some flats outside the river systems. We are also still finding larger tarpon on calmer days in the entrance of the bay. I am continuing to believe that these larger fish are year-round residents to our reef system and deeper cuts of the bay. We have seen and landed fish over 80 lbs anywhere from March through November when wind conditions are light and schools of sardines are prevalent.  It was fun to watch from the lodge last week a couple boats working the shoreline as conditions were relatively calm.  Tarpon were found rolling as well as large snook. Guest Vinny Foti was able to tie into a big tarpon as well as guest Chris Wiesinger who's first tarpon on the fly went 80 lbs.!
Our snook fishing remains consistent and we have been targeting these fish on a low tide. We were able to land some big fish and guest Carl Sparks was able to enjoy his first snook on the fly.
Bonefish remain strong in numbers and a couple guests enjoyed spending time chasing them in skinny water located in the back bays.
WEATHER/TIDES
Beginning of the week weather was cloudy with heavy rainfall. Wind direction came from the northeast and was 10 – 15 MPH. As the week progressed, we had a change in wind that came from the east and was consistent at 10 – 15 MPH. Cloud cover started to break up and we had partly sunny conditions with mixed rain showers. Tides for the week were higher in the morning and dropping.  Close to midday we saw slack tide and water coming back in around 2:00 PM.
FLIES:
Our flies that worked for permit this week were tied by Doug McKnight. His variation of a Squimp on a #2 hook, as well as white raghead crabs, and a Krimp fly tied on a #2 hook. Tarpon and snook were landed on EP style baitfish as well as Blk/purple toads on a 2/0 hook.
Bonefish were landed on any manner of shrimp patterns sizes #4 – #8.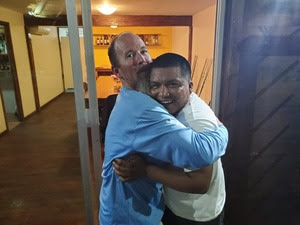 Our kitchen did a fantastic job of providing guests with wonderful Mexican cuisine with a subtle Mayan influence. Lodge staff worked hard to ensure that guests were comfortable and enjoyed a well-maintained operation.
I am excited for this upcoming week and a great group of returning guests. The group hails from Texas and resides in Austin and Houston. We enjoyed hosting them last year and are ecstatic to see them return. Front man Ralph Smith had been fishing this part of the Yucatan longer than he cares to admit and he has put together a fun group of friends who all enjoy traveling and fishing. Our weather looks tough for much of the week and we will be working hard to put our friends on fish. With a great attitude and a smile on your face it's fun to see how everything works in your favor.
We hope you're having a great October so far and I encourage you to please give our friends at The Fly Shop a call to ask about this special place.
Please stay tuned for next week's report!
All our best,
Saludos desde el Caribe Mexicana
Dane & Chiara