Fishing Report
February 21 – 28, 2021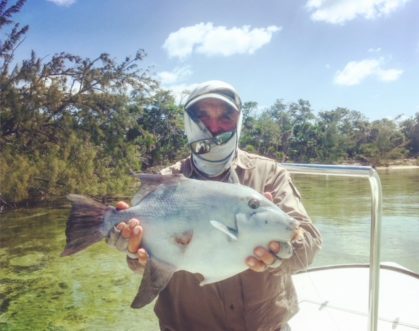 We've wrapped up another great week here at ESB Lodge. We were joined by 6 familiar faces who have frequented our wonderful operation over the years and we're already putting them on the books for 2022 and trying hard to find them any availability to get them additional openings if possible. Our dear friends at The Fly Shop® have been working tirelessly to accommodate guests with constant changes with schedule, travel, and providing everyone with up-to-date info regarding ESB Lodge. I have been very happy with how the season is progressing and we've been enjoying ourselves immensely with everyone making the trip down to fish with us.  THANK YOU!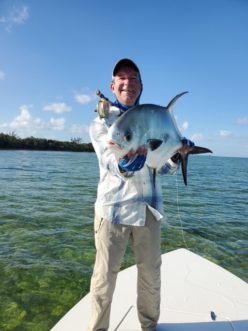 FISHING:
We had some great fishing last week. This was the best permit week yet with numbers of permit caught for the 2021 season thus far. Majority of the fishing part of this report will revolve around permit. Due to a semi low tide that was rapidly coming in for most of the day, we chose to focus on permit and give the tarpon and snook a rest. The wonderful thing about ESB Lodge is diversity. When one targeted species becomes difficult, we optimize conditions for another. The permit arrived in solid numbers last week and everyone caught plenty of fish. I wouldn't say we had unbelievable numbers of fish seen on the flats, but it was consistent enough for everyone.  Our famed permit flat on the north side called Ensenada finally saw nice pushes of fish. All along the northern coast of Ensenada down to first river was a go throughout the week. We started seeing some fish inside the third river and deep in the southwest corner of the bay.  Afternoons gave way to hitting some "home" flats along the southeast portion of the bay where we had decent protection from a southeast wind. The first two days of the week were minimal with numbers of fish and by Tuesday we started seeing more fish. Permit create a roller coaster of emotions with guests and it becomes a mental test that seems throw the most humble of anglers into realm of depression and personal despair. Our friend Jon Wheat (sorry Jon, I know you're reading this) was pretty upset with himself after we picked up guests Monday. He had plenty of shots, worked himself sideways, and was just disgusted with himself with his performance with so many shots presented to him. He was very quiet at happy hour, sat out his daily cigar routine, and retired to bed early after dinner. To Jon's defense it was windy the first day and he was using an 8 weight which did not help at all. Jon took it personally, and I told him if it helped it could have also been blamed on equipment… This is a guest who hooked and landed a 20 lb. permit BLIND casting in a river system last year. Jon went out the next day and landed 5 permit with guide Alex. It was comical after the day finished and he seemed to shed 20 years of age. The daily happy hour cigar was lit to say the least. Jon picked up another nice permit with Fernando and the last day rallied to catch 5 more permit with a total of 11 for the week. Majority of these fish were solid size and not schooled up smaller fish the size of small plate. Jon mentioned to me he'd like to catch a triggerfish, he's never caught one, and was more ecstatic about sharing the pic with his trigger than permit. To each is their own Jon, and well done!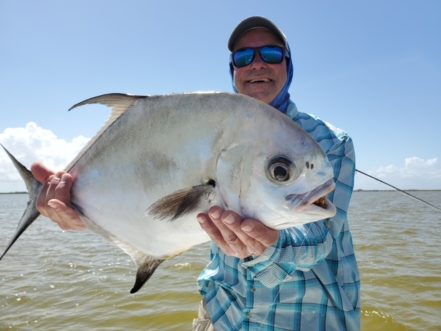 Rich Kracum joined us for his annual trip to ESB Lodge and I really appreciate Rich's dedication and enthusiasm for fishing with us. Rich has fished with us since the start in 2017.  He's a very accomplished angler and a slightly obsessive permit hound. He brings 2 rods every trip, one for permit and the other for permit and chases them non-stop no matter the conditions. He joined the group midday Tuesday, was set up with Pepe for the afternoon, saw one permit and caught it. I believe this is one of his best weeks at ESB Lodge with quality of permit landed, 3 of his 5 landed fish for the week were north of 16 pounds.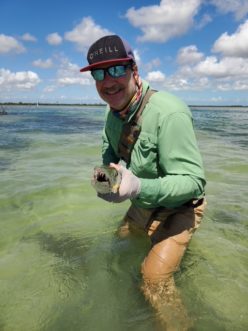 Mike Matus, another returning guest also had his personal best week permit fishing landing 5 total with a large fish around 18 pounds on Pepe's boat. Mike brought an alarming detail to my attention at the end of the week regarding his fishing experience at ESB Lodge. We pride ourselves in diversity and Mike ironically has landed more permit here than tarpon and snook.  We're looking forward to seeing Mike again this upcoming May and we will not allow him to fish for anything but tarpon and snook! A healthy balance is the key to everything! I write about another guest that has returned for what I believe was his 9th week with us? Don Morris is a dear friend, dedicated outdoorsman, and is fully ingrained in our fishing culture and lodge life.  It's always wonderful to have him again, and again, and again. He landed 5 total for the week and was able to get 3 very solid fish with guides Alex and Fernando. He shared the boat with returning guest Charlie O'Neill who had a wonderful day on the boat with Fernando, landed a couple permit and was able to get 3 for the week. Charlie's wife also enjoys fishing and has gotten into tying. She sent some flies along with Charlie and he proceeded to catch countless bonefish on a classic woolly bugger. Perhaps we will add this to our bonefish arsenal of fly suggestions. He also had a smaller permit chase the Bugger. Our goal is to catch a permit on a woolly bugger and this will indeed throw a wrench in the works with anglers constantly tying the latest and greatest permit fly found on the globe.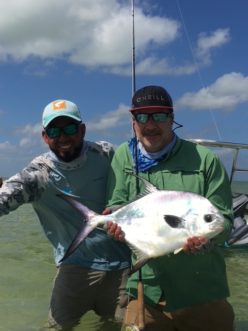 Our group totaled 29 permit for the week which brings our 2021 season total to 54 permit with 25 guests.
I would like to take a moment clarify some rod choices that we suggest for throwing for permit.  Springtime is historically our windiest season which translates to difficult casting to an already difficult fish. I see many anglers use 8 weights for permit, for a more "sporting approach" and also lends itself to a "better" fight. This seems to have similar traits to an upland bird hunter that chooses a 28 gauge versus a 20 gauge. In terms of fishing, use the tool that gets the job done better and more efficiently. To each is their own and if you enjoy using 8 weights then so be it and disregard the suggestion. Almost ALL of our guests are not interested in how the permit fight. After a hook up it's incredibly long runs that are not very animated with a guest on the verge of a mental breakdown who wants nothing more than to finally hold that fish. Throwing 9 weights will cover most conditions and when it becomes windy, we highly suggest using a 10 weight to punch the wind to accomplish an extra few feet that historically anglers fall short of.  Most guests will bring a 9 weight for permit and a 10 for our resident tarpon and snook. With windy conditions I ask guests to use the 10 for permit and the 9 for tarpon and snook. 90% of the time a 9 weight is more than enough casting into mangroves, and you will generally find yourself more accurate as well. Rods and lines these days are all about being heavy/fast to deliver a cast to the moon. I personally find myself struggling with some of the newer 10 weights out there in tight mangrove quarter and it feels like using a rocket launcher that's harder to control a fly amongst the foliage.
WEATHER:
Weather for the week was mixed clouds and sun from the southeast and changing almost straight east by Friday.  We had lower tide in the morning but rising rapidly throughout the day.
FLIES:
Our ESB spawning shrimp tied with white color phase started coming into play as well as smaller EP Spawning shrimp on a #4 hook. Squimps were responsible for a few fish as well as were white raghead crabs tied with yellow eyes. Bonefish were landed on all manner of small shrimp and a #8 brown woolly bugger…
Chef Carlos and the cocina delivered wonderful dishes and we enjoyed another wonderful week of great food. Freddy and Francisco with our house staff made sure the lodge was clean, orderly, and operational for our guest's comfort.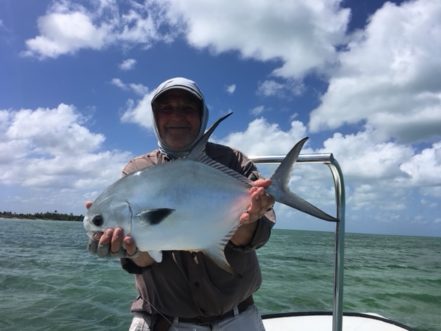 We've got a fun week ahead of us. We're joined by some returning guests that are usually hosted by our friend Justin Miller who couldn't make this trip. We love this crew, both Chiara and I enjoy them immensely and this will be the 5 trip down for everyone. We have a couple new guys that took Miller's spot temporarily and I am happy to meet them and hope they enjoy the week. We have some strong winds our first couple days and then it looks like the wind will lay down by Wednesday and start to edge from the north. I hope everyone is enjoying their March thus far as we slip away from the grips of winter. Make sure you check in with our friends at The Fly Shop® to inquire about this special place or are interested in joining us sometime in the future.
Please stay safe and stay tuned for the next report.
Saludos desde el Caribe Mexicana
Dane & Chiara and the entire ESB Lodge Team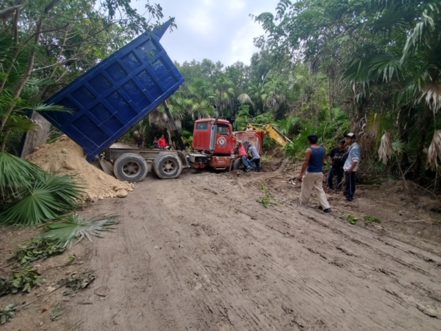 They are working on our road!  Yeah!