Fishing Report
March 01 – 08, 2020
We've enjoyed another week here at ESBL. Last week concluded our 5th week of the season so far and we were joined by Justin Miller and his group of angling friends. Justin is a travel specialist with The Fly Shop® and has enjoyed hosting a group to ESB since we opened our doors in 2017. Everyone had a great time despite some unfavorable fishing conditions. I was also able to celebrate my 32nd birthday amongst great friends and a beautiful place. We absolutely love this group of friends and very much look forward to seeing the gang every year.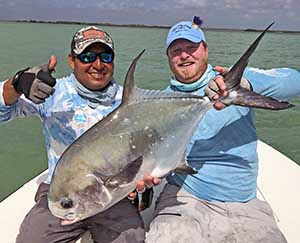 FISHING:
We had tough fishing last week and it was the groups most difficult conditions they have experienced yet at ESB. As the fishery is progressing into its phase of spring, weather patterns seem to be showing signs of winter conditions coupled with transitional winds we associate with spring and summer. We had heavy cloud cover for much of the week and winds started the week coming from the southeast. As the week wore on wind direction worked its way due east and concluded the last two days straight from the north. End of February, March and beginning of April usually finds strong winds that hail from the southeast. We don't particularly mind strong winds as long as we can have a level of consistency which in turn helps fish settle into staging, movement, and feeding on the flats. I have seen this pattern the last couple weeks where southeast winds will blow hard, resulting in dirty water along the northern shoreline which also affects the backcountry rivers as well. We will work flats along the southern shore and follow this west towards the end of the bay. Mid-week with an abrupt wind change from the north will result in us finding the south, southwest shoreline dirty with unfishable water. These flats need a day or two to clean themselves and favorable tides that help send out dirty water and become the gin clear flats we love so much. We will have mixed results as we change shorelines day to day.
Our guides worked hard poling guests along the southwest shoreline and across to the northwest side that is the entrance of our river systems 4 and 5. We have had our strongest fishing days since our opener in February in this part of the bay. The group's focus was open to other species but the targeted quarry for most guests revolved around chasing permit. We had less than ideal conditions and I respect our guests for the enthusiasm and their guide's perseverance to make it happen. Even with minimal opportunities there were still shots to be had and permit were spotted with some hooked and landed. We also had a couple heartbreaks with bent hooks, a missed hook set, other species attacking the fly, and of course the classic, an outright refusal. Justin Miller landed a beautiful fish for the week, one of his largest fish at around 17 lbs. alongside guia Tony. Longtime friend Bill Shaughnessy was able to connect with guia Victor and land a smaller fish. We had a couple other days where boats had 5 -10 shots with refusals. I do not relate those refusals much to fly choice and more so unstable conditions that bring unsteady fish.
It was also a lot of fun having a new guest join the group and try his hand at chasing permit for the first time. Karl Brauntley worked hard, had some good chances, and has tallied numerous episodes as to why permit are some of the most difficult, rewarding, and sought out gamefish on a fly. I am not sure whether to be congratulatory or sympathetic and it seems through personal experience the only cure for this insatiable desire is to land a permit…. and then another one…
Last Friday I celebrated my 32nd birthday and was generously relieved of my duties working around the lodge and went walking the beach north of the lodge to enjoy some personal fishing. With a sold out 37 week season these opportunities don't present themselves on a regular basis and I try hard to capitalize on these moments. Justin graciously gave me some new raghead crabs we've been perfecting to try out. I was able to find a decent size school in clear water and land a smaller permit. As a permit enthusiast, catching one on your birthday while fishing solo is the ultimate. Collectively the group landed two fish for the week with my added bonus, which brings our totals to 53 landed permit and 34 guests.
Anglers also took opportunities to chase tarpon and snook. Good friend Bryan Wise was able to lock up a beautiful snook and also saw some much larger fish. Our tarpon fishing was minimal and a couple guests jumped a few fish. Bonefish continue to be readily available and found in good numbers in smaller protected flats. I highly encourage our guests to dedicate a couple hours out of their week of fishing to chase these tailing aggressive fish. We have very forgiving bonefish that will eat most flies presented properly – they are an incredibly healthy population.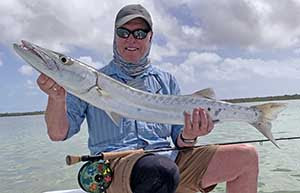 This last group also enjoyed chasing barracuda and a few nice fish were landed. This is such an underestimated fish that I have seen turn into a highlight for most guests when they are able to connect with a 10+ lb model.
WEATHER/TIDES
Our weather for the week was mostly cloudy, strong winds mainly northeast, east, and southeast at 15-30 MPH. Tides were going out in the morning but dropping gradually to strong winds pushing against the outgoing tides.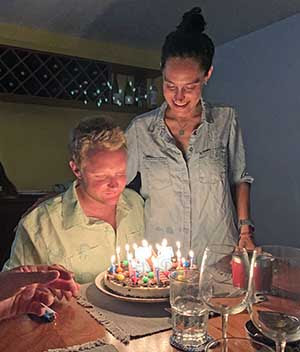 FLIES:
Our permit for the week were landed on tan spawning shrimp and our new #2 Pato's crab tied with yellow eyes. If you are planning on chasing permit for your upcoming trip to our neck of the woods or any other location in Mexico, you must pick up at least 6 of this proven pattern. We are seeing a slight transition to our guide favorite , #2 Tan squimp. My personal list of permit flies recommended for here are as follows: Qty 6 Tan #2 Squimp, Qty 6 #2 Patos (white raghead with yellow eyes) Qty 3 #2 tan spawning shrimp w/yellow eyes, Qty 3 #2 white spawning shrimp w/yellow eyes, Qty 3 #4 spawning shrimp (EP Style) tan, and Qty 3 #4 spawning shrimp (EP style) white. Tarpon and snook were jumped and landed on toads chartreuse/white, and EP-style baitfish blk/purple. Bonefish were landed on any manner of shrimp imitation sizes #2-#8.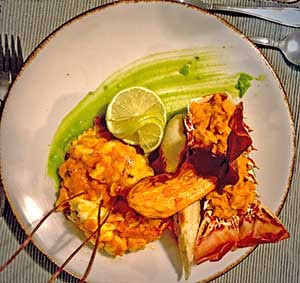 Our kitchen run by Chef Emmanuel delivered tasty cuisine for our guests. I have been excited about our changes in the kitchen and we have been informed by most guests our dishes have managed to top our last couple years. House staff worked hard to provide a clean and comfortable environment for guests.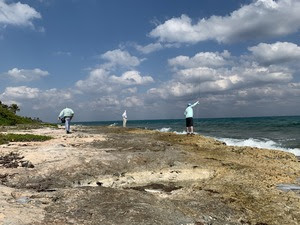 We're excited for this upcoming week of guests. They all have been friends and have traveled the globe as a group chasing different species on a fly. Our weather is looking a little better judging by the forecast and I hope to see some consistency with wind direction. For upcoming guests or if you're curious about our wonderful operation, don't hesitate to call the gang at The Fly Shop for any questions or concerns. They will provide you accurate updates, equipment recommendations, and thoughtful insight from years of personal experience. Please have a safe week and of course stay tuned for next week's report!
From your loving friends at ESB Lodge,
Saludos desde el Caribe Mexicana
Dane & Chiara