Fishing Report
February 12 – 19, 2023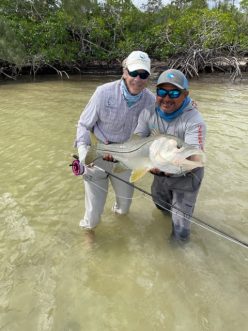 We've breezed by another week here on the Riviera.  It still feels like I just got here which happened 6 weeks ago when Chiara and I first arrived in Mexico.  I call this time frame still our "opener" which weans itself as a benchmark full blown season in another week or so for me personally.  We're cranking along per usual; guides have acclimated and are conditioned on the bow touting and poling guests around.  The kitchens are ripping through dishes and we're currently adding to our culinary repertoire more variety in the baking departments, alas my dreams of seasonally slimming down in weight have gone by the wayside.  Emmanuel and I were on our roof of the staff/managers quarters last week and have begun outlining repair and reinforcement that will take place next July.  Weeks start running together, changing of the seasons fly by, and I see the regular ESB faces but the years have melted together and it mentally has blurred into one big force.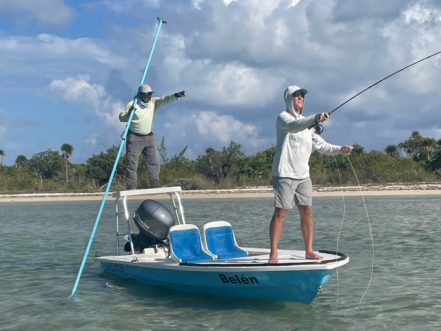 ESB hosted a full house last week, 8 guests total and we per usual had repeat regulars along with some newcomers who were dragged down to check out this amazing place.  Close friend Bill Stroh was back and brought Rob Thompson back for his second trip.  These two guys were original ESB groupies that date back to the spring of 2017 and were our second group ever to chance the budding operation.  It was fun to reminisce about the other property we housed guests in at the time.  Jokingly Rob mentioned I seemed a little less stressed than I was in 2017.  That's an understatement to say the least and difficulties are a daily norm here, but I no longer feel that I'm permanently wading upstream neck level.  Harry Herdman joined us again and it's wonderful to have him and his traveling – fishing-cronies come and check out the ESB digs for the first time.  I very much enjoyed the group, well spoken, and kind.  A fun evening banter around the dining table every night translated to way to much fun for everyone.  The attitude was perfect, acceptance, and an openness to enjoy another a wild place with friends seemingly was the motto for the week.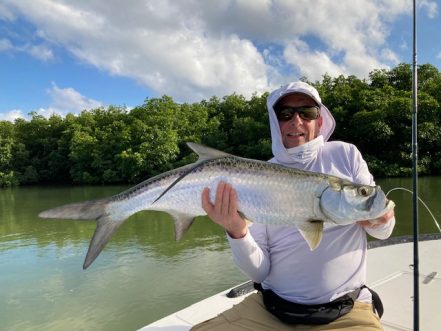 FISHING:
Fishing is fishing as they say and we had the good, the bad, and the ugly for our week.  I am probably painting more negativity than reality, but it gives you an important insight and the ways of our current fishery.  Quite frankly it blew like hell here (wind).  This has been a strange February to say the least with days of consistent wind at 25+ MPH churning up the bay.  I associate March with wind but not even close to the strength we've seen the past three weeks.  Local fisherman have been grumbling about the conditions in Punta Herrero and it's making their closing weeks of the lobster harvest difficult to say the least.  Trends lend themselves to first day of the week with decent conditions, blown out middle of the week, and lighter but not entirely favorable conditions the last couple days.  Ironically Sunday's have been beautiful which in hindsight is ok for our planes to land at the jungle airstrip.  It gets the juices of anticipation flowing and takes group moral to a high level.  I sincerely hope this windy trend dies down but peeking at the forecast we have the same weather menu next week.  Something else that baffled me was how low water levels are.  With strong winds we see high tides and weak falls with wind forcing water to stack.  Fernando and I were chatting about how low the rivers systems are on the north side.  This thankfully can help access to tarpon and snook but seems to be pushing bonefish around and it's sending permit into even deeper water.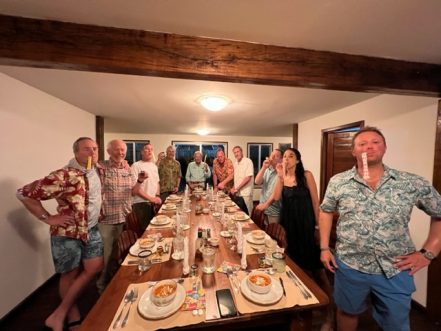 Permit fishing is tough to say the least and I pushed guides to put this on the backburner with so much other things to chase here.  That's the shining star of ESB.  When one particular species goes wayside, we have others to hit and all four species seem to take turns with availability.  Currently a day of permit when conditions are such will result in a mentally tough day on the bow with only a shot or two.  If this doesn't deter you than have at it.  As a permit hound myself I would sacrifice a few hours to fight the odds.  It only takes one cast, one fish to make it right?  Tarpon and Snook are in full swing right now and I am encouraging guests to take advantage of low tides to hit these fish that are patrolling the edge of mangroves.  Rivers 1-4 hold plenty of fish, sunken boat, laguna Roja, and a couple small feeder creeks on the southside are also holding tarpon.  Harry Herman concluded his week beautifully with Fernando.  One more cast was requested and that translated to the last tarpon landed for the week.  Chris Michel enjoyed a new experience with Tarpon and Snook and quickly learned why these are such sought-after fish in addition to everything else we have going here.  Bill Stroh, a very accomplished angler who has probably more worldwide traveling experience with a fly rod in his hands was able to land a personal best snook.  He and Pepe landed a whopper of a snook that easily hit the 20 pound mark.  This is an incredible fish for a great friend and awesome angler.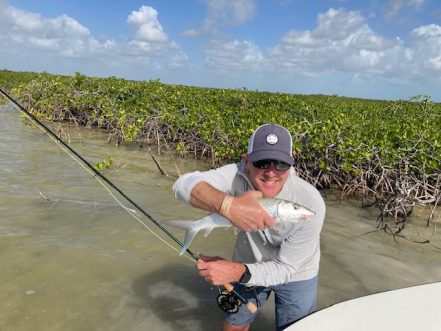 Bonefish are in full swing, eager and ready to eat almost any fly thrown their way.  Vast backcountry flats along the northside, river mouth pile-ups and Rio Locos are holding grounds for a chance to catch as many of these fish as an angler could possibly want.
WEATHER/TIDES:
Weather for the week was hard winds that started northeast and midweek moved to more easterly.  We capped at 30 MPH winds with maybe even stronger gusts oceanside.  Friday and Sunday were nicer albeit calmer and readjusting to NE.  Saturday night I felt like we had our first mosquito for the week with the wind finally laying down.  A couple small showers passed overhead but I'd say 65% cloud cover is an appropriate guess.  Tides were low in the morning but incoming and a fall towards the boca happened around 1 PM
FLIES:
Tarpon and Snook were landed on the usual smatter of EP's, Toads, and flashy sardine patterns.
Bonefish rewarded anyone that placed a #2 – #8 shrimp pattern in the right spot
Permit were lightly coaxed on Casa Blanca Raghead #2 white
Chef Luis and the kitchen crew performed well and did a bang-up job serving us all wonderfully fresh cuisine.  It's no joke the quality of the grub we're putting out here and well-planned consistent meals are served throughout the day starting with breakfast to lunch carrying through dinner.  Emmanuel and Fredy kept the lodge orderly and running in a fashion that kept us comfortable and well taken care of.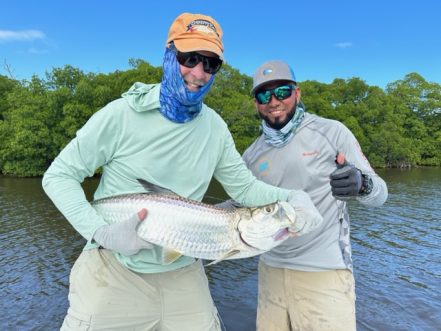 We've got a nice week lined up ahead of us and we're welcoming back longtime friends Wheat, Matus, and Kracum.  Despite a breezy forecast these guys will find fish and will have a productive week.  I look forward to catching up with old friends and meeting a couple newcomers in the next 6 days.  Billy Trimble is in town concluding a month long trip to Mahahual and for the first time ever he and I will join forces and fish together a day before he returns stateside.
I hope February has been treating you well and you've been able to take full advantage of the outdoors wherever you may be.  Drop a quick line to say to our friends over at The Fly Shop and stay tuned for our next report.
Saludos desde el Caribe Mexicano,
Dane & Chiara, Lucia, Negri, Canela
And the entire ESB crew!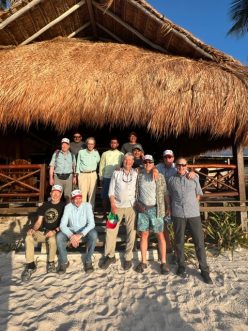 CHECK IT OUT!