Fishing Report
October 27 – November 03, 2019
Greetings Esb Lodge Anglers & Fans,
We've enjoyed another fantastic week here at Esb Lodge. This last week was fun having a returning group of anglers from past seasons. K.C. Walsh, David Florsheim, and Blair Erb enjoyed their week with a new friend in tow, Jon Thacher. Long fishing days, great food, cigars and cocktails made up much of the group's itinerary for the week.  We're enjoying our late fall fishery in the last couple weeks of the 2019 season, and this special place didn't disappoint our guests.
FISHING
Our fishing last week had greatly improved and weather was better than the last four weeks combined. It seems like the Yucatán is reluctant to give up it's east winds and settle into our normal fall season wind direction, north. We did have some drastic wind change with an incoming tide for much of the day. This is not ideal but with lighter winds and plenty of sunshine we were able to capitalize on quality sight fishing for much of the week.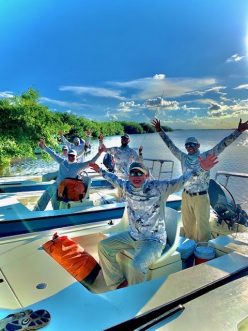 Our permit numbers still seem sporadic with the ever-changing conditions, but guests were able to experience moments of great fishing and plenty of fish found. We did have slow moments where certain flats were full of fish and we would return to find them void of life the following day. Most permit were located around our river 4 system, a large northern flat called Ensenada, and deep in the southeast part of the bay. Most of these areas offered good protection and we saw mixes of schools and single fish.  Guest John Thacher had a memorable week with us and enjoyed his first week of dedicated flats fishing.  John being relatively new to the game was open to anything and was able to land his first two permit, one tarpon, and one bonefish last Tuesday with guia Fernando. An incredible accomplishment John and well done! Saltwater guru Blair Erb was on guia Alex's boat on Tuesday and succeeded in landing a nice permit and rounding out the rest of our targeted species to land his first super slam! Both boats had found large schools of permit in Ensenada. This is an awesome achievement by guide and guest combined and we at Esb Lodge were happy to facilitate these memories. There was a mandatory celebration that involved tequila shots, limes, and salt leading up to dinner. Saludos gentlemen!  K.C. Walsh was able to land two permit for the week, both with guia Alex. There's something to say for those that will that dedicate solo trips to chasing permit for much of the week. This is daunting, maniac, and perhaps a little unhealthy both mentally and physically. I congratulate those that choose this path for their week of fishing with us.
Our total permit landed for the week was 5 which brings our season totals to 330 permit and 233 guests.
Due to the high tides, our tarpon fishing was minimal and we were able to find some fish outside the mangrove lined banks in our backcountry systems. Snook fishing was slower although a couple boats came across some fish. We expect strong numbers of snook begin to show up as northern winds start to dominate our fall fishery.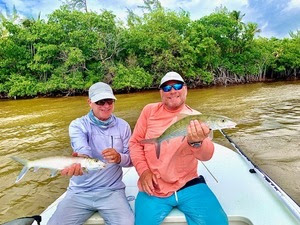 I was able to get out on the boat with close friend David Florsheim for a couple days. We spent a few hours chasing permit and opted for chasing bonefish in our back-country rivers. With a tide that was very high these fish were buried deep in young mangrove shoots and could be seen tailing in only inches of water. This is classic sight fishing at its best and using smaller/lighter rods helps capitalize on a great experience. These fish were demanding, calling for delicate presentations, longer casts, and using lighter shrimp patterns. I saw some large bonefish were easily in the 7-pound mark and I was succeeded in landing one close to this mark.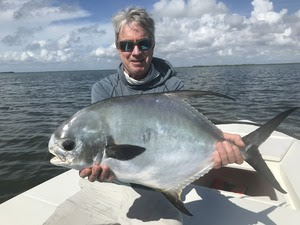 I stress this option to guests as an alternative from chasing our other species. I mentioned this in previous reports and will continue to do so about chasing these awesome fish. The Yucatan carries a bad reputation of having only small bonefish and we see a much different picture. I hope our fishery will continue to flourish under careful management and these fish will continue to thrive and grow big.
WEATHER/TIDES
Our weather for the weeks was mostly sunny, intermittent with cloud cover, and temps in the low to mid-eighties. The tide was lower in the morning and coming in for much of the day. Wind direction varied from south, southeast in the beginning of the week and finished with winds coming from the northeast.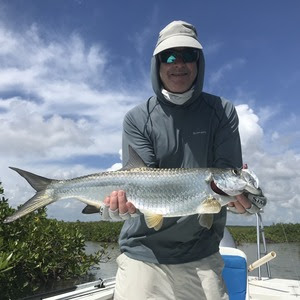 FLIES:
White Casa Blanca crabs #2, Tan Squimp #2, and white spawning shrimp contributed to permit landed for the week.
An array of tarpon toads and EP baitfish worked for the few fish we landed. Color schemes used were black/purple, red/black, and chartreuse and white.
Bonefish were landed on smaller gotchas, mantis shrimp, and lighter weighted puffs. Fly sizes were #8 – #6.
Our house staff did a wonderful job providing guests with delicious cuisine and contributed to keeping our grounds and lodge in working order.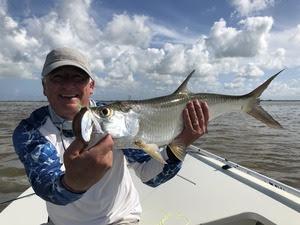 We've got a fun week ahead of us with some returning guests that have also brought along their friends to experience this wonderful fishery. The weather looks good for much of the week and it seems that we will have winds mostly from the north which should help increase our bay's productivity. We hope everyone is enjoying their fall thus far and please don't forget to call our friends at The Fly Shop to get up to date information or scheduling availability with Esb Lodge.  Please be safe and stay tuned for our report next week.
All our best,
Saludos desde el Caribe Mexicana
Dane & Chiara