Fishing Report
May 12 – 19, 2019
Hello Esb Lodge Anglers & Fans,
We've enjoyed another full week of good fishing, new faces and amazing food here at Esb Lodge.  A few of the guests had fished the bay in previous years, while others were brand new to the waters we are fortunate enough to call home.  The weather finally gave us a bit of a break, with much lighter winds experienced mid-week.  This was a nice change from the rough conditions we have been fishing recently. Large schools of permit were spotted, in addition to multiple singles and doubles in shallow water.  The kitchen and house staff has continued to work very hard, providing incredible meals and comfortable accommodations.
FISHING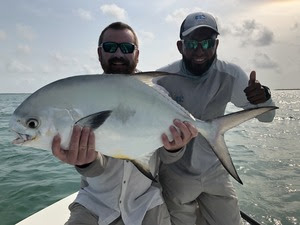 We had great weather mid-week, and other days with less than optimal conditions however fish were still seen, located and caught.  The guides were very pleased to see multiple large schools of permit throughout the week.  Three days in a row the same large school close to the boat launch was located in the afternoon, with somewhere around 100 permit in it!  After a grueling day of canceled flights and shuttles rides, guest Bob Rohde was able to land a nice permit on Monday.  He was very pleased with the additional shots at permit he had during the rest of the day.  Guest Chris Iversen came to the lodge with an arsenal of his own tied flies with the intention to land his first permit.  After countless encounters with both large schools and singles/doubles in shallow water, Chris was able to make it happen and land his first permit on the fly.  Chris proceeded to land his second permit that same day with guide Alejandro.  After catching one small permit blind casting into some deeper holes, John Bishop pulled a nice 15 pounder out of a large school.  More permit were located in the bay this week than we have seen in quite a while.  All of the guests for the week had multiple shots at active fish.  Rick Shively and Mark Mueller also landed a permit during the week.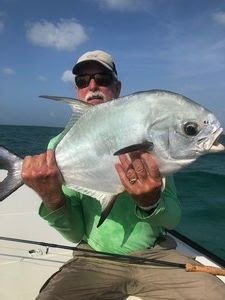 The group collectively landed 7 permit for the week, which brings our season total to 154 with 110 guests.
Tarpon and snook fishing continued to be difficult this week.  With the consistent southeast winds we have experienced, there is still a lot of water getting pushed into the bay.  This allows the juvenile tarpon and snook to reside deep in the mangroves, out of our reach.  A large school of tarpon was located on the first day, but again they were hard to get the fly to with how deep in the mangroves they have moved.  A couple of schools of tarpon were seen in a large cut located on the Northern entrance of the bay.  If we see slicked out conditions we will focus on large migratory tarpon in this area that are staged up feeding on schools of baitfish.  We cannot always count on targeting these fish, but anglers starting at this time through September need to have the necessary tackle and equipment.  Adding an extra intermediate sink tip to your 10 or 11 weight is suggested to target migratory tarpon in deeper water.  The 11 weight can always double as a barracuda stick if the conditions aren't conducive to chasing tarpon.  Even with the higher water level, there is always a chance of a single large tarpon or snook being seen while it is moving to a different area when fishing in the backcountry of our river systems ad lagoons.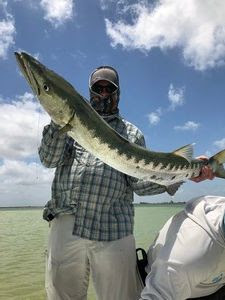 Large bonefish feeding along the mangrove edges can also be located while searching for tarpon and snook.  It is never a bad idea to have both the snook/tarpon rod and the bonefish rod out and ready in these situations.  We have been coming across bonefish large enough to be mistaken for a smaller tarpon or snook while searching the backcountry waters Espiritu Santo Bay has to offer.  Randy Iversen had his barracuda rod readily available while looking for bonefish, and was able to switch rigs and make a cast to a very large barracuda. The fish inhaled the fly instantly and the battle was on as it leaped out of the water multiple times.
WEATHER/TIDES
We had a variety of weather conditions for the week, starting and ending with heavy winds out of the southeast.  Calm and sunny conditions were welcomed by all midway through the week.  We had a tide in the morning that dropped until about 1:00 pm, and began to return around 2:00 pm.  Our tide seems to trickle out of the bay with easterly winds keeping water stacked.  Incoming tides have been rising rapidly with the help of the wind to push water back into the bay.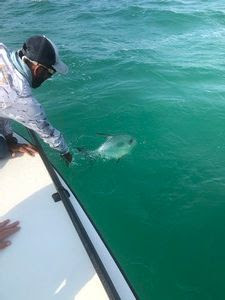 FLIES:
A variety of patterns were thrown this week for permit, with the most productive being the #2 Tan Squimp.  Other spawning shrimp variations were used to catch permit as well.  Bonefish were eager to hit most shrimp patterns in size #4 – #8.
Chef Felipe continued to lead the kitchen staff in delivering our guests wonderful cuisine.  We hear many compliments on the flavor combinations he incorporates and the arrangements he presents his food in.  Emmanuel and the house staff were always available to meet any requests made by guests to make their stay more enjoyable.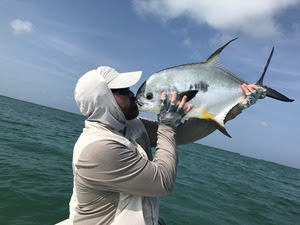 We are excited for this upcoming week with a couple of familiar faces showing up at the lodge.  Adam Melanson and Ben Rudmik are two permit hungry Canadians that came to the lodge for the first time last year.  They couldn't stay away and brought two other friends this year to join them.  Rip Woodin is also a repeat guest from last year.  The rest of the group is new to fishing the waters of Espiritu Santo Bay.  We are excited to share with them this incredible operation and work class fishery.  Southeast winds will continue for the week, but hopefully we will see a break from them Wednesday through Friday.
Have a great week and make sure to check in with The Fly Shop® to inquire about spending a week with us enjoying cold margaritas, awesome food and great fishing.
Always feel free to reach out to The Fly Shop to get the new updates for ESB regrading fly lists, itinerary changes, and things to expect heading this way.  I hope everyone has an enjoyable week and please stay tuned for our weekly reports.
From a special corner of the Yucatan,
Saludos desde el Caribe Mexicana
Sam, Mia and Faustino