Fishing Report
April 25 – May 02, 2021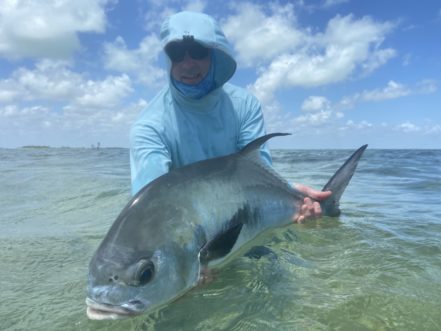 Another great week has wrapped up for our guests and all of our staff here at ESB Lodge.  We were joined with seven anglers that were fortunate enough to snag a spot and enjoy their first trip to this region of the southern Yucatan. We love seeing familiar faces every week, and truly enjoy the company of guests that return year after year. This being said, it is also enjoyable to be able to show an entire new crew what we have to offer at this remote saltwater destination.  As it turns out, a few of the faces in the group were not entirely brand new. As the crew unloaded from the plane at the jungle airstrip, we quickly realized I had guided a few of them trout fishing in Southern Chile during the 2020 season. These interactions are always enjoyable, and it makes you realize how small the fly fishing community truly is. With the nine and ten weight rods rigged up on Sunday, as opposed to the sixes and sevens they were using last I saw them, the crew was ready to hit the bay and see what they could do.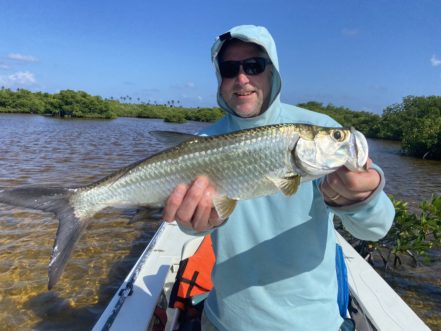 FISHING
Permit was the main target for the anglers this week. All seven had never caught a permit on the fly, and it was their goal to knock this bucket list species off the list. By Tuesday afternoon when the four boats arrived back to the ramp in the small lobster village of Punta Herrero, this goal had already been reached. The first half of the week most of the boats spent their time along the southern shore, with protection from the ever relentless spring time winds. It was in this portion of the bay we were able to locate some very large schools of permit. During cocktail and story hour on the palapa back at the lodge it was described to me a few of these schools held upwards of 100 fish in them. We had a feeling we were going to see the return of our trusty permit flies the Squimp and spawning shrimp start to produce fish once again. It is nice to throw a shrimp pattern to these large schools, as the retrieve is much faster than with a crab fly. This allows you pick up the fly and recast quickly if it has not been eaten. You can cover much of the school with this technique until you find a fish that is willing to eat. Fishing partners Mike O'Brian and Craig Weltz enjoyed chasing schools of permit their first two days. After both of them landing their first ever on fly rods, they took some time mid-week with guide Fernando to put a hurting on some bonefish. After locating a massive school of bonefish, the duo spent hours plucking fish out one after another. With very few casts resulting in a hooked fish, they stopped counting once their numbers were encroaching 100. They were pleasantly surprised that some of the fish coming from the school were in the five to six pound range. After putting the 8 weights to the limit, they spent the remainder of the week chasing permit. Mike and Craig were both able to land a nice sized fish the final day, leading to a total of three permit brought to hand for both anglers. Tom Lackey and Chris Nowack chased permit for the entirety of the week and landed an impressive 9 fish between the two of them. After fooling a few smaller fish out of the schools earlier in the week, they both had some shots to doubles or larger solitary fish. They capped off their Saturday nicely, both landing a beautiful permit each.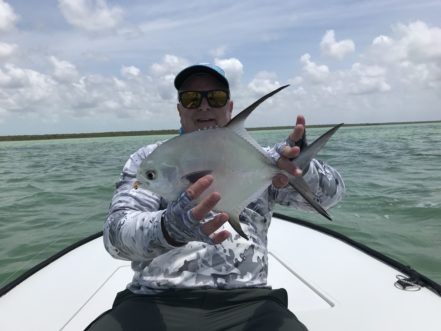 After some unfortunate flight changes, angler Matt LaBounty joined the rest of the group one day late on Monday. Matt had everything ready to go that evening and was ready to make up for lost time come Tuesday morning. He did just that and landed his first permit on fly his first day fishing Espiritu Santo Bay. Matt caught a permit nearly every day, while also knocking out a grand slam with guide Fernando mid-week. LaBounty was in high spirits on the final day as the boat arrived at the launch, explaining how no fish were landed but it was one of his favorite days of the week. He made presentations to multiple singles in shallow water, as well as large fish atop of stingrays. After fooling one of these giants into eating, confusion struck when the line suddenly went slack half way into the fight. Matt and the guide were equally perplexed, and after bringing the fly back in quickly realized the size #2 hook had fully broken. Matt was a good sport about the faulty hook and was very content with his six permit for the week. Having never landed a single permit between the seven of them, the group caught an impressive 27.  This brings our season total to 266 permit landed with 87 guests. 
WEATHER/TIDES
The southeast winds that dominate our system this time of year were once again a challenge for anglers this week. The wind did lay down a bit mid-week, which allowed us to cross the bay and check out some of our favorite spots on the northern side. Cloud cover was all over the place, with some days full sun and others cloudy providing difficult visibility. For the first half of the week the tide was high in the morning, rising until about noon, and then falling for the rest of the day. Friday and Saturday it made a switch; falling most of the morning and then rising for the remainder of the day.  I'm hopeful we see this pattern of lower tides in the morning next week, as it will allow us to look for some big snook and tarpon in the backcountry.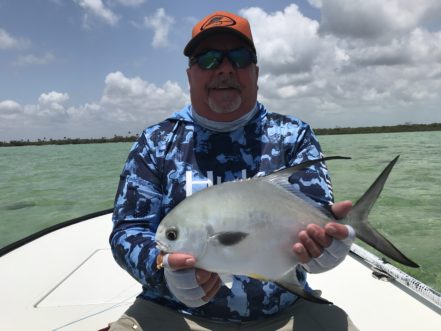 FLIES
Productive permit flies for the week surprised no one, as we used white or tan Casa Blanca Ragheads, white Spawning Shrimp with yellow eyes, and size #2 tan Squimps.
For the few tarpon that were caught, a black/red color combination on a size 2/0 hook was the ticket.
Bonefish were plentiful and readily ate any shrimp pattern in size #4 – #8.
Chef Carlos and the kitchen crew did a fantastic job providing delicious meals in beautiful presentations for the guests. It is rare for anyone to go to bed hungry after enjoying a night of drinks and incredible cuisine. The house staff once again worked tirelessly to ensure the accommodations were clean and comfortable.
We will continue to battle heavy winds this upcoming week. It is always a bit daunting arriving to the lodge Sunday afternoon and feeling a heavy wind coming directly from the ocean. Our guides know this bay incredibly intimately, and they always have multiple locations to find protection and get out of the wind a bit. It is evident with this last week that even in these blustery conditions, we can have some incredible days.  We are excited to welcome back five out of our six anglers next week for a return trip to ESB Lodge.
If you are interested in booking a trip with us or any other remote fly fishing destination across the globe, make sure to give our dear friends at The Fly Shop® a call.  The travel department will guide you along every step of the way.
On the water fishing or not, I hope you have the opportunity to get outside and enjoy some of these wonderful spring days.
From a special corner in the Yucatan,
Saludos desde el Caribe Mexicano,
Sam Gigliotti and the entire staff of ESB Lodge