Fishing Report
June 27 – Jul 04, 2021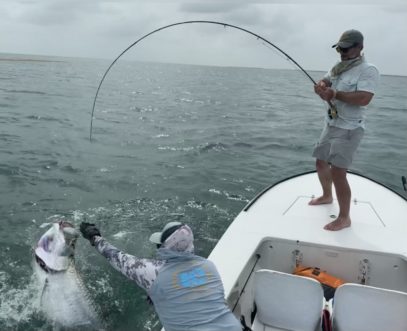 Our final week for the first half of the season has quickly come to end here at ESB Lodge. While the permit fishing wasn't ideal to wrap things up, guests were very open to exploring the many other species the bay has to offer. We targeted migratory tarpon on rough weather days, fished for snook deep within our many lagoons and caught incredible numbers of bonefish.  Longtime friends joined us this week, and after years of fishing this region of Mexico they invited new guests to join us that will surely become longtime friends. While we had a range of weather to start the week off, anglers wrapped things up enjoying favorable conditions.
FISHING
Conditions in Espiritu Santo Bay have been all across the board for our final week of the 2021 spring season. Many of our guest were experienced saltwater anglers in this area, but found the permit fishing to be difficult. While our numbers weren't out of line from this time previous years, permit were not only finicky, but elusive. Guests last year found this week to be full of larger schooling fish congregating near the entrance of the bay. This was not the case this week as we have had a significant amount of rain recently pouring a lot of freshwater into the system. After these major rain events it takes some time for the fish to re-populate their typical flats. For those who dedicated their week to permit fishing, it mostly payed off, but not without lots of work and long hours on the bow. Good friend of ESB, Kevin Vincent spent his week pursuing permit and managed to bring to hand 3 fish. His fishing partner Steve Burrows took the lead with 4 permit brought to hand. Schools were found to be not only elusive, but also quite finicky. We experienced flats with minimal singles and schools that were extremely selective. We had rough weather the first portion of the week, on top of all the freshwater dumped into the system the last few weeks. When the sun comes out and winds lay down it is easy to think the permit fishing will automatically turn on. Often times these fish need 3 – 4 days of good conditions to return to their typical feeding patterns.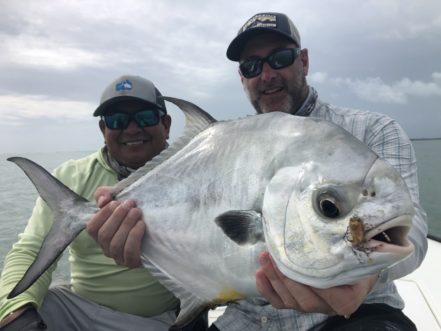 Our total number of permit landed for the week was 8 fish with eight guests.  This brings our season total to 381 permit brought to hand and with 148 guests.
After decent conditions on Monday, Garrett Gordy and Chance Yarbrough found themselves focusing on tarpon in the main entrance to the bay on Tuesday when conditions became calm in-between major storms. When the bay slicked out after the wind and rain rolled through, they were able to locate a solid number of big fish rolling in the deep cut. After jumping a fish over 100 pounds on Tuesday, they figured it was a wise idea to revisit the area at some point later in the week Thursday rolled around and they decided to head out to the same area with guide Fernando. They quickly spotted rolling fish and after a few blind casts Chance laid into something significant.  Both himself and guide Fernando realized the fish hooked was more than likely larger than both of them had ever seen; estimated to be 150 pounds or over.  Remind you Fernando has been fishing Espiritu Santo Bay for over 20 years. After a few nice runs and multiple jumps, the fish threw the hook and they found themselves back to square 1. They continued dredging the sinking line with a big black/purple tarpon toad and eventually got another eat. Chance hooked into a solid 60 pounder, and was happy to bring the fish to the boat after the big one broke him off.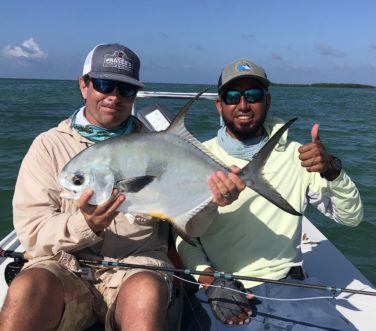 For the boats that decided to take a break from chasing permit, the snook fishing ended up being very productive this week. Once anglers Ralph Smith and Neil Stone figured out it wasn't going to be the an ideal week for permit, they quickly began to switch gears and hunt for other species. They wrapped the week up hammering snook out of the depths of an area we call "Red Lagoon." We were surprised they found the fish they did there, as often times this area will have too much freshwater in it after big rain events. Ralph has fished ESB for years, and it goes to show you what some exploration and long boat rides can lead to. He knew of this area from years past, and was excited to explore it again and see what it had to offer. The duo landed upwards of 30 snook in the 10 – 20 pound range their final two days, absolutely incredible numbers of snook to wrap up the season with.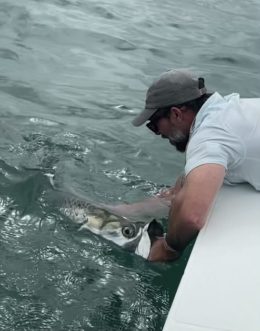 Jim Lindeman visited Paradise Lodge years ago, and fortunately was directed to ESB to bring his son , Matthew, down for his first saltwater fly fishing experience. They spent the week catching everything imaginable; including 42 bonefish to be exact. Jim and Matthew caught bones, a few snook, blue runners, barracuda, snapper and perch. I couldn't respect enough how open they were to pursuing all the different species the bay has to offer.
WEATHER/TIDES
We experienced every weather condition imaginable this week.  After Monday provided anglers with nice conditions, things quickly changed as Tuesday and Wednesday brought major squalls with pounding rain and heavy wind. With patience, these big squalls this time of year can lead to glassed out condition; perfect for pursuing migratory tarpon out of the main opening. Thankfully weather mellowed out at the end of the week, leading to beautiful days both Friday and Saturday. We had a falling tide for the majority of the day throughout the week. A slack tide and then rising water levels were experienced in the afternoon the last few days.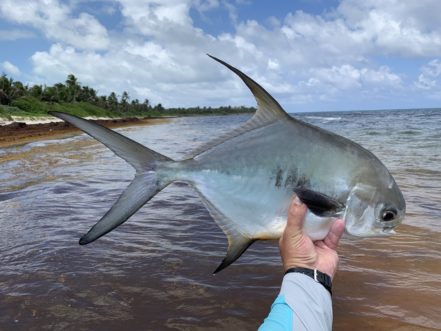 FLIES
Tan rag heads in a size #2 with variegated legs were responsible for most of the permit caught this week.   The large migratory tarpon that were caught/jumped all ate some form of large black/purple Tarpon Toad or baitfish pattern.  As usual, snook seemed to be more reactive to the color combinations olive/white and grey/white. A few were caught on tarpon flies in black and red. Bonefish ate a range of shrimp patterns in a size #4 – #8.  It seems every week we manage to catch a few on tarpon/snook flies as well.
Chef Carlos and the rest of the kitchen staff has done an incredible job this season cooking up fantastic meals for our guests. His consistency is amazing, as we have compliments week after week about the meals our guests get to enjoy after long days on the bay. The house staff was always ready to meet any requests the guest made. This included fresh coconuts that paired well with a nice rum.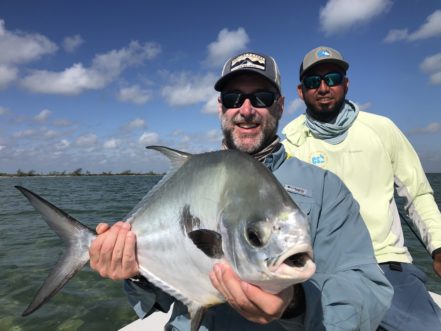 Staff will enjoy a much needed break after this week, as we close down until our next group arrives August 8th.  During the time off we will focus on maintenance and repairs to the lodge in preparation to the second half of the 2021 season.  Thanks for tuning in and make sure to check back in once we begin fishing again in August.   Feel free to contact The Fly Shop at any time if you would like to hear more about visiting this incredible saltwater destination.  Make sure to enjoy some quality time on the water this summer!
From a special corner of the Yucatan,
Saludos desde Caribe Mexicana,
Sam Gigliotti