Fishing Report
May 23 – 30, 2021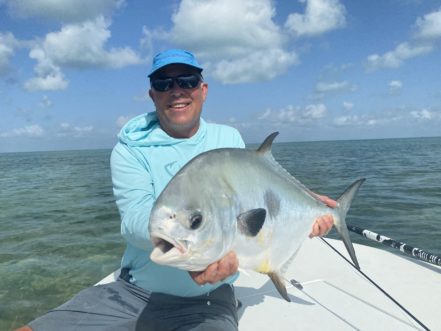 Another enjoyable week has flown by here at Espiritu Santo Bay Lodge. Last week's rough weather and tough conditions seem like a distant memory as we fall right back into days of productive fishing and plentiful sunshine. We landed great numbers of all four of our target species, in addition to some nice barracuda and jack crevalle. We enjoyed a smaller group of six anglers, all of whom were returning for at the least a second time to ESB.  After long days of fishing hard the group enjoyed a nice breeze and cold margaritas under the ocean-front palapa.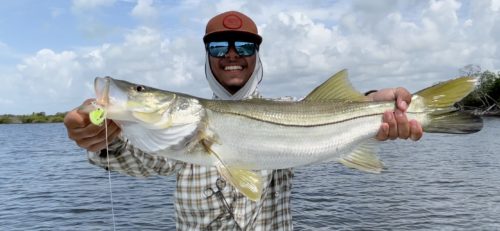 FISHING
After a long week of extremely difficult visibility, we couldn't have been happier with the conditions we awoke to Monday morning. The wind continued to blow as usual for this time of year, but ample sunshine gave us high hopes for spotting permit. Mike and David Benkert joined us this week after getting evacuated only two days into their stay due to a hurricane last November. With only a slight taste of what Espiritu Santo Bay has to offer, the father/son duo was excited to pick up where they last left off. They spent Monday dusting the cobwebs off and decided to do some wading and blind casting for bonefish in a deep cut with a nice beach on it. They both enjoyed catching multiple bones and honing in their cast after a year away from the flats. Mike was in the process of landing a nice bone when a massive barracuda swooped in and annihilated his catch. Somehow during this process the small bonefish fly ended up catching the barracuda in the lip in the perfect position.  With only an 8 weight rod and 16 pound test, Mike suddenly found himself battling a fish much larger than he anticipated. After a few big runs the fish eventually found a large log on the opposite side of the cut and was able to break off.  The scenario was explained that evening, and we quickly rigged up Mike and David with a lodge rod set up with wire leader and a big chartreuse popper. They both enjoyed catching a species for the following days that wasn't even on their radar for the week. After some blown opportunities and spooky fish, it was evident that the permit was going to be the one species that may evade them for the week. They headed out and crossed the bay Thursday morning with guide Pepe to check out a small tarpon and snook hole on the northern shore. They had a productive morning and managed to each land both of these species. They made a quick run to the big area called "Ensenada" after lunch and began to look for permit. With very solid numbers of fish in this area, it didn't take long before both Mike and David had a permit to hand. They came across nice schools of permit, singles, doubles and a few fish on rays. When all the other boats were back to the launch by 5 o'clock that evening, we began to worry that Mike, David and Pepe may be having some sort of problem. Eventually they showed up with a fully functioning boat and all in good health. They had been attempting to lock down the final piece of the puzzle to complete a super slam.  Any deep pocket in or close to a flat will always have bonefish in it, and they were doing some ninth inning blind casting to wrap up the day. With jacks, blue runners, snappers and small barracuda all getting to the fly before a bonefish could, they eventually had to bail out and head back to the boat ramp.  I think we will give David and Mike the benefit of the doubt on this one and congratulate them on both seizing a super slam.  This was also Mike's first ever permit on the fly, and they both managed to land another fish each before they wrapped their first "full" week at ESB Lodge.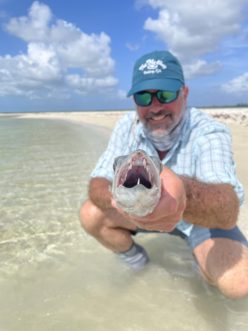 Dave Merritt joined us this week as a single angler and has been visiting ESB Lodge twice a year since Dane and Chiara originally opened the operation. He is continually learning more about this fishery and applying new tactics and fly patterns. Dave focused heavily on permit for the duration of the week and witnessed just about every situation imaginable. He also fished a wide range of the bay; everything from deep west on the southern shoreline to river systems on the northern portion. As mentioned above, the big bay on the northern part of the fishery called "Ensenada" held many fish this week. We have been continually checking this area out the last couple of weeks, having a feeling fish would start to move into this system.  This suspicion held true, as a substantial number of the permit landed this week was in this area. Dave started his week off strong, landing a few medium sized fish on Tuesday with guide Alex. He reunited with Alex on Saturday, determined to break the 15 pound range. With an astounding 18 – 20 shots to permit that day, Dave landed two beautiful fish; one 18 pounds and one 20 pounds. After a quick photo with his personal best, and seventh fish of the week, Dave offered to switch places with Alex and polled him around for the remainder of the afternoon. He enjoyed putting Alex on a few fish and watching him execute perfect casts to some tight lipped permit. This was a trend we took note of for the entire week; the permit seemed to be much more aggressive and willing to eat in the mornings. With the tide falling out all afternoon the fish that we did locate were a bit more spooky and unwilling to take a well presented fly.
Our collective total for the week was 16 permit landed, bringing our season total to 337 permit with 112 guests.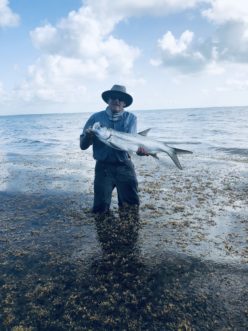 Tarpon fishing was productive this week, with solid numbers of fish in the 10 – 25 lb. range landed. Carl Griffin and Bud Isaacs enjoyed a day on the outside of the main island at the entrance of the bay chasing a nice school of tarpon. With the Sargasso grass making its annual appearance in the Caribbean, we often find tarpon that are attracted to this stained, off-colored water. With baitfish seeking refuge in this dirty water, the tarpon will follow. Carl and Bud had a productive day on Friday catching tarpon with guide Fernando out of this Sargasso stained water. They located a large school of fish and traded off on the bow as each of them landed 5 or 6 fish during a half-day session. We did spend a few mornings looking for the large migratory tarpon at the main opening of the bay on the north side. These fish are definitely still here as we did see rolling tarpon each day we fished in this location. We were unable to connect with any, but hope for some slicked out conditions to really target these fish. If you are joining us in the following weeks and would like to pursue migratory tarpon, a solid 11 weight with a sinking line is a very useful tool.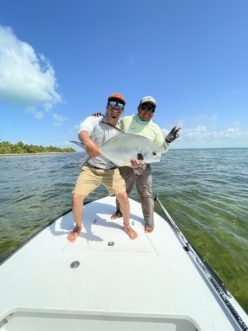 Bonefish were abundant and willing to eat most any pattern placed in front of them. I was pleased with hear that all the guests this week enjoyed a few hours at some point putting a hurt on a few of the incredibly strong bonefish we have here. It seems that every week there is a picture of a bone that is larger than the previous week.
FLIES
Permit were caught on three main patterns this week: size #2 white Casa Blanca style crabs with yellow eyes, size #2 tan crabs with variegated legs and yellow eyes, and size #2 – 4 white and tan spawning shrimp.
Tarpon succumbed to black/purple baitfish patterns (especially in Sargasso stained water), chartreuse/white baitfish patterns and a variety of colored tarpon toads.  Chartreuse/white combinations were also effective for snook this week.
Bonefish readily ate any shrimp pattern in size #4 – #8.  It is not uncommon to be tarpon and/or snook fishing and coax a big bonefish into eating your 2/0 baitfish pattern.
WEATHER/TIDES
After enduring rough conditions last week, we couldn't have been happier to see days with full sun and manageable wind. While wind still made casting difficult at times, I believe anglers had some of the most ideal conditions you can have this time of the year in the southern Yucatan. Tides remained consistent for the duration of the week, rising until mid-morning and then falling for the remainder of the day. This timing can of course be different depending on where you are in the bay. If you're fishing deep in the backcountry systems it will take longer for the water to fill in, so the falling tide may not become apparent until later in the afternoon.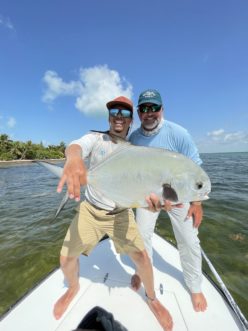 Chef Carlos continued to impress in the kitchen, providing Mexican dishes full of delicious produce and fresh seafood. We always enjoy welcoming guests back to the lodge after the day of fishing with blended margaritas and tasty appetizers. The house staff worked like a well-oiled machine, ensuring guests had everything they needed and the accommodations were of the utmost cleanliness.
We are hopeful the current weather patterns hold out for the following week as we welcome a full crew of 8 anglers. There will be a mixed bunch, some of whom are returning guests and others traveling to this remote destination for the first time. Make sure to give a call or shoot an email to our great friends at The Fly Shop® with any questions regarding ESB Lodge. They will readily assist with preparations for traveling to this tremendous operation.
Enjoy the arrival of summer and hopefully you all get some time to get out on the water soon.  Take care and stay tuned for next week's report!
From a special corner in the Yucatan,
Saludos desde el Caribe Mexicano,
Sam and the entire staff of ESB Lodge