Fishing Report
September 08 – 15, 2019
Good morning Esb Lodge Anglers & Fans,
ESBL enjoyed another week hosting guests for its 26th week of the 2019 season.  Chiara and I had the pleasure of spending time with friends that we've been close with for almost 10 years now. These guys have spent countless hours on my drift boat in Colorado, as well as traveling to Belize, Mexico, and Patagonia. It was an honor to have them together at our place and much fun was had reminiscing, remembering, and creating new fishing memories.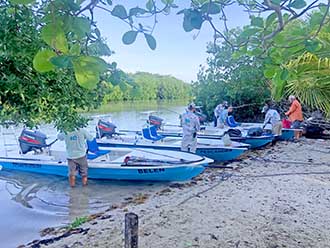 FISHING
Unfortunately, I can only sum up our fishing conditions for the past week as difficult.  We had a hard east wind that didn't let up for the first 4 days. Visibility was minimal with heavy cloud cover. I had the pleasure of sharing a boat with guest Tommy Burt for the entire week. This was a great way for me to catch up with old friends, spend time with guides, and see our fishery. Due to our high demand, I was last on the bay for our first week of the season in February.
We had decent protection along the southern shore of our bay for the first few days and boats spent time covering the entire shoreline. I saw roughly a dozen fish total. We opted for this side because the clarity of the water was decent. The guides and I came to the same conclusion with the bay shifting into its early fall fishery. We see at this point the northern shore, despite water clarity hold majority of fish found.  This is difficult due to longer commute times to the backcountry and careful approaches to the river systems. When tides are low this is optimal for snook and tarpon but understanding tides and technical approaches are a must to avoid being stranded or damaging boats and motors.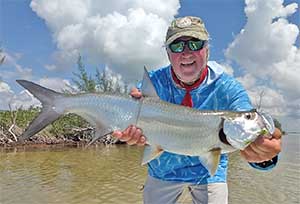 On Friday morning we had a light winds and the bay was calm. Tommy and I enjoyed sharing shots at two small schools of permit deep in our river three system. Storm systems came into the bay which made for difficult conditions for the remaining part of the day.  Friday all boats crossed and fished river systems one through four as well as outside the bay along the northern shore.  All species were found in good numbers and guests had great chances. Tommy and I, along with guide Alex fished a small flat outside of second river and saw schools of tarpon with occasional snook along the shore. We were lucky to take advantage of a northern wind that gave everyone good protection. It was encouraging seeing theses schools of fish and my estimate at tarpon seen was around 50 fish moving towards the river mouth with and incoming tide.  Saturday gave way to excellent conditions and boats all found great numbers of tarpon along various points that spread over the northern shore.
Our permit fishing has continued to be tough due to conditions noted above. We did find a large school of almost 100 fish located at the mouth of first river.  We often see permit school together and congregate in our river systems when conditions are windy or inconsistent weather.  Guest Michael Campbell was able to land three respectable permit from this school and Byron Harris enjoyed landing his first permit on a fly.  Tommy and I stopped in the first river for an hour to observe this school and I was happy to note the mixed size of fish. We saw fish from 5 lbs. to 20 lbs.  It's fun to watch these permit feed and they turn into aggressive fish and act similar to their cousin Jack Crevalle. You will see the entire school traveling together and two or three fish will separate from the school and chase shrimp towards the surface. We saw small shrimp launching out of the water as permit pushed them close to the surface.
Our total permit landed for the week was 5 landed which brings the total count to 293 for the season with 185 guests.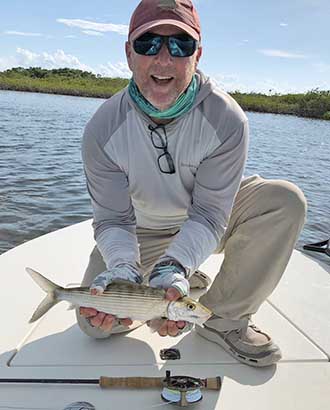 WEATHER/TIDES
The beginning of the week was windy with an eastern wind at 20 MPH.  Heavy cloud cover with occasional storms was the normal pattern through Thursday. By the end of the week we saw wind direction change and come in from the north with a decrease in wind speed that averaged less than 10 MPH. We had 70% sun for majority of the last two days of fishing.
Tide was 50% high when we left the launch and continued to come in until 11:00 AM. Between 12:00-12:30 we saw tide going out for the remainder of our day.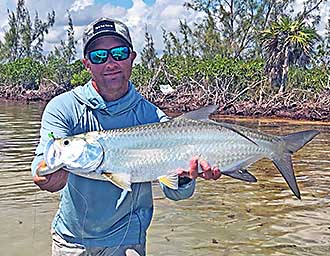 FLIES:
Our permit were all landed this week on white spawning shrimp with yellow eyes as well white raghead crabs tied with medium yellow eyes.  Tarpon and snook were landed mostly on chartreuse/white and blk/purple toads on a Tiemco 600 2/0 hook. We love these hooks and they come equipped with a harpoon point that results in solid hook ups. Bonefish succumbed to smaller mantis shrimp and various gotcha variations all in sizes #6 – #8.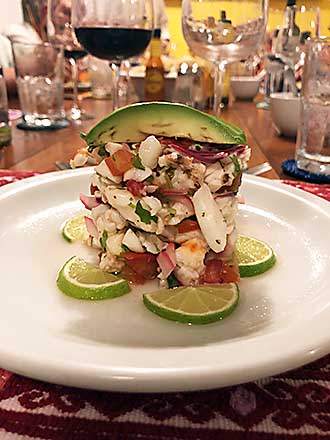 Our Kitchen and lodge crew was on point serving up wonderful meals and providing us with a clean, orderly running operation. Our famed Fiesta de Mexicana night we enjoy Wednesday evening and there is no shortage of various local dishes themed with Mayan flair all served buffet style.  Ample amounts of good Tequila and Mezcal served with appetizers followed by bottles of Malbec for dinner provide for much excitement and enjoyment from our guests.
Our weather forecast for this up coming week looks encouraging with stronger winds Monday and Tuesday. Wednesday we should see a nice break with returning winds from the north. I am excited to see returning guests Bob Sytz and Bill Hayes. They fished with us in April of 2018, had too much fun and opted to make ESBL an annual trip. We are also excited to have close friend Don Morris returning as well. Don has been with us for multiple weeks over the last three years and has become a welcome face to us and the staff/guides. If the stars align, I am looking forward to sharing the boat with Don later this week to take advantage of our budding fall fishery.
If you have a moment, I encourage you to call or friends at The Fly Shop to inquire about this special place or any other destination you might be considering for future travel. With summer closing its doors, we head into fall and we start looking at additional trips heading to the southern hemisphere. ESBL is excited to host the first week of the season at one of Chile's famous lodges, El Saltamontes. We have a full group and are looking forward to a great week! Please enjoy the rest of your week, stay safe, enjoy your local fishery, and of course stay tuned for next week's report.
All our best,
Saludos desde el Caribe Mexicana
Dane & Chiara