Fishing Report
September 13 – 20, 2020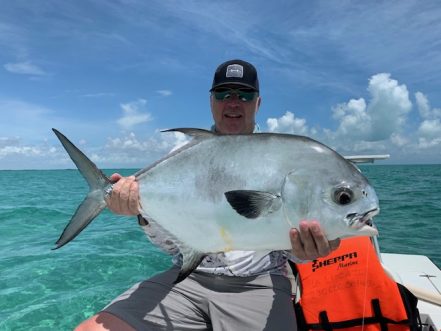 We've enjoyed another successful week here at ESB Lodge. Four anglers joined us for the week, three of the four being longtime guests and friends. Tom Blailock and Mike Scott have been fishing with us numerous times and often come twice a year. We welcomed new guest Robert Buckwalter who is an avid fisherman along the Texas coast for redfish. It's enjoyable for Chiara and I to see the majority of guests returning season after season. It builds up to wonderful camaraderie and highly anticipated fishing weeks.
FISHING:
I was happy with the outcome of last week's fishing and I might describe the week as more realistic in terms of weather and productivity on the boat. We had mixed weather throughout the week with partly cloudy, more wind, and some mornings that started out with glass like conditions. This was different than our previous week with dead calm seas and bright sun 6 days in a row. Our guests were an open book and willing to fish throughout the day in situations that optimized for certain species. This is the best approach for fishing our waters and with so many options throughout the day for our four focal species there is always a window of opportunity.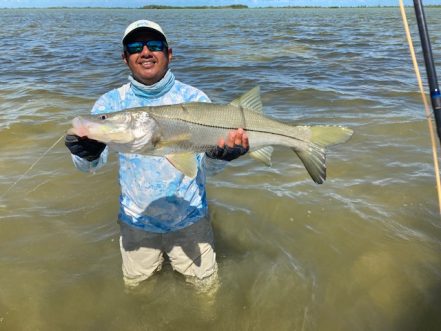 We had high tides most mornings and when good light was not available it made it tough for anglers. It seemed like each guest enjoyed a moment of their own clarity and when it all came together. For guest Chip Thor that started first day of the week with guide Alex. Chip completed two slams with 5 big snook.  He proceeded to catch a personal best with a larger permit on Wednesday with guide Victor. I compliment Chip on having a personal best week of saltwater fishing and landing 5 permit for the week. Angler Robert Buckwalter had a tough day chasing permit Monday and redeemed himself Tuesday with guide Alex and landed an incredible 3 grand slams and 1 super slam. He also landed a personal best permit later in the week with guide Pepe. Longtime friend Tom Blailock had a solid week and spent most of the week chasing all species. After landing plenty of nice bonefish he pursued permit and tarpon. Tom was able to land a handful of tarpon for the week and jumped 16 total. He also was able to get a couple snook.  Tom's last day was a great way to finish the week and added a grand slam to the group tally. Angler Mike Scott enjoyed chasing anything and everything he could put a fly in front of. He ties some of the best barracuda flies we have used, a deadly combination of articulated hooks and a larg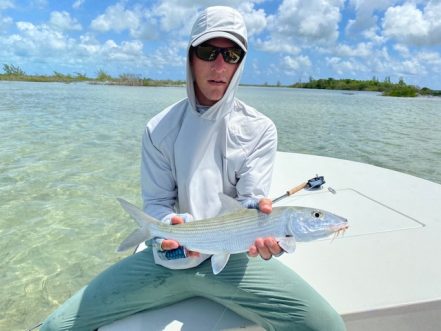 e popper body. I think it is fantastic he takes notice to barracuda and spends time each day on the boat chasing these very underrated fish. It still puzzles me why anglers sometimes ignore these apex predators. A fish that is 3 feet plus, has teeth, and accelerates 30 mph is a worthy target in my eyes. Often the explosive attack from these fish will be a highlighted moment for your trip. It is highly recommended that anglers bring a spool of 30 lb. knotable wire or a "toothy critter" leader. They are not selective with large flies and they will usually attack most offerings.
Mike Scott also had a personal goal which he accomplished with guide Pepe. They were able to find a
school of smaller permit and landed one on a floating shrimp pattern. They also caught a bonefish on top water as well. This is not a common occurrence but when the opportunities present themselves it is a lot of fun trying this top-water tactic. The group of four landed an impressive 13 permit for the week and this brings our season total to 157 landed permit with 63 guests.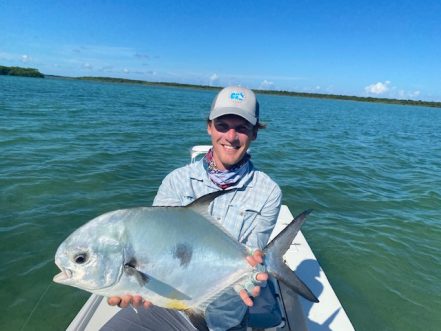 The river systems on the northern shoreline were the most consistent with fish and we had permit tailing, bonefish cruising, and tarpon and snook readily available along the mangroves. We are starting to see some very impressive snook show up in our early fall fishery and I am confident a guest will hook up with a true 20 lb. bemouth in the next couple weeks. We had a couple mornings where glasslike conditions had tarpon rolling outside the bay and along the northern shoreline. We have huge schools of sardines in our system now and are the main diet for tarpon and snook.
WEATHER & TIDES:
Weather for the week was a mixed bag of conditions. Everyday guests had moments of overcast skies, sun, and variable wind directions mostly from the east. We had high tides in the am to start the week and had a complete change mid-week with low tides in the am. We attribute this to wind intensity and changes in direction.
FLIES:
Our top producing permit flies didn't surprise us this week and the usual white Casa Blanca ragheads, Spawning Shrimp, and Squimp all produced for guests. Towards the end of the week a couple anglers grew frustrated with refusals by permit schools and we downsized our tippet to 16 lb. Fluorocarbon which helped seal the deal.
Tarpon and snook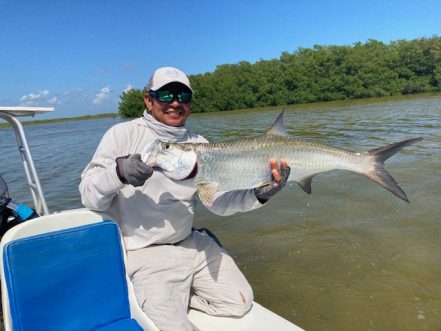 were landed on EP baitfish and toads. Color schemes that worked well were blk/purple, white/grey, blk/red, and more natural phases that imitated sardines. The average size hook on these flies is a 2/0.
Bonefish were happy to eat any properly presented shrimp pattern.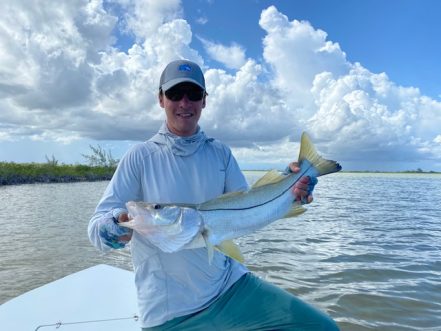 Chef Carlos and the kitchen crew did a great job providing delicious meals for guests throughout the week. For those seeking a slim physic, be warned of the average weekly weight gain for so much good food!  Our loyal guests can relate….
House staff kept the lodge and vehicles clean and orderly as well as following necessary protocols of sanitation to ensure safety for everyone. I again thank all of our guests that comply with our simple protocols and this makes for a safe, pleasurable, and confident week for everyone.
This week is looking great with a weather forecast to match. I have been interrupted twice writing up this report in the morning. Outside my office, the oceanfront is dead calm and I took a moment to see two very large blacktip sharks aggressively cruising close to shore chasing what I presume would be trigger fish.  We have returning guest Don Morris with us for the next two weeks and I thought it was funny when he was asked how many times he has been to ESB Lodge. He and I both lost count. If my schedule allows, I will look forward to joining Don a couple of needed days on the boat. I also am happy to have close friend Kurt Zumwalt down here for his second week to ESB Lodge.  Kurt and I have fished together for almost a decade in Colorado and it's great to catch up and enjoy time together.
If you have an upcoming trip or are looking to book a trip with us please give our friends at The Fly Shop a call and they will get you up to speed on the latest with ESB Lodge. Whether it's securing a reservation or the latest permit fly they work very hard to ensure for a fantastic week with us. I hope you are enjoying the fall so far and adapting well with seasonal changes. We look forward to seeing you and of course, stay tuned for next week's report!
From your loving friends at ESB Lodge
Saludos desde el Caribe Mexicana
Dane & Chiara