Fishing Report
August 08 – 15, 2021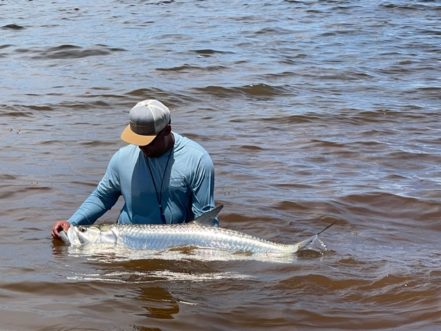 We're happy to be back here at ESB Lodge having finished up a quick 3 week break that started the first few days of July. After some needed down time, repairs, and a healthy rest for the bay we have kicked off the second half of our 2021 season led by a group anglers hosted by Captain Billy Trimble. Billy has frequented the lodge now for his 6th week of hosting and it's a great kick off for us seeing familiar faces to greet the later summer months. We also had the pleasure of meeting some new guests that coincide with the never-ending entourage of Billy's circle of friends. Everyone had a wonderful time, great conversation, plenty of food, and even a few fish were landed. Enthusiasm was infectious and thus translated to another great week. I thank Billy heartily and we'll be seeing him again in September for his second week of 2021.
FISHING:
Fishing was a mixed bag and we were able to target all four of our focal species. We had highs and lows but altogether with given conditions there was a nice mix of fish landed. This is important especially during our summer months where we see a very diverse fishery and guests can capitalize on a multitude of scenarios. David Hillis joined us for the week having never fly fished in Mexico or any Caribbean destination chasing fish on the flats. He was brought along with close friend Robert McCurdy whose incredible knowledge and experience on the flats helped contribute to David ending the week a seasoned, hardened, and much better caster. The first day was spent ironing out some basics which translated to catching bonefish and even landing two smaller permit. Kudos to David for his first day on the flats. I will mention while David appreciated the permit, his overall enthusiasm never wavered regardless of what he caught. As a professor at the University of Texas specializing in molecular evolution and biodiversity, he was happy to enjoy such a beautiful pristine environment. He also has a degree in herpetology and helped identify an Indigo snake whose unique Yucatan color phase illuded our identification guide books.
We had decent permit fishing but had to work hard at times to find them. We never really saw big schools of fish but had days where small schools were spotted along the southwest side of our bay. We also had some decent numbers of singles and doubles that showed around the mouth of Red Lagoon and just outside along the southern shoreline. Billy Trimble and Buz Parish had a great day with guia Pepe and they landed a permit a piece and rounded out a grand slam for Billy. Jon Olch joined the group for the week and brought along friend Travis Lucas from Stillwater Fly Shop based out of Bend, Oregon. Jon Olch holds a legendary status as a permit fisherman. He has the most extensive books ever written about chasing Permit. "Passion for Permit" both volumes have set the tone and the saltwater community has yet to experience someone who shares absolutely everything they have learned form decades of chasing permit. This is Jon's second trip here and I am very fond of our conversations as well as his unwavering pursuit to catch these fish. He landed an impressive 6 permit for the week and was able to bring some very nice fish to hand. I have held a desire to continue to explore outside of our bay on given conditions. There's something happening out there which leads me to believe with such little pressure we will tap into another realm of what this place has to offer. I mentioned this to Jon and of course he was more than encouraging to fish outside and continue exploring. We found some permit and saw one fish at 30 lbs. Along with guide Fernando they also found some schools of Tarpon that were easy to hook, very relaxed and cooperative fish.
Collectively our group of 8 anglers landed 11 permit which brings our season totals to 392 total permit with 156 guests. This is an astounding number of landed fish and of course we expect the trend to continue.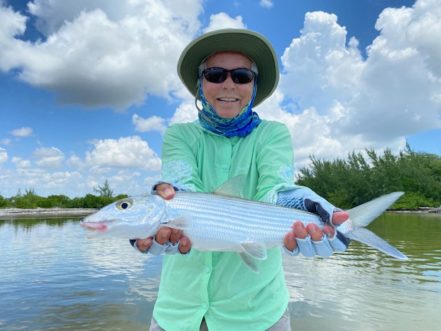 We had some very calm mornings, and we took the opportunity to chase rolling tarpon outside of our river systems. We still have big tarpon in our system and given the right situation we work hard to chase these fish. It's been very hard to continue to target them and predict with any accuracy, but I will say it is completely worth your time if you have future trip here to bring a heavier rod loaded down with at least an intermediate tip and collection of large sardine patterns. These big fish are not picky and when they show themselves, they will eat anything placed in front of them. The sardine patterns we use are 5 – 6 inches long, sink quickly, and tied on big Tiemco 600 series hooks.
We also found smaller tarpon in river systems one and two on the northern shoreline. The mangrove fishing wasn't quite as productive with a strong incoming tide for much the week. Last Saturday we had glass like conditions in front of the lodge. It becomes a game of guilt for me. I usually greet everyday with an impressive "to do" list that never seems to shrink. Whatever needed to be fixed would be in the same condition the next day, so I chose instead to walk north of the lodge and check some tarpon and see if they were around. I found them to say the least and had almost 2 acres of rolling fish that I could wade into. My estimate was at least 100 tarpon of mixed sizes with larger fish further in the deep water. I hooked 9 landed 4. A couple of fish over 50 lbs were hooked that I couldn't set the hook well due to casting and stripping in water up to my armpits. This is the time of year we see impressive amounts of sardines show up along the coast and with calm conditions we can confidently add this to our list of targeted areas. I perhaps later this afternoon might slide again up to this flat and see if those fish are around…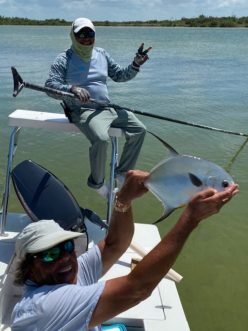 Bonefish, our heroes of Espiritu Santo and really the meat and potatoes of what we chase were plentiful and everyone had great fun chasing them in skinny water. I suggest, encourage, and at times will our guests into taking a few hours out of their week to wade shallow water and chase bonefish. Mostly everyone for the week obliged and we soon lost count of landed bonefish. Robert McCurdy and Tom Brooks fished together the last day and wanted nothing more than to wade on a given tide for bonefish. They spent much of the day in river one system and also saw a few permit come through.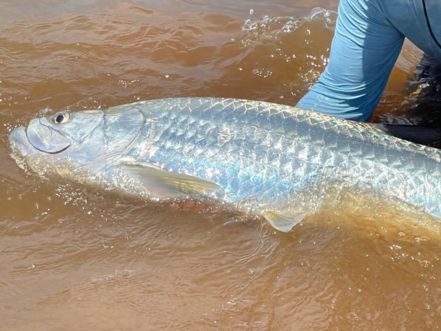 Snook fishing was solid for the week despite higher tides. Billy and Buz had fun one afternoon and saw about 24 snook laid up and cruising edges of mangroves. Tom Brooks was excited to land a personal best with a snook around 10 lbs.
FLIES:
Permit: Our go to tan and white ESB ragheads with yellow eyes was our crab of choice for the week. We also used spawning shrimp and have put the proven Squimp back into our rotation. I scouted with Marcos and Pepe a couple days before guests came and was able to land two permit on Squimps. YOU MUST have a good selection of the flies listed above for chasing permit. I always encourage innovation and experimenting with other patterns, but it is encouraged to match our recommendations of these specific patterns.
Tarpon and Snook: Usual tarpon toads, EP style baitfish in bright colors worked well for Tarpon. Tan and tan/white combinations worked well for snook.
Bonefish: Lightly weighted gotchas, puffs, smaller spawning shrimp all caught plenty of fish.
WEATHER/TIDES:
We had beautiful weather with light winds for much of the week. Partly sunny skies with light northeastern winds kept the bay comfortable and productive. Our last day we were greeted with a rare westerly wind. Tide was incoming for much of the days with late afternoons seeing a reversal to outgoing.
Chef Carlos and the kitchen crew are back cooking up a storm here and continue to deliver outstanding dishes everyone enjoys. Tostadas, enchiladas, sopes, carnitas, ceviches, rellenos, make for a decorative weekly menu and pitchers of margaritas to accent authenticity and lubricate our palates. I continue our mantra of emphasis based around food and fishing.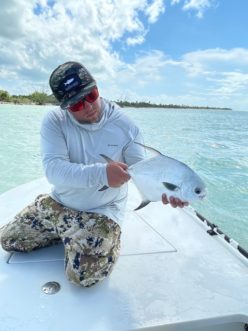 Emmanuel worked hard keeping the lodge grounds orderly and running well. A backbone to our success and guest comfort relies heavily on maintenance. I am very proud of Emmanuel's dedication and ability to keep a pulse on every inconceivable thing I may overlook.
We've got a fun group of guests for this upcoming week and welcome back Chet Wood & Co. They had to bail on mandated closures due to covid in August 2020 and were more than ready to finally get down here and fish. The vibe was infectious this morning at the boat launch and big grins could be detected through everyone's buffs as they pushed off for their first morning. I expect we'll have some nice fish landed this week, lots of laughs, perhaps a cocktail or two, and just another fun week here. If you have an upcoming trip here in the next couple months do me favor and double check gear and fly selections. Make sure you're stocked with suggested patterns and if you have any questions shoot our friends over at The Fly Shop a call. Maybe take that never ending daily "to do list" and push it to tomorrow…… Grab a fly rod instead and head to your favorite fishing grounds as we draw closer to the end of summer. I hope everyone has a great week, stays safe, and count on us for the next report.
Our very best,
Saludos desde el Caribe Mexicana
Dane & Chiara