Fishing Report
April 10 -17, 2022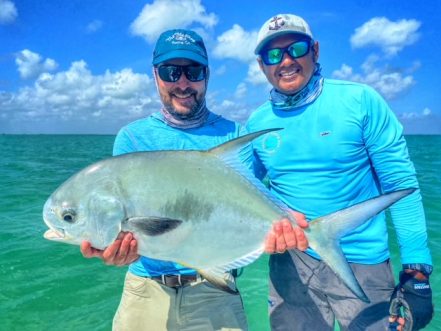 Welcome to the Caribbean!
We have had another excellent week, I am personally surprised at how consistent the fishing is here week after week, logically fishing is fishing and you have better days than others, but when I sit down to write these lines and see the numbers for the week, I understand why Dane always says "this bay has some of the most varied and consistent fishing in the Caribbean".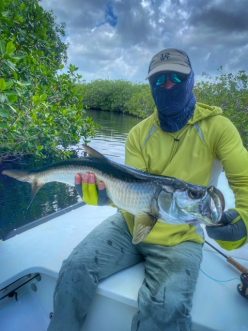 We continue enjoying the spring weather of the Caribbean with very pleasant temperatures, moderate winds and almost no rain.
We were visited this week by Mike Thompson, Walt Bailey, Scott Becker, Bill Foster, Dudley Prota, Todd Frank and Steve Stracqualursi, some of them old friends of ours and others meeting us for the first time.
The beginning of the week, despite the easterly winds, was excellent. Steve and Walt, guided by Fernando, landed three permit on their first day of fishing. They were also the first in his life and as usual we celebrated with a shot of tequila before dinner.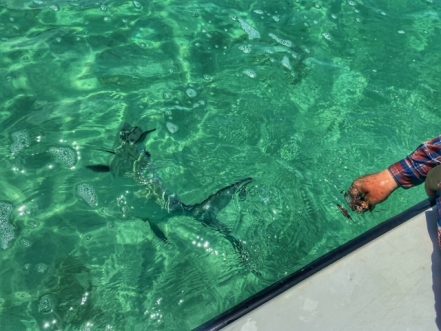 On the second day of fishing Todd achieved the first Grand Slam of his life, guided by Victor, logically we celebrate it with a new tequila shot ceremony.
Steve hit a super grand slam, with the assistance of our guide Marcos, and we continued with the drink celebration ceremonies.
On the fourth day of fishing, Steve and Mike, accompanied by Victor, achieved two grand slams, more tequila here!
It's hard to see the keyboard with so many shots of tequila…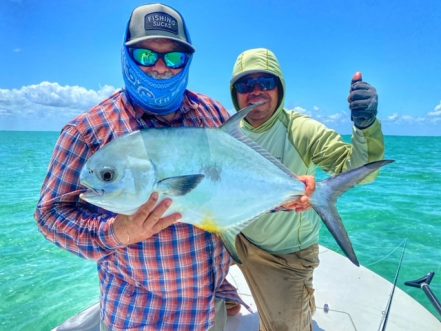 Dudley that same day managed to land the first permit of his life with Pancho, another round of shots here!
Together with Walt and Dudley we celebrate that he not only caught his first permit this week, but also his first bonefish, snook and tarpon, of course…. more shots!
Luckily our tequila reserves are plentiful and we are prepared to celebrate our guests' permits and grand slams for at least the next 10 years.
Scott not only had a great week, landing three permit with the assistance of guides Victor, Pepe and Fernando, he also made our sunrises and sunsets epic by accompanying them with his guitar, they really were special moments.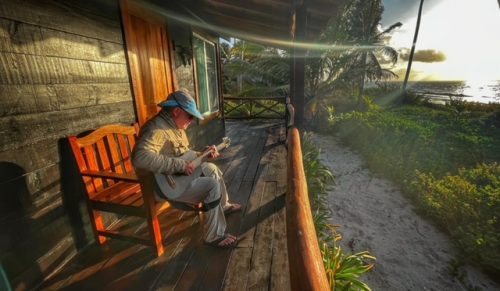 Bill also had an excellent week landing a permit with our guide Marcos and also during the week he caught Barracudas, Jacks, Snappers and all the bonefish he came across, in his words " I stuck all the bonefish in the bay".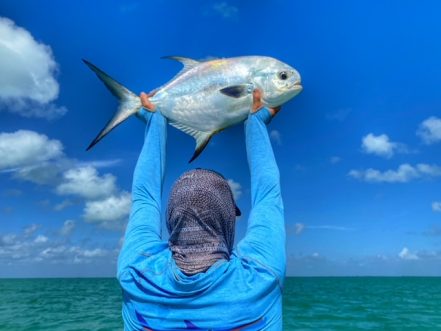 Wouldn't want to bore you with all the adventures our guests had this week, like the bonefish Mike and Dudley caught with the hand line, or the amazing barracuda that landed, Scott, Steve, Walt and Dudley, or the 15 permits that landed together on the last day of fishing, but if I would like to highlight that this was the first trip to ESB for Steve, Walt and Dudley, it is more for some of them it was their first experience in salt water or tempting these species, really an excellent week.
The systems of Rio Cinco, Rio Tres, Rio Uno, Ensenada, Buoy Roja, Los Pinos, Tabasco, El Arenal were the places chosen by our guides to look for the objectives of the day and as you may have read, they were not wrong!
We close the week with a total of 34 permit with 7 anglers, which brings our season numbers to 212 permit with 82 guests and a lot tequila!
Weather
Weather was good despite easterly winds the first three days of the week between 14 and 21 mph, then decreased significantly during the last three days of fishing with speeds varying between 10 and 12 mph.
The tides remained quite stable, high in the morning and low in the afternoon, due to the winds.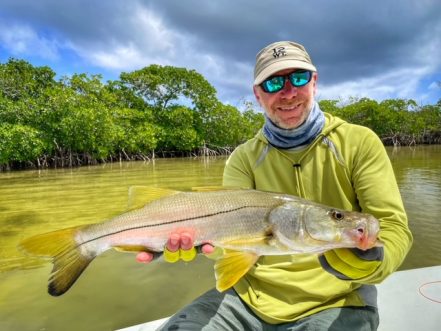 The Flies
The permit, in addition to the usual ones (white house, flexo, etc.) were very interested in a fly called "tequila twist crab"
Bonefish continue their almost strict diet of shrimp on hooks #2 through #8.
Tarpon and snook made EP baitfish part of their staple diet, blacks and purples in dark backgrounds seem to be the recipe for success.
Barracuda`s continue to develop their addiction to the bright, must-have poppers in their fly box.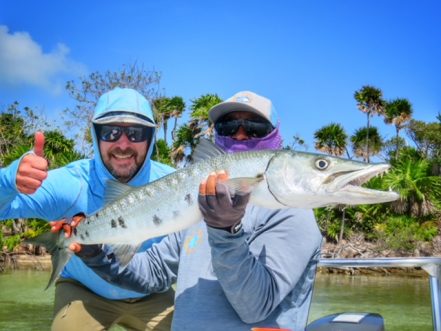 Carlos and Luis continue to take the ball out of the stadium with their plates and add about three pounds to our customers every week, at this rate I will be able to hibernate, like a bear, for two years without problems, damn it.
Pancho is redoubling his efforts while Freddy and Emanuel enjoy some well-deserved days off. Next week we will be back with the full staff.
I look forward to seeing you next week with a new report on our next 8 guests and hopefully many more tequila shots.
Taak ulak k'iin and Ka xi'ik teech utsil!!
(See you later and good luck! in Mayan language)
Martin Ferreyra Gonzalez