Fishing Report
February 26 – March 05, 2023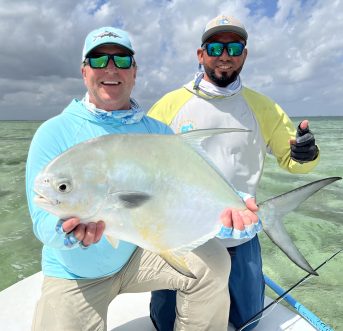 We've enjoyed another fun week here at ESB.  February has quickly slipped away, and we welcome March where we begin a transitional time that has some characteristics of feeling spring-ish.  It's warming up and I'm back to sweating buckets during the day at the lodge up to my elbows in whatever project carries priority for the day.  Wind directions are beginning to stay consistent on an easterly and southeastern front.  We'll have some "cold snaps" pop back again I anticipate the next month or so bringing down a northern breeze.  It's like winter's way of hanging on and reminding all of us to stay humble and appreciative with each changing season.  I love this time of year, tolerable temps, varied winds, and usually a shoot-from-the-hip philosophy that has us calling audibles on the water.  Basic interpretation, windy and unpredictable.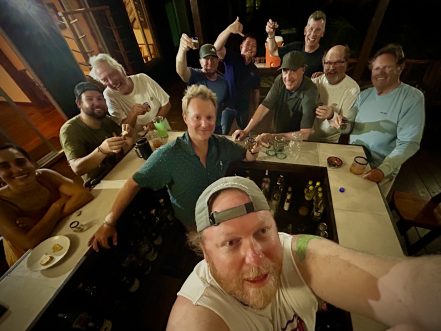 What is predictable is this week every year we see the same smiling friends return for another trip to ESB.  The Fly Shop's own Justin Miller hosts a group of close angling buddies here on an annual basis.  These guys are family, and our relationship has carried beyond the comradery held under our thatch palapa.  We all stay in touch for the most part, I fished with a couple in Montana, and we're inundated with gracious invites to homes, other trips, and get togethers.  That's what this is all about for us at the lodge and the fortunate friendships we have forged since putting this operation together has exceeded my wildest imagination.  Bryan Wise mentioned a couple times to me how great it was to be back, and it feels like "coming home".  Man, if that doesn't pull on a lodge owner's heartstrings, you're in the wrong biz.  It's emotional and mushy getting sentimental about this but we live and work to host groups like this.  It's also been great watching some of this group's own relationships bud into other adventures and destinations.  I hope to join this gang one day on some of their other fishing adventures and "let my hair down" so to speak with normal lodge owner responsibilities.  This same gang his headed to the Seychelles in a few weeks and fishing some otherworldly location in Oman.  I'm jealous, I admit it.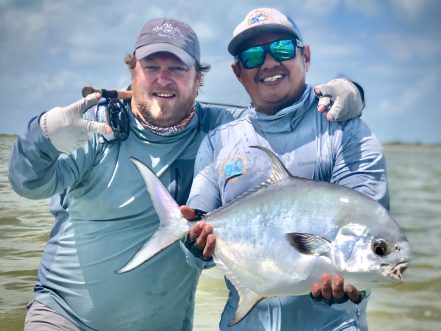 FISHING:
You'll never believe it, but it was a little windy this week.  Try nuclear…  WINDY in all caps.  March is known in these parts for wind, but it seemed to have combined historical strength with a usually windy February.  Trend is the same, first day, last day, and turnover day are the nicest.  I woke up Friday morning at 3:30 AM to a ripping breeze that my phone predicted at 40 mph.  It sounded like 100 screaming banshees finding every little nook and cranny in the building whistling an eerie tune.  The palm tree on my porch doubled over and beat my sliding door relentlessly while the dog bowls went flying.  You get the picture it was indeed windy.
This group carries a communal sickness as permit crazed devotees and chase these devils' hell or high water.  I would say the permit fishing was fine given the circumstances.  Brian (BMAC) nailed a nice fish Monday to kick things off with a questionable hook set according to his boat mate and under the careful instruction of Alex.  For the most part every guest had shots for the week, landed a permit, or lost one due to umpteen different ways to make this possible.  We were glued to the south shore for most of the week and had some cracks further down Tabascanoes and lightly touching inside 4th river.  This is the stronghold for permit for the time being and we should see that continue as we dive into our spring fishery.  Seeking protection is key for most and guide Victor barreled into Flamingo lagoon essentially the northern part of Tabascanoes.  We access the area through a channel barely as wide as the boat and guests have to march through shallows to push through to get to the good stuff.  The permit seemingly was like us, seeking protection and they were in good numbers found throughout the Flamingo area.  Miller, and Karl tagged fish back there, and others had cracks at fish.  I'd say this is the best place to find any consistency for numbers and the fish are big.  The window to fish Flamingo is narrow due to lower tide.  Poorly planned exit could leave you stranded and settle you in for a buggy evening.  When the wind died to 20 mph, we attempted fishing outside red buoy back east towards the boca, also touching spots around casitas and laguna roja.  We need a higher tide to see better numbers bayside along casitas and red buoy and while we seek protection on the south shore scraping for a tail it's not reliable enough to call it consistent.  A couple days wind dominated and left us a few spots that offered little to barely their protection.  Unfortunately, the northside was out of the picture for the week with the crossing not safe for guests/guides.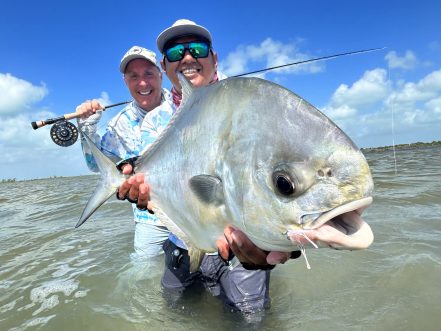 We're in the process of breaking in two new 50 hp Yamahas to add to our fleet.  By the end of next month, we will have 6 total, all ready, broken in and usable.  Guide Jesus joined us for the week and did the traditional 3 day break in with one the motors and on day 4 (last Friday) I jumped in the boat to fish the hurricane.  The wind was absurd to say the least and if it was that strong coming from the north, I wouldn't have let boats go out.  We hugged whatever protection and sunshine we could find to target numerous bonefish on the beach.  I am totally content chasing anything that'll eat a fly and we were hitting bones on a regular clip which kept us happy.  I was quietly hopeful we'd run across a small school of juvenile permit that sometimes group around bonefish.  Small permit act very much like bonefish and usually are eager to eat.  Jesus made it happen and with X-Ray vision spotted a small school zipping around roughly 2 feet from the shore.  I plopped a #2 crab and they bolted.  They regrouped 30 yards from us and resumed feeding.  I plopped a #2 spawning shrimp into them and same thing, they scattered and regrouped a little further.  We did this 5 times with school becoming more and more difficult, fidgeting Juvies that scattered, regrouped, and pouted.  Exasperated, I ripped 3 feet of 12 pound floro from a spool and threw on a #8 mantis shrimp.  First cast, third or fourth strip we were tight, and Jesus happily inquired why we didn't try this approach the first time…… sigh.  We had lunch later with Miller, BMAC, and Pepe not far from the stung school and I was curious how bad was the deep water fishing in 30 mph wind.  We rolled and bucked for the next 3 hours after lunch and saw 2 fish that seemed to be laughing at us for our attempts.  Waves were crashing over the bow where I was trying to stand and twice my feet left the deck as rollers caught me off guard and launched me.  Tough to say the least and Jesus had changed the push pole for the motor to better stabilize things.  We did see some very impressive muds in the deep water, and I know there's a bunch of permit milling around down there chowing whatever the rays and manatees are stirring up.  Whenever the wind can die a little, it'll be lights out deep water permit fishing.
WEATHER/TIDES:
We had strong east to southeast winds hovering on average at 20+.  Mixed cloud cover greeted us most mornings and it burned off to full sun almost every afternoon.  Tides were low in the am but coming in and gave us a slack midday with another drop later in the PM.
FLIES: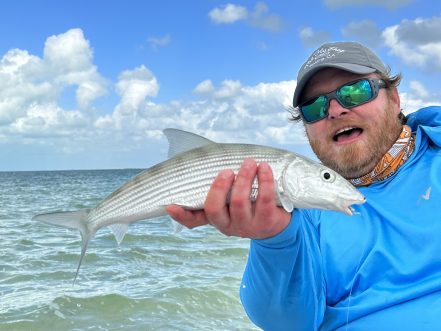 Permit were landed on a White Casa Blanca Raghead #2 and an ESB Raghead with yellow eyes.  ESB spawning shrimp also resulted in a couple takes.
Chef Luis and the kitchen crew cooked up a storm and provided a culinary treat for the group.  There's no shortage of good food coming from the crew, and everyone is blessed with additional weight after a week at ESBL.  Emmanuel and Freddy kept us up and running on the maintenance side of things and insured a comfortable week for everyone.
We've got a big week ahead of us with familiar faces that have enjoyed coming here for the past several seasons.  The wind looks to be dropping and I have expectations for the crew.  Martin is back with us as head manager for the season and his friendly face and positive attitude is a huge asset to the ESBL team.  If you have a minute during your day, make sure you drop a quick line to our friends over at The Fly Shop to say hi and get up to date info about us.  For now, enjoy the first week of March, get outside, and stay tuned for the next report!
Saludos desde el Caribe Mexicano,
Dane & Chiara, Lucia, Negri, Canela
And the entire ESB crew!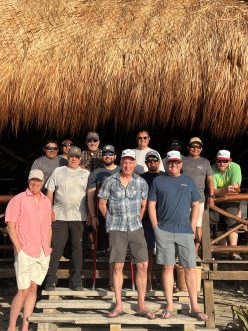 CHECK IT OUT!