Fishing Report
February 23 – March 01, 2020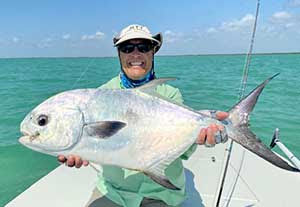 We've enjoyed another week here at ESBL. We had the privilege of hosting returning guests and close friends from past seasons join for the last week of February. The fishing for the week was solid given windy conditions and we were fortunate to have intermittent stretches of sunshine that helped round out productivity.
FISHING
We had some unusual weather patterns this last week and it seems to be showing our winter conditions are not quite ready to succumb to early spring. The week started out with strong breezes coming from the southeast and midweek we experienced a change with a small system that covered us from the north.  For the remainder of the week winds were strong but beneficial for us coming in from the north. With either of these wind directions protection was consistently found far west of the bay.  It's interesting to see weeks like this where clients will fish our southern to southwest shoreline and abruptly change to fish protected shoreline on the northern coast.
We saw decent numbers of permit throughout our entire system. River systems 2, 4, and 5 are holding impressive schools of smaller fish as they seek protected waters.  Most of the permit we saw were smaller and in big schools moving in and out with tidal fluctuation. Its encouraging to see such strong numbers of smaller fish and these schools thrive in a semi virgin environment. Due to netting bans and strong enforcement for the reserve, we see big numbers of juvenile fish throughout the estuary system.
Guest Rich Kracum had a great week with us and was able to land two of the larger permit for the week with the largest one just shy of 20 lbs. His second fish went about 8 pounds and had 5 permit total for the week. Guest Peter Morrison came along with his father to enjoy his first trip at ESB. Peter had a great week landing his first three permit and the last day succeeded in catching a grand slam. Cam Taylor led the group with 8 total permit with Bob Shaunessy not far behind landing 6.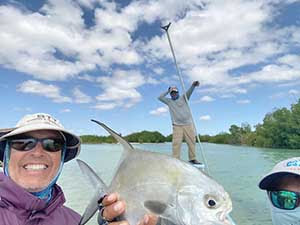 With the change in wind direction and much cooler water temps we saw our bigger permit move off the flats and reside in deeper water until conditions stabilize out.
The group total for permit for the week was 23 with 5 guests. This brings our permit totals for the season to 50 permit landed and 26 guests.
With an incoming tide for the week our tarpon and snook fishing was more difficult with optimal times presenting themselves later in the day. Even with less than ideal conditions, Tarpon were located in river systems along the north side and a couple small "laguna" style bays lined with good protection from mangroves.  When the north winds became our primary wind, boats headed over to fish the northeastern shoreline and outside the bay along the same coastline. Here we able to see decent numbers of snook. The snook were difficult to catch and required some fly changes by guests. They didn't seem eager to charge flies but we were able to tease a couple into eating.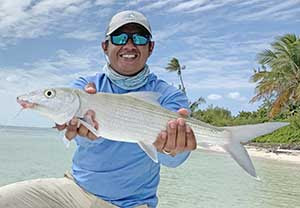 Along that same northern shoreline, we saw large bonefish in big schools and guests were able to land plenty of fish throughout the week. It is impressive to see our fishery with such an abundance of larger fish that are relatively easy to catch.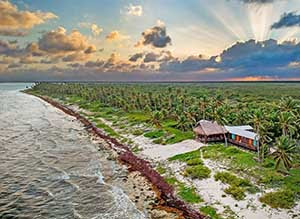 WEATHER/TIDES
Weather for the week was pleasant over all with variable wind directions coming from every direction except west.  We had a mixture of clouds and sun with cooler temperatures. Our tides were coming in the morning and we saw the tide dropping early afternoon.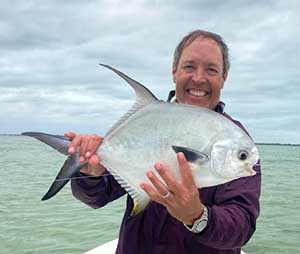 FLIES:
Flies that worked well for permit were tan squimps #2, white raghead crabs #2, Beck's fleeing crab #4, smaller EP spawning shrimp #4.  Tarpon were landed on EP baitfish color schemes, purple, everglade special, white/grey, Tarpon toads black and purple 2/0.  Bonefish were landed on all manner of shrimp patterns sizes #2- #8.
I am also happy to note we have received our first batches of new shrimp and crab patterns from The Fly Shop. These flies look great and we're all excited to put them in front of fish.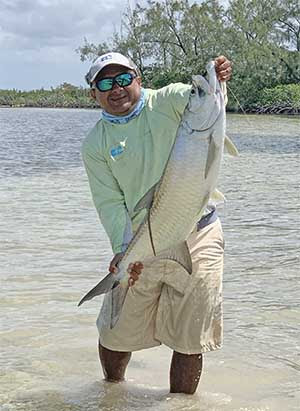 Our kitchen and house staff did a wonderful job for the week providing guests with delicious cuisine and comfortable and clean accommodations.
We're excited for this upcoming week with a group led by front man Justin Miller. Justin Miller is a Travel specialist for The Fly Shop and has been bringing this group anglers to ESB since it opened its doors in 2017. We have mixed weather in the forecast with some promising days on the radar and I suspect our fishery will live up to its world class reputation. Both Chiara and I have grown very close with this group and its always a pleasure to have them back.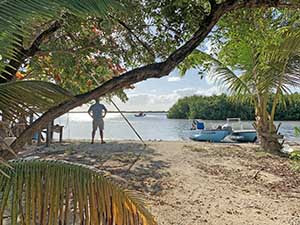 I hope everyone is enjoying the last days of winter and looking forward to a great spring. If you have a moment, please contact our friends at The Fly Shop to inquire about this special place or any other destination you might be considering. Be safe, wet a line somewhere, and stay tuned for next week's report,
From your loving friends at ESB Lodge,
Saludos desde el Caribe Mexicana
Dane & Chiara