Fishing Report
August 25 – September 01, 2019
Good morning Esb Lodge Anglers & Fans,
We've ended another fantastic week here at Esb Lodge. We are slowly progressing into our early fall season as the summer months slip away. This is becoming one of our favorite times of year to enjoy our incredible fishery. This last week we had two returning guests who have become very dear friends to us and they brought two more friends along. This was a great group of guys all very devoted and focused anglers. They chose to fish as single anglers to maximize fishing time on the bow.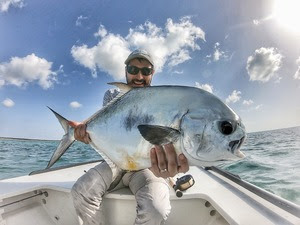 FISHING
Our anglers for the week were focused primarily on targeting permit. This group travels to three or four destinations a year chasing permit around the Caribbean. I am proud to say they comment this is the best permit fishery they have ever seen and look very much to returning every year.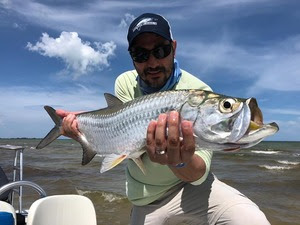 I felt there was a significant lack of permit throughout the bay. Our water temps are very warm, much higher than we are accustomed too. This results in fish heading to deeper water and we see only a handful of schools that are mixed with blue runners, jacks and trigger fish. This can present great difficulty casting your fly to permit and a smaller, less desired fish ends up taking the fly. A couple days during the week our guides ran far west into the bay and continued back up along the northern shoreline. Everyone came to the same conclusion. We have some large schools of permit (roughly 100 fish each school) congregated about a 10-minute boat located in deeper water along the southern shore. The numbers of permit landed for the week surpassed the reality of conditions we faced. We were able to capitalize on these few schools due to lack of pressure.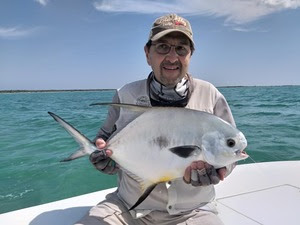 This is an obvious bonus that we use to our advantage in the bay. Lack of pressure and tactful approaches can insure us multiple shots and multiple days on the same schools. 20 permit were landed for the week alongside with a grand slam and super grand slam. Angler Lizandro had the high number of permit for the week totaling 7 and accomplished a super slam with guide Alex. Angler Edgar was also able to get his first grand slam with guide Pepe.
Our permit totals for the season are 284 with 170 guests.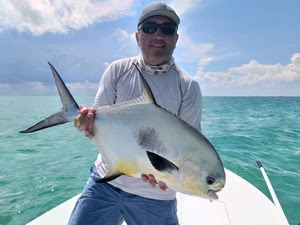 We were fortunate to have calm conditions which made for finding fish much easier in the deeper water.  This was also optimal for chasing large tarpon. Angler Sebastian was able to get into some incredible schools of fish located in a northern cut of the bay. Guia Fernando did a fantastic job of finding these fish and positioning the boat.  Sebastian hooked three large migratory fish and landed one that was well over 100 lbs. We are amazed by these beautiful fish and work hard to better understand movements, feeding behavior, and locations. We believe that we have one of the best underrated places to chase migratory fish. We rarely see these fish spook and they seem to eat almost any fly we throw at them. Lack of pressure and ample amounts of baitfish are the reason behind this. It is highly advised to pack an 11 – 12 weight rods if you are planning on coming here months of May through October. We do need particular conditions to chase this fish, but when things align themselves it's always good to be prepared.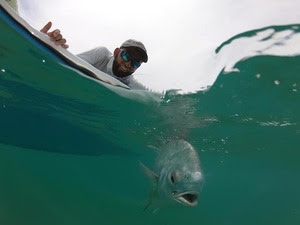 We also saw some numbers of smaller tarpon show up in our estuary system that we have not seen in previous weeks which is very encouraging for us. Schools of snook were seen traveling along the northern shore headed to our river systems.
WEATHER/TIDES
Weather for the week was light winds that started from the south and changed mid-week to north and northeast. Tides were incoming early in the AM resulting in a high late morning and started to go out early afternoon.
FLIES: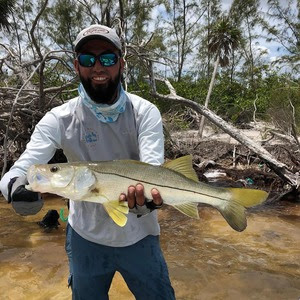 Our Tan Squimp #2 was responsible for more than half the permit landed alongside with large spawning shrimp size #2 with large yellow dumbbell eyes.
Resident tarpon were caught on EP baitfish blk/purple, and tarpon toads in color scheme, chartreuse/white.
Migratory tarpon were landed on Tarpon snakes and Tarpon bunny's in natural colors.  Hook size was 3/0.
Our kitchen and staff did a wonderful job of serving delicious meals and providing a clean, operating environment for our guest to enjoy.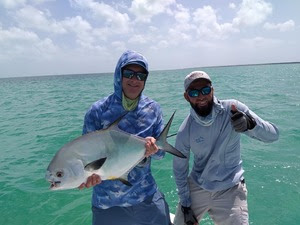 I'm excited for this week to have Capitan Billy Trimble join us and bring some returning guests. We've become close with Billy over the years and appreciate his friendship and commitment in sharing our wonderful fishery. If you are ever traveling the Texas coast in pursuit of redfish we suggest you contact Captain Billy. His 25+ years of guiding has built him the reputation to being one of the best businesses.
I would like to take a moment of this fishing newsletter to express our deepest sympathies to our friends in the Bahamas. 13,000 plus homes have been recently destroyed as Hurricane Dorian wreaks havoc.  Many people are unaccounted for, lives, jobs, industries, have been destroyed and things will continue to get worse as the storm seems to be moving very slowly. We have many friends in the fishing/hotel business that are faced with a complete loss at this point in time. This is very heartbreaking for us to witness and we know ESBL has more than a probable chance to experience this natural disaster sometime in the future. We consider ourselves very lucky thus far and we will continue to watch recent developments open up off the west coast of Africa. This is a very real part of life for us and for those who create and live their lives in areas conducive to a natural disaster of this magnitude. I encourage everyone to please take a moment and finds various relief fund sites as well as "go fund me pages" to contribute anything you can.
We hope everyone enjoys their week, be safe, and don't take things for granted. I encourage you to call our dear friends at The Fly Shop to inquire about this special place.
Take care and stay tuned for next week's report!
Saludos desde el Caribe Mexicana
Dane & Chiara