Fishing Report
March 14 – 21, 2021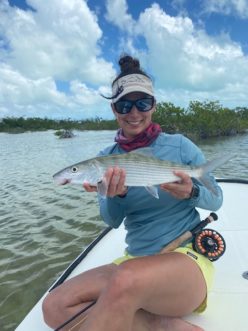 We've enjoyed another week here fishing at ESB Lodge. We had the privilege of returning guests hosted by Captain Ben Paschal. Ben is a very sought-after redfish guide that calls the Texas coast home and also spends a few months every year chasing bull reds in Louisiana.  Chiara and I have come to love having this group and this is our third year with this gang of fun, enthusiastic fisherman. I know fishing is always an important part of any destination trip of the caliber. With this group it's hard not to get sucked into their web of comradery. The infectious laughs that increase to higher decibels throughout the evening around the dining room table help create and mold another memorable week here at the lodge. I was also excited to meet a couple new faces Ben brought with his crew this week, his wonderful wife Lizzie, and fellow guest/friend Ryan Freeman.
FISHING:
This group has historically had the best fishing weeks in terms of productivity for our spring weeks. I was glancing over previous reports from the same group years prior, and the track record is pretty remarkable.  Last week was a little tougher with some very windy conditions and very little protection offered in the bay. We dealt with some easterly winds that clocked an easy 25 mph, not the most ideal for chasing permit on the open flats. Unfortunately, we got shut out from crossing the bay a couple days due to the open water being too much to handle with big waves and wind.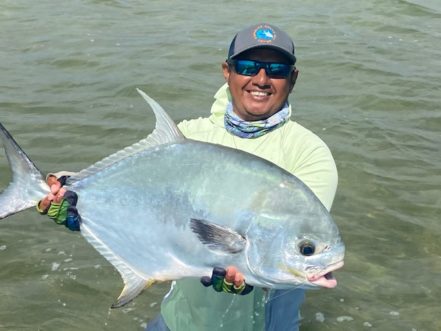 Permit do not like flats that are turbulent and windblown or even blown out from the bottom churning up. We see them slide off the flats and head to deeper water. When tides are higher we'll see them head deep onto smaller backcountry flats located in the southwestern portion of the bay and frequent river systems on the north side to feed in calmer waters. The numbers were low for permit for the week, although it seemed to me at least one boat everyday had a breakthrough with opportunities and were able to find a fish or two, get a cast off, and land a fish. I'd say the most one boat saw for permit in a day was about 15 fish, with a school circling around a couple times. When conditions are like this it becomes unforgiving with your margin of error.  You get only a few chances each day if you're lucky.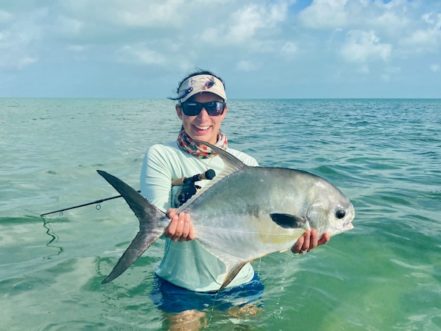 Guest Ryan Freeman was able to connect and land his first permit with guide Victor and succeeded in landing another which coincided with a double hook up on permit. Guest Robert Gauntt shared the boat for the double hook up with permit and was also able to seal a grand slam for the day. Robert was able to tag two permit for the week. Lizzie Paschal is a very accomplished angler and she led the group with 3 landed permit for the week. She narrowly missed a grand slam, losing a tarpon to the mangroves and had a routine of landing permit with minutes left of the fishing day. I will confidently say on her behalf that she simply out fished her husband Ben, who added a permit to the group. It was fun having Lizzie with the group this year and she promptly informed me she will be returning next year for another week. Our close friend Kevin Vincent is a diehard permit guru, who succumbs to hours on the bow focusing on getting a shot. I'm not sure how many permit Kevin has landed with ESB Lodge but I know it's an impressive number. He seemingly decided to wait his last day before landing a permit and it's the largest of the season for us so far, a great fish easily 25 lbs. It's fun to see the dynamic Kevin and guide Victor share and when they fish together, usually there are good results. Kevin had an interesting scenario play out with his larger permit. He got a cast off to the fish, fish responded and ate. Everything was tight for a minute close to the boat and then slack with the fly becoming dislodged.  One cast back at the same fish who also seemed to play victim to the confusion, resulted in the permit smashing the same crab again. They were off to the races, ensuing a long played out fight. I will admittingly mention I was a bit jealous of the picture and I suppose we'll congratulate Kevin on a job well done!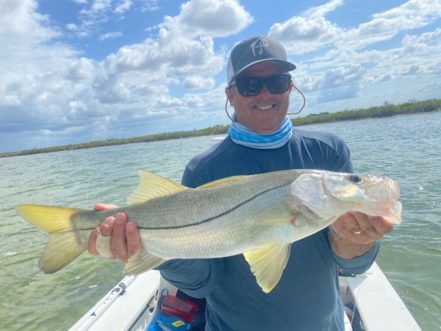 The group collectively landed 9 permit for the week with 8 guests. This brings ESB Lodge 2021 season totals to 106 landed permit with 47 guests. 
The ratio of permit to anglers is still astounding despite some less-than-ideal conditions the last two weeks.  This really shows we have one of the best permit fisheries in the Caribbean and it's an absolute privilege to share this with our guests.
We had some tarpon around and only one day of seeing some snook. This is due to stacked water from a strong east wind that doesn't fall. With water high around our mangroves, tarpon and snook will reside far back and out of view from guides and guests. Guide Pepe took guests on a long run back to a tiny flat located on the southern shore. This flat is one of the few backcountry flats along our southern shoreline and with water being so high, it was accessible. We saw some small schools of tarpon back there and a permit or two.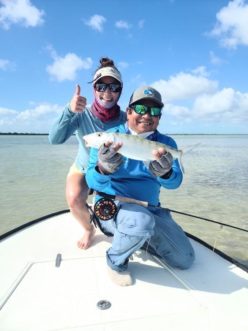 Our bonefish were readily available throughout the week and guests all had chances to catch as many as they would like. I did note that a couple flats we normally fish were scarce with bonefish, probably due to the windy conditions. 1st river proved fantastic and some flats along the southern shoreline for bonefish. Guests John Thomas and Mark Gaskamp fished together the last two days and they easily boated 100 bonefish. I try hard not to bore readers with a weekly mantra about our bonefish, but their great fun, hot, and relatively forgiving to angler error. Ben was able to get a healthy bone that ate a snook fly tied off on 50 lb.  Need I say more?
WEATHER/TIDES:
We had typical spring weather for the week with strong east winds hovering around 25 mph for much of the week. Friday and Saturday winds died down to 10-15 mph and were more from the northeast offering better protection. We had a mixture of cloud cover throughout the week intermittent with more sun the last couple days. Tides were high throughout the week and we never saw a true "low" with so much water stacking up.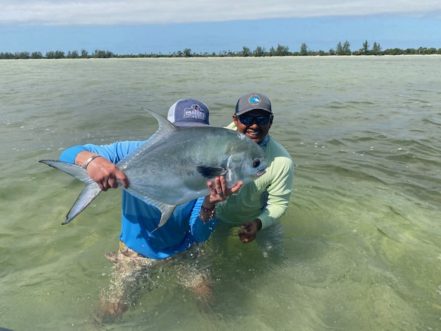 FLIES:
White Casa Blanca Ragheads tied on a #2 hook with yellow eyes landed a few permit. We also used spawning shrimp, and got one smaller permit with a #2 Tan Squimp. Kevin landed his monster permit on a self-tied crab fly that I will leave for him to disclose when he wants…Tarpon were landed on Black and Purple EP style baitfish and smaller chartreuse white toads.
Snook were landed on EP style baitfish color schemes Everglade and chartreuse/white.
Ben and Lizzie enjoyed landing some cudas on a big redfish popper their first day out.
Bonefish ate everything, shrimp patterns #2 – #8 as well baitfish flies tied off on 50 lb…….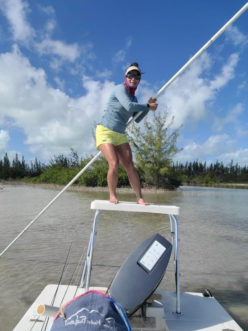 Our kitchen did a wonderful job last week, cooking up a storm of delicious Mexican cuisine, coupled with desserts, house salsas, and excellent appetizers. I have yet to hear a serious complaint about our food and I'm proud of our culinary accomplishments in our corner of the jungle.  It is not an easy feat orchestrating a menu that relies heavily on our logistics of running to town. Town is a quick two-hour trip one way and we try like hell to not forget the tomatoes!  Freddy and Pancho did a great job keeping the lodge organized and orderly as well as hacking up fresh coconuts daily that were chilled in the palapa.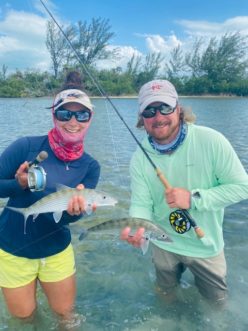 Weather seems to be looking a little more favorable for this upcoming week and the wind will slightly drop in strength and hail from the southeast. We've got a nice group of guests with returning friend Joe Checchio leading the charge. Joe enjoys two trips a year and likes to sample our fishery in the spring and then returns the last week of the season in November. We also have a couple new guests that are trying their hand at saltwater fly fishing for the first time.  I really can't think of a better place to begin your saltwater journey. We get labeled as permit destination but the diversity, accessibility of what we have to offer lets guests of all ability experience a wonderful place.
We hope everyone is enjoying their March so far and taking advantage of spring weather to aid you in getting outside. If you'd like more up to date info regarding our operation, or interested in coming down here, please call our friends at The Fly Shop®. They're happy to assist in any manner possible and look forward to hearing from you.
I hope everyone has a great week wherever you may be and please stay tuned for the next report!
From our special corner of the Yucatán,
Saludos desde el Caribe Mexicana
Dane & Chiara and the entire ESB Lodge crew