Fishing Report
October 25 – November 01, 2020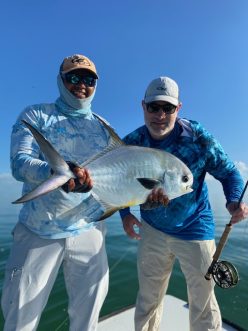 Another great week has flown by us here at ESB Lodge. We had a mixed bag of weather with Hurricane Zeta making landfall as a category 1 or 2 north of us 70 miles close to Tulum October 26 roughly around 8:00 PM. It's been a very eventful storm season and we seem to have a weekly occurrence with building storm systems that are becoming advanced and growing to hurricane strength. We are currently watching and monitoring Hurricane Eta as it rapidly approaches the coast of Nicaragua. Estimated landfall is projected a little after midnight. We have heavy rains in our forecast for the week as the storm is projected to work its way inland along a northern track. With any storm we're on top of monitoring hourly progress with storm and weather projections. These weekly storm occurrences are not our favorite thing to watch and the unfortunate consistency keeps us on high alert. Historically hurricane season lasts until November 30 and we would be more than grateful if these storm systems could subside.
That being said, we had a really fun group for the week. Five new anglers came to enjoy our operation and of course catch fish! We rode out some bad days of weather and I was happy to see the skies open up with sunshine and provide the world-class fish this bay has been known to produce.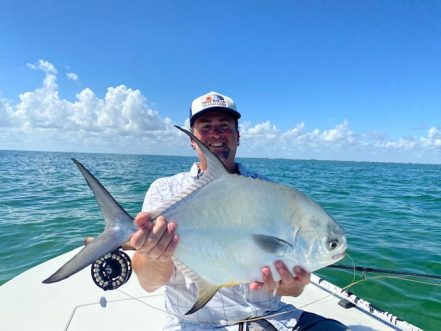 FISHING:
This fishery never seems to disappoint me; its resilience to bad weather, many protected bays, and entire backcountry offer a menu for anglers to chase all our targeted species on a daily basis. This group had nothing in particular they were focused on catching and allowed the guides to work the fishery and optimize certain points of the day chasing various species. There was an undertone from a couple guests that had yet to land their first permit. I have been putting out newsletters that would make any permit enthusiast weak with anticipation, and drive anyone a little stir crazy. Your only antidote to the diagnosis is to call The Fly Shop and jump on the next available slot!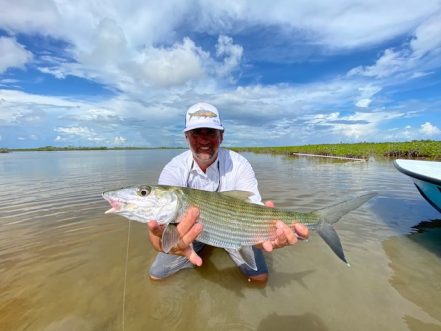 Our visibility window for the week was maybe 30%, meaning we had only a couple days that offered up enough light to productively chase permit. We found permit again in a couple large schools in the middle of the bay, edging closer to the southside in an area dubbed, "red buoy". It wasn't until Thursday did we see the large schools and guests were able to get adequate shots. River systems one and two along the northern shoreline held a handful of permit that were in shallower water. Tanner Summers had a great day with Fernando and succeeded in landing his first three permit from the larger schools. Tanner chose to fish solo for the week. This a long week of fishing, more than 50 hours of bow time will leave you exhausted, delusional, and weary. After each long day on the water, Tanner grabbed his 9 weight and would fish another solo 2 hours along our beach going south. He chased jacks and triggers until dark almost every night. To say he was dedicated is an understatement… I am happy Tanner was able close the deal with landing his first permit and his unwavering enthusiasm of chasing anything that swims.  Same day as Tanner, guest Josh Randolph was also able to close the deal on landing his first two permit with guide Alex. Josh was able to land a permit Friday and Saturday as well with guides Pepe and Victor.  Brock Anderson and Viki Dietchler each had good shots at permit and Brock was able to land his first with Victor. Viki easily hooked the largest permit of the week and unfortunately after a reel screaming run came unbuttoned.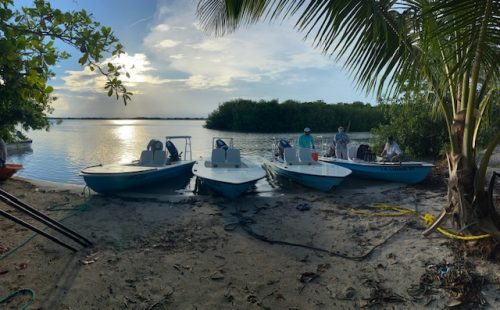 The group of 5 landed 8 permit total for the week which brings our season totals to 260 permit and 93 guests.
Tarpon and snook fishing was solid for the week and the low morning tides kept the fish out of the mangroves for the most part and become feasible targets for guests. Josh Randolph knocked out his first tarpon and an impressive snook his first day out with guide Pepe. Sam Wells and Brock were able to also land their first snook for the week and proceeded to land a few more. It's been exciting to hear the guides reporting more and more snook moving into the bay system. This occurrence repeatedly presents itself every fall and has been a highlight for many of our fall anglers. We are always on the hunt for the newest and greatest snook flies. Snook can become very moody and we often find ourselves emptying our fly box out in search of a fly the snook will commit to. It can be a little frustrating as you rifle through your selections as a snook casually observes your attempts of persuasion as it resides comfortably in its mangrove domain. Well known fly tier Blane Chocklett created a series of baitfish flies called gamechangers.  A couple guests have been bringing down the finesse gamechanger tied on a 2/0 hook in colors chartreuse and solid white. These are incredible flies for snook and the movement of this fly incredible and we have been seeing great results from this pattern. If you're planning on coming down in the next couple weeks pick up a few to try when the snook become difficult.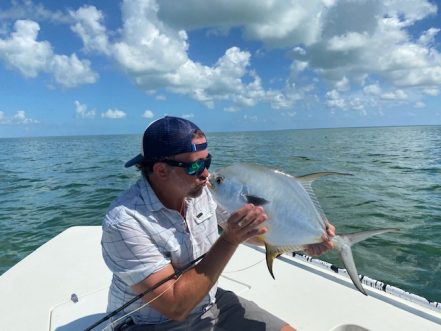 Our Tarpon fishing was solid and they were more than willing to commit on all manner of baitfish and toad imitations. A couple guests were able to have some fun fishing around mangrove islands located in the first river system on the north side of the bay. Outside the first river system working north we saw decent schools of tarpon as they rode in on an incoming tide. We work the fish hard outside along the northern shoreline when the tide is coming in or the rivers systems are flooded too much for productive fishing.
I will quickly rant about one of my favorite fish to chase here, bonefish. We caught the hell out of bonefish last week. All guests were able to catch bonefish everyday and we found them everywhere. Guides worked hard to position guests in skinny water where we could see tailing fish. Light conditions were tough and in some cases impossible with a turtle grass bottom. When they begin tail and push water they become immediate targets and throwing a light shrimp pattern will almost always be rewarded with a grab. Brock and Viki had a banner last day chasing tailing fish and lost count of landed bonefish with guide Pepe. Sam Wells couldn't stop praising the healthy condition and size of the bonefish and he was happy to chase them at any moment they presented themselves. Brock has fished the Bahamas multiple times and said he believes this fishery rivals any other bonefish flat he's fished. We landed a couple of fish that hovered around the 5 pound mark. I cannot stop talking about these fish and they should never be overshadowed by our other fish. Do yourself a favor, buy a nice 7 weight, or a little 8 weight and dedicate time here for the largest bonefish in the Yucatan.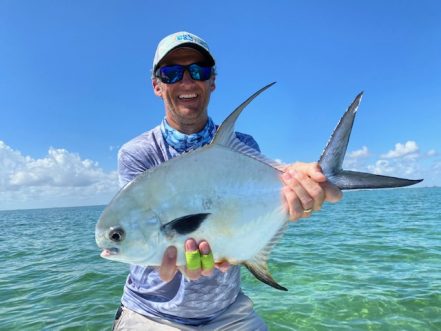 WEATHER/TIDES:
Weather for the week was mostly cloudy, with heavy rains squalls passing over the bay.  On Thursday the wind died and we had decent sun for the day and into Friday.  Wind direction was mainly from the north.  Tides were low in the morning and incoming most afternoons.
FLIES:
Our permit flies for the week was mainly Spawning Shrimp tied on #4 hook in colors tan and white.  We landed a couple fish on the #2 white crab with yellow eyes.
Snook and Tarpon were landed on all manner of Tarpon Toads, EP style baitfish, Finesse Gamechangers.  Color combos that were productive: black/purple, white/grey, white, chartreuse, shad, blue/white, and red/black.
Bonefish were happy to eat any manner of shrimp flies in sizes #2 – #8.  We would match the depth of water to weight of our shrimp to avoid hang ups.
Chef Carlos and the kitchen crew worked hard to provide guests with wonderful cuisine, hearty lunches, and delicious desserts.  I appreciate the hard work our house staff is doing and can't thank them enough for working everyday nonstop since the third week of August.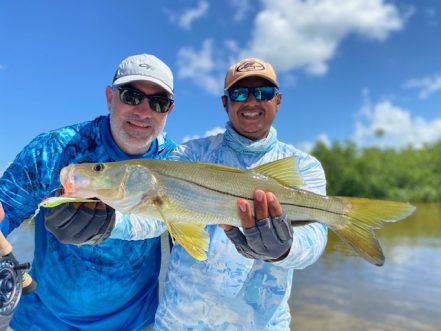 We've got a fun crew of guests for the week with six new faces that have been patiently waiting for an opportunity to fish with us.  One incoming guest informed me has been waiting since 2017 for a chance to experience this incredible fishery. We will have mixed weather for the week as we continue to monitor the path hurricane Eta takes after it makes landfall tonight. We hope everyone had a fun and safe Halloween.  Do yourself a favor and check in with our friends at The Fly Shop for the latest intel and to help prepare you for your next trip with us.  Look ahead to 2021 and try to grab an opening if you can.  We are looking forward to another sold out season and would love for you to be a part of it.  Have a safe week and check in again for the next fishing report.
From your Yucatan friends,
Saludos desde el Caribe Mexicana
Dane & Chiara